Your new movie Bronx Bigfoot - in a few words, what is it about?
Itís your basic revenge film. A mob boss kills one of his underlings for stepping out with his girl. They dump him on an island and think they kill him, but with the help of a radiation-filled drum, he transforms into the title creature, bent on revenge. With all my films, I love to inject comedy into the script, but having said that, this film is a real throw-back to the monster-on-the-loose films.
The title "Bronx Bigfoot" is close to ingenious already - so how did you come up with it, and what was there first, the title or the story?
I was talking to a group of filmmakers at a festival last year, and I was asked what my next project would be. I told them I wanted to make a film about how the Bronx would react to a Bigfoot. I was intrigued by the concept, so I decided to add the mob-vs-monster concept to the script and sat down and banged it out. It was more hardcore horror when I wrote it, but in the midst of filming, the comedy aspect grew. Donnie, who plays the creature, watched the original Bigfoot 8mm film and copied the way that Bigfoot walked, he even did the head turn the creature does at the end of the clip. So the title came first.
With Bronx Bigfoot being both a monster and a mobster movie, are those genres especially dear to you, and some of your genre favourites?
I love monsters, always have. Iím a big fan of 70ís horror, Blacula, The Exorcist, The Abominable Dr. Phibes, Octaman, Track of the Moon Beast, and Grave of the Vampire, anything Godzilla. The first two Godfather films, Once Upon a Time in America and Goodfellas were the best of that Genre, and my favorites. With the exception of Bill Huckstabelle Serial Rapist, all my films have monsters, even though that film was based on a real monster. As far as mobster films, I grew up in the Bronx, we have a lot of made guys and many more wannabes. When I wrote my mobsters, I decided to spoof them. One of my favorite scenes is between two wise guys who are hunting down the creature. One says he had a D…Jņ VU last night, the other guy says ďDťjŗ Who? What are you speaking Spanish?Ē Sal Amore (my line producer) asked me how I wanted him to play The Don. I told him I wanted an angry, irrational yelling Don, a loose cannon, and boy did he play it right. I also made a political statement on gun control in one of the killings, by showing how you may be in love with your gun, but itís not always going to help you out of a deadly situation.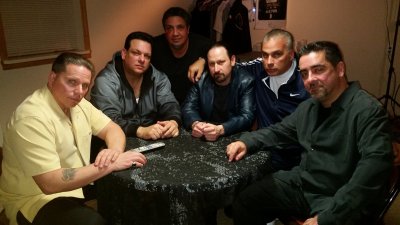 What was your inspiration when writing Bronx Bigfoot?
I loved The LEgend of Boggy Creek. John Mc Dermott (Buddy Schumacher) and I had to go and check up on his parentsí house up near Cooperstown many years ago. We got drunk and wound up finding the film on a cable channel. Being in the middle of nowhere, drunk and totally afraid of the woods, we started to collect weapons just in case someone or something tried to get into the house. I always felt more comfortable in the Bronx than I ever had in the woods. The concept of not knowing if Bigfoot exists is pretty scary in itself. I wanted to do my own version, and I think I did a good job of twisting the legend around.
What can you tell us about your directorial approach to your story at hand?
I actually took a lot of input from my crew on this film on how to shape the roles they were playing. I had the main actors help write the people they were playing. I let them add some dialogue of their own. I also had Sal write the bar scene, which worked great because his version was really good. I donít have a big ego, I allow outside input into my films, only if it jives with what Iím trying to flesh out. It really worked on this film. Iím also an easy guy to work with. I trust my actors, and let them do their thing.
You also created the monster outfit, right? So do talk about that one for a bit!
I had a real vision of what the Bigfoot should look like, so I had to create it from scratch. The mask was created using foam rubber latex. I learned how to do this by watching guys who worked on my previous films. I then took the face and sewed it on a werewolf costume. I painted the outfit to match the fall colors. We shot the film in a very warm December, poor Donnie sweat his ass off. When I first showed the crew the headpiece, they were surprised at how scary it looked. The big concern was how to shoot the Bigfoot. Early tests helped us cover some of the flaws in the suit. I must say, I was impressed with myself. On a low budget, the director wears many hats.
Do talk about your key cast, and why exactly these people?
The main guys (Sal, Marty, Scott and John) have been involved with all of my films. This one was very in-house when it came to casting. I didnít have a big budget on this one, so we cast all of my crew plus a few new faces that really did a great job integrating with my crew. Many low budget directors face the problem of people not showing up. I use people who are good at their craft, and come to the set on time, ready to play.
You shot quite a bit of Bronx Bigfoot out in the streets of the Bronx - so did you have shooting permissions at all, and what was it like filming there?
No. Bloodmarsh Krackoon was a bigger budget film. We had permits and location permission, all legal. On Bronx Bigfoot, we stole shots all over the Bronx, usually late at night. The night we shot the park scenes, we were approached by a group of men who thought we were really killing wise guys. One of them, upon seeing my face, started to laugh. Donít worry guyís, itís just Jerry Landi and his movie crew. Thank god they knew me. The Bronx became another character in the film. When we screened it at the Reel Bronx International Film Festival, people loved seeing their neighborhood on the screen, we are very Bronx-centric.
What can you tell us about the shoot as such, and the on-set atmosphere?
We love making movies. After all these years, my crew and I are so in tune, itís always fun. Shooting literally in your own backyard is half the battle. Stealing shots is easy when you know the people your stealing them from. My director of photography, Jeff Adorno, hardly ever gets credit. But bringing him into the fold was the last piece I needed to round out my crew. Sal Amore is also a great line producer. He does all the jobs I canít, which is key in getting your vision correct. Marty is my key soundman, another important piece, and John is my assistant director.
The $64-question of course, where can your movie be seen?
If you contact me at landijerry@yahoo.com, where you can buy Bronx Bigfoot on DVD along with my other films. We are also on video on demand: https://vimeo.com/ondemand/bronxbigfoot2 - where you can rent it and see the behind the scene stuff. Bloodmarsh Krackoon has major distribution, so you can buy that online or rent it on all platforms.
Anything you can tell us about audience and critical reception of Bronx Bigfoot yet?
We have three festival screenings lined up, with two screenings last month. Everyone loves the film. Itís a lot of fun. The best thing people have said is that it moves so fast, it makes you want more. I love that. Being a film geek, I hate when a film drags and makes you lose interest. I work hard at making a film that entertains you. Bronx Bigfoot is our best effort so far. I hope my next film is better, thatís the point.
Any future projects you'd like to share?
Speaking of getting better, our next film is an old fashioned ghost story. A Hollywood producer, who happens to live here in the Bronx, gave me a challenge. Jerry, he said, write a story with no profanity, no nudity, and no gore, just scary and interesting. So I wrote it, and boy is it good. Itís probably the most personal piece I have ever written. Iím promoting Bronx Bigfoot this summer and doing the festival route this winter, so I plan to start shooting in September. They want to mainstream this one, let's see how that goes.
Your/your movie's website, Facebook, whatever else?

Feeling lucky ?
Want to
search
any of my partnershops yourself
for more, better results ?

The links below
will take you
just there!!!

Find Jerry Landi
at the amazons ...

amazon.com

amazon.co.uk

amazon.de
Looking for imports ?
Find Jerry Landi here ...
Something naughty ?
(Must be over 18 to go there !)

Contact me on Facebook - Jerry Landi. You can also go to my Bloodmarsh Krackoon Facebook page. Iím also on Twitter as Redeye One / Jerry Landi.
Anything else you're dying to mention and I have merely forgotten to ask?
The island where the movie starts is real (Davidís Island, Fort Slocum). For years, we would go to the island and take pictures of the decay. While writing the film, I came upon old army films, which were shot on the island in the 30ís. It was great seeing what was there before time and harsh weather destroyed the place. We actually used some of the footage in the film. It also had Ajax Missile silos stationed there, which gave me the radiation twist. We went back to the island to shoot the opening credits, it was surreal.
Thank you for helping me promote the film. And you can contact me at landijerry@yahoo.com for more information on our films. And if we come to your town, come see the film and say hello, we love our fans.
Thanks for the interview!