Your new movie Pickup - in a few words, what is it about?
Megan (played by Mandy Evans [Mandy Evans interview - click here]) is a stay-at-home wife and mother living in a nice suburb, her life seems perfect, but she's in trouble. Her sex addiction is causing an increasingly frightening downward spiral in her life, and threatens to rip apart the safe haven she has built around herself. The tone is a little scary, like an episode of Black Mirror exploring 21st century alienation.
How did the project fall together in the first place?
Mandy Evans developed the script with screenwriter Jessica Blank, who is best known to theater audiences for her play The Exonerated about people wrongfully on death row. Evans and Blank created a story that goes to very dark places, but is told with empathy and guarded compassion. Mandy had enjoyed working with me in the past, and saw that I was fearless about the content, and off we ran to make this film with very little money and great ambition.
To what extent could you actually identify with Pickup's central topic, and of course its lead character Megan?
She's driven to find an elevated experience, something more extreme than the banality of ordinary life. Sometimes I feel more frightened by the day-to-day grind of getting through a so-called normal day than I am doing the intense rigors of film production. She's looking for something more, something to feel, even if it hurts. Those extremities fascinated me, and seemed incredibly sad, and worth looking into.
Do talk about your producer/lead Mandy Evans [Mandy Evans interview - click here], and what was your collaboration like, before, during and after the shoot?
It was one of the richest, most meaningful collaborations I've been lucky enough to have. I trust Mandy completely as an actress. She is committed, daring, honest and unafraid. She understood this character and wanted to present her, in all her complexity. I thought it was incredibly brave of her on every level. As a producer, she granted me enormous freedom, trust and support. That went both ways. I really want to make more films with her. Pickup meant a lot to me, both personally and professionally. I really love the story, and am so grateful to Mandy for everything she has done.
What can you tell us about your overall directorial approach to your story at hand?
The script seemed like a coiled spring, full of tension and ready to implode at any moment. Our shooting style was dictated by the characters and their uncomfortable situations, so we framed and lit it accordingly. The acting was understated, and the music was quiet and melancholy and rich in its inner life. That style guide informed all of my directorial choices.
Do talk your cast for a bit, and why exactly these people?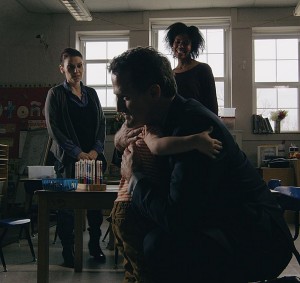 Jim True-Frost is a great actor. We had seen him as Prez on HBO's The Wire and his work with Steppenwolf Theater Company (like Sam Shepard's Buried Child and Tracy Letts's August: Osage Country). He showed up with no rehearsal, but ready to play Megan's husband Ben. He had a scene where he had to eat dinner, and usually you see experienced actors just pushing food around on their plate because they know they'll be eating a ton of food with all the coverage. And it shows, because they aren't eating and the scene lacks that small piece of life. Jim committed to munching on the samosas and rice, and thus the scene feels so lived-in and honest. He's that kind of actor, and had great chemistry with Mandy. He was supportive of all of us, and inclined to trust us from the get-go. Griffin Robert Faulkner, who plays 5-year old Liam, was another find, and it was obvious from his audition that he was this magical old soul with tremendous depth and a terrific knack for playing make believe. His parents are both terrific working actors, so he has it in his blood. He's gone on to film the acclaimed horror feature It Comes Back at Night. The rest of the cast were excellent day players such as Elena McGhee, Peter Duncanson, Erick Betancourt, terrific professionals who signed on because they believed in the script -- they work all the time, so it was generous of them to take part in our small adventure.
A few words about the shoot as such, and the on-set atmosphere?
The shoot was fast and terse. We had much to do, with no money and no time. We had so many company moves loading in and out from one location to the next that I felt like calling the film "Pickup and Dropoffs". Like most independent films, it was quite intense. The actors and crew were excellent, a team of solid professionals, who were supportive and there for the project. I particularly remember our producer DT Sheridan doing an early morning pep talk to our team, expressing how much we had to accomplish before we got booted out of one of our locations and how he believed in us and our hustle. I thought it was a total waste of our limited shooting time until I saw how it affected our company, and how they hustled to produce incredibly sensitive results. We had two critical scenes to shoot, and you look at the finished film and don't see how fast we had to sprint to get them -- two quiet, sensitive and contemplative scenes. All credit to our producer and crew.
The $64-question of course, where can your Pickup be seen?
We have screened at film festivals in Spain, France, England and Las Vegas. Our New York City premiere is at the Soho International Film Festival on June 21. Tickets are available here: https://www.eventbrite.com/e/soho8-shorts-crosby-street-series-tickets-34773203588. After that, we'll show at the Indie Street Film Festival in Red Bank this July. I hear its a remarkably filmmaker-friendly festival from my peers who have gone there, so I'm very excited.
Anything you can tell us about audience and critical reception of Pickup yet?
Critics seem to appreciate the thoughtfulness of the movie, and audiences have been surprisingly empathetic to our hero. Sometimes audiences feel uncomfortable about the subject matter, and the idea of a woman struggling with sex addiction, but Mandy and I wanted to start a dialogue and this film seemed like a good way to begin.
Any future projects you'd like to share?
We have a horror movie in post production called Slapface which is a monster movie set near a rural farmhouse. That's a project I wrote, and it wound up being more personal than I anticipated. Maybe Pickup unlocked that in me a little. We just wrapped a dramatic short called How to Type a Broken Heart with some brilliant New York actors written by playwright Sooz Nolan, so that's going into post too.

Feeling lucky ?
Want to
search
any of my partnershops yourself
for more, better results ?

The links below
will take you
just there!!!


Your/your movie's website, Facebook, whatever else?
Facebook: https://www.facebook.com/Pickup-117837455292085/
Website: http://pickupfilm.weebly.com/
Trailer: https://www.youtube.com/watch?v=Fi-e7omgfBg#action=share
Anything else you're dying to tell us and I have merely forgotten to ask?
Thanks for the great questions.
Thanks for the interview!