Your upcoming movie The Nightmare Man - in a few words, what is it about?
The Nightmare Man tells the story of a young man who can no longer establish the difference between dreams and reality after having rather dark visions of a creepy entity known as The Nightmare Man.
What were your inspirations when writing The Nightmare Man?
Thereís quite a few that I could mention, but the Insidious films were huge influences, as well as an episode of The Twilight Zone that follows a 35-year-old man who canít sleep due to fears of having nightmares about some creepy lady. I canít remember the name of the episode, but I saw it on Chiller Channel about a year ago. I just really want this film to be creepy. Itís gonna be weird, itís gonna be artistic, and itís gonna be unique, but if people see it and find it to not even be remotely creepy, Iíll be pretty disappointed. I want to do something that people remember as a film that was actually scary. But even if itís not in any way scary, itís gonna at least try to be, which is more than what you can say about a lot of films that come out these daysÖ
Do talk about your film's approach to the horror genre (as in suspense vs sudden shocks, atmosphere vs all-out gore and the like)!
Well, this wonít technically be a slasher film or anything like that; I would say itís a bit closer to the supernatural sub-genre, but I like to think of it as a film that falls under the miscellaneous category. There will be a bit of gore, however.
What can you tell us about the film's intended look and feel?
Weíre shooting on a Blackmagic and I want the film to have extremely vivid colors, so therefore, Iíd say itís safe to say that the film will look very beautiful, yet very eerie. That is the exact vibe weíre going for.
The Nightmare Man will be your directorial debut - so why did you choose exactly this project,and what prompted you to sit down in the director's chair?
There isnít really a specific answer to give. I guess I just finally decided it was time to take on an idea of my own. I wrote the screenplay and I wanted to produce it here in Memphis, so I figured I might as well make this my directorial debut. Iím a bit nervous, but Iím really looking forward to it.
What can you tell us about your intended cast and crew, and why exactly these people?
Weíve got a large pool of talent already attached. Brandon Tobatto of Loon and The Weeping, and Joseph Henson of The Night Before Easter and Gory Graduation are producing. Everyone who is so far attached are people who were reached out to by me on the front end, because I already know what they can do. Our lead actor, Matthew James actually sent me his information and demo reel and simply just stated that heíd like to be involved, and I knew instantly that this guy would be the perfect guy to work with. The positions that havenít already been filled are gonna be pretty hard to fill, but luckily, weíve had some awesome talent audition so far. I also plan to hire a film composer that has handled the score for Hollywood films, and Iíd also like to have a post-production sound crew that really knows what the hell theyíre doing. A huge part of a film having a legit look is a film having legit sound to go with it. Sound, music, and visuals are things that I take pretty seriously, and I feel as though I have a pretty good mind for such things, so hopefully that will show in the final product.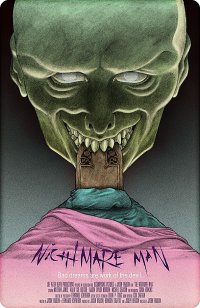 As far as I know, your film is still in pre-production - so what's the plan, and any idea when and where The Nightmare Man might be released yet (even if it's probably waaaay too early to ask)?
Well, I have plans to distribute a feature film that has garnered quite a bit of attention amongst the indie horror community. For that film, Iíve been speaking with a potential distributor about a sort of agreement where I would own the DVD rights and they would own the rights to distribute the film to video-on-demand platforms such as iTunes and NetFlix for like, five years or so. While the goal is not to self-distribute The Nightmare Man, I would love to work something out where it would be available on such video-on-demand platforms. It should for sure be ready by January of 2016 in some sort of fashion, regardless of what type of distribution deal we receive.
Any future projects beyond The Nightmare Man?
I have a basic idea for a high-concept, really, really, dark and messed up story. Itís something that is very, very dear to meÖ itís the most creative thing I think I couldíve ever dreamed of. Iíd like to co-write and co-direct this thing with another ďindie horror guyĒ, or whatever youíd call it. Iíd really like to pitch the idea to Adam Ahlbrandt, first and foremost. Iíve seen the trailers for some of his stuff, and Iím like ďwhy the hell am I not working with this guy?Ē I had heard about him, but I was never too familiar with his work until recently. For all I knew, he was nothing but a big bunch of hypeÖ but heís one of the biggest names in the horror genre these days for a reason. For Godís sake, one of his films was even in the IMDb Top 5,000 recently. I think of him as like, an AJ Styles or Ben Askren-type guyÖ heís got to be the best at what he does to have never gotten an opportunity on the grandest stage. So yeah, after The Nightmare Man, I wanna work with someone like that.
What got you into the filmworld to begin with, and what can you tell us about your filmwork prior to The Nightmare Man?
I did a short film in high school, and shortly after I graduated, I started reaching out to indie horror directors asking if there were any opportunities to get involved. Luckily, there were some guys that were willing to allow the youngster to help out. And I havenít really ever stopped since then.
One can't help but notice that your movies never stray far away from the horror genre - coincidence, or is horror a genre at all dear to you, and why (not)?
I couldnít see myself ever being involved with any film that wasnít a horror film. Iím just not into anything else. Thatís a statement that many, many folks would judge the hell out of me for, and that statement almost makes me sound crazy, but thatís just how it is.
Filmmakers who inspire you?
James Wan is the best in the world at what he does, so I have to mention him as one of my biggest inspirations. Also, reading Eric Englandís blog in anticipation of his feature Madison County was what really made me want to become a filmmaker, actually. I think if E-Squared knew I said that, he would be a bit surprised, but itís entirely true. I am also a huge fan of the two Robert Hiltzik films in the Sleepaway Camp franchise. So yeah, those three come to mind before anyone else.
Your favourite movies?
I like some of the more underrated 80ís slasher films such as The Burning, Sleepaway Camp, Clownhouse, and Slaughter High. And I dig some other stuff as well. I used to see the Saw films on opening weekend every Halloween, starting with the first film when I was a few weeks away from being ten years old. We Harlows went as a family to see it in the theater on a Sunday night. I freaked the hell out. Youíre Next and Insidious 2 were amazing to see in the cinema last yearÖ those two are definitely my most recent favorites.
... and of course, films you really deplore?
Mostly every remake absolutely blows.
Your/your movie's website, Facebook, whatever else?

Feeling lucky ?
Want to
search
any of my partnershops yourself
for more, better results ?

The links below
will take you
just there!!!

Find Jason Harlow
at the amazons ...

amazon.com

amazon.co.uk

amazon.de
Looking for imports ?
Find Jason Harlow here ...
Something naughty ?
(Must be over 18 to go there !)

You can check us out at http://www.facebook.com/thenightmaremanmovie. Hopefully weíll have a legitimate website live by the end of the year, though we may wait until we get closer to the release of the film.
Anything else you are dying to mention and I have merely forgotten to ask?
I have to give a mention to Cleaver: Rise of the Killer Clown. Mj Dixon [Mj Dixon interview - click here] and I are hard at work, making sure horror fans get to see the best film in the Ďkiller clowní sub-genre to date. I strongly believe this will be Mychoís best film to date, which is saying a lotÖand itís a huge honor to be a part of it.
Thanks for the interview!
Any time, brother.