Your new movie Will Reading - in a few words, what is it about?
Following the death of her husband, Wendy, her husband's twin and their friends learn of a second will which prompts them to search the house, which tests the limits of relationships. Hilarious antics ensue!
What were your sources of inspiration when writing Will Reading?
So many movies... parodies like Airplane!, comedies such as Clue, Kevin Smith's earlier work, uhm... The Goonies, Star Wars, Lord of the Rings, musical theater and everything in between. It really runs the gamut.
Do talk about Will Reading's brand of humour for a bit!
I love referential humor. When you grow up watching The Simpsons (certainly a source of inspiration I should have mentioned previously) and with people that love movies as much as I do, it's always a delight to drop a quote into a conversation. It was a sort of unspoken game by high school. I also like the Seinfeld sort of observational humor, situational humor, and of course, it's always funny to watch someone fall on the ground. People have been laughing at that one since farce was invented. I tried to mix all that stuff into the screenplay as best I could.
Will Reading was filmed pretty much all in one location - so how limiting or perhaps liberating was that for you as a director, and what can you tell us about your location in the first place?
I'd say that 99% of the movie is filmed at one location because we filmed the green screen stuff at the house, too. I shot some green screen plates and establishing shots for cutaways in a few other locations, but mostly, we were just at the house. I intentionally wrote the screenplay this way so we wouldn't get to a point where we couldn't shoot something. When you don't really have any money, you can't exactly write a liquor store robbery into your screenplay! As the director... it was just what I was handed by my other self - meaning me as the producer, so I just did the best I could. As the person dealing with the lights and running the camera, I was often muttering to myself, "There's no room for lights in these rooms" or "There aren't a lot of choices for shooting" and stuff like that. So when you shoot a movie in a house with small rooms, it all comes down to physical space - where can I hide the lights, where can I put the camera, make sure the actors aren't tripping on stuff... sometimes the actors would have to walk past the camera and their mere footsteps would shake the tripod because there just wasn't any room. But on the other hand, since I had control of the house, we were never limited by anything other than "I'm exhausted, let's knock off for the day because we all have to work tomorrow."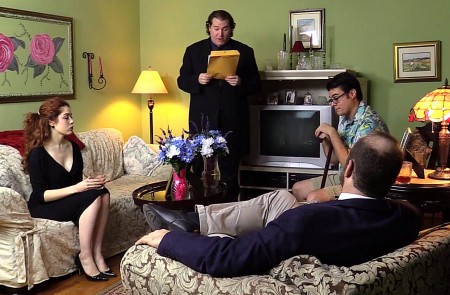 What can you tell us about your directorial approach to your story at hand?
Big question! I'll start with actors. Since I had worked with all of the actors except Katie Weigl before, I had a good idea of what'd they'd bring, so I basically tried to stay out of their hair. And I had to worry about the camera, lights, the mic, the props, the set dressing and a bunch of other things, so there wasn't always time to talk a lot. Katie turned out to be brilliant, so that was lucky as I cast her without seeing anything and she ended up carrying the movie with ease as the lead. Before we would start shooting, I would usually just talk about the scene, remind the characters where they were in the story as, like most movies, we didn't film in sequence and just go in and tweak in between takes if I was looking for something different.
As for the visual part of directing, I wanted the lights to generally be nice and as even as I could make them given time, space and equipment - nothing too dramatic for comedy. I generally wanted to shoot on a flatter plane so, again, we wouldn't have anything too severe. Did you see the first Thor movie? I love Kenneth Branagh, but those dutch angles (www.youtube.com/watch?v=J0oDm4J3YOg) were, in my opinion, out of place. I did do a few things with color (lights), I shot a lot with the shoulder mount rather than always being on the tripod, I created movement in post A LOT... I tried to bunch the actors together earlier in the film and then spread them out and then back together again in the blocking and photography to show them first as old friends, then growing apart and finally coming back together again. If there was more room and more time, I would have liked to have composed the shots with more levels of depth, but it just wasn't usually in the cards.
You also appear in front of the camera in Will Reading - so do talk about your character and your approach to him, and did you write him with yourself in mind?
I figured it would turn out that way, me playing Will and Wayne. I certainly knew I wasn't going to cast real twins! I very much wanted one to have a beard and one not, and asking someone to grow, shave, grow again based on the schedule and pickup shots seemed like too much to ask, and it's a small part, but I still struggled to memorize my own dialogue.
As for the performance... well, Will was easy since he's barely in the movie. Wayne was much harder - he's something of an antagonist, but he's not a very serious person, either. So I tried to keep that in mind when I was writing and when I was playing him - he's always a bit annoyed by everyone, especially Wendy, and just a disagreeable person in general. I tried to bring that to what I'm charitably referring to as my performance.
What can you tell us about the rest of your cast, and why exactly these people?
When I started writing the second draft, I knew I wanted those three guys; Dan Conrad for Dave, Greg Vorob for Steve and Marc Seidenstein for Tom. I've known these guys since... I dunno, 2000? And I knew they were capable, so I started writing with them in mind. Dan is hilarious, but when the other side comes out, it's so genuine... there's this tiny moment in the movie where Dave is speaking to Tom in the basement in front of the books and Dave says, "Yeah, me too," and it's just a brief second, but it's magic. Greg had a lot to balance - his character has more than one motivation and is serious but juvenile... there's a lot of duality there that Greg was able to capture. Poor Marc, on the other hand, was given an underwritten role that he filled out beautifully. His arc is set up, but there's not a lot of explanation... some, but not much. And he made it happen. I also liked that all three of these guys are different looking dudes. Their hair color, their faces... I don't like when you watch a movie and there are three dudes who are all six feet tall, weigh 180 pounds, are jacked, all have brownish hair and are all thirty years old - they even end up sounding the same. Film is a visual medium, so I thought these three guys would look good next to each other, look different, and that would help from a character standpoint, too. With Katie, I just got lucky. The first person I contacted for Wendy agreed but had to drop out, the second turned out to have bigger things on her plate and she recommended Katie. Her character has motivation, but it couldn't have been easy even though she made it look that way. In the first draft, she was more of a villain-ish character but ended up being a protagonist by the time we got to the shooting draft, so it took me a while as the writer to find that character, but Katie dunked all over the place.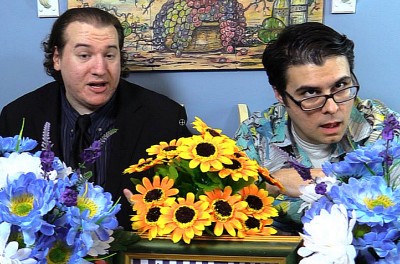 Do talk about the shoot as such, and the on-set atmosphere?
Since Dan, Greg, Marc and I all knew each other (and they all knew each other before they knew me), it was like old times, just fun. Or at least it was for me! There were certainly days when it got giggly. Again, I was just lucky that Katie turned out to be just as much fun as everyone else. She came up with this brilliant joke about how there really was no movie and the opening montage (we shot this the first day of filming) was just a fictional version of me, a lonely guy, tricking a woman into cooking him dinner. But in general, I'd say it was a lot of fun. The actors seemed to enjoy that I was always shoving bottled water at them whenever there was too much giggling or we needed a break. They teased me about this method to no end. Shooting could be physically demanding because I would work at the office all day, then come to the house, set up the equipment for the shoot by 7, then film the movie until 10, 11, midnight or later, take the equipment down... But I'd do it again in a heartbeat.
The $64-question of course, when and where will the movie be released onto the general public?
Well, we're in the running for some film festivals now, so I don't think the general release will be till this fall or winter.
Anything you can tell us about critical and audience reception of Will Reading yet?
I'm reaching out to reviewers, and so far the response has been positive. Other folks who have screener copies or have otherwise seen the movie can rate it on IMDb (www.imdb.com/title/tt5155046/) and we're at 8.5, so at least so far, I'd say people tend to like it rather than dislike it.
Any future projects you'd like to share?
I plan to make a documentary about making a no budget movie - namely, this movie. It'll be on the Blu-ray along with Will Reading, whenever that happens. I'm also hoping to get back to my Quick Reviews webseries (creativejamie.com/tag/quick-reviews/) now that the movie has wrapped.
What got you into filmmaking in the first place, and did you receive any formal education on the subject?
It was always a matter of what I was going to write as I knew that's what I wanted to do. It was songwriting until I was around 21, then I wanted to get into film, but I found it even more tedious than recording with a band, so I settled on short stories and maybe novels. When I got into webseries and started gathering equipment, making a movie seemed possible. I took two semesters of TV and one of editing in college, but the TV classes really just taught me about three point lighting and how a TV broadcast works and the editing class was more of a "this is what editing is, this how non-linear editing on a computer works," kind of a baby's-first-editor class, which was stuff I already knew. I always knew I loved movies, but I never thought about going to film school when I was a kid or anything like that - it all seemed so impossible.
What can you tell us about your filmwork prior to Will Reading?
Uhm, not much, really. Most of my background is in technical theater and live events. I haven't really worked under anybody, I've just been doing my own thing for a few years now, and I wouldn't call what I've been doing (creativejamie.com/
2013/05/01/iron-man-
3-movie-review-
mixers-and-movie-
reviews-ep-3/) "filmmaking".
How would you describe yourself as a director?
I try to remember that film is a visual medium, get the most out of what I have, always make shot lists but don't usually find time to storyboard and let people do their thing. Let actors act and make suggestions afterwards.
Filmmakers who inspire you?
My list is probably like a lot of people my age: Scorsese, Tarantino, Spielberg, Hitchcock, Kevin Smith (probably admire him more as a writer than a director), Coppola, Kubrick, Nolan... and if not for sites like Cinemassacre, Chez Apocalypse and Red Letter Media, I doubt I ever would have realized that this was possible!
Your favourite movies?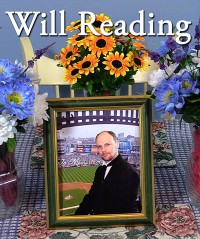 Feeling lucky ?
Want to
search
any of my partnershops yourself
for more, better results ?

The links below
will take you
just there!!!


Oh, soooo many. I'll try to make this list too long: Empire Strikes Back, The Wizard of Oz, Godfather I and II, Clue, The Goonies, Airplane!, The Fellowship of the Ring, The Breakfast Club, Ghostbusters (original), Indiana Jones and the Last Crusade, Better Off Dead, The Shining, Goodfellas, Clerks, Jackie Brown, The Man Who Knew Too Much, Shawshank Redemption, Usual Suspects, The Dark Knight, Winter Soldier, Memento, No Country for Old Men, Being John Malkovich, City of God, Spirited Away, Inception, Mad Max: Fury Road, Harry Potter and the Prisoner of Azkaban and the list goes on. I could sit here and do this all day. I barely scratched the surface and only mentioned Hitchcock ONCE
... and of course, films you really deplore?
Here's what's stick in my craw lately... Attack of the Clones, Batman v Superman, The DC Movie With All the Bad Guys ... bad action movies really annoy me. And lazy comedies! Did you see Pixels? My God... and romcoms sure are on a collision course with doom. How to Be Single comes to mind.
Your/your movie's website, Facebook, whatever else?
My website: creativejamie.com/
Will Reading news and more: creativejamie.com/tag/will-reading/
Will Reading Facebook: www.facebook.com/willreadingmovie/
My Twitter: twitter.com/CreativeJamieDC
Anything else you're dying to mention and I have merely forgotten to ask?
Ha, I think I've prattled on long enough!
Thanks for the interview!