Your upcoming movie The Krampus Carol - in a few words, what is it about?
Years after Sarah witnesses Krampus abduct her younger brother, she returns to her childhood home with her husband for Christmas Eve, soon a fight breaks out between the two and Ben murders his wife in cold blood... That night he is visited by ancient evils from a much darker side of X-mas folklore.
Basic question, why the Krampus, especially since this is a creature that has made it into American pop culture only rather recently?
The Krampus creature is actually a very, very old concept and in different places around the world it's a well-known character from folklore but here in America it wasn't really brought to the public until the big Krampus movie; What's bad about that is that now all of the sudden people believe that was the start of him as a creature but then also the Krampus cheese films became a dime-a-dozen; I really wanted to do something new, I wanted to make a film with the Krampus and make him legitimately scary.
(Other) sources of inspiration when writing The Krampus Carol?
The main inspirations for this film include Charles Dickens' A Christmas Carol & Edgar Allen Poe's Tell-Tale Heart; I remember being very young and hearing these two stories very closely together and sort of molding them together - now twenty-something years later, that concept still stuck with me and it seemed like it would be perfect for a film. The tone of the film is really influenced by Tales from the Crypt & Tales from the Darkside.
Do talk about your co-writer Aaron Yorgason, and what was your collaboration like?
Aaron is a writer for hire that I found on Freeelancer and by complete chance, he ended up being the perfect collaborator, he was able to really get inside my head and help flesh out the story but he also brought so many fantastic elements to the table. I would say for the future he will likely be my "go-to" guy.
Let's talk about your main monster for a bit - what does your Krampus look like, and how was this look achieved?
If you look at a lot of the great classic horror icons like Michael Myers, Pinhead, Leatherface etc. they are not the leading characters and in most cases, you only see them for a few scenes, but in those moments they are so scary and so effective that they became memorable and I took that same approach with Krampus for our film. The creature is built up of a specially made mask with movable mouth, goat-like eyes, horns and razor sharp teeth which is designed by Billy Patterson & Gorpatch Studios and then his costume, which was figured out on set. There were several actors attached for the role but when it came to the day of the shoot we were left in the dark for the most part and my boyfriend J.D. Smith (who also produced and will be composing the score) stepped up and played that role, not only was he fantastic but his build was PERFECT, being 6'9" standing over the Luc Bernier [Luc Bernier interview - click here] who is closer to 5'7", it really was ominous.
What can you tell us about your movie's approach to horror?
This is a very serious horror film with a lot of comedic moments scattered throughout. I personally HATE horror/comedies so I knew the comedy would have to be subtle and real. Luckily the actors were so fantastic and were constantly thinking of ways to make the film the best it could be in every aspect and it shows.
A few words about the movie's overall look and feel?
The look and feeling for this movie is heavily inspired by Tales from the Crypt & Tales from the Darkside and all the other TV horror anthologies. It's almost like for films, there is a recipe you have to follow (or else), and with TV you just kinda throw out that idea and do what you want, THAT is how I wanted to do this film, no rules, it could be as scary or zany as I want it to be.
Do talk about your key cast, and why exactly these people?
I met Luc Bernier [Luc Bernier interview - click here] and Helene Udy [Helene Udy interview - click here] a year ago during the filming of my movie The Possession of Mia Moss and fell in love with both of them. Luc is so dedicated and talented it's unbelievable, and then Helene is so gorgeous and so quick, she can improv like no other and I really wrote this with both of them in mind.
Luc Bernier plays Ben, the modern day representation of Scrooge. Helene Udy plays Sarah who is traumatized by witnessing her brother having been taken by Krampus years earlier but has now embraced Christmas in sort of a 1950's housewife manner.
Donna Hamblin [Donna Hamblin interview - click here] plays Perchta, who is also taken from folklore and is so fantastic in this I could not picture anyone else. She is sexy, scary and knew her character inside and out.
Dawna Lee Heising [Dawna Lee Heising interview - click here] plays Ghost, she is the bringer of bad news and ushers in the "Evils", it was fantastic to meet her and talk with her one-on-one, I think I bonded with her more than anyone else during the shoot and really found her to be such an amazing person all around.
Erin Felts is our special effects artist, I've worked with her countless times and I try to constantly challenge her with the craziest practical effects imaginable, she plays a cannibal elf in this film, so for her to be in the shot and then also in charge of all the makeup, I know it was a challenge but I'm so glad to have her on board, she is my go-to for sfx.
Brinke Stevens [Brinke Stevens interview - click here] is attached to the film for an introduction, at this moment I'm not sure if it should simply be a voiceover or an actual "filmed" intro, only time and available finances will answer that question but I absolutely love Brinke and would love to work with her as much as humanly possible.
What can you tell us about the shoot as such, and the on-set atmosphere?
Anyone that has been on a set, doesn't matter if the budget was five Dollars or five hundred thousand Dollars, the set is hectic. Never enough time, money, extra hands. Anyone that tells you otherwise is lying.
The $64-question of course, when and where will your movie be released onto the general public?
I keep telling people "Christmas will come early", possibly Halloween? I think theatrical showings are important and film festivals but beyond that I'm not sure when and where and how but I think this one is original enough to go a lot further than most movies BUT I will say that if there is a crowdfunding campaign, those people will be the FIRST to get physical copies.
Any future projects beyond The Krampus Carol you'd like to share?
I constantly have multiple ideas in my head and I have to fight myself to hold a few down, but I know there will be a post-apocalyptic graphic novel and a fantasy/love story in book form very soon. I have a love for really gritty films so there is a revenge flick with a twist on the way and also a very original thriller I'm trying to get up and off the ground.
What got you into filmmaking in the first place, and did you receive any formal training on the subject?
I grew up with a lot of great horror films and TV shows and always knew that was what I wanted to do. No training or schooling though, I'm not sure what I personally could take away from that. Filmmaking is an art form and I want to learn through my own experiences But I am very open to learning from those around me.
What can you tell us about your filmwork prior to The Krampus Carol?
The Haunting of Mia Moss is my first film, it stars Nicola Fiore & Brinke Stevens [Brinke Stevens interview - click here] and features Destinie Orndoff, Erin Felts, Shawn C. Phillips [Shawn C. Phillips interview - click here], Wayne Sorrell & Sarah Church.
The Possession of Mia Moss, which is a follow-up and stars Destinie Orndoff, Erin Felts, Asalee Biagioli, Helene Udy, Luc Bernier, Brinke Stevens, Nicola Fiore & Eileen Dietz [Eileen Dietz interview - click here].
How would you describe yourself as a director?
I really try to be open to new ideas and tend to take on a lot more than I can handle but I'm constantly learning and improving.
Filmmakers who inspire you?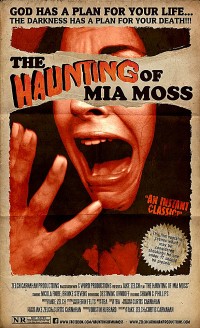 Feeling lucky ?
Want to
search
any of my partnershops yourself
for more, better results ?

The links below
will take you
just there!!!


I love anyone that is within the "filmworld" that has a good heart, thick skin & level head on their shoulders. Luckily I have worked with several people that inspire me but that is a hard question to answer, I really don't follow the filmworld and who's in it, as much as I should I guess.
Your favourite movies?
The Resident Evil series (2002-2016), Planet Terror (2007), Black Snake Moan (2006), I Spit on your Grave (1978), Halloween II (2009), I Spit on your Grave III: Vengeance is Mine (2015), The Life Before Her Eyes (2007).
... and of course, films you really deplore?
I walked out of the theater for American Hustle that has to count for something. Fist Fight was the most illogical movies I've seen in a long time.
Your/your movie's website, Facebook, whatever else?
facebook.com/krampuscarolmovie
facebook.com/hauntingofmiamoss
facebook.com/possessionofmiamoss
Anything else you're dying to mention and I have merely forgotten to ask?
I'm just very grateful to be doing what I love, working with Curtis Carnahan and watching film grow as a DP is exciting, he is so talented!! And working with J.D. and my friends & family, it's just so awesome!! Very grateful for this interview, thank you!!
Thanks for the interview!