Your upcoming movie The Tour - in a few words, what is it about, and what can you tell us about your character? And as an American in England playing an American tourist in England, how much of yourself can we find in Cassie, and what did you draw upon to bring her to life?
The Tour is a supernatural thriller set in a creepy haunted mansion, the fictional Darkmoor Manor, located in London, England. My character is Cassie, an adventurous, mischievous, with bit of a bad/party girl attitude, American tourist backpacking around Europe with her best friend Morgan. We meet an extremely attractive tour guide, played by the ever amazing Tom Gordon, who Cassie canít help but chase after and things start to go very South from there.
Oh man, not much of the everyday me is truly in Cassie. Cassie is extremely daring, doing things on a whim and taking BIG risks, where I myself am a bit more reserved and calculated in life. I tend to try to think things through. For example: I would never jump on some random hot guyís motorcycle if he invited me to whereas Cassie would without even blinking an eye. Cassie is basically me when Iím extremely drunk and not thinking straight. Seriously though! So thatís kinda what I used to play her: I brought out my uninhibited self. I tried to dig out all the additional spunk and sass I suddenly gain when drinking while not actually drinking. Twas tough! :D
How did you get hooked up with the project in the first place?
JESSICA CAMERON [Jessica Cameron interview - click here]. Seriously that girl is amazeballs. Sheís a true friend of mine in real life and someone I had worked with multiple times before in both Intrusive Behavior and her directorial debut Truth or Dare. She had been in talks with Damon and Alex for a while about doing their film and when the original actress they had in mind for my role idnít pan out Ė Jess strongly suggested me in her stead. I owe that girl a damn good dinner and drinks, plus some. Truly such a kind thing for her to have done for me and it ended up being a once in a lifetime experience that I will never forget.
What can you tell us about your directors Damon Rickard [Damon Rickard interview - click here] and Alex Mathieson [Alex Mathieson interview - click here], and what was your collaboration like?
Damon and Alex are truly kind, hardworking, and brilliant people all around. I couldnít have chosen two better people to have gotten a chance to visit and work with in London. They were extremely organized, easy going, and being on set was just AMAZING. Working with a cast and crew from all over Britain, Europe, and really the world, with so many different accents and cultures colliding was just... I canít even begin to describe it. It made me extremely nostalgic for just packing up and moving there on a whim. I love traveling and I love being in a place with so much diversity. They call America the Ďmelting potí and after visiting there I call bullshit on that. England is a TRUE melting pot of epicsauce proportions in my opinion!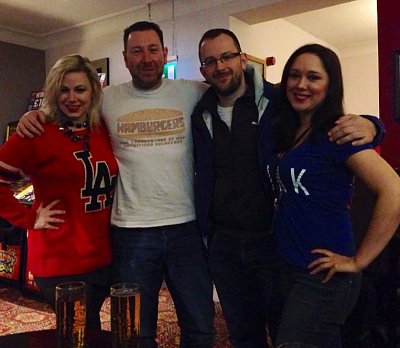 Jessica Cameron, Damon Rickard, Alex Mathieson, Heather
As far as I know, The Tour was filmed in a genuinely haunted house - so what can you tell us about working in a location like that? And what can you tell us about the shoot as such, and the on-set atmosphere?
They say it is in fact haunted. The place has actual tours done weekly there for tourists and locals, and we even had to break in filming a few times to let the tours go through. It has a pretty sordid history as well from what they were telling us. All in all I will say that when I found myself wandering the house between filming, finding the quiet places within it, and standing there alone, I did find myself thoroughly creeped out. The aura of the place made my hair stand to attention on numerous occasions. The place is definitely on the spooky side but I canít say I saw or experienced anything in particular that can make me say for sure it is truly haunted.
With Jessica Cameron [Jessica Cameron interview - click here], you have recently also worked on Truth or Dare - so what can you tell us about that movie and your character in it?
Truth or Dare is a CRAZY BLOOD BATH OF INSANITY THAT IS OVER 9000 and not for the weak at heart. My poor character, Michelle, gets so beat on throughout the film, both physically and emotionally, I truly just feel bad for her. The way the film goes, my character is probably one of the least mentally unstable of the bunch but that definitely doesnít help her case or spare her any pain at all through the fim. If youíve seen pictures of me on set or official stills then you know how bloody and messed up I get... Truth or Dare is a non-stop torture fest that will flip out even the strongest horror fanís stomach!
You just have to talk about your collaboration with your director and co-star Jessica Cameron [Jessica Cameron interview - click here] for a bit, and how did you two first meet up, actually? And based on the experiences on both The Tour and Truth or Dare, could you ever be persuaded to work with her again? ;)
Haha, well I already mentioned that Jessica is a true friend of mine outside of the acting world and Iím being very serious about that. We met on set of Intrusive Behavior and honestly just instantly clicked. We have a lot of the same qualities, have been through a lot of the same kinds of hardships in life, while also being vastly different in personality. Jessica is the more Ďgirly and fashionableí version of myself I always say ;)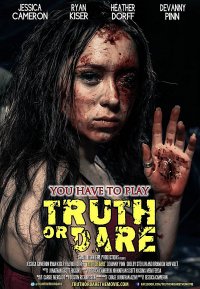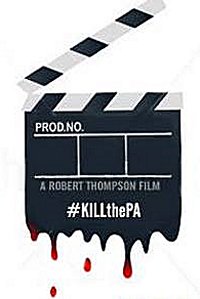 Feeling lucky ?
Want to
search
any of my partnershops yourself
for more, better results ?

The links below
will take you
just there!!!

Find Heather Dorff
at the amazons ...

amazon.com

amazon.co.uk

amazon.de
Looking for imports ?
Find Heather Dorff here ...
Something naughty ?
(Must be over 18 to go there !)

We are both hard working (though truly Jessica is a machine, I donít know how she does all of what she does and stays sane), blunt, we take our careers seriously, and try to be genuine non-back stabbing people in an industry that doesnít support or reward that kind of behavior at all.
We will work together again and again if I have a say in it! There isnít a person out there I enjoy more, both in working with, as a friend, and traveling with, than Jess! This England trip really cemented that fact in for me.
So do talk about the Truth or Dare shoot as such for a bit!
What can I say that hasnít already been said about that shoot? It was crazy, grueling, and epically amazing. The cast and crew involved with the project are truly some of the best, most talented people I ever have worked with. We very quickly became family out there filming for 2 weeks in that Salton Sea desert. A lot of those people are my close friends now in real life, like Kiser, and people who I visit with as often as possible. I will forever be grateful that Jessica gave me the opportunity to be involved with Truth or Dare.
Any future projects you'd like to share?
Iím currently working with Jessica Cameron [Jessica Cameron interview - click here], Brandon Slagle [Brandon Slagle interview - click here], and Devanny Pinn [Devanny Pinn interview - click here] on a 3 film, fan interactive, project which will be shot in 3 weeks while the cast and crew live in an RV trekking and filming across the US! Where we film is directly affected/mapped out by fan contributions made through the campaign site which I solely developed. Sound crazy? Thatís because it is! Check it out: www.killtheproductionassistant.com
This is a project and campaign like youíve never seen! Iím so excited about it and especially to be working with this amazing group of very talented people.
Your website, Facebook, whatever else?
www.facebook.com/actressheatherdorff
@SerenityRising on Twitter and Instagram
Anything else you are dying to mention and I have merely forgotten to ask?
Donít forget: Truth or Dare AND The Tour are both screening at this yearís Fright Fest in London! The Tour will also be screening at The Montreal Horror Film Festival AND Screamfest in LA!!! How awesome is that? So honored to have been able to be involved in this film!
Oh and Iím moving to Los Angeles before 2015! LET THE GAMES BEGIN! :D
Thanks for the interview!