Your new movie Eternal Code - in a few words, what is it about?
Thanks Michael, Eternal Code is the brainchild of me reading an article on Facebook about a doctor who was planning a surgery removing the head of a braindead person and replacing it with a terminal paraplegic person. My mind started spinning and the fountain of youth came up and the moral dilemma of having that power, so thatís what I wrote and thatís now Eternal Code.
Quite honestly, if you had the secret to eternal life at your disposal, what would you do?
Iím not sure... I think knowing weíre all here for a limited time has taught me to seize the moment and to have urgency in my life that would be long lost without a looming deadline... but Iíve lost more close family members and friends, so the fear of losing more would be an urge hard to fight at times I bet.
Eternal Code is quite heavy on the action side of things - so do talk about your movie's action sequences for a bit, and how were they achieved?
Yeah I wanted this film to have more action and movement in general because it felt like the story really called for that! As with a lot of action you have to make sure you have very capable actors or bring in stunt replacements. I was very excited all my actors were up for the task to play the entirety of their characters! I had no idea how physically capable Scout Taylor-Compton is, sheís such a dynamo!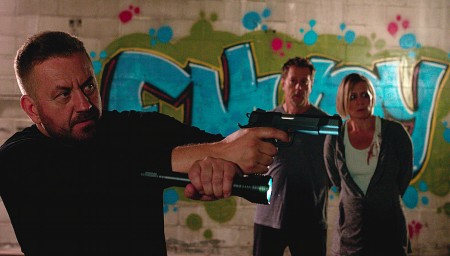 Wallen with Ken Alter, Erika Hoveland
A few words about your overall directorial approach to the story at hand?
As always there are challenges in making a feature film. We shot this one over 16 shooting days. I had a new cinematographer on this one and that dynamic is always tricky to start speaking the same language, but Jackson Swan and I found ways to move well together. As far as the actors go I feel very comfortable directing acting for the most part as I understand well where theyíre at in their process when I need to nudge them in the right direction.
You also play one of the villains in Eternal Code - so do talk about your character, and what did you draw upon to bring him to life? And have you written Sam with yourself in mind from the get-go?
I had a blast playing Sam, heís an a-hole haha, fun character to play! When you play villains you can ďcolor outside the linesĒ and thatís always a good time! I actually didnít write Sam to be my character, I was hoping Iíd play Carter, but Shane Hagedorn delivered such a good audition I thought weíd lose out if I donít cast him as Carter. I draw some from people in my life but mostly I construct a backstory that justifies who he is and how he behaves, and then I try to live as truthfully to that as I can.
What can you tell us about the rest of your cast, and why exactly these people?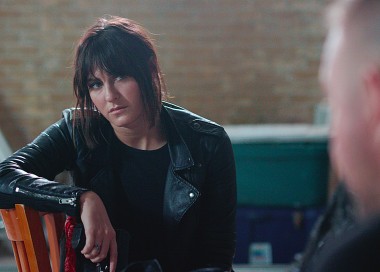 Scout Taylor-Compton
I really feel I lucked out on my cast! Charlie was a male character in all the rewrites up until the last one. I kept reading the script feeling it needed something, and then I thought the mechanics of it being a woman were really intriguing, and I had already talked with Scout Taylor-Compton after being introduced by Yan Birch, who kept telling me ďsheís great, youíll love working with her!Ē And he was right! I love Richard Tyson as my villain, he is a special kind of actor and a beast on screen! I wanted to bring the compassionate loving husband and father out of Billy Wirth, heís a great tough guy on screen but such a good man off screen I wanted a piece of that and I felt I really did! And I love Yan Birch playing this scientist who is so lost in how good the solution will be that he doesnít realize the risks and damage of his choices in the name of good! I saw a touch of Stellan SkarsgŚrdís character Eric from the Marvel movies. I also saw Mel Novak playing this good non-violent kind character and wanted to show a true piece of him as well. Melís got a huge heart and is such a good soul, I think that came out! Vida Ghaffari [Vida Ghaffari interview - click here] was tricky, I hadnít seen this side of her but felt she could pull it off and she most definitely has the look for it! The rest of my cast were the results of a ton of great auditions!! We had several hundred auditions and we had the ability to get some amazing talent especially from the Michigan independent film scene.
Do talk about the shoot as such, and the on-set atmosphere!
We had a blast making this film!! We had moments that we needed to come down in energy for because of the sensitivity of the scenes we shot but other than that it was a very energetic and inspired set! A lot of blocking rehearsals and jelling with each other. The hardest part was probably the location moves and staying on schedule while still keeping our focus on seeking excellence.
Anything you can tell us about audience and critical reception of Eternal Code?
Vida Ghaffari, Richard Tyson, Yan Birch
Vision wanted Eternal Code our as soon as we could knowing October is lingering around the corner and horror films get an even bigger spotlight so the festival run was minimal for us this time around but the few we entered we got selected and won with the crown jewel being Best Crime Drama as the 24th Annual - Indie Gathering International Film Festival! We also got a limited theatrical and I really enjoyed seeing the film with an audience at a theater, seeing if the chuckles and the gasps hit! There is something really special about seeing a film in a movie theater! And on a film critic stand I was happy to see you enjoyed the ride Michael!
Any future projects you'd like to share?
Yes a lot haha, because I held off on signing a few of my early films, I have film number 2 and 3 (Eternal Code was #7) releasing on 11/1 (Enigma and Abstruse). Enigma was a great and fun ride starring TJ Storm and Dennis Haskins, and Abstruse has been making huge waves on the festival circuit and it stars Tom Sizemore and Dennis Haskins in a role you never seen him!
Then to finish the year we release the sequel to Bennettís Song, and itís a holiday movie, A Bennett Song Holiday with Corbin Bernsen, Dennis Haskins and up and coming star Bryce Xavier along with much of the original cast!
Then in February we finally get to see Agramonís Gate and I canít wait for that!! Busy end of this year and starting the next just as busy!!
And letís not forget I host and do live fight commentary for Warrior Wednesdays on UFC Fightpass ďLiveĒ the last Wednesday of every month for those who followed me from my fighting days!

Feeling lucky ?
Want to
search
any of my partnershops yourself
for more, better results ?

The links below
will take you
just there!!!


Your/your movie's website, Facebook, whatever else?
Harley Wallen on Facebook as well as Painted Creek Productions, my production company. Iím OfficialHarleyWallen on Instagram and HarleyTheSwede in Twitter.
Anything else you're dying to mention and I have merely forgotten to ask?
I think we about covered it all, Iíd mention Ash and Bone but we are too far out still to tease that one.
Thanks for the interview!
Thank you Michael, I appreciate you taking the time to talk movies and more with me!