Your new movie A Bennett Song Holiday - in a few words, what is it about?
Itís about so much, Michael, itís about family, inclusion, perspective, love... I guess itís about a lot of things - itís about life. We essentially follow the Bennettís Song-family, and in the sequel we primarily follow Pearl and her musical aspirations as well as her attempts to save the local community center.
Now how did the project actually come about, was your Bennett's Song from two years ago always supposed to have a sequel, or did A Bennett Song Holiday come pretty much out of the blue?
Itís pretty funny but with us making so many movies that has a high body count itís a very refreshing and uplifting set to be a part of, so weíve always talked about it and after the success of Bennettís Song selling not only to several countries but also getting network deals we decided it would be a good idea to explore a sequel.
What can you tell us about A Bennett Song Holiday's writer/producer Nancy Oeswein, and what was your collaboration like?
It was pretty scary especially knowing how much it meant to Nancy, her very first script! Also hearing how in the industry they say ďdonít work with kids and donít work with animalsĒ makes you wonder if itís a challenge worth taking on, but it obviously is! Nancy was on set every day and by now we have a really strong working relationship as well as personal and that makes it easier.
What can you tell us about your overall directorial approach to your story at hand?
I honestly just love telling a good story! I try to meet with my cinematographer a few times and discuss look and feel of each scene, who are we attempting to feel for and what points are we trying to get across etc. I meet with the cast as a whole and do a couple of table reads as well as individually, especially bigger roles, and if I see someone not quite clear on the character theyíre playing so I have less tweaking on set. Then on set I always have the actors run lines before placed then again in more of a rehearsal setting with marks, and lastly we shoot and I generally need 3-5 takes per shot but will do more if and when needed.
Which character or characters from A Bennett Song Holiday could you identify with the most, actually?
I really identify closely with my character Cole and we are at times so close itís hard to know where Harley ends and Cole begins. But if I had to play a different role then grandma would be quite the experience!
You also play a central role in A Bennett Song Holiday - so what can you tell us about your character, what did you draw upon to bring him to life, and how much Harley Wallen can we find in Cole Bennett?
Haha, itís funny youíd ask this as the original role of Cole Bennett was written for me and I guess because of me often playing villains, detectives, mobsters etc. it was a chance to show another side I rarely get to share. Itís the hardest character to separate from for me for sure and the perfectly imperfect lives of the Bennett-Song family is something I find myself missing afterwards.
Do talk about the rest of your cast, and why exactly these people?
We have such a big cast Iíll focus in on a few but Aphrodite Nicolovski as Susan Song was actually a really difficult decision until the callback for that role in the very first film, but it came down to screen chemistry between her and I since our romance was such a big part of the first film.
I really loved having Corbin Bernsen as our villain, he brings the thunder without a doubt, such a powerful performance!
Dennis Haskins was totally handpicked for the first film and we had already worked together on two prior projects (Enigma & Abstruse), but itís such a perfect fit Iím not sure we could do better with a 20 million dollar budget.
Calhoun Koenig from the very first one had the acting chops, the voice (all the songs are the actual actors singing as well as playing instruments) and it made the adoption angle clearer since she doesnít look like her on-screen mother.
We conferred for about 3 seconds on Morgan Nimmo with no drum experience and very little acting experience, but she was so right for the role, it had to be her!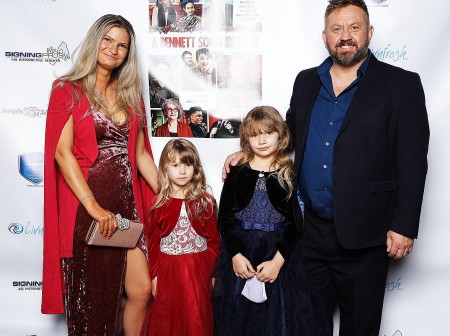 Harley with wife Kaiti and daughters Hanna and Amilia at the premiere
A few words about the shoot as such, and the on-set atmosphere?
Itís incredible and I hope it can be felt when you watch it. We are legitimately a close-nit family, and the kids all have group texts and all kinds of fun not just while filming but after. I think we have about 10-15 sequels they joke about making. Itís a beautiful place and it really feels special to be a part of.
Anything you can tell us about audience and critical reception of A Bennett Song Holiday yet?
So far the feedback has been amazing, between awards and nominations, and although the film has only been out a very short time the feedback has been terrific. I think especially now as divided as we seem itís a film that can make us feel more together and alike by focusing on what we agree on and whatís important to the majority. Family, love and togetherness!
Any future projects you'd like to share?
Absolutely, Iím at the very latest stages of post production on Ash and Bone a horror film in the breath of House of Wax, Texas Chainsaw Massacre and The Hills Have Eyes. Be on the look-out for a trailer shortly!
I also am in late stages of post production on a TV Series (8 episodes) called Tale of Tails and that is an amazing concoction of true stories from strip clubs over many years along with crime plots, bikers, and of course the cops and the judicial system.

Feeling lucky ?
Want to
search
any of my partnershops yourself
for more, better results ?

The links below
will take you
just there!!!


Your/your movie's website, social media, whatever else?
Iím Harley Wallen on Facebook, Iím OfficialHarleyWallen on Instagram and HarleyTheSwede on Twitter, and of course follow paintedcreekproductions on Facebook and Instagram. Each film also has its own Facebook page and IMDb page.
Anything else you're dying to mention and I have merely forgotten to ask?
I think you covered a lot but would love to talk more as these other projects release. I appreciate the time and the positive review in A Bennett Song Holiday! Be good and stay safe Michael!
Thanks for the interview!