Your new movie Older - in a few words, what is it about?
Older is a romantic drama about growing up, messy relationships and love. It's how a rom-com might actually play out in real life, with none of the sugarcoated Hollywood BS.
What were your sources of inspiration when writing Older, and wis any of it based on personal experiences?
The film is definitely semi-autobiographical, but there are more differences than similarities to myself and Alex, the character I play. Absolutely this represented a certain time and certain ideas I wanted to explore that I was going through, but there are also many elements that aren't part of my experience. Mainly I was motivated by the idea of creating a love story that was actually true to real life, that felt authentic. Traditional romantic comedies are so misleading and nonsensical, and I wanted to kind of make the anti-rom-com rom-com. Richard Linklater and his Before Sunrise-trilogy and the Duplass Brothers films were huge inspirations and I guess I just wanted to explore love in a realistic way.
To get a little more personal for a moment, how do you deal with getting older in real life?
There are some things that are good about getting older (freedom, maturity, perspective, wisdom, personal growth, relationships) and there are things that are horrible (losing loved ones and being confronted with your own mortality), and there are many parts of adulthood that are hard to recommend and hard to honestly say 'it gets better with age' when the truth is, it really doesn't. You kind of get sold a bill of goods in your youth about what being a grown up is going to mean and when you get there you realise actually this is not all it's cracked up to be. So I guess I deal with it like a lot of people, I try and find a purpose, goals and dreams to chase, and I take pleasure in working towards those things with a group of great collaborators and friends, and as Jenny says in the film, 'For the most part, I'm happy.'
Back to Older: What can you tell us about your directorial approach to your story at hand?
Well I wanted things to feel very organic and natural, I encouraged actors to improvise and bring their own ideas to the film, I tried to film in a way that gave them freedom, freedom to move around in a scene, removing the restrictions of specific camera movements and lighting choices, so they could dictate the action as opposed to a camera confining them to a certain set of choices. I wanted people to feel as relaxed and uninhibited as possible and I wanted people to have a good time and enjoy being on set. We can all put an extreme amount of pressure and expectation on ourselves on set, and I hoped that the environment I created would feel a lot less oppressive and more conducive to freedom and the entire team from cast to crew being able to express themselves.
You also play the lead in Older - so what did you draw upon to bring your character to life, and have you written Alex with yourself in mind from the get-go?
Well I'm a couple degrees away from Alex and I never made the choices he did, but I could see how I would behave and understood his state of mind, and how I could if I let myself fall into that rut. So I did have in mind that I would play that character because of how well I understood him, and that was part of my challenge for this film, to take that leap of faith and try and deliver.
What can you tell us about the rest of Older's key cast, and why exactly these people?
Well Harley Neville who plays Henry is my producing partner and an exceptionally talented actor in his own right, in fact he starred in my first feature film I Survived A Zombie Holocaust. So he was always a no brainer for me. Liesha Ward Knox who plays Jenny is one of my favorite people in the world, as an actor she can do everything and she has such a natural appeal because she is a very genuine person and you sense that everytime she's on screen. I knew I could rely on her to do the heavy lifting as an actor and make me look better in the process. It was our chemistry together off screen that made me believe we would be great on screen. Astra Mclaren who plays Stephanie is incredibly down to earth and open to ideas, so yes she can play that role and of course is stunningly beautiful, but there's much more to her in real life and she is completely unpretentious, just loves to do the work, so all of that attracted me to casting her. At the end of the day it's all about chemistry and how you bounce off these people, and my choices were always made with that at the forefront of my mind.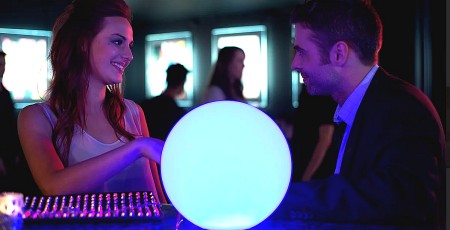 Do talk about the shoot as such, and the on-set atmosphere?
Well as I said it was very relaxed, apart from a couple of the big days the crew was normally about 5 or 6 people at most. We tried to keep everything as stripped back and minimalistic as possible. If you have a small crew it does create a more intimate atmosphere and allows for a lot of creative freedom. So I think in some ways it didn't really feel like a traditional movie set, and most of the time I consider that a good thing because it allows people to feel like they can take risks and think outside of the box. There was a lot of laughter on set and you always hope that filmmaking can be fun as well as fulfilling, and I think that was very true of Older.
Anything you can tell us about audience and critical reception of Older?
We've had a great response to Older, we've gotten some lovely reviews and more importantly I've had so many people reach out to me on social media to tell me how much they enjoyed the film and how much it spoke to them. For me that's been incredibly gratifying and surprising but I'm very humbled by that. We all hope to make films that will make a mark on the audience, but we never know if that's going to be the case. For Older I think it's probably been the most well received project I've created.
Any future projects you'd like to share?
I'm currently working on a new horror film called The Family about a disturbing cult, I've recently finished a short horror film called Stay At Home which was shot during one of the Covid lockdowns here in New Zealand, and finally I'm working on a documentary about MSA (multiple system atrophy) which is a degenerative neurological condition that my late uncle suffered from before he passed away.
What got you into filmmaking to begin with, and did you receive any formal training on the subject?
I originally got into filmmaking because I love writing and storytelling, and as an extension of that it seemed that movies were a way to make people see these stories the way I imagined. My parents were big proponents of reading and fiction and encouraged my creative side, and my dad loved films and also the making of films the behind the scenes anecdotes of how they came together. I also enjoyed performing, drawing and art, so those influences all fit perfectly under the filmmaking umbrella.
I did not go to film school, I learnt by doing, shooting films, skits, webseries etc and writing. I did of course try and read every book on writing and filmmaking I could possibly get my hands on, and I'm a huge student of film and filmmaking, but I am most definitely self-taught.
What can you tell us about your filmwork prior to Older?
Well I've made a lot of things over the years, but the biggest thing is my first feature film I Survived A Zombie Holocaust which was released in 2015, which is a horror zombie comedy very much in the vein of Braindead (known as Dead Alive in the US) and Return Of the Living Dead, it's very different to Older but I'm very proud of it and I'd encourage people to also check it out.
As someone who appears in front of the camera as well as behind it, what do you enjoy more, actually? And how easy do you find it to direct yourself?
I much prefer directing. I understand my limitations as an actor and can work within them comfortably but I don't feel I have those same constraints as a director. It's very difficult to direct yourself although I am quite used to it, if you were directing incredibly complex action scenes etc I think it would be almost impossible to fit all of that plus your acting work in your head at the same time. But if you have good collaborators you can rely on your team to help and support you through when you have to put on your acting hat, and I had great people to help me through.
Filmmakers, actors, whoever else who inspire you?
Peter Jackson, Stanley Kubrick, David Fincher, Terrence Malick, George Lucas, Richard Linklater, Kevin Smith, Duplass Brothers just off the top of my head for directors. Actors, some of my favorites are Eva Green, Jack Nicholson, Humphrey Bogart, Natalie Portman, Johnny Depp. This list could get really long to be honest.
Your favourite movies?
Again this list could be one hundred films, but I'll try and just go off the top of my head - The Shining, The Thing, Back to the Future, The Big Lebowski, Empire Strikes Back, Indiana Jones, Fight Club, Oldboy (the original film), Shaun Of The Dead.
... and of course, films you really deplore?
After you've made films you become a lot less critical of films, because you come to realise that everyone sets out with the best of intentions to make a great film, it's just so difficult to achieve that, from indie films to the biggest Hollywood movies they all try and fail. But if I had to pick a few I really didn't like the new Star Wars spin-off films Solo and Rogue One. To be honest I really enjoy a lot of bad films, they help you analyse what went wrong and how you might try and avoid the same mistakes. I just remembered one, In The Tall Grass was pretty terrible.

Feeling lucky ?
Want to
search
any of my partnershops yourself
for more, better results ?

The links below
will take you
just there!!!


Your/your movie's website, social media, whatever else?
You can find all details to watch the film at www.olderfilm.com, you can find our YouTube channel https://www.youtube.com/pigville2 which has a lot of side projects, series and short films.
I also do a podcast called The Guy and Harley Podcast where myself and best friend and filmmaking collaborator Harley Neville talk about what's going on in our lives and what we are working on available on iTunes, Spotify and YouTube. You can find me on Twitter and Instagram @guypigden
Anything else you're dying to mention and I have merely forgotten to ask?
Thank you for doing this interview, and I hope your fans take the time to check out my film Older and hit me up on my socials if you want to talk about it!
Thanks for the interview!