Your new movie Struggled Reagans - in a few words, what is it about?
Struggled Reagans is a surrealistic sci fi comedy about 6 manic millennials from different walks of life (and different dimensions) who suffer an interconnected series of traumatic experiences. Together, the energy of their traumas forges a tumour in the Jungian collective unconscious. Using the energy of their traumas, a soft spoken crystal alien (played by Dapwell, formerly of Das Racist) transforms them into a Japanese style superhero action squad (with powers in the graven image of their traumas). Wanting to tap into their newfound powers, the Hindu god Garuda sends his bizarre fetishistic minions to do battle with the Reagans.
It's a movie that's a lot like the half dream chatter in your head when you're half asleep on the bus; It's something you should vibe to. Watching this movie just may help you ascend to the next stage of human evolution. See it on DMT.
Struggled Reagans was quite obviously inspired by Japanese superhero/giant robot shows from yesteryear (and maybe also the Mighty Morphin Power Rangers) - so what do you find so fascinating about these shows, what are some of your favourites, and how would you describe your approach to the subject matter?
Tokusatsu is the Japanese term for special effects entertainment. This would include things like Super Sentai (which became Power Rangers in North America), Ultraman, Godzilla, and even movies like Hausu etc. Although technically still for kids, there's a certain stark symbolism and inherent fetishistic surrealism in these forms of entertainment. There's a certain insanity in their design that needs only a slight refocusing to become fully exposed. Kamen Rider, the precursor to Super Sentai, was a single hero who looked like a preying mantis. In some episodes the villains looked like klu klux klan members… they'd remove their mask and it would be all sparking wires. The sound design in these shows is insane, and stunt men broke their bodies doing ridiculously complex effects for 8 year olds.
Tokusatsu has deep cuts too. Don't just watch Kamen Rider and Super Sentai. Like British invasion rock, so much of the best stuff is now super obscure. There are crazy knockoff shows like Silver Kamen, which was done by an experimental filmmaker turned kids' show creator. The lead character's battle suit makes him look like a weird spandex knight. The editing and look are like mid period Jean Luc Godard combined with Richard Lester.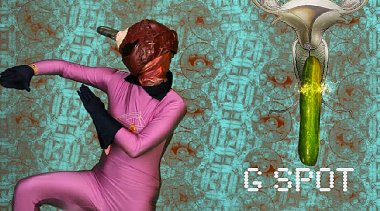 Super Sentai was essentially a spin-off of Kamen Rider, and it was created by the same guy: Shotaro Ishinomori. It was the first of these shows to feature a team (Kamen Rider had gained like 3 friends by the 4th season or whatever... so Ishinomori figured that he'd START with a group this time). The first Super Sentai series is like a weird spy show, where the spies transform into these leisure suited caped power rangers, ha. All those late 70s and early 80s Super Sentai series introduced their own weird concepts, (there have been over 30 Super Sentai series) and were all super experimental. In the second Sentai series, their helmets were each based on a different playing card. Seeing the type of randomness and cosmic dadaism that the Japanese employed inspired me to take it a step further. The Struggled Reagans' occidental Tokusatsu team is based on a Jungian trauma theme. So you see, it's not so much a parody as it is carrying the torch of those early head trips and mixing it with my own transcribed nightmares. I figured it would be a fun internationally recognizable flare gun with which to draw the teeming masses to my artistic tentpoles.
Other sources of inspiration for Struggled Reagans?
To continue the tent metaphor, I've tried to set up camp somewhere between Jodorowski, Jean Genet and R Crumb.
Do talk about Struggled Reagans' specific sense of humour for a bit?
A lot of the humour actually comes from parodying humor in and of itself. Not unlike some of the weirder Adult Swim series, or the sort of jokes a stoned teenager might make. You'll hear the sitcom laugh track blare in the film during its bleak and existentially haunting moments. There's a certain aggressive assault on the hapless structure of 90s american sitcoms. A whole group of characters in the film is stolen from a certain late 80s sitcom. A lot of people have/will realize which one I'm referencing and it's likely to blow their minds, while others won't notice because it's opaqued by the Japanese superhero theme... see if you can guess which one! The characters are undergoing difficult psychological situations, scheming and exploiting each other at a super human rate. They speak not so much in dialogue, but subconscious telepathy mind scans. The viewer hears everything they're thinking, and none of it is good. Everyone is mentally naked and terrified, and out for themselves. Welcome to the party. Laugh at their pain.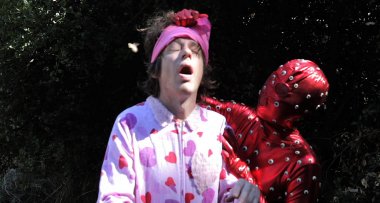 I bet a lot of folks would describe Struggled Reagans as slightly sick - so was there ever a line you refused to cross?
There's a certain scene involving a broom handle and a cat cosplayer that often divides audiences. About 20% laugh uproariously, others groan, and it usually will cause at least one person to walk out. Comfort at its worst is kind of a sick trap, both in life and the cinema. When someone is too used to a certain tone they have no room to evolve. I took great joy in creating the chaotic confrontational moments in the film. The sex was actually much more explicit in the original cut, but it got too distracting so I had to scale back a lot. Too much coitus cowbell. Even the fucking amazing Todd Solondz removes entire characters from his films in post production, so I guess I shouldn't feel bad. When people say I shouldn't make offensive art, I think: "whose morality should I live by? Who is your hero?" I'm allowed to do whatever I want, and I'll still be able to get this film to the distribution channels it needs to inhabit. You may hate my definition of freedom and think I'm a menace to the marketplace. But I'm free. I always make sure the police can't arrest me. My morality is survival and the Will to Power. Walt Disney would approve.
How would you describe your directorial approach to your subject at hand?
I've since shot my followup feature, Illuminati Puppet, and I can feel my ideal approach being continually refined. As I approach my third feature I hope to come bring it together in a much deeper way.
When making a film, to me the goal is to divorce from the nation one inhabits and create my own planet. When you're shooting a film you're kind of dropping out of this world, into a new and better one. It's similar to when I played with action figures as a kid. There's nothing better. Problems arise and I pretend I'm stressed but really part of me is happy the whole time. There's a part of my brain called "The Detective" that reassures me every major step of the process. It's kind of like collecting jewels in your hand, and when you have enough…. the magic cave opens... then "the detective" winks at me when I'm done and everyone is happy. This is my favorite activity. Production-wise, each film has their own practical concerns and loopholes to its construction. With Struggled Reagans, I shot the scenes where the Reagans were in human mode first. Their costume scenes were done separately, with mostly body doubles that matched the actors height ratios.
You also play one of the leads in Struggled Reagans - so what did you draw upon to bring your character to life, and have you written Jason with yourself in mind?
From my Jason character you might intuit: that I have a real life fetish for womyn with long tongues, that I'm sexually obsessed and aggressive, selfish, erratic and perpetually traumatized with feelings of deep unrest. While I do think about girls with long tongues 9000% more than world news events, the other additional issues aren't me as such. I guess Jason is more like me without restraint or self awareness, which is a pretty Lena Dunham answer, but whatever. Maybe a more honest answer is to say that I was sort of like Jason when I was younger, before I learned to peer beyond my own ego and into the 4th dimension. I likely become Jason after 2 or more days of not meditating. The leads of the film are like boba floating in the bubble tea of samsara… they can't escape the delusion, even when the rest of the earth does.
What can you tell us about the rest of your cast, and why exactly these people?
For the character of Maya, we split her tongue for the role. Not me, but a guy at a piercing shop in the East Bay. I almost flew in a girl from SoCal, who already had her tongue split, but this ended up working out better. You can see the video on our youtube channel at https://www.youtube.com/watch?v=mLC45GKDWgY. That actress and some others were recruited from a circus run by a sociopathic roboticist in San Francisco. He charges people 300 a month for crawl spaces, tries to make the pretty girls sleep in his loft, and feels that he is the greatest artist of our epoch (even though his accomplishments amount to nothing more than bad 80s gothic beats and robots technically equivalent to remote control cars). I rescued them from that hell for a time. 3 major cast members were friends from a weekly meeting at this girl's house, where people would get together to smoke weed and make raw vegan food. A lot of characters came through each week, so it was a good place to mine personalities, especially of the unhinged sort. I took that same philosophy of "Spy Casting" and would approach people that looked interesting at parties, that sort of thing. The looks and vibes of the characters were very much preselected, and often references to something specific, so casting was like putting together a puzzle with reality. I often went for people that were similar to the actual characters. For some people I'd have to alter their hair (or etc) just enough to get the right balance. I originally had cast a more thuggish dude for the character of Antoine, but his girlfriend thought the script had homoerotic undertones so he dropped out of the production, ha. In the end, Antoine was played by Leland Mapp, who ended up being a much better choice and was clearly the sort of hipster hyphy party animal (with depth) that the role required.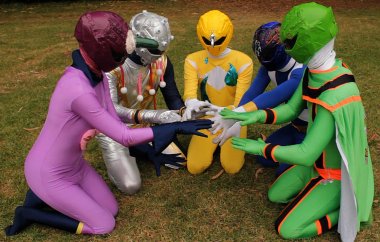 Do talk about the shoot as such for a bit, and the on-set atmosphere?
The film was shot over the course of a year, so moods had a tendency to shift over time. We worked with a small crew, so we'd shoot a couple scenes every week or so. It was more of a ritualistic practice. It took a lot of maintenance and psychological counselling to keep reforging the crew. I've definitely only shot on straight schedules since. I guess the fact that no one dropped out for a whole year is a greater accomplishment than two weeks of scheduled passion. It was a true relationship with all these strange people and I definitely value that time and the zeitgeist surrounding it.
What can you tell us about critical and audience response to your film so far - and any idea when Struggled Reagans will be released onto the general public?
Happy to announce we are finalizing a distribution deal with [REDACTED TILL OFFICIAL ANNOUNCEMENT].
"A hyper-real fantasia." - San Francisco Bay Guardian
Struggled Reagans isn't like a dream-it is one" - movieboozer.com
"This is crazy" - PFFR, the creators of Wonder Showzen, Xavier Renegade Angel and Delocated
"I have no idea what this is, but I love it so much" - i09.com
"Recommended" - (re)Search my Trash
"ahhh sorry to just leave when it was over would have loved to talk but i was already hella wiped and the madness fried my brain out. seemed like eryone was in a lil bit o shock soooo radddd i'll definitely spread the word. super funny and entrancing.
415 5*8 7*49 heh do you have a tongue thing, i CAN touch my nose" - 21 year old girl who came to the Struggled Reagans festival premiere via online invite.
Since superheroes and giant robots are usually prone to being serialized, will there ever be a sequel to Struggled Reagans - and any other future projects you'd like to share?
Struggled Reagans get powers but they don't know what to do with them. They become empowered and attempt to kick ass, but instead they writhe like freshly hatched turtles, hatched in a glass tank. I'm sure a few might crawl out of the explosion and show up in a future Collage Fossil-production very soon. You can also expect to see some hentai tentacles coiling around them in future, that's all I'll say.
You'll be seeing a lot more from the Collage Fossil-team now. I'm working with Edward Rhodes and co to finish the next feature Illuminati Puppet, which is a sci-fi conspiracy comedy about a lecherous doomsday theorist/author and his sexually repressed friend battling the earth's reptilian Illuminati overlords and their international STD conspiracy. Expect Illuminati Puppet to hit festivals later this year. We're working on a few other very cool features as well, but I don't really talk about them till the schedule is locked to ward off biters. Lets just say we're doing some bigger things.
How did you get into filmmaking in the first place, and did you receive any formal education on the subject?
I grew up in the Bay Area and Toronto, where film literacy and art appreciation were sort of like fifth elements floating in the atmosphere. I had already started making super 8 stop motion animation and VHS videos at age 10. I didn't really have a censored upbringing so I was able to watch what I wanted, and I gravitated towards serious cinema by the time I was 9 or 10 years old. Since birth I was drawing, making comics, writing and imagining a certain dreamscape, all of which I still draw on when I write as an adult, almost moreso than any outside influences. In the late 90s as little kid I'd sneak into arthouse theaters, and watch things like the Dogme 95 films, and it was things like that which inspired me to make my own feature films. I did go to Academy of Art University, but it was mostly to spy on others and destroy my ego. My aesthetic was already fully formed. It's nice to be graduated and have time to focus on what's important... Which is Collage Fossil Pictures (and ending world hunger).
What can you tell us about your filmwork prior to Struggled Reagans?
A lot of it I don't really share. I had a sketch TV show when I was younger, music videos, shorts. I also did post production for various commercials, etc. When I was younger, a lot of confrontational, real world performance art type stuff used to be my thing, but I settled on making hermetic fiction illustrations for my own legal safety. As I said I have a thing about staying out of jail. Lame, I know, but I'm all about features and serials now.
How would you describe yourself as a director?
I try to give the actors a lot of ownership and room to play. I often track them more tightly till they get it and they can kind of blossom near the end and surprise me more. I'm really passionate and reliable, responsible but kind of ruthless in that I won't let people fuck me over. I'll get it done no matter how many pandas have to cry. Failure isn't an option. I just basically try to really go for it every day, and failure to me is just cruising along or making a compromise. If I miss one shot I wanted to get, it will haunt me for years. These days, I try to be over prepared so I can be daring and experiment more.
Filmmakers who inspire you?
There's a lot of content I love and always keep up with. I view the film industry how a lot of dudes might view sports. I'm interested in what type of content creates certain stats and how it changes the game and what gets its fair due, which gambles flop and which pay off, etc… it's the way culture is shaped. It's a wild snake hologram and the glitches are frequent. I get more inspired by people's career paths as I think of film as a weird business hierarchy. People Like Jean Pierre Jeunet, Wes Anderson, The Coen Brothers, or Richard Linklater who were able to do really unified personal work for their whole careers in a mainstream space is kind of the ideal for me. Even Harmony Korine, or on smaller scale someone like Joe Swanberg [Joe Swanberg interview - click here], who goes from really tiny projects to larger uncompromised versions of their work with "mainstream appeal". I don't want to limit myself. The internet has kind of erased the romantic notion of an "underground". I'm not going to pander, but I also hope to direct a few "hit"-movies in my lifetime.
Your favourite movies?

Feeling lucky ?
Want to
search
any of my partnershops yourself
for more, better results ?

The links below
will take you
just there!!!

Find Gregg Golding
at the amazons ...

amazon.com

amazon.co.uk

amazon.de
Looking for imports ?
Find Gregg Golding here ...
Something naughty ?
(Must be over 18 to go there !)

The Holy Mountain, Pierrot Le Fou, Throw Away Your Books, Riot in the Streets.
... and of course, films you really deplore?
Dunston Checks in, MVP: Most Valuable Private, Patch Adams.
Your/your movie's website, Facebook, whatever else?
cosplayfetishbattledrones.vhx.tv
Anything else you are dying to tell us and I have merely forgotten to ask?
There is a tumor in the collective unconscious. It's Morphin time! Thank you, be sure to check our Struggled Reagans and Illuminati Puppet. You can follow me on Twitter at @Gregg_Golding and follow @struggledreagan and facebook.com/struggledreagans.
Struggled Reagans will next screen at the 2014 Sci Fi London Film Festival, April 24th to May 4th, so buy your tickets when the program launches. They'll be screening a new DCP of the film. The Reagans will be there.
Thanks for the interview!
I send honor to your family.