Your upcoming movie Subconscious - in a few words, what is it about?
The basic story is about Peter Williams a history professor at the US Naval War College who is searching for the truth behind is grandfathers disappearance in 1943. Peter and his team discover that the classified story about his grandfather's command, the USS Lionfish, and his grandfather go deeper than anyone ever imagined.
What were your inspirations when writing Subconscious - and why of all things a submarine?
My family is now 4th generation military. Two of my grandparents were in the military. My grandfather George Sterling was involved is locating and capturing Nazi spy rings in WW II. My grandmother was an Army major in WW II, my dad was a US Navy Seabee in the pacific in WW II and fought hand to hand in some of the islands over there. I was in the US NAVY for 6 years as well. I worked in Submarine Communications and the VLF site in Annapolis MD, and I was involved in Anti-Sub warfare at the end of my Navy life and in Heavy Military at General Electric. And my niece and her husband graduate from US Army bootcamp this week and are on their way to South Korea for their first duty station. So the military and, of course, submarines are very high on my list, so I wanted to do a military movie and I wanted to do it with other veterans and for veterans.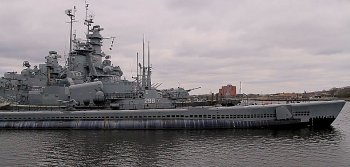 the actual USS Lionfish
How much research did you put into both the historical and the time travel aspects of your story?
I've always been a big time travel, sci-fi, and military story movie buff so the time travel aspect was pretty easy to sort out. The historical aspects were more demanding - we wanted to ... and I believe we succeeded in getting a few real history tidbits in the film to really create a storyline with some truth in it. When there is a bit of truth in a scripted story it just seems to make the entire story much more "believable".
I think one of the key elements of a film like Subconscious are its locations - so what can you tell us about yours, how did you find them, and where do you see the advantages but maybe also challenges in filming in these actual, authentic locations?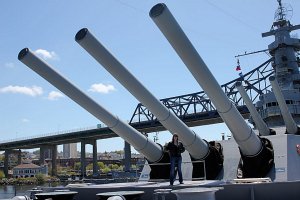 Originally we were considering the usual sets... but I just didn't like the idea of yet another fake submarine movie. Even the good ones tend to cheat the conning tower/bridge and the control room into one set. So I started looking around and got some Navy veterans to help... We located the USS Lionfish. A real World War II diesel sub that was perfect for our movie. So we're filming for the first time in the indie film world – a sub movie on a real submarine. We also needed some establishing shots for the characters as we meet each in their "normal" environment, so we went to the real location and we're filming Mike's introduction in the farmlands of Britain, Peter hopefully on the grounds of the US Naval War College. Stacey and Vicki in Peter's apartment in Fall River, MA, and Mr. Garmin's intro on board the USS Massachusetts – a real WW II battleship. So all our characters are introduced in their "home" element in a real location. We're still waiting to hear from the US Naval War College. They've already provided a lot technical and given us a technical advisor for the film, Lt. Cmdr Bill Murry USN Ret. So we're hoping they'll approve our request to film on the campus.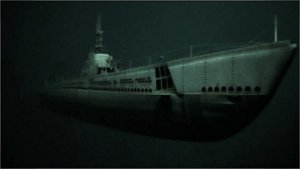 Another major factor concerning Subconscious are its special effects I suppose. So what can you tell us about that aspect of your movie?
Wow, yeah, this is a sci-fi, time-travel, military submariner movie... this is a visual effects-heavy film, and frankly if I didn't have the good friends I have, it could never get made for under $2M dollars, but I do have good friends and I am also a visual effects artist. Between Avi Das at BarbedwireFX and my "home" team in NYC we're getting all the visual effects done at no cost up front! So our visual effects will be right up there with Hunt for Red October and others.
What can you tell us about your cast, and why exactly these people?
They are all my friends... and they're great actors. Two of our main cast are both US special forces veterans and are hard working actors. Tom Stedham from The Glades and Tim Abell from NCIS. We also have Amy Gousset, she was in Army Wives and I worked with her on another feature Legend of Love. Added to that we have a great Aussie actress, Naomi Brockwell, and to top it all off Mike Beckingham in his first feature length leading role. Mike, by the way is Simon Pegg's little brother. Simon plays Scotty in the new Star Trek films, he's got a new film out as well, The World's End. So we have big hopes for Mike to follow in his bro's footsteps!
Do talk about the intended look and feel of your movie for a bit!
The movie is a dark suspense/thriller borderline horror film, on top of the sci-fi and military aspects. Come on, it's set in a 70 year old metal can designed to sink – that's a lot of drama right there. Add in the fact that the boat is a runaway and takes our team back to fight in WW II – now the roller coaster just gets better and better. Because the boat is a character in the film I wanted to let the audience feel its presence and emotions as well, and of course the spirit that drives it. To do that we've added some specialized camera shots and planned heavy post processing for the "boat eye view" of the story. Along with this, one of our characters plants some hidden surveillance cams around to record the events, and these are written in and have special processing planned as well. The two custom camera shots, along with being in a sub deep underwater, create a vary dark and mysterious world our team have to survive in... or not... but you'll have to watch the movie to see. Overall we're really driving toward American Horror Story meets U-571.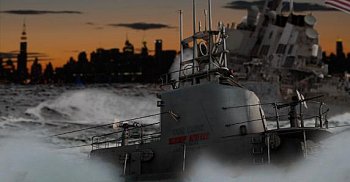 As far as I know, Subconscious is presently still in its fundraising stages. So what can you tell us about your fundraising efforts?
Yup. I'm self funding and using Kickstarter to finish up. All my friends are helping across the board. We have a completely professional team for cast and crew that are all working for next to nothing to help me make this film. Our DP is an Oscar nominated Emmy winner, (Indiana Jones, Star Wars, Air Force One and others), our Sound designer (U-571, Twister and others) is an Emmy winner. the rest of the crew are right up there! So please go to http://www.kickstarter.com/projects/2103655780/subconscious-feature-film and donate and help us make a great flick!
Once the funds are raised, how do you plan to proceed - and any idea when and where the film will be released onto the general public yet (and yes, I do realize it's waaay too early to ask)?
We're planning a digital distribution in summer 2014. Beyond that, I'm not tempting fate - we'll see...
Any future projects beyond Subconscious?
Yup. We have a buddy motorcycle road movie that we're hoping to film next with (knock on wood) Simon and Mike. We'll be using a lot of the same cast and crew for that one as well!
What got you into filmmaking in the first place, and did you receive any formal training on the subject?
Nope... just love movies and got burned out working for corporations on Wall Street. I literally quit and decided to start a new career. I started as a sound designer/sound editor, then started mixing/re-recording features, then started editing and doing the rest of post, and over the past 3 years started directing and producing. I learned how to do visual effects last summer.
What can you tell us about your filmwork prior to Subconscious?
I've done a lot of other people's projects and thought it was time to do my own. You can see most of my info on IMDb or my website at http://www.georgiahilton.com.
How would you describe yourself as a director?
I wouldn't dare try to describe my directing... I'll just say that all the actor's who have worked with me tell me I'm an actor's director... you tell me what that means. I just won't let them get away with anything but their best. By the end of the film a few of the hate me - until they see the finished piece and then they call and want to work with me again... so I must be doing something right. Frankly, I just love the whole process of giving the audience a great story and a good ride.
Filmmakers who inspire you?
Simon Pegg, Kelsey Grammer, Cary Grant, Tarantino, Hepburn, Ron Howard, J.J. Abrams, of course Hitchcock, Soderberg, and Kubrick.
Your favourite movies?

Feeling lucky ?
Want to
search
any of my partnershops yourself
for more, better results ?

The links below
will take you
just there!!!

Find Georgia Hilton
at the amazons ...

amazon.com

amazon.co.uk

amazon.de
Looking for imports ?
Find Georgia Hilton here ...
Something naughty ?
(Must be over 18 to go there !)

Hot Fuzz, Down Pericope, all the Hitchcock films, anything Star Trek, the original Star Wars, U-571, Hunt for Red October, K19, Das Boot, all the good WW II Sub flicks, the first Matrix, The Lord of the Rings.
... and of course, films you really deplore?
Matrix 2 and 3, The Hobbit - most sequels. Why can't they just make a sequel with the same characters we've grown to like in another really good film. Why do they keep having to "raise the bar" only to trip over it.
Your/your movie's website, Facebook, Kickstarter, whatever else?
http://www.subconsciousfilm.com
http://www.facebook.com/subconsciousthefilm
http://www.kickstarter.com/projects/2103655780/subconscious-feature-film
Anything else you are dying to mention and I have merely forgotten to ask?
No I'm good. Good set of questions.
Thanks for the interview!