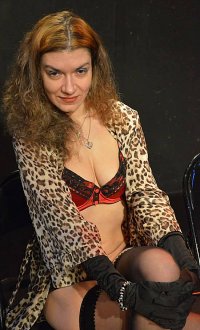 photo by Stas Pix
I want to address Bradley Creanzo's comments about me in his interview for this website [click here]:
First I would like to say that it was my wish that Creanzo mantain a more positive attitude and put the needs of his film projects before his own personal feelings. It is often upsetting when any relationship ends, but it is important to show people respect and professionalism when you will have to continue to work together. It is true that we dated for nearly 2 years and were dating when we filmed Agraphobia. It is also true that I acted in 4 episodes of Scott Perry's amazing In Fear of-series [Scott W. Perry interview - click here].
First I met Jeremiah Kipp on the set of The Days God Slept [Jeremiah Kipp interview - click here], then we both worked with Scott Perry, the creator of the In Fear of series and on the set of Crave. Things evolved and I came out to work on Fear of Touch, then I was cast in Fear of Blindness, then later Fear of Sexual Harassment and Fear of Speaking in Public (with Debbie Rochon [Debbie Rochon interview - click here]). It's been a wild, wonderful ride in the In Fear of-series! I am so thankful for the experience!
I have acted in a few of Bradley Creanzo's own projects, too, including Night Games, Bible Belt Slasher Part 2, his music video Demons of the Night, and Agraphobia. Creanzo and I have acted together in about 22 films total, and 4 of these films were since we broke up. Since 2012, I have acted in over 50 films and have worked with the same directors repeatedly, Creanzo included. My reputation as an actress is solid. I have done everything in my power to support all of my projects including the films with Creanzo. For me, business is business and I refuse to allow my personal feelings to affect a film shoot, or the promotion of a film.
I sincerely hope Creanzo's comments will not affect anyone's opionion of me or the In Fear of-series. Please check In Fear of out on Vimeo and be prepared to be dazzled - https://vimeo.com/ondemand/infearof