Your upcoming movie Disregard the Vampire - in a few words, what is it about, and what can you tell us about your character in it?
Disregard The Vampire is a film about two vampires, one an old, theatrical vampire played by Scorpió (John Langis), mentor and perhaps lover to my character, Valentine the vampire. Valentine is a 100-year-old soul trapped in her human, 'college girl' body who craves attention - and fresh blood. The two vampires lure a young couple into their home and use a 'party' as a way to… well, you have to watch the film to see what happens!
You're playing a vampire ... so what do you even draw upon to bring such a character to life (always assuming of course you're not a real vampire)? And related to that, is the vampire genre a genre you can at all relate to?
Why do we assume I am not a real vampire? Haha – yes, 'vampire' is a film genre I enjoy and can relate to, in a sense; feeling isolated, trapped in this world and yet outcast at times. My character Valentine is definitely a large part of myself, an embodiment of both the typical vampire ideal, but also part of me.
How did you get involved with the project in the first place?
Mike Messier [Mike Messier interview - click here] approached me online this past summer in regards to my film My Big Bad Wolf (2013), and he wanted me on his cable show for an interview. I was unsure what I'd talk about on the cable show, so that interview hasn't yet happened. A few months later, he asked if I wanted to direct a friend's film Amor Sangre and, at this production meeting with the girls of Amor Sangre, he asked if I would like to play a vampire in his upcoming film.
As far as I know, the film also uses some of your poetry, right? So what can you tell us about the poetry used, and was it written specifically for the movie or pre-existing material?
Indeed, the poetry used throughout the film is my writing, my poetry. The three poems used in the film were already written and part of my collection – one of which, The Lion and The Lamb, was written for a book I wrote several years ago, and actually intend to re-write very soon. This poetry is largely about sex, loss, and is a bit depressing – I guess it suits my character!
What can you tell us about your director Mike Messier [Mike Messier interview - click here], and what was your collaboration like?
Mike Messier has had years of experience both making short films, and also working alongside wrestlers – intriguing, right? He has shared his personal graphic novel with me, which is definitely an insight into Messier's psyche (and is also an interesting read)! He is an idea man, and works well with an organized and structured right-hand, such as his co-writer on Disregard The Vampire, Court Fisk. My collaboration with Messier was good; he listened to my ideas, asked for my input, saw my strengths, and allowed me to assist on the production utilizing those strengths. He also encouraged me to try my hand at acting!
What can you tell us about the shoot as such, and the on-set atmosphere?
The shoot's on-set atmosphere was crazy, and hectic. I believe the focus of pre-production did not take into consideration the essential aspects of filming – shot list, call sheet, hair and make-up, set changes, order of filming – and so each of these aspects changed throughout each day of the 6-day shoot. Multiple assistant directors and production assistants running around, the script was re-written each night, therefore any semblance of a shot list became obsolete, the call sheets for the next day were not sent out until perhaps 11pm the night before, and actors would be in hair and make-up for 1-2 hours each because the 'next scene' kept changing without regard to characters' changing looks. For the most part, we ate donuts, apples, coffee and water. Our last day of filming ran from 8am until 1am the next day, and in that 17-hour day we had just one meal – lunch, at 3pm.
Speaking of vampires, you're also attached to another vampire movie, Amor Sangre, but this time as a director - so what will that one be about?
We just wrapped production on Amor Sangre, a Lindsey Elisabeth Cork film [Lindsey Elisabeth Cork interview - click here] – her first production, in fact. Though also a vampire film, it is very different from Messier's Disregard the Vampire. We like to call it a 'lesbian-vampire-romantic-comedy' featuring an out-of-touch vampire and her kidnapped lover, and I believe it will live up to its description.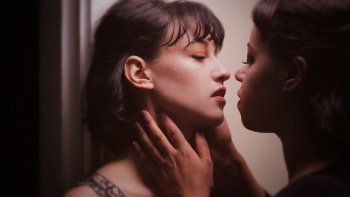 Lindsey Elisabeth Cork, Jocelyn Padilla in Amor Sangre
How did you get involved with Amor Sangre in the first place?
This past fall 2013, Mike Messier contacted me and asked if I would like to direct his friend's vampire film. I said I could be interested – send me the script. After reading the script, I sat down with the creator and co-star for a production meeting – and a project was underway!
What can you tell us about the intended look and feel of Amor Sangre?
Being a 'lesbian-vampire-romantic-comedy,' you can easily imagine many different directions the film can take - from lighting, editing style, art direction, and acting. For Amor Sangre, we wanted to go for a dark look paired with very intense make-up, with an undertone of soft romanticism. We use reds, blacks and browns; the browns soften the stark contrast between 'vampire' film and 'romantic comedy' as well. In my opinion, it will be more of a dark comedy – dark, with hints of humor.
What can you tell us about the women behind Amor Sangre, Lindsey Elisabeth Cork [Lindsey Elisabeth Cork interview - click here] and Jocelyn Padilla [Jocelyn Padilla interview - click here], and what is your collaboration like?
Lindsey Cork, Jocelyn Padilla and I became friends through this production in fact. These are two young women who have decided to dedicate all of their time, money and lives – to acting. In addition to acting, Cork is working on her writing, while Padilla is working on producing. Initially, I signed on as director - I gave them templates, offered to assist by answering production questions, and said I would work on the script and shot list with the director of photography. However, I ended up being the lead producer on the film, finding locations, half the crew, emailing, making schedules, and more – which was stressful and time-consuming, taking me away from my own work. In the end, though, I was given such a high compliment – the two said that this production taught them more than any other production they had been on. Being appreciated really does go a long way - and those two soak up information like sponges; I could see their progress as we worked on pre-production, and they really brought it on set.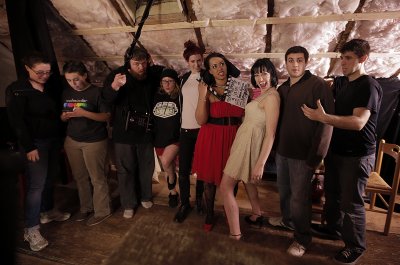 Cast and crew of Amor Sangre
Anything you can tell us about Amor Sangre's cast, and why exactly these people?
The cast features Lindsey Elisabeth Cork and Jocelyn Padilla. Cork wanted to create a film in which she and Padilla could both flourish, acting as characters they would not normally play; Cork is the little housewife Veronica, while Padilla is the Spanish vampire, Lucianna. Leo Areia plays Carlos, the sleazy pimp to weathered prostitute Serena, played by Lin Hultgren. Areia not only fit the physical aspect Cork was looking for in 'Carlos', but he is very talented. And initially, the 'Serena' character was to be played by another actor who fit the part with both her attitude and looks, but unfortunately we had to re-cast at the last minute. Amongst the many interested parties, Hultgren really stood out, both physically and also due to her versatility as an actor.
What can you tell us about the shoot as such, and the on-set atmosphere?
The shoot ran smoothly in comparison to other sets I've been part of, and considering we did this film in 4 days – one night, two 16-hour days, and another morning – I'd say we really had our ducks in a row. Of course, there were bumps in the road; the location we had secured two months prior was no longer available to us five days before filming, so we had to quickly look at other locations. However, it was really a blessing in disguise. Each day we began two or so hours later than listed on the call sheet due to our sudden location change, new blocking and set design fixes – but we ended exactly on time the last day! I felt like everyone really worked together; the atmosphere was just as Joe Cooke (Angler Audio) had described to me, 'professional yet informal.' We moved along swiftly, we got all of our coverage, and it was a relaxed atmosphere. I was told multiple times that I ran the set with a firm hand yet was personable – professional yet informal. It was a relaxed atmosphere and yet there was no dawdling. It's hard running around, doing multiple jobs for, essentially, a 3-day shoot – but everyone came together, and we made a film.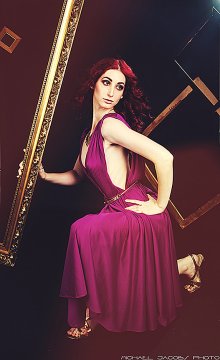 Since they're both vampire movies, how do Disregard the Vampire and Amor Sangre compare?
Though the theme 'vampire' seems to couple the two films together, they do not share many other similarities. Both films feature vampires who desire fresh blood and so take, and even play with, their prey. However, they certainly differ. Disregard the Vampire is a strange, avant-garde, artsy film set in the 1970s – or rather, an in-between time. Based on what was captured during filming, I imagine it will be choppy, with jump cuts, time moving both forward and back. It has an undertone of sensuality, as well – more a drama, not a comedy. Then you have Amor Sangre, which is a dark comedy, featuring a lesbian vampire. It is a bit absurd at times, and there's even a brief, 80s-style montage featuring Lucianna the vampire and Serena the prostitute. Very different styles and feelings – you definitely couldn't confuse the two!
Any future projects beyond Amor Sangre you'd like to talk about?
Beyond Amor Sangre, I am working on my own work – selling my art prints, showcasing at RAW artists in Boston this May (http://www.rawartists.org/geenamatuson), working to script several short films for the summer… and most importantly, my writing. I am a writer first and foremost, and I intend to put several books together, starting with a book of short stories – perhaps a picture book. I already have over 200 shorts typed, so I believe editing is in order!
What can you tell us about your filmwork prior to Disregard the Vampire and Amor Sangre?
It's strange for me to think that I am an 'award-winning' filmmaker – but hey, I am! Prior to these two vampire films, I have created over 40 short films – most of which are available online (http://vimeo.com/geenamat), and have both produced events and been part of gallery shows, festivals and installations for over four years now, including the Germany After Dark Horror Festival based in Germany, CyberArts Festival, the "SNOB" Film Festival, and more. I recently received the One To Watch Award in the 2013 Red Wasp Film Festival for my film My Big Bad Wolf (2013), and was nominated for Best Student Film at the Action On Film Int'l Film Festival based in California. I am also a recent semi-finalist in the 2013 Adobe Design Achievement Awards for my short film Ice Cream For Breakfast (2013), which I wrote, directed, produced and edited.
What got you into acting and filmmaking in the first place, and did you receive any formal trainging on the subject?
I have had formal training as a filmmaker and artist, but no training as an actor. I have acted in my own works, an extra in several films, worked with friends on art pieces – but Disregard the Vampire is the first narrative film in which I've acted.
As for my formal training, I have been involved in art my whole life. I recently graduated from Massachusetts College of Art & Design with a BFA in applied Film & Video with both Academic Honors and the annual award for Excellence in Liberal Arts. And, though I have been involved in art my whole life, I had never picked up a video camera until late freshman year. I initially went to MassArt for illustration, but my love of writing and storytelling – and my many ideas – led me to filmmaking. I grew up taking years of live drawing classes at The Danforth Museum in Framingham, MA, and years of pottery classes at The Potters School in Needham, MA. I have been selling my artwork and crafts since I was nine years old, taking numerous other classes atop those. You can read more about my biography on my website (http://www.geenamatuson.com/about).
You're also a writer and a visual artist, right? So what can you tell us about those aspects of your career?
As mentioned above, I have been creating both illustrations and crafts from a very young age, with formal training alongside my own ideas. I have been in numerous gallery shows, which feature installations of my illustration, photography, and even sound art. I take pleasure in this aspect of creating, but am more focused on writing. I have been writing since I could spell, and have saved nearly every document I've written. Writing truly is my passion – I think what makes me a good writer is the fact that I not only aim to tell a story, but I absolutely love words, and try to string words together in a pleasing pattern. Truly, I just want to write books for the rest of my life.
Writers, actors, filmmakers, artists who inspire you?
A massive influence on my life is author and illustrator Arnold Lobel, author of the Frog & Toad-series, Uncle Elephant, and illustrator of several children's poetry books I own. And who doesn't love Scary Stories To Tell In The Dark by Alvin Schwartz? I am a huge fan of Edward Gorey, Dr. Seuss' illustrations and other creations, and Virginia Woolf. I love Salvador Dali's work, and am a huge fan of Chagall. French new wave cinema truly got me interested in film – along with French history and the language –, and by far, Jean-Luc Godard is my favorite director, Anna Karina an amazing star to his films. Godard is on par with my other favorite director, David Lynch – Twin Peaks (1990), Mulholland Drive (2001)… yes. I could watch every film featuring Eva Green, Nicolas Cage, Michael Douglas, Leonardo DiCaprio, Louis Garrel, Michael Pitt, Rhys Ifans, Cary Grant, Humphrey Bogart, Groucho Marx, Lucille Ball, Fred Astaire, Ginger Rogers, Geena Davis, Romain Duris, Daniel Auteuil, Julia Roberts, Nicole Kidman, Naomi Watts… the list goes on.
Your favourite movies?
The list of my favorite films is quite extensive and forever growing, so I'll just list a few. Danny Deckchair (2003), The 10th Kingdom (2000), Queen of the Damned (2002), The Long Kiss Goodnight (1996), A Woman Is A Woman (1961), Alphaville (1965), Copacabana (1947), The Dreamers (2003), Dans Paris (2006), Perfume (2006), Dial M For Murder (1954), Mulholland Drive (2001), …
... and of course, films you really deplore?
I am not sure I can think of movies I really deplore!
Your/your movie's website, Facebook, whatever else?

Feeling lucky ?
Want to
search
any of my partnershops yourself
for more, better results ?

The links below
will take you
just there!!!

Find Geena Matuson
at the amazons ...

amazon.com

amazon.co.uk

amazon.de
Looking for imports ?
Find Geena Matuson here ...
Something naughty ?
(Must be over 18 to go there !)

You can find me at www.geenamatuson.com, and can follow me online with Facebook (https://www.facebook.com/Geenamatuson), Tumblr (http://geenamatuson.tumblr.com), Twitter (https://twitter.com/Geenamat), Vimeo (http://vimeo.com/geenamat), and YouTube (https://www.youtube.com/user/geenamat).
You can find information on Disregard The Vampire on Facebook (https://www.facebook.com/disregardthevampiremovie).
You can find the home of Amor Sangre on my website (http://www.geenamatuson.com/amorsangre) and on Facebook (https://www.facebook.com/AmorSangre), and can follow updates on our Twitter (https://twitter.com/amor_sangre).
Anything else you are dying to mention and I have merely forgotten to ask?
I think I have just about summed it all up, thank you!
Thanks for the interview!