Your film The Shadow of Death - in a few words, what is it about?

The Shadow of Death is about some friends who go out to the woods to pick up some weed, they get lost and find an abandoned cabin. While this is going on a killer is wandering around the same woods. It's a pretty clichéed film but that's what it is intended to be.

With The Shadow of Death being a slasher - is that a genre you're at all fond of, and your genre favourites?

Yes, I grew up on horror films but found slashers more likable, I think because of the realism of them, monster films and such would come second for me, but I still loved them. I'm a fan of werewolf films and zombie flicks as well in horror but outside I love a good comedy, western, war and being a dad I have come to enjoy family films and appreciate them for what they are.

(Other) sources of inspiration when writing The Shadow of Death?

Bad Taste, Halloween, Friday the 13th(s) and also the way some films were made such as El Mariachi, the process behind that and Robert's book Rebel without a Crew really gave me a push in the right direction. But stepping off the page of film, at times while thinking about making a movie an inspiration for me was my job, sometimes I was doing some shitty work to make money and this really did push me on to do something outside of my daily job.

What got your project kicked off in the first place, and what can you tell us about the trials and tribulations of bringing a low-to-no budget film of this kind from written page to screen?

I have been writing music and songs on my computer for ages, kind of hip hop instrumental stuff and I have always been heavily influenced by films in some way or another, I had some music reviewed by some industry peeps once and they said I should look towards writing for films, and that made total sense, so I tried and tried and was always let down by false promises, so I thought why don't I just make my own film so I can could score that.

Problems in production, I would say lack of money was one, but it's that old story of less is more, and I applied that to every aspect of production, so we worked harder on it as a team and even with a very small budget we just improvised with sets, FX etc... I was very lucky I had a 3 month contract to film at the cabin and surrounding woods, all for the price of a bottle of whiskey. Through production stages I found most stages fairly OK, just by taking it a step by step and keeping on top of it all. I have to admit it was hard sometimes on family life and keeping every aspect of your life happy. So it can be trying that's for sure.

How would you describe your directorial approach to your subject at hand?

I think keeping a happy feeling on set and keeping everyone focused on what we were doing was an approach I took on, when it came to it., The Shadow of Death was my directional debut, so to be honest, I learnt how to be a director on set, but with such an amazing crew behind me, who all got along really well... we all just got down to it, I think one thing is keeping everyone interested. I shot really fast, a lot of the takes are one takes, I wanted to keep momentum up, as I had read of people losing interest if production went on too long, especially if no one is getting paid. Also I think most cast and crew not knowing each other helps - so I think if it had all been friends, there would have been arguments.

I think it's fair to say The Shadow of Death is not the most serious of slashers. So how would you describe your movie's brand of humour?

Oh totally, I was making the film I wanted to watch, something that felt like a movie I grew up with, not taking itself seriously in any way, but just enjoying it for what it is. I think it a very British horror film but definitely with influences of US horrors. But there would be almost a Simpsons- or Carry on-humour going on at times, I guess there is also a lot of almost toilet humour in it as well.

No slasher without gore effects of course. So what can you tell us about yours, how were they achieved, and was there ever a line you refused to cross for other than budgetary reasons?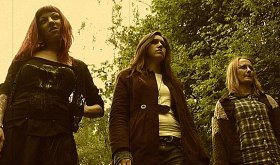 Sophia Disgrace, Corinna Jane, Jane West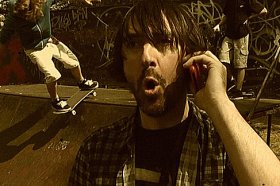 Daniel Carter-Hope
Well I wanted all in camera FX, no CGI. My friend Mark Kelly was an art student and also butcher in my town, in my head this meant he could do FX, this was how I came to ask him, so I would have a pint in pub with him and come up with ideas of how to kill people in the woods, and he would come up with some crazy ideas - some which were not possible... one idea I had for example would have been to kill 8-12 Ramblers in the woods in one go but that would take too long and cost too much, so that idea was scrapped. But at no point we thought anything was too strong, we didn't care, we just wanted to have fun. If anything I just wanted the FX to look as good as we could and I feel we have done a pretty decent job.
What can you tell us about your quartet of leads, Daniel Carter-Hope, Sophia Disgrace [Sophia Disgrace interview - click here], Jane West and Corinna Jane? How did you get them, and what made them perfect for their roles?
Dan was recommended to me, I did not even audition him, I had a good feeling about him.
Again Sophia was recommended to me and I originally gave her the role of Debra and I wanted her to play down all her ink, piercing etc. but then I changed my mind and Nancy's role was more right for her.
Jane West was in fact Andy Clarke's (sound recordist) girlfriend, he mentioned she was interested in doing an audition and at first I was hesitant, mainly because of their relationship and I did not know how they worked together, but they are super cool and her audition was great!
Corinna who plays the lead Debra was from an internet casting call I put out, she auditioned and was very dedicated from the beginning and just seemed perfect.
I can't say enough good things about these guys and they all clicked perfectly together. I was and am a very lucky first time filmmaker to have had such a great cast.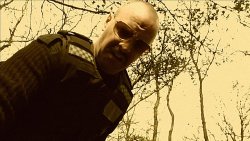 Dan Bone
You just have to talk about scene-stealing Dan Bone for a bit as well, and about his character in The Shadow of Death!
Well Dan Bone who plays Craven is a really good friend of my wife's, I had met him a couple of times and knew he had done some corporate horror film shorts, I checked them out and digged his acting, so I asked him to check out the script and told him I wanted him as the policeman, but we took it further and ended up co-writing his part. And in fact now we have written a zombie comedy film together as it worked out so well writing his character in The Shadow of Death. Everyone has come to really love the character of Craven, and we somehow knew he would be quite an almost iconic figure, he is kind of like a Tarantino film, full of other films loved by us we moulded him into what he is in the film. We are actually going to write a spin-off film about Craven.
A few words about the rest of your cast and crew? And what can you tell us about the on-set atmosphere?
Every cast and crew member was amazing, people really got behind what I was doing, Dan Carter Hope, would not accept any petrol money but just told me not to "let him down" - and this really spurred me on to make something good as I do not like to lie or let people down. The whole atmosphere on set was just fun, getting up early on a Sunday morning to film this crazy horror movie was just complete fun and I know everyone was disappointed when we wrapped. I was and still am amazed people actually believed in this crazy idea I had of making a film, considering I have no previous work to show.
The Shadow of Death has been finished only fairly recently. Any idea when and where it will be released onto the general public?
Well, we are submitting to festivals at the moment and would love to be picked up for distribution - but we are realistic and are well up for doing the distribution ourselves, it would keep in vein of the whole film. In fact I would really like to do a limited VHS release. I'm very inspired by Roger Corman [Roger Corman bio - click here] and his own DIY way of filmmaking, and feel if we sold it ourselves we could put what we made from sales back in to another script and just keep going. So there is no public release date at the moment, which is annoying in some aspect as I just want to get it out there, but it's just deciding the right approach to doing this to make sure it is done right.
How did you get into filmmaking in the first place, and did you receive any formal education on the subject? And what can you tell us about your filmwork prior to The Shadow of Death?
I always wanted to be working in films but somehow forgot this for a huge part of my life - I got really into skateboarding and DJing and put filmmaking to the back of my head until I felt it was the right time to do it. As I said this is my debut film, I have never studied the subject at a film school, but felt I could give it a good go. I have not done anything previous to this, some little skate videos and some fun stuff with my family but no shorts or anything like that... the film was my film school and I cannot wait to start again with the knowledge I gained from working on The Shadow of Death.
Any future projects you'd like to talk about?
Dan Bone and I have written a zombie comedy - best way to say it is if the Goonies met some zombies on a housing estate in England. It is really fun and we have really tried to stay away from things like Shaun of the Dead, which is something I feel English comedy zombie flicks seem to be compared to. We are also writing a kind of sci fi comedy about two security guards who one night looking after their building get extremely paranoid that aliens are going to attack. Then there is a Cornish pixie film Dan is writing, then we want to go on to do Craven vs. the Devil Worshiping Doggers - which like I said is a spin off from The Shadow of Death. So we are pretty busy at the moment, it's good to write while we promote The Shadow of Death, then hopefully we could jump into a script if a green light was given or the time was again right to do it.
Directors who inspire you?
John Carpenter, Tarantino, Robert Rodriguez and Peter Jackson. There are loads more, but these guys have really influenced me the most.
Your favourite movies?

Feeling lucky ?
Want to
search
any of my partnershops yourself
for more, better results ?

The links below
will take you
just there!!!

Find Gav Chuckie Steel
at the amazons ...

amazon.com

amazon.co.uk

amazon.de
Looking for imports ?
Find Gav Chuckie Steel here ...
Something naughty ?
(Must be over 18 to go there !)

Um, that's always a hard question. The Burbs, Halloween (original) - and there is loads more...
... and of course, films you really deplore?
I'm not a fan of romantic films, and there's a lot of films I have not actually seen because I know I just won't like them like Top Gun, Titanic, Avatar... I can't really think of any off the top of my head though.
Your website, Facebook, whatever else?
Well the films web site is www.theshadowofdeath.co.uk and you can go there which will link on to Twitter/ Facebook pages etc... So please come visit us and like or follow us, we have slowly been gathering quite a following, which amazes me and I thank everyone who is behind us.
Anything else you are dying to mention and I have merely forgotten to ask?
Well, I would like to say thanks for the interview, and a big thank yous to all our fans/supporters, and I hope we can get the film out for distribution or playing in a cinema/festival near you ASAP. So you can see what you have heard so much about. I also hope I can inspire fledging film makers and give them that extra boost to go out and film a feature - if I can do it, I think anyone can with a little determination and patience, don't just say you will do it, just do it! Thanks loads.
Thanks for the interview!