Your new movie War Path - in a few words, what's it about, and what can you tell us about your character in it?
War Path in a few words... it's got a lot of heart to start with, but it's a really fun indie crime thriller that takes you through some twists, turns and action with some lighter moments that let you breathe a bit. I was cast as the lead hero or antihero Joel and, I really enjoyed his run. He's got a lot of tough decisions to make and that's something you always enjoy as an actor. Joel himself is struggling to make his way in the world and fell into this line of work of murder for hire, but he's grown and seen more. He comes to terms that this life isn't what he wants. The audience will get to see that pretty early on and then watch how that ultimately unfolds for everyone. In the end that's what makes him relatable - yes he's been involved in his fair share of Frank's business, but we watch Joel be conflicted where he's always fighting that internal right-and-wrong feeling. He's got dignity, which is important, but we also watch Joel flirt with that line a bit.
What did you draw upon to bring your character to life, and how much Gary Nohealii can we find in Joel?
This was my first lead for a feature, so I really tried to put in as much work as I possibly could. I knew every one of my scenes in and out, but also every other character in the entire script. I kept a journal for Joel to give myself a full story and life leading up to the events in the film. Who I was, how I got into this line of work, and it really helped to establish the relationships I had with the other characters in the film, especially Eric who was played by a friend of mine, Erik Sundquist (he's amazing hire him). I got involved in some of the pre-production as well. I met our director Casey de Fremery [Casey de Fremery interview - click here] 11 years ago at a small movie premiere, and we worked together several times before he even wrote this script. Two of the projects featured the character Joel and basically gave birth to the feature concept. So having been around that long and knowing Casey so well we'd communicate and scheme things up of how were gonna get stuff done (mainly me being nosey and asking) - he'd mention locations he's trying to find and whatnot, so I'd strike out and try to match the script to my resources and pulled every little hook up I had in San Jose at the time. It really helped us down the stretch but it also helped me shape the world and get even more comfortable with the surroundings of the character. Huge thank you to my friend and actor Ranbir Sanghera. He set us up with our gym, junkyard, Frank's office, my apartment, exteriors, and final fight scene location for just a high five and a hug. Also referred some great actors, Erik being one of them, so that made it a really comfortable feeling to come to set cause you're friends with everyone already from director to crew to cast, and this is what you've dreamt to do, shoot a good movie with your friends.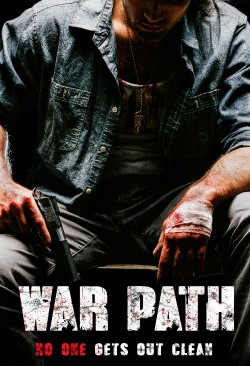 How did you get involved with the project in the first place?
Guess I kinda answered that in the above but a little more detail. When Casey and I met it was a little awkward, he was there at a screening for a project I had done with a friend but he didn't know anyone else and I'm pretty shy/awkward when I meet people, so it was kind of a ships-passing situation. We just smiled, we all laughed at a mutual joke and went home. A while later however I submitted for a film project he was casting or he may have just reached out. I'm not quite sure but we ended up working together. That's also where I first met our DP Ferg. It was a really interesting script and we absolutely hit it off, and I can say he's a really good friend of mine today. But from there we filmed the epilogue short film, which was the first version of Joel "unofficialy", which is a really cool short. Then we filmed a music video for a Linkin Park contest, and that's really where things took off. It had a similar narrative and we damn near won the contest, but from that it gave birth to the War Path script.
When Casey told me about the script I was like uhhhh how are we gonna do this... he said he had a plan and wanted me to audition first so we met up, I gave a reading... In my recollection I absolutely tanked it. To this day though Casey is kind enough to say I was great and wouldn't have moved forward if I did in fact tank. But from there it was on, Casey had some dough saved and then we fundraised for the rest, called in all of our favors and went to work.
What can you tell us about War Path's director Casey de Fremery [Casey de Fremery interview - click here], and what was your collaboration like?
No fluff, I really love working with Casey. He comes to work with a very clear idea of what he's going for but he is completely unafraid to pivot if things aren't working or aren't flowing the right way. Takes a lot of humility and trust to open up his vision and change things with the cast/crew, but he did so we could all collaborate when we needed to solve little issues. He's got his stressed days too, but for the most part he kept things light and if there was ever any real problems going on it never got back to the group, we always felt like everything was perfect, even though I know he was putting out some fires from time to time. Aside from that he's great with working with the actors and helping us get the best out of a scene, and was really cool with us making things our own. Usually we'd get in early with just the actors in the scene, Casey, Ferg, Tyler (cam 2) and Daniel (lighting), and he'd have us rehearse at a half clip and see how we naturally block things. Then we would work out the performance kinks and build from there. He steers the ship and we all work with him. If you got too far off the creative rails though he'll let you know. Also helps that he's the writer and editor as well, so he sees everything he needs.
A few words about the shoot as such, and the on-set atmosphere?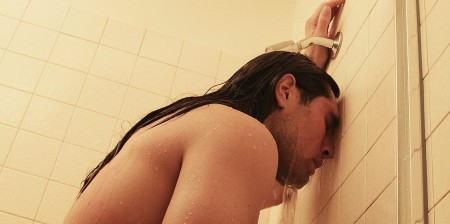 I was a little traveling family man. I loved every damn second of it. We all got really close and I'm great friends with most everyone from the cast and crew still; War Path created a solid bond. I was on set for 90% of the shooting days and even when I wasn't scheduled to act I would come in and PA for the day just cause I wanted to be there. From beginning to end it was just good times, it was the best experience I could have hoped for. Everyone was kind of spread out too, so sometimes we'd all have to crash in the same place for an early call the next day, so we'd stay up, talk, have a couple drinks and game plan in whoever's pad we were at. We had numerous dance parties erupt between scenes so that was a constant theme. I spent a lot of time doing things that made Casey nervous, especially some of my driving for takes or me hitting the deck when not planned, and I tore up an office but wanted to make it spontaneous so I just told Ferg to catch everything and went to town on the set. Best month.
Any future projects you'd like to share?
I got a supporting role in The Forever Purge hitting theaters this July, so that's exciting, hopefully the theaters are open by then.
What got you into acting in the first place, and did you recieve any formal training on the subject?
I was an art kid in high school and would just paint and draw all day long, and I wanted to get into the theater program at school but I was kinda shy and they had a bit of a close circle, so I shied away from it. Later on I found my way to a set by chance, not working just kinda hangin around. But an author approached me and said I looked like the character she had been writing in her novel Kahala Sun. She asked if I'd like to act in the movie adaptation. I told her I didn't know how to act and she encouraged me to get into a class. So I did. The movie never happened but I completely fell in love with acting that I kinda stopped focusing at work and eventually filed bankruptcy and short-sold my house. From there it's been a big adventure and I've been training ever since. Started with First Take Acting in the Bay Area, started studying with Matthew Barry in LA, who's become a great friend/supporter. If not for him I may have packed it up a long time ago (thank you buddy), and for that class I'd actually commute from San Jose to LA in a single day. Get to class in LA 7pm get out 10:30pm grab a coffee, drive home and sometimes get fogged in so I'd sleep at gas stations on I5 eating frozen hotdogs wondering why my life is like this, haha! I moved to LA finally, then trained at UCB, Studio 4, and that's where I picked up Meisner training which I love. It is an amazing foundation on the fundamentals of acting to say it crudely. Got the opportunity to study with James Caan and Scott Caan as well, who are both phenomenal and kind guys. But I met a teacher and actor named Val Lauren at Studio 4 as well and I've stuck with him, he's really got an eye for breaking things down and helping you find yourself, we work in a small group and it's really amazing. He's also monstrously talented in his own right, watch the movie Sal about Sal Mineo. So yea, lots of training, most of it coming after we filmed War Path.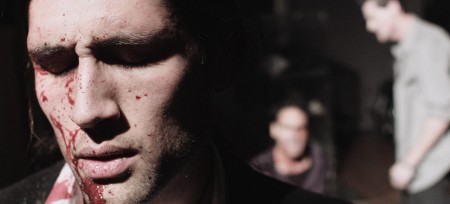 What can you tell us about your filmwork prior to War Path?
Prior to War Path I worked the local indie scene in the Bay Area and it was alot of the fun. The most substantial thing I was cast in and I still enjoy watching is a series by Brandon Rogers, Theater Class Season 2, that was an absolute blast to work on as well and I really miss those early days. Brandon has gone on to a super successful career as well, sky's the limit for that guy and I'm really happy for him, he worked his ass off.
How would you describe yourself as an actor, and some of your techniques to bring your characters to life?
Tough to describe myself, I usually try not to. Lately in my work I see everything and every character is different, but something I always look for in the person is humanity, just the simplicity of what they really want and why, then I filter that through every other aspect of their life and relationships to color interactions. This conversation can go on forever by the way... but something I really enjoy is when bad guys or antagonists are played with dignity. Bill the Butcher from Gangs of New York and Tyrion Lannister from Game of Thrones being some that come to mind.
Actors (and indeed actresses) who inspire you?
Oh man how much time ya got... Daniel Day Lewis - I'll watch anything the man's in -, Denzel Washington, Joaquin Phoenix, Tom Hardy, James Galdolfini, Paul Giamatti, Phillip Seymour Hoffman, Giovanni Ribisi, Michelle Williams, Kathryn Hahn - she blows me away, she is in everything and has been for years. The body of work she's put together is inspiring and I have never seen a false moment from her.
These are people I love to watch, but the ones who I'm inspired by these days are the blue collar working class actors. You see them in everything from film, TV, commercial and theater, and you may not know their names but they are familiar. It takes a lot to live like this going from room to room, auditioning, being rejected, and still grinding on. For the actors who make it work and earn a living role to role or attempting to like myself, that's inspiring for me to wake up and go.
Your favourite movies?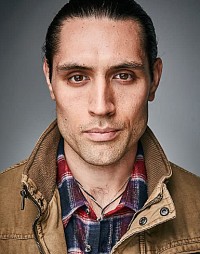 Feeling lucky ?
Want to
search
any of my partnershops yourself
for more, better results ?

The links below
will take you
just there!!!


Gattaca, The Blues Brothers, Lord of War, Gangs of New York, Fallen, Boiler Room, The Big Year, Fight Club, Ray, Blue Valentine, The Drop, Old School, Requiem for a Dream (when I'm in that mood), BioDome (it is a childhood guilty pleasure), Joker, Forrest Gump, Starship Troopers (guilty pleasure!), Gladiator, Jaws (watched this with my dad a million times), The Waterboy, Happy Gilmore - this can go on for a very long time, I try to watch everything out there for entertainment and to study.
... and of course, films you really deplore?
If I truly deplore anything you'll never hear me speak of it.
Your website, social media, whatever else?
I don't post a lot, but my Instagram handle is @Nohealii
Anything else you're dying to mention and I have merely forgotten to ask?
If you read through to this point, thank you and I really hope you all enjoy our film.
Thanks for the interview!