Your new movie Fun with Hackley: Axe Murderer - in a few words, what is it about?
Garrett: Lifelong masked serial killer Hackley is going through a rough patch rethinking his life and job. Hackley works in an office of serial killers (called Revelation Killing Solutions) and the weight of the corporate bureaucracy is crushing his love of killing.
Tim (T.E.): I'd add that Hackley's rough patch is something of a mid-life crisis.
Now how did the project fall together in the first place, and how did the three of you come on board?
Tim: I first met Trey in Houston Texas way back close to the turn of the century when I was working on a featurette called Bitters and other Natural Remedies. Trey auditioned for the lead and we cast him. From there he and I worked together off and on for years. Then he moved to Austin, and I eventually did the same. While in Austin, Trey and I wanted to work on something again so we got together for one of those 48 hour film fests. This is where Garrett came in (or, it could be that Garrett and Trey wanted to do that, and this is where "I" came in - memory is suspect). I think he and Trey have known each other since high school or something like that. Anyway, Trey's specializing in comedic acting, and my primary field of study being directing, left one specialization missing to make it whole (again, could be that I was the one filling a hole). Garrett really rounded out the team with his fantastic gift for ideas and writing, not to mention his encyclopedic knowledge of the horror genre. We did a couple of shorts in the Hackley universe before deciding it was too big for shorts and moved on to making a feature film.
Garrett: Yup. Trey and I played football together in high school. I spent the night at his house one weekend and his dog ate my shoe. We were destined to make movies together.
With Fun with Hackley: Axe Murderer being very obviously inspired by old school slasher movies, is that at all a genre you all are fond of?
Trey: Absolutely. I think I may speak for all of us when I say that growing up in the 80s gave us a huge appreciation and an almost nostalgia for slasher films. For me personally, I probably can't count on one hand how many times I went as Jason Voorhees or Freddy Krueger for Halloween.
Garrett: I love it to my core. Every year I attend a horror convention in Dallas called Texas Frightmare Weekend and often dress up because Iím a dork. I can still remember the first horror movies I saw really affecting me. I saw an edited for TV version of Friday the 13th 5: A New Beginning on some cable channel way before I should have and seeing Shocker in theaters with my Dad when I was 8 and running out of the theater for a part I later found out wasnít even scary. In my work office, I have autographed posters from Friday the 13th, Halloween and Nightmare on Elm Street all staring back at me.
Tim: These guys have me beat when it comes to slasher genre knowledge levels. I love pretty much ALL movies and like to genre-hop, and like to subgenre-hop in the case of horror, and can easily jump between The Shining and Evil Dead back-to-back. I'm sure my spaztasticness is related to one of my earliest memories; my first drive-in movie, with my mom. It was Romero's Night of the Living Dead. I was only about 5, or maybe even less. That night at the drive in changed me in deep, fundamental ways that are still manifesting, lemme tell ya.
Could you at all talk about Fun with Hackley: Axe Murderer's specific brand of humour?
Trey: I would compare the brand of humour in our film to be dry, sarcastic, fun and something that both people who love films in the genre and out can get a kick out of. I also think having humour in the situations and the issues that the characters deal with that the audience can really relate to is vitally important for laughs.
Garrett: For sure. Office Space and The Office were both inspirations and that type of deadpan humor was what we were really going for.
Tim: I'm a big British humor fan, so of course there's going to be those fingerprints on it. I keep Monty Python on in the background, like most people listen to music. Absurdly grounded. Shaun of the Dead!
Garrett, what were your sources of inspiration when writing Fun with Hackley: Axe Murderer?
Garrett: It's a really weird set of inspirations. Just putting that out there up front. The main inspiration came from a lot of frustrations in my own job in the software industry. And then it was a lot of fun tying that into the Friday the 13th/Halloween worlds that I love so much. Then, totally out of left field, Pixarís Monsters, Inc. was a great source of inspiration. There was also an incredible horror-comedy called Behind the Mask: the Rise of Leslie Vernon that I just loved which also inspired me to pen this film. I think that film did an incredible job of balancing the horror and comedy and created something really unique and wonderful.
Tim: Monsters, Inc. for sure. Great movie. Even though that movie is animated and shows creatures that can't exist, it's done in such a way that you believe them. They're emotionally authentic.
Tim, what can you tell us about your directorial approach to your story at hand?
Tim: I strive for something authentic, even when things are absurd, there-by enhancing the absurdities of the situations. In the case of Fun with Hackley: Axe Murderer, we have a world that just cannot exist, and someone else might have gone a completely different way with the direction (make it campy on purpose for example). I wanted it to feel like real people with real issues, they just happen to wear masks and kill people for a living. This was no small task being a low budget film, but when I watch it now, I believe what they're saying, so I feel satisfied that I achieved that end. The other personal goal -- whatever I'm doing -- is I'd like for it to have SOMETHING to say, weighty or not. Fun with Hackley: Axe Murderer is about constriction. It's about a world where people feel compelled to corral one another like cattle through the over-use of rules and regulations. Are we really a free society? Nah, not really. This probably sounds like an insanely pretentious idea stuck in an absurd comedy, and, well, yeah, it is. But that's the theme as presented by the director.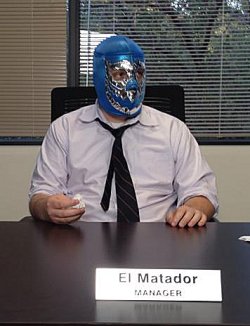 Trey, what can you tell us about your character in Fun with Hackley: Axe Murderer, and what did you draw upon to bring him to life? And what kind of a challenge was it to act wearing a mask the entire time?
Trey: El Matador has quite a simple complexity really. He's typical middle management and is likely only in his position of management from a combination of nepotism and dumb luck. While he manages a team of the best slashers of all time, he's never actually been much of a slasher himself, which I feel like makes him really want to prove something and try way too hard as a manager. It was really a lot of fun playing this role. Being a comedy really allowed for me to experiment a lot with the character to find an accent that would be odd and funny to match how annoying of a boss El Matador is. The Mask work was a lot of fun too because it allowed for me to really try to express more with my eyes. And the fact that while in production, we knew that having masks on throughout would make audio in post be a little bit easier or that we could fix flubs in post, really took some pressure off and allowed us to have a lot of fun while shooting.
What was the collaboration between the three of you like, and when did you all first meet up even?
Tim: We like to spitball, but not before arm wrestling. A lot of things come from that, even on set. For my part, as a director, collaboration is really about letting everyone get in there, let the brainstorm happen, and then just be the filter that protects the spine of the piece. Naturally, I'll also throw in ideas, but I'm more of a​ ​"vision"​ ​gate-keeper that knows if something will work in the grand scheme of things (do we have time to do that? Will it set up a plot hole later? Fit the tone? Acting consistent? Why? etc). As for the meetup, you can see that in the "on board" question. The when? I've known Trey for years, and Garrett, just a few years when we first started playing with the Hackley world. Might have been 5 or so years ago now.
Garrett: I think we all got on the same page early on, so that made everything easy after that. And we had a pretty relaxed schedule for a no budget feature, so I think that gave us an opportunity to try stuff on set and try out everyoneís ideas and then see what worked when the edit came together.
What can you tell us about the rest of your cast, and why exactly these people ... and how much say did each of you have in the casting even?
Garrett: I really just closed my eyes and picked random names out of a hat for casting. No, it was a great collaborative process and I am so thrilled with how the casting came about starting with Allen, our star. When I originally started working on this story, it was two short films with a serial killer named Hyde. Then I knew Allen from working with him in the software industry and eventually cast him in my previous feature film, Cherry Bomb.
Since then, I changed the character from Hyde to Hackley (Allenís real last name is Hackley and I thought that name just worked) and I changed the character from a typical dopey character to match Allenís witty personality.
Then, we knew Trey was going to play the boss and wrote up a character based on his strengths. (Iíll let Trey discuss his character in his question.) Then from there, it was a really wonderful, collaborative process that I canít remember us really arguing about. Rancid was originally supposed to be played by one of our actor friends, but he had some other things come up and we started looking around. Trey kept bringing up his actor friend, Garrett Graham for the role. So I went and checked out his film, Zero Charisma and was blown away. Dude is amazing and that film is a must-see. Thereís a reason heís being cast on major network TV shows and film franchises. He came in and worked up the accent and helped us create the characterís look.
Asparagus, I wrote with Owen Egerton in mind. Heís a local celebrity around here in Austin and a phenomenal writer who has worked with Warner Brothers and a lot of other big names. And he was kind enough to come be a part of our film.
From there, we were all on the same page for how the various characters should be played and started filling them out from there. I pulled in Michelle Ellen Jones, Kerry Beyer and Joe Grisaffi from my circle of Houston horror friends. Trey brought in the unbelievably funny stand up comedian JT Habersaat to play Hackleyís rival, Rival. And then any time we needed a gorgeous female, Tim always seemed to come through. I wish I could go through everyone in the cast and highlight them all. They are all supremely talented. Lauren J Reed (go check out her artwork) who played Plague has been featured on the From Dusk Til Dawn TV show. Aaron Alexander (the Sugar Duke) is a supremely talented martial artist who works with Rooster Teeth a lot. And we even scored a cameo from Mary Jo Pehl (of Mystery Science Theater 3000, my favorite show of all time) who was living in Austin at the time.
Tim: Ha! Garrett jests. But casting really was just us all pulling in people in our circles. Garrett is plugged into the Houston scene as is Trey and I, so between Austin and Houston, there was no shortage of great people to work with.
What can you tell us about the shoot as such, and the on-set atmosphere?
Tim: On-set atmosphere is usually driven by the director. In our case, we're all comedic by nature, and as such, we cut up and have a great time. If we're not having a good time doing it, why are we doing it? The shoot itself was also one of the easiest I've done technically (probably due to it being 3 of us producing, instead of mostly me as is usually the case). There weren't any OMG days where things weren't getting done, or something huge fell through so that we were all left standing around holding our johnsons. At least, not that I remember. Am I blocking out that one time we left the actor buried in his own grave? The normal shoot expectation is plan for Armageddon, and get 3 of the 4 horsemen. Never saw any horse shit on our shoot.
Garrett: Was so great. We didnít have a traditional big block of filming all at once and I think that reduced the stress and let us have more fun. Instead of filming like 26 out of 32 days, we did a weekend a month because we all still had 9-to-5 jobs that restricted our time, so that let us treat each filming weekend as its own short film and made the pre-production and planning for those shoots easier.
The $64-question of course: When and where the film will be released onto the general public?
Garrett: Hopefully soon. We are just about done locking the color correction and having everything finalized, so itís still in the very early stages of ďbeing doneĒ. We are submitting to as many festivals as we can so people can see it and we are exploring distribution options at the same time. So hopefully it will be coming to a film festival near you :)
Anything you can tell us about audience and critical reception of Fun with Hackley: Axe Murderer yet?
Trey: So far in our test and private screenings the audience response to Fun with Hackley: Axe Murderer has been great. Everyone seems to really enjoy it and laugh in all of the right places. In those screenings we've tried to include a variety of folks with all different backgrounds and interests. There seems to be a great reception not only by people who like genre films, but also others too. We are very excited to show MORE of the world!
Any future projects you'd like to share?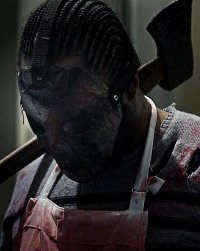 Feeling lucky ?
Want to
search
any of my partnershops yourself
for more, better results ?

The links below
will take you
just there!!!


Garrett: No. Right now, Iím emotionally all in on Fun with Hackley: Axe Murderer and this world. I so hope a distributor shares our vision and would like to see us expand this world and play around in it some more. Iíve got a sequel partially written for it and am working on idea for webseries, prequels, TV series, etc. Something we donít touch on in the script, but is present in the world is that this group of slashers is just one division in this big company, RKS (Revelation Killing Solutions). Thereís also groups of specters/spirits, beasts, etc.
Tim: I'm with these guys, until this movie is out there enough to feel like it's a legit "movie." After which, I'm actually thinking of doing something with virtual reality. We'll see how I feel in a few months when this movie is thoroughly out there. We might do more Hackley if there's a demand for that world.
Your/your movie's website, Facebook, whatever else?
Facebook: http://www.facebook.com/funwithhackley
Twitter: http://www.twitter.com/funwithhackley
Main website: http://www.funwithhackley.com
Timís YouTube channel: https://www.youtube.com/channel/UCjxpSp1oAmIbG405fkYob3g
Timís website: https://tesanders.com
Slash Consortium YouTube channel: https://www.youtube.com/channel/UCD_LbjvEe-H5MIzHjycga2g
Our zombie-comedy short film: https://www.youtube.com/watch?v=0qlAwnJyKNg
And I am really proud of our main website. Below the top part which talks about the film, we designed the website to look like Hackleyís companyís website. We go into the history of RKS, including the great killer strike of 1994 where RKS had to turn to creating BBQ sauce to keep the company afloat.
Anything else you're dying to mention and I have merely forgotten to ask?
Trey: It's time for tacos.
Garrett: Trey, as always, with some sage advice.
Tim: Yeah, Trey. Fair enough.
Thanks for the interview!