Your movie Blood Rush - in a few words what is it about?

Evan: Itís an 80s-throw-back zom-com.

&nbsp

Kerry: Eighties style comedy horror where once the virus gets into your blood there is no stopping it.

Basic question: Why a zombie movie, a genre at all dear to you? And what do you think makes Blood Rush stand out from the crowd?

Evan: Well, the world is oversaturated with undead films. We never intended Blood Rush to compete in the niche occupied by 28 Days Later or Walking Dead. It doesnít really have the horror or serious gore to define it as such. Instead, weíre playing around with the genre in the same way Peter Jackson did in Dead Alive. I wouldnít say itís a comedy per se either, it just floats along doing its thing, and to me that lack of shape makes it unique. I'd say the afflicted people aren't even what makes it a horror film, it's the disgusting townspeople we encounter. Those are some truly horrible people.

&nbsp

Kerry: Who doesnít love running through the woods being chased by zombies that still have speed and some intelligence. I love horror that not only scares you, but gets under your skin and in your mind. Comedy horror is fun to make and you donít have to take yourself too seriously. Blood Rush follows not only the virus and those running from it but the people who spread hatred like the virus which I think makes it stand out from the rest.

Kerry, what were your main inspirations when writing the movie? And have you written your character with yourself in mind from the get-go? And what did you draw upon to bring her to life?

Kerry: It started as a trailer for an idea for a feature film that I can use as a vehicle for me to be the lead in. We really liked where it was going and decided to expand it to a full feature right away.

Iíve always liked how creepy twins can be and wanted to see if I could pull off playing both the role of Emma and Kara. It was like having a split personality at times. This allowed me to play both the monster and the heroine. I love the movie Bad Taste and felt we could throw in some of those gruesome moments.

I actually wrote the script as we went. Iíd write 10-20 pages and weíd shoot one weekend and then another 10 pages and so forth. So the film kind of created itself as we went.

Evan, how would you describe your directorial approach to your story at hand?

Evan: This was my first feature film, though Iíd made shorts back in high school. But this had far more moving parts, inherent to any feature. Plus, other than Kerry and a friend Chris helping out, we don't use crews. We also didn't prep for Blood Rush, we just dived in and made it, sink or swim. Given all these factors, naturally, chaos reigned supreme on set. I wasnít directing so much as trying to survive, to stay afloat. Hell, I didnít even read the entire script during production, something that irked Kerry. When youíre handling audio, camera and actors, on your first feature, itís probably inaccurate to say youíre directing the movie. You're just trying not to die. Now, subsequently, I've gotten the upper hand during production so there's never chaos. I sort of miss it sometimes. Not really.

If you want to read all the bloody details, I just wrote an ebook chronicling the production of both our features, and it's free on Smashwords:

https://www.smashwords.com/books/view/421353

Blood Rush sure does have its occasional gory bits - so how did you go about those, and was there ever a line you refused to cross?

Evan: Kerry is there to keep me from crossing certain lines. Smacking a fetus with a shovel is something, I assure you, that wasnít in the script. Kerry canít be blamed for that one. As for gore, we used a lot of fake blood and body parts from the local Halloween store. Dapper Cadaver is a shop near us that sells lots of cool things, and we bought or rented stuff there. They do a mail order business, so check em out online. For blood sprays, say with a zombie bite or angry fetus, I blew the blood out of a long tube. I assembled the effects in my editing software. I didn't have anything fancy like After Effects, so I made it up as I went along. In the end, our goal was for the gore to have a cartoonish quality, not to be taken seriously.

Kerry: We wanted to go a little more minimalist with the zombie-esque make-up, making the people seem sicklier and blood-hungry than walking dead.

We used everyday items along with SPFX props to make some of the meat. There were kidney beans mashed in with the fake guts at the start. At the end my character is eating taffy covered in edible blood.

What can you tell us about your key cast, and why exactly these people?

Kerry: I have a core group of actor friends who I trust and enjoy working with. So naturally I wrote the principle roles with them in mind. Helen Soraya who played Kate had a prior commitment during the shoot, but since we were writing the script as we went, we were able to kill off her character towards the start of the film.

The town council was sourced via Actors Access and we were amazed at the number of responses we got for the film. It seemed everybody wanted to be in a zombie film no matter how big or small of a role.

Do talk about the shoot as such for a bit, and the on-set atmosphere?

Evan: Everyone was having a great time on set, except me. Like I said, I had the weight of the world on my shoulders and needed to keep things moving along, so my nose was to the grindstone. If I had laid back and had fun, we wouldn't have finished the movie. The experience was satisfying in other ways, though. Everyone else seemed to be enjoying the process. This is typical for all our films. I generally go into a zone where Iím basically carrying out the film in my head, super focused, and making sure all the technical aspects are attended to. Meanwhile all the cast members are singing and dancing and eating nachos.

Kerry: As I was pretty much running with my producer, writer, SPFX and set hats on along with the acting I donít think I sat down once during shoot days. It definitely kept me on my toes.

The best part was shooting at Linda Vista Hospital which is creepy before you even dress it. Everyone was excited to film there and take the tour of the old morgue. It definitely added the fear factor to the zombie attacks.

The cast were actually great to work with. Everyone was patient, took the long days in stride and seemed to be having fun getting drenched in blood.

With the film only about to be released - anything you can tell us about audience and critical reception so far?

Evan: We actually finished the film in 2011 and sent it to a couple critics and festivals for reviews, so weíve had the process of feedback rolling for a couple years now. Generally I find the film to be polarizing. People love it or hate it. Those who come to it expecting a straightforward horror film - which I think the new poster from Brain Damage Films sort of promises - those people may be disappointed or annoyed. Or those who want to define it as comedy or melodrama, or whatever, they wonít be satisfied. It defies categorization, which doesnít sit well with some. Thatís okay with me, as long as itís provoking some sort of response, weíve done our job. And then there are those who get it and love it and want fetus key chains made up.

Kerry: Most people accept it for what it is and see the work we put in and the fun we had making it. We never really take ourselves too seriously and they can see that we were trying a new approach to the genre.

Another of your movies, Horror House, got released only recently. So what's that one about?

Evan: We finished Blood Rush, had its cast and crew screening, and then within a week were in production on Horror House. To me itís technically superior, since I learned so much during the first feature. It is an anthology of five short films taking place in one house. Joe the Realtor tries selling the house to the audience.

Kerry: After filming Blood Rush we knew we wanted to limit ourselves on locations as we knew with a small crew again we wanted to keep this one contained. Where better to set a film than in our house.

We broke it down into five short films that were all linked by not only the house but items or people.

There are tales of monsters, a living doll, a man cursed because of his vanity, a scorned woman bent on revenge and a set of twins who drive their mother crazy.

How did the movie come into being in the first place?

Kerry: After watching Creepshow and the Tales from the Crypt series as a girl I wanted to capture some of that flair for the unreal and have lots of mini movies in one big movie. Right after the Blood Rush premiere in Hollywood, we took a vacation for a few days and thought about the direction of the next film, and Horror Housee was born.

Since you're partners professionally as well as privately, what's your collaboration during the making of a film usually like? And how did you first hook up to begin with?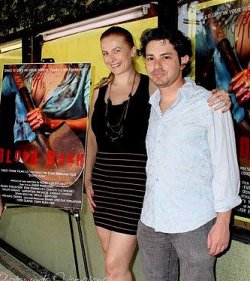 Kerry and Evan

Evan: We actually met on a dating site. The collaboration has remained the same since day one, at its core. We toss ideas back and forth, with Kerry bringing her more sophisticated sensibilities, and me trying to offend as many people as possible. The two forces balance out. Whatís changed is the level of planning. As I said I never read Blood Rush during the shoot, and she hadnít even finished writing the script til we were well into production. Now we write together, and rewrite, and hammer things out. We work hard on the preproduction side of things, nailing down the look we want, the tone of the piece, and so on, with Kerry building sets and designing costumes. If you look at our latest short film, youíll probably appreciate the amount of preparation we now commit to a project. Hereís our parody of Philomena, called Pheelaweena, shot for a budget of $250:

How would you describe Horror House's approach to horror?

Evan: To me the film skates around the edges of horror. We have a noir segment, a psychological drama about abuse, a comedy. Yet there are elements of horror throughout, depending on how you define it.

Kerry: It is more in the family-friendly horror region (if there is a family section for horror). There is no swearing, no nudity and limited blood, but it still gives you a collection of chilling tales.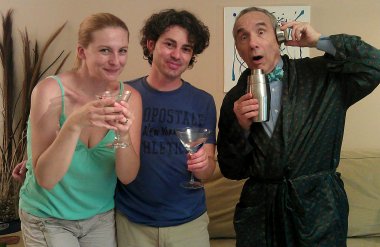 Kerry and Evan with Lloyd Kaufman
Horror House stars legendary and ubiquitous Troma-head Lloyd Kaufman - so what was it to work with him, and was his character actually written with him in mind?
Evan: Yes, it was written for him, and he is an incredibly positive, energetic, hard-working guy. He's so anti-establishment and his films rub doodoo in your face, that you'd expect him to be bitter or angry, but quite the opposite. Every indie filmmaker should really try to work with him if at all possible. Plus, what heís accomplished with Troma outside the system is so inspirational.
Kerry: We also knew that we needed some sort of a name within the horror world to be the host of the film and who better than Lloyd Kaufman who we had met the previous year at Comic-Con.
He is a great guy and very funny in person. He says the most inappropriate things but thatís why you have to love him.
What can you tell us about the rest of your key cast?
Kerry: We used a few familiar faces from the Blood Rush cast and again had many casting sessions for the rest. As there were a lot of roles for children as young as 8, we had to make sure that they could handle the dialogue and had great acting chops.
We had worked with Alyssa and Katelyn Hunter previously and even though there is a few years age gap between the sisters, we felt that they could pull off playing the eerie twins in Never Let Go.
For Lifelike we needed to find three girls of similar appearance but different ages to play the role of Helen as she grew up. We were lucky in finding Lauren Lakis, who had previously worked in Japan and thoroughly got the essence of the doll-like character. As Lauren was playing the older Helen, we then had to find an eight-year-old and twelve-year-old version of her. It only took two casting sessions to find the perfect girls.
Everyone just seemed to click on set and we knew at the table read we had found the right people for each segment.
A few words about the actual shoot?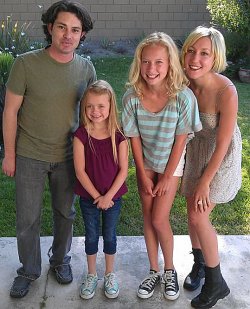 Evan with Helen growing up
Evan: We had a lot of child stars, which proved quite a challenge. Adults can lose their patience fast, but kids will turn on a dime. So we had to keep them focused and motivated, which takes a lot of energy. The shoot in general was far more organized and planned than Blood Rushís. I storyboarded the crap out of the film, and really nothing was left to chance. It was just as grueling, donít get me wrong. I didn't eat, and my life for a year was nothing but Horror House. We had some help initially, but by the end it was just me, Kerry and a film student named Jamie as the crew. At the end of the usual shoot day we could only collapse on the floor and let the dog lick us.
What can you tell us about audience and critical reception of Horror House?
Evan: The response has been more positive, since Horror House is a more conventional film, technically slicker, benefitting from what we learned on Blood Rush. There's a little something for everyone here, given the diversity of genres we explore.
Kerry: It is definitely one that appeals more to the masses as there is something for everyone in this movie. Especially as we have Lloyd fronting the film, people are naturally curious to watch it.
Any future projects you'd like to share?
Evan: We have a ton of projects big and small in the works, including thrillers, horror, and comedy. We love horror. You can do so much as far as theme and story. But we certainly want to expand beyond horror. One of my pet projects is a creature feature script I wrote called Menagerie. Since itís gonna be big budget, I adapted it into a novel, so perhaps if that picks up speed itíll be easier to pitch the film. I believe as a filmmaker you must keep knocking on different doors, and eventually one will open.
Kerry: One of my scripts, a straight-forward horror film called Trust, is currently being looked at by investors. That may shoot at the end of this year.
What got you into the filmworld to begin with, and what can you tell us about your training on the subject?
Evan: I made short films in high school, and as a kid before that, mostly stop-motion claymation. I gave it up to pursue a career in medicine, but when I met Kerry I picked it back up. I have no formal training, just watched a lot of films, read a lot of books and critical reviews, and made a lot of films. I think that approach trumps film school, frankly, though Kerry has done well having gone to one in the U.K.
Kerry: I started theatre and dance school at the age of three, so this has pretty much been my life. I appreciate everything I learnt there, but nothing can really teach you how a film works until you go and make one for yourself.
Do talk about your filmwork besides Blood Rush and Horror House for a bit!
Kerry: Over the years I have worked on various film, TV, theater and music projects in every capacity from writer, actor to producer.
One short film called Gone Fishing I had the pleasure of working on was short-listed for an Oscar back in 2009 and has since won over 40 international awards.
Other films such as 31N 62E and Blue Ridge have seen theatrical releases, and others straight to DVD/VOD.
I enjoy the festival circuit and have been lucky to have had many films both full and short to pick up accolades at various worldwide festivals.
How would you describe yourself as a director, and as a writer and an actress, respectively?
Evan: I am hands-on in every aspect of filmmaking, from writing to cinematography to sound to editing. The two things I have no desire to do or talent at are acting and scoring, though those are my songs you hear in the bar scene of Horror House. I used to write and produce music. But now I leave scoring and acting to better artists. And some day should the budget permit, Iíd delegate the other jobs to paid pros as well, and just handle the directing aspect. Anyway, when your approach is that holistic, it's important to know exactly what you want. You come to realize that there arenít distinct stages: writing, shooting and editing. That is, I write or revise a script in a way that will be visually interesting (i.e. I write for the shoot). I shoot for the edit, such that I get what I need to make my life easier in post. And I edit based on the prep work, like the storyboarding and writing. My films donít come to life during the edit. Iíve already watched them in my head before I step foot on set. When you start breaking down the process into three independent segments, which I assume is inevitable in bigger films, you often lose that cohesiveness. Now, managing things yourself, you run the risk of having blinders on, but thatís where having a talented and insightful partner like Kerry has been critical.
Kerry: I enjoy being in front of and behind the camera. The writing lets me get lost in fantasy and create a world that is full of interesting people, but acting is my main passion and getting deep into a role and creating a backstory for a character is fun and exciting.
Being able to trust Evan to create what I have written in a way I had hoped, if not better, is a weight off of my mind. When the acting hat goes on I like to block the other jobs from my mind so I can truly be the character.
I feel like I am diverse in how I write (Iíve written almost every genre of film) and the acting has allowed me to expand on this as creating characters is what actors do best.
Filmmakers, writers, actors, whatever else who inspire you?
Evan: I would look to people like Joss Whedon, who can turn out films that become critical darlings, but also rake in the money. Why make movies nobody will see? And why make films that lack vision or artistic integrity? Someone like Whedon has managed to pull off both. As for horror, Iíll probably surprise you when I say one of my favorite directors is Michael Haneke. His films are always horrific, and often they absolutely punish the viewer. He doesnít wave blood and guts around. He takes his time, gets under your skin, and makes you think, if you let him. Naturally, Lloyd has been a source of inspiration.
Kerry: I have always loved watching old black and white movies and the femme fatales from the Hitchcock movies. Even the old Bob Hope movies used to make me want to jump into the TV screen and be a part of that world. Iím a big fan of Rachel Weisz, who is very subtle in her performances and very natural.
Your favourite movies?
Evan: I canít say what my favorite films are, but the movies I watched the most as a kid were Raiders of the Lost Ark, A Clockwork Orange, Itís a Wonderful Life and The Graduate. Those films helped shape who I am and my belief in the ability of cinema to move the world.
Kerry: Definitely a mix from the Goonies, to Never Ending Story, Labyrinth, Pretty Woman, Gremlins and Beetlejuice. I feel like Iím very much an 80ís/90ís girl and these films still have me laughing or riveted even after watching them a trillion times.
... and of course, films you really deplore?
Evan: The last film I saw that I really disliked intensely was Man of Steel. I felt it demeaning to the viewer and overall a brutal experience. No doubt, people will disagree with me.

Feeling lucky ?
Want to
search
any of my partnershops yourself
for more, better results ?

The links below
will take you
just there!!!

Find Blood Rush
at the amazons ...

amazon.com

amazon.co.uk

amazon.de
Looking for imports ?
Find Blood Rush here ...
Something naughty ?
(Must be over 18 to go there !)

Kerry: I try to take something from everything film I watch, but I canít seem to sit through war films or political movies. Anything over two hours usually puts me off unless it has a great cast and a story that hooks me.
Your/your movie's website, Facebook, whatever else?
http://www.facebook.com/BloodRushTheMovie
Anything else you are dying to mention and I have merely forgotten to ask?
Kerry: Watch this space as we have a short film coming out in the anthology World of Death later this year. Iím in the middle of compiling a childrenís book (non-horror) and Evan is busy with his novel Menagerie. Alongside that we are raising a beautiful little boy who will no doubt follow in his parents footsteps one day.
Thanks for the interview!