Your sources of inspiration when writing The Turnpike Killer? And what can you tell us about your co-writer and co-director Brian Weaver, and what was your collaboration like?
The main source of inspiration for The Turnpike Killer was two-fold. First of all, Brian and I wanted to create a movie that paid homage to the classic era of horror from the 70's to mid 80's. This was a time when horror films were not only visceral, but they were gritty and sleazy as well. We knew we wanted to do a movie about a serial killer and we wanted it brutal and gritty. That was the source for the exterior of The Turnpike Killer. The second part of inspiration behind the movie was a mutual friend of Brian and myself. This was a long-time friend who joined the US Marines. He did two tours of Iraq and one in Afghanistan. Each time he returned, he was more and more insane and cold. He would fantasize about killing women (he felt in general that women were, for lack of a better word, "evil") and dumping their remains along the New Jersey Turnpike, which is a long highway that goes through all of New Jersey and passes NYC as well.
Brian is my closest friend of many years. Not only are we like family, but also we have always shared an immense passion for horror films. It was always a dream for both of us to one day write and direct a film. Certain life-circumstances led us to the point some years back where we decided to finally follow our vision, and we created Hallows Eve Films. Working as a team with Brian is easy because we have the same vision and we share a great amount of trust
In many ways, The Turnpike Killer seems reminiscent of grindhouse shockers of yesteryear à la Maniac - was that at all intended?
Absolutely. Brian and I were born in the 70's and grew up in the 80's. We were immersed in the socio-politics and overall vibe of NYC in those days. The strife and artistic revolution that went on here created so many classic movies. Those were the days of the grindhouses, which had a huge impact on us, so we intended for our film to be similar to Maniac, New York Ripper, Henry and the like. Many filmmakers these days think that being grindhouse is to act "retro" and add fake scratches and pops to their movie in postproduction. Many of us who were lucky enough to live through those days have carried the spirit into our art today. I wouldn't have it any other way.
How would you describe your directorial approach to your subject at hand?
Directing is a multifaceted craft. You must be able to stick to your vision at all costs, even through chaos, which WILL happen. It's inevitable, especially in low budget films. You must also be ready and able to guide and direct your actors. This means being a director, a teacher and a psychologist all in one lol. I am a people person and I think I know how to treat actors to get the best out of them. One cannot treat every castmember the same. People in general have different personalities, and since actors are artists they tend to have even more complex social make-ups. So I have made it a habit to not only study my vision in regards to my art and the camera, but also I work hard to make the actors feel comfortable and at ease, ready to give their all.
The Turnpike Killer doesn't exactly hold back when it comes to violence and gore. So what can you tell us about your gore effects, and was there ever a line you refused to cross, for whatever reason?
We wanted to be honest about the murders in the film. When you watch many movies, or especially all these police drama shows on TV like CSI etc, they portray a very false depiction of murder and the murder scenes. Even if they are brutal, they are far too sterile and calm. A murder is a powerful, emotional and "loud" act. Many times it is a crime of passion, where one person tries to end the life of another. The victim almost always goes down with a fight. Keeping that in mind, the crime scene will be a mess. From blood and other human fluids, waste, etc to broken furniture and smashed glass. We want the viewer to feel as if the camera was really capturing a true crime as it's happening. We had to be honest about the violence and its ugly nature. If it were poignant to the story, we would not hold back on anything. That being said, neither Brian nor myself would seek to show needless scenes of anything, especially if children or animals are involved.
All the gore FX were practical, no CGI. That was something we were adamant about. As for crossing the lines, again I will always push the limits but not at the risk of ruining my art. There was one interesting point in filming where we had true crime and morgue photos to use as a reference. My uncle, who is a retired homicide detective, provided these. The photos were mostly of slain prostitutes that were filed as "Jane Doe" and buried unclaimed by any family in a city plot. In this scene, Detective Lloyd looks over a file of Turnpike Killer victims. We wanted to shoot the scene and have the camera pan to the photos but the DP was so spooked and bothered he couldn't stand to see them!
What can you tell us about your lead Bill McLaughlin, and what made him perfect for his role in your eyes?
Bill was dating my wife's best friend and that's how we met. He is a huge horror fan and at the time was going to stunt man school. Bill was trying to get his acting career started and I knew right away he was the man for the job. Bill can act well, but more importantly he fit the type of serial killer we wanted. Jon Beest had to be able to blend in to society, very much like Ted Bundy did. So we wanted our killer to be a little weird, but handsome and normal enough to blend in with people. We also wanted him to be a physical alpha predator. Not some wimpy sociopath who lived in his mother's basement. So Bill had the look, which was vital, but he was also a good actor who was willing to put in many days, nights and hours of work for the movie. Bill was great and we cast him in The Super as well.
A few words about the rest of your cast?
The rest of the cast was mainly comprised of actors from the NYC area. We put an ad out on looking for actresses and held an audition, and we also went to several fine acting schools and put up notices that we were casting a movie. Edgar Moye who played Detective Lloyd came to us from HB Studio, one of Manhattan's premiere acting schools. He also worked with us on The Super. So thankfully our actors came from some of the talented schools in our city and they all had some level of experience. Manoush was the only "name" actor and my partner Brian was able to contact her through mutual friends. We met her, and she was amazing. She loved the script and was happy to join the cast. I wish we had had a bigger role for her. Overall, I was pleased with the cast who were hard workers. Especially some of the girls who had to deal with long hours of nudity, covered in blood while it was very cold.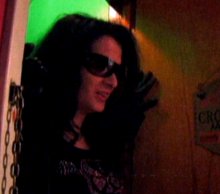 Manoush
What can you tell us about the actual shoot and your on-set atmosphere?
The atmosphere on set was amazing. We shot at some amazing sites. The forest of Sleepy Hollow is where we filmed one murder scene and of course these are the woods said to be stalked by the headless horseman. The foot of the woods runs right along a centuries old Dutch cemetery, so the atmosphere as you can imagine was very eerie and incredible. We also shot scenes in some dangerous areas of New York City. Places where drug dealers and prostitutes work, which we did to add authenticity to the feel and mood of the movie. Another thing that made the atmosphere great was how some actors approached their scenes. The actors who played the couple in the home invasion scene were so into their role, that the whole night of the shoot was very morbid. Professional, yet morose and depressive. This was vital I think to the story. Speaking on the shoot overall, as with any movie there were things that went wrong. We did have some people that were very difficult to work with. We also fell behind schedule because of snow and bad weather. Despite a few obstacles, the process of shooting The Turnpike Killer was good.
A few words about your producer Nik Taneris?
We met Nik Taneris at a Monster Mania movie convention while we were there promoting The Super. Nik knew of our work and was a fellow New Yorker, so he was very interested in collaborating. He just finished working for Alternative Cinema and created his own company, New York Horror Film Productions, and was eager to put out his first release. There was a work print of The Turnpike Killer, but a definitive cut was never made and we also had some scenes that we needed to shoot. So, Nik made us an offer to release the movie, and agreed to have us shoot some new scenes and of course he hired someone to edit the final version. Nik loved the old school feel of the movie and I had always wished to do some kind of special release as a VHS big box, and it turned out he had a similar vision. The VHS trend had not kicked in yet at that time, there were only 2 or 3 releases that did it and people loved it, especially those who grew up in the 80's. What I liked about Nik was that he thought "big" right from the start. Lets give the people something big… a big box with a VHS tape, and a DVD and a signed poster. All limited and exclusive. The VHS was a focal point, but even the DVD was special with the uncensored limited edition cover art. Nik went to work and made it happen. The Turnpike Killer big box is beautiful and is the only accurate big box on the market.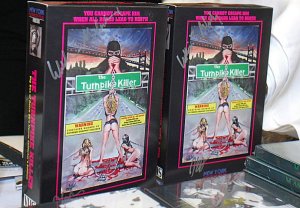 So why the VHS-release to begin with?
Well, Brian and I are old! LOL. We grew up in the 80's, collecting VHS. We still own great collections and I still avidly collect tapes that I don't have. VHS brings back fond memories of being 13, 14 years old and going to the rental store and bringing home movies like Alien Prey and Buried Alive for the first time. We knew there were others out there that shared this passion, and when House of the Devil was released as a limited edition VHS clamshell, the response was great. Then Massacre Video put out the movie 555 as a DVD in a big box. We knew that there was going to be a growing movement in the horror scene for VHS appreciation and collecting, and also we knew that in these modern times people want more for their money. So, we figured it would be a great idea to release The Turnpike Killer in a big box, with the movie on both VHS cassette and on DVD. I was very careful in measuring some old boxes I had, also paying attention to the box flaps and colors. It had to be authentic. Some called us crazy, but the VHS release was for the fans that shared that passion with us.
The $64-question of course, where is The Turnpike Killer available from?
As of right now, you can email me directly at: THYDARK1@AOL.COM. I have both the big box for sale as well as individual DVDs for sale.
Let's go back to the beginnings of your career: What got you into filmmaking in the first place, did you receive any formal training on the subject, and what can you tell us about your early filmwork?
When I was 13 I worshipped Tom Savini. My parents still have films of me creating horror FX in my room. Some of this is included on the Turnpike Killer documentary. I collected and religiously watched horror movies as a teenager and then branched out into other genres as well. As time passed, I went from wanting to be an FX artist to actually wanting to write and direct. I began writing treatments for stories, and then when I got to college I studied writing and literature. This was not something that was supported by my parents, who always regarded art as something you do as a hobby or for fun. Not as a lifestyle. When I got out of college I was soon married with a baby on the way, so I needed to find a good job right away. I ended up in the medical industry. The whole time I longed to make films. I had a camera that I used at home, and I continued to write. My friend Brian and I would go to the movies and to conventions and always talked about 'what if" and "one day". It was his passion as well. One day we both decided we had enough and it was time to follow the dream. It sounds melodramatic or corny, but it's true. Neither of us had any formal film school training, but I think we did have talents that made us worthy to write and direct. The Turnpike Killer was our first film, and in my opinion that experience was worth 5X any film school.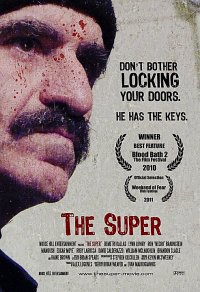 You of course have to talk about The Super for a bit!
The Super is homage to the 70's exploitation films. It is gritty, grimy, sleazy and violent but amidst all of those visceral aspects is a story of love and family. The Super is also very socio-politically conscious, and we are never worried about this modern bullshit of "political correctness". Movies SHOULD offend, make you think, make you feel. This is what we went for. The production value in The Super is much higher than The Turnpike Killer. The acting is superb, the FX was done by the amazing Brian Spears (Stakeland, I Sell the Dead, etc), the locations were stellar and the story just came out amazing. The reactions from fans and critics alike has been amazing. You can order a copy today at:
What can you tell us about your werewolf short Devil Moon, which was actually scripted by and stars your son Liam Makrogiannis?
As I mentioned earlier, the producer Nik wanted to go the extra mile for his first release. He was adamant about doing a documentary and he also wanted to throw in another bonus, a short film. My son Liam, who also acts in The Turnpike Killer, wrote a very cool old school Hammer inspired werewolf story. It is campy, but also stylish and fun. Its stars Manoush, Ruby LaRocca, Demetri Kallas and others and it was a lot of fun to work on. The story is about an Indiana Jones-type guy named Professor Jenkins, who is a crypto zoologist who fights monsters in his spare time. We are actually going to film a series of shorts following the character. My son Liam is currently in the editing process of his first feature film, a zombie gore film called Survive, which will be out soon. Most of the actors are from The Turnpike Killer/The Super cast and the FX was done by fellow teen horror phenom, Johnny Dickie who did Slaughter Tales.
Any future projects you'd like to talk about?
I've written a short film called Human, which I will direct as well. I am actually going to shoot in mid to late April, and the very talented Bart Mastronardi will be my director of photography. It is a silent film, guided by a very haunting music track that my brother Michael composed. He is a talented musician and had scored The Turnpike Killer. The story is basically a day in the life of a sociopath. We see his exploits from the early am to the next day in the early am. People die along the way! The main character is a tormented, sexually repressed and confused man whose actions shatter his life along with the lives of those that he touches. The plan is for Human to be part of an anthology that my partner Brian and I are working on. There will be three films in all. I wrote/directed one, he wrote/directed one and then we will collaborate once again on a film based on the Son of Sam. After that we will move on to the next feature. Stay tuned for more info!
One can't help but notice that all your films are of the horror variety. Is horror a genre especially dear to you, and why?
Well, I have loved horror since I was a child. My favourite uncle introduced me to the world of classic Universal and MGM horror, along with the amazing art of Frank Frazetta (RIP!). I then moved on to the great horrors of the 70's and 80's and I was obsessed with these movies, so much that I began collecting them. So there is that childhood connection and I also think that creating horror films allows me to tap into a world that is a complete mystery to all of us. We deal with the mortality of our human race, we deal with fear, with the unknown and the feelings cover a wide spectrum from fun and excitement to disgust, to amazement. As a filmmaker, horror is a sure fire genre to evoke some kind of emotional response from people. I love the journey of the macabre that I am able to take people on.
Filmmakers who inspire you?
John Carpenter, Dario Argento, Ridley Scott, Martin Scorsese, Abel Ferrara.
Your favourite movies?
Top ten: Halloween, Texas Chainsaw Massacre, Maniac, Last House on the Left, Night of the Living Dead, Bad Lieutnant, Goodfellas, Apocalypse Now, Blade Runner, Suspiria.
... and of course, films you really deplore?

Feeling lucky ?
Want to
search
any of my partnershops yourself
for more, better results ?

The links below
will take you
just there!!!

Find Evan Makrogiannis
at the amazons ...

amazon.com

amazon.co.uk

amazon.de
Looking for imports ?
Find Evan Makrogiannis here ...
Something naughty ?
(Must be over 18 to go there !)

I am not that into modern comedies, and for the most part I only watch movies that interest me, so I rarely run into movies that I hate that much. But I would definitely say that I hate brainless "comedies" about some losers engaging in sex, drugs and booze. I would also say that any movie that exploits children and animals would be on my shit list.
Your/your movie's website, Facebook, whatever else?
www.thesuper-movie.com for ordering The Super, you can also find The Super and The Turnpike Killer on Facebook. Also, you can find me onFacebook, Evan Makrogiannis, and order The Turnpike Killer by writing to: THYDARK1@AOL.COM
Anything else you are dying to mention and I have merely forgotten to ask?
Just want to say thanks for your patience and support! Cheers to all the horror fiends out there as well! See you soon with some more horrifying movies!
Thanks for the interview!