Your new movie Nothing Sacred - in a few words, what is it about?
A brother and sister track down their sorcerer father across the globe to kill him before he can complete a ritual to become immortal.
What were your main inspirations when writing Nothing Sacred - and is any of the story based on actual myths and legends?
While we used many existing myths and legends, like Hermes the Greek God and minotaurs, we wanted to create a new, modern myth that took place in the modern world, as if all of those magical elements never went away at all. So there are some characters that are familiar, but mostly it's all new.
Nothing Sacred spins a very complex tale - so did you ever run the risk of losing yourselves in your story?
It's a strange movie, for sure, and going on a surreal journey is part of the experience of this particular movie, so there will always be some who react like, "huh?" In one part, Blue, the male lead character, digs a grave, expecting to find a coffin at the bottom, but instead he finds a door. He opens the door and enters it… Other times, they get into fist-fights with wire stunts, so it's a mix, hopefully all pulling together into an interesting story. But if you're asking if we sank into it, Apocalypse Now-style, that definitely happened. Part of me never came back from Europe.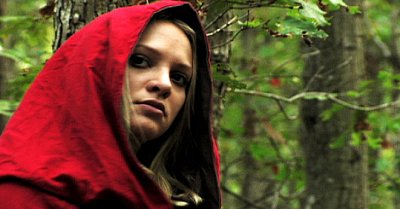 Naama Kates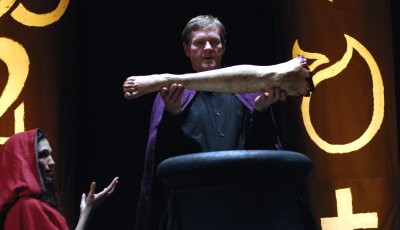 William Sadler
How would you describe your directorial approach to your story at hand? And what was your collaboration with your co-director Morgan Pehme like?
Morgan and I had collaborated before on our first movie, Nightmare, and it was great, so we went right into Nothing Sacred as co-directors. The only way you can work with someone on a creative level like this is if you're really impressed with their ideas, and Morgan and I just really like what the other one comes up with. But to be clear, I come up with slightly more mega-violent ideas. And as far as our directorial style on this film, we were trying to walk the line between gritty Texas Chainsaw Massacre-style (the first one only), and a dreamy fantasy. The characters go to some high-class places for sure, it's hard to film a week in Paris and not get fancy looking stuff, but even when our characters are fighting in the gutter, we still saturate and enrich the colors to the edge of being surreal.
There are some incredibly kinetic fight scenes in Nothing Sacred - so what can you tell us about those, and how were they achieved?
Morgan and I had worked with Marcos Miranda before on Nightmare, and he did an amazing job, and was just exciting to work with, so we really let him run wild on these fight scenes with his crew and his stunt and filmmaking partner, Roberto Lopez. They rigged up wires to the trees, dug holes to hide guys, and just unleashed. It's invaluable to have a crew like that who know how to do the brutal looking fighting, but also know how to film it so it'll look even better in the editing room.
You have chosen some very pittoresque yet quite diverse locations for shooting Nothing Sacred - so what kind of a challenge was that, actually?
We filmed a lot of the movie in New York City, which was comfortable, because the main crew of filmmakers and actors all lived there. Then we flew to Paris and Belgium to shoot, which is quite intimidating, especially if you don't speak French. Luckily, I was the only monolingual schmuck on set, everyone else spoke French and English, so they humored me and just talked 'merican when I was around. We had met some talented filmmakers at a film fest in Belgium who had a company called Uncut Films, and we partnered with them, so they prepared and helped cast the shoot out there, which was amazing. Shooting in places like Paris and Brussels is a filmmaker's dream - on the right blocks, you just can't get a bad shot. And we went to some of the coolest places, places even the Belgian locals never knew about, like that decaying, medieval castle we have our immortal king, Javedan, still sitting around in. You might think a place that impressive would be known to everyone in the area, it's big and on the top of a mountain, but none of them had even heard of it before.
What can you tell us about your quite star-studded cast, and why exactly these people ... and how did you even get some of them even?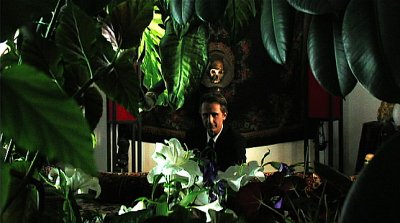 Thierry Lhermitte
The French stars we got through Uncut Films, and it was wild seeing people's reaction in Paris as we walked around with Thierry Lhermitte. He isn't as well known in America as Jean Reno or Gerard Depardieu, but in Europe he's basically on the exact same level. His main hits were remade instead of imported in the American market, like True Lies, the James Cameron/Schwarzenegger movie, that was actually a remake of his movie. He was really fun to work with, and showed us some of the differences between French acting and English acting, because he got to do a little of both in our film. In a nutshell, according to Thierry, if you were to act in the French style in English, everyone would say you were boring and flat, and if you acted in the Hollywood style in French, you'd be laughed out of the room as a hopeless ham.
Then we had Philippe Nahon, you guys know him as the killer in High Tension, but he's been in French cinema for decades. Before he knew what the movie was about, he said he'd only do it if he got to play someone weird - my kind of guy. Luckily, he was playing a homeless, psychic, 3-card monte hustler, so it worked out beautifully, and we use that scene to open the movie. His favorite part was when we snuck onto the famous Catacombs, where they have hundreds of thousands of human bones stacked and ordered from centuries ago, when they ran out of graves. We had to lie and say we were a documentary, and even filmed a fake documentary segment to trick the lady who was hovering over us the whole time. Luckily she bought it.
Debbie Rochon [Debbie Rochon interview - click here] has a great scene in the film, she's a really multi-talented actress, I can see why so many filmmakers are dying to work with her. And really cool too, I only spent a few days with her, but I feel like I know her so well.
And let's not forget William Sadler, our villain. He's very relaxed and easy-going off set, but when that camera's on him, he seems like he grows a foot taller. And he's one of the few actors who rarely uses make-up, we didn't touch him, and neither did the guys who made Iron Man 3 (he plays the President in it), his face is just camera-ready with nothing added. I've made six films, and the only other people you don't put makeup on are babies.
A few words about critical and audience reception of Nothing Sacred so far?
It's been great, and for a strange movie like this, it can easily go both ways. The biggest struggle is getting the word out - I read recently that about 50 thousand independent movies come out every year. Wow. You want your movie to stand out, you better blow people away, and these are the same people who've seen Spielberg films, and Kubrick films. For Nothing Sacred, I tried to make it as exciting as those movie-gods I just mentioned make their films, by combining a strange new story with us physically traveling to incredible locations. It was awesome to do, and so far it seems like our audience is into it. Our sales company told us it was their second best seller, so now that your audience reads about us, we'll overtake that number one spot within hours.
Before Nothing Sacred, you have worked with Morgan Pehme on the movie Nightmare - so you have to talk about that one of course ... and how did the two of you first meet even?
Morgan and I met through a friend of mine from Vassar College. He was roommates with her, and I was staying on the couch when I came up from Philly to work on the defunct reality show Elimidate. If you know what that is, you know that means I have endless stories about holding a boom mic above mind-blowingly trashy people. One night I told Morgan an idea I had for a movie about someone waking up to find a video tape of themselves killing someone, but having no memory of it. That idea was spun into Nightmare, which we co-wrote, and he produced. One of the main themes of that film is common experience of dreaming about being naked in public as a metaphor for fear, or loss of control, or however it related to you at the time. But Morgan and I really wanted the movie to live up to the title, so it gets really insane: we have scenes of naked combat and nude killers, people waking up nude in the middle of the woods, characters see themselves have sex on camera and they don't remember doing it - we really didn't hold back.
Any future projects you'd like to share?
Morgan and I are finishing up a documentary about dirty tricks in politics told through the life of Roger Stone, America's self-proclaimed greatest political hitman. He just had a huge month - he was the top consultant Trump just fired, except he claims he quit, yet is still on TV every day championing Trump. The movie follows his life - he was the youngest person called to Congress for Watergate, back in the Nixon days - and also tells the history of dirty trick in all of American politics, going back to Adams vs. Jefferson. That was a brutal election, actually worse than anything that happens now.
Your/your movie's website, Facebook, whatever else?
Check out the trailer here: http://tomcatfilmsllc.com/nothing-sacred
And anyone who read this far into the interview I hope is enticed to buy it here: https://mvdb2b.com/s/NothingSacred/MVD6935D
Anything else you're dying to mention and I've merely forgotten to ask?

Feeling lucky ?
Want to
search
any of my partnershops yourself
for more, better results ?

The links below
will take you
just there!!!

Find Dylan Bank
at the amazons ...

amazon.com

amazon.co.uk

amazon.de
Looking for imports ?
Find Dylan Bank here ...
Something naughty ?
(Must be over 18 to go there !)

I guess I didn't mention that we also filmed in Oklahoma on a Native American reservation with the Creek Indians, in their native Mvskoke language. That was as amazing a trip as going to Europe - our trailer opens with a shot of our main character walking along a road with a giant, ominous, red cloud behind him that strikes the ground with lightning. No special effect there, it was simply another picturesque sundown in the Oklahoma plains, we were just lucky as hell to be there with the camera at the right moment.
Thanks for the interview!
Thank you, too - if nothing else, I hope you know now how to act in French.