Your movie Pazuzu - in a few words, what is it about?
Pazuzu is a comedy about a blind date that goes incredibly wrong, very quickly.
What were your inspirations when dreaming up the movie?
It basically came down to a conversation between me and Mattea Benz. She's a theater actress, and we always flirted with the idea of making something together, but never really did over the years. It just so happened, I had this idea for a conversational comedy, and she quite liked it, and so we jumped right in without question and nailed it.
Do talk about the shoot as such for a bit, and what was your collaboration with your leading lady Mattea Benz like?
Benz is wonderful. The character of Rae that you see in Pazuzu is absolutely nothing like her true personality. What kind of sucks about those who watch a lot of my films is that they don't really realize just how great these ladies are doing – whether it be Denelle Kjellman in Cleaners or Joi Itapson [Joi Itapson interview - click here] in Nikki – these women create characters that are polar opposite from them, and in my eyes are engagingly terrific. As with all of my films, dialogue is improvised, but the scenes are created beforehand. Benz and I sat down for an hour, created our characters' histories, talked about where the story would go, knew that the conversation on the couch would be in long, long takes – and then filmed it all in the span of a few hours.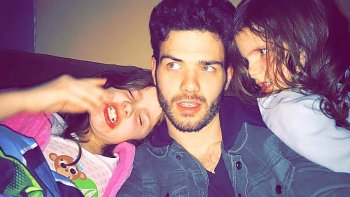 Douglas and the twins
Moving on to what I'd call your kiddie movie, The Music Video - now what's that one about? And 2hat was the idea behind having two little girls dream up and act in their own movie?
Oh boy. (laughs) It's funny to me how many people have told me that it's such a black sheep in my filmography, when I really think it fits in nice and snug. My twin sisters, both six years of age, decided they wanted to make a music video for our mom as a Mother's Day gift and that I was to help. Them being so young, holding cameras, and making such a piece of work that was predictably "bad" just reminded me so much of me when I was their age making movies. That innocence and that discovery that cinema itself has no boundaries in how it can be filmed, or done. I loved this look at two girls realizing that, and then making something that is their own work of art. And no matter how bad it actually is, it came from their hearts. I think that short film is beautiful, and I'm very proud of it.
What was the actual shoot like, and how easy or difficult was it to keep the girls' interest and keep them in line?
They wanted to do it. It was their idea to make something. So I helped them make their music video, but I also built this film around it. They were troopers through it all, and they had fun. I get sad how frequently I turn them down to make new stuff, because I struggle to find the time doing it with them. I've been working on convincing them to make stuff themselves.
By contrast, your next movie Hollywood has a very adult theme to it - so do talk about that one for a bit, and what was the idea behind it?
It was originally meant for a feature anthology of short films – all of which were about the theme of 'obsession'. Similar to The Knock, the anthology fell apart with the other filmmakers involved, so I went ahead and released them as their own stand-alone shorts. Hollywood is a commentary on film itself being viewed as a dying medium – where voyeuristic pleasure is completely being abandoned, and it was my homage to Andy Warhol when it came to presenting this in an ambiguous way. How else but an abandoned video store and then an act of voyeurism from the character back onto the audience? The color of green throughout isn't a bit on the subtle side.
Your very recent featurette Nikki - what's that one about, and what were the inspirations for that one? And what was it like to shoot in a public space?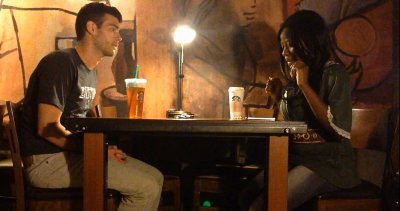 Similar to Pazuzu, I like to think of Nikki as the second in a trilogy of "conversation pieces". The approach to production was similar. Itapson [Joi Itapson interview - click here] was interested in acting for me, so we had coffee as a Cincinnati Starbucks and went over some ideas and were both struck by the story of a break-up that goes incredibly harsh. We both developed our characters' histories, where the story would go, and then simply nailed it in one night. The conversation itself was done in two takes, the second being the one used in the finished cut. Nikki is about fears of the future and lingering on the past – just like almost all of my work seems to be. I wanted to illustrate that with my character – a musician who doesn't realize he's bad, but has passion. It's no coincidence I chose to focus on an older musician doing a failed gig in the coffee shop. The only person who showed up to see him was his wife and sister. I like to think that's the direction he could be going, and it's supremely tragic. Itapson is fearless. We shot that thing in public, yelling and talking with strangers around. We chose to incorporate glances from my character to illustrate that he is aware that they're "making a scene". Some were giving looks to us like we were genuinely fighting, and I was really embarrassed. But that was, in its own demented way, a whole lot of fun. (laughs)
The $64-question of course, where can all these films be seen?
YouTube. Vimeo. MUBI. They're all around.
Thanks for the interview!