Your new movie Uncommon Bond - in a few words, what is it about, and what can you tell us about your character in it?
Uncommon Bond is a found footage type movie about the loss, pain and desperation of what a mother goes through after losing her child. She will do anything to ease the pain of losing her son. She starts a vlog in hope it will help her in some way. Though her husband longs to stay by her side, he often questions his own sanity (but more hers) by doing so. My character, Jinelle, plays the mother desperately trying to keep her son's memory alive, in some odd way, thinking it will keep him around near her with the support of her audience.
What did you draw upon to bring your character to life, and how much Donna Hamblin can we find in Jinelle?
Fortunatly, I have never had to endure such pain, so the scene where I was facetiming my friend was difficult to create. I wanted the audience to see all the formats of what deep pain can be. Therefore, I added sorrow, anger, laughter, hope, blame and despair into the mix going back and forth between them all, hoping it would work. You won't find any «Donna» in that particular monologue, it was all improv (as the whole movie), so I basically went on my gut instinct in hopes it would work. She's kinda quirky, so I really tried to create that with the character. Therefore, «Donna» isn't really in any of that. At least I hope! I will never find a husband!!! ;)
Jinelle goes through a lot of grief and mental pain in Uncommon Bond - so how taxing (if at all) is this to play for you as an actress?
It was a little easier for me because like I said, it was all imporv, no script. We had the scenes and what needed to be done in contrast to it and just went with the flow with no lines. I mean, I needed to know the character and studied in my head what I wanted her to be. Mark Gordon (the lead) and myself met up before and brainstormed some ideas to go with, and I think it worked! Mark and I have great chemistry on screen, I believe it's because we have such appreciation for each other in acting. The only thing taxing for me was trying to conceive the emotions at their height and project that to the audience without it looking fake. Director Luc Bernier made this very easy for us, as always.
With Uncommon Bond being shot found footage style, in what way did that impact your performance?
Well... sometimes I thought I looked ridiculous, but then I was like «ok, I guess it's organic». It was definitely an easy shoot.
What can you tell us about Uncommon Bond's director Luc Bernier [Luc Bernier interview - click here], and what was your collaboration like? And since this isn't your first time working together, do talk about your previous collaborations, and how did the two of you first meet even?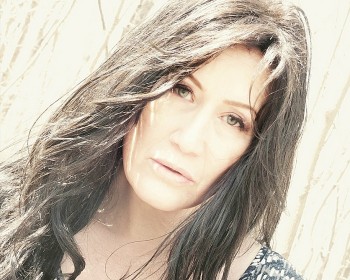 Luc and I met via Email. I was working with the late Ted V. Mikels, and Luc contacted him about shooting me for a scene in his movie. Ted relayed the email to me. The rest is history! Luc is top of my friends list. He and I also have great chemistry together, and have a blast when we act together. We have worked on so many films together and he has introduced me to so many producers that I have had the utmost privilege of working with. We did our first movie together on a Steve Sessions' film, At the House of Madness, back in 2008, in beautiful Mississippi, then again with Steve for a movie called Sinister. Our latest to be released is Evil Under the Skin, a Jeff Schneider film, starring Helene Udy [Helene Udy interview - click here], Tim O'Hearn [Tim O'Hearn interview - click here], Pamela Sutch [Pamela Sutch interview - click here] and Carl Bailey. Coming soon, Alien Wars, by the same producer. Luc and I go way back. He is such an amazing friend, talent, actor, writer, and producer. He has the kindness of a butterfly, and would do anything for anyone.
A few words about the shoot as such, and the on-set atmosphere?
As I said, the shoot went very smooth, with no dialogue written. Just scenes set up. The atmosphere was very collaborative between us all. We had a lot of fun with the creative little piece.
Any future projects you'd like to share?
Yes! Last American Horror Show Volume 2 (from producer/director Michael S. Rodriguez [Michael S. Rodriguez interview - click here]) should be released this summer. Very excited about this! Volume 1 was highly entertaining, and I would encourage anyone who hasn't watched it to do so. Also coming by him this summer is Lake of Shadows. What a honor it was to finally work with him and his excellent crew!
Evil Under the Skin (from producer/director Jeff Schneider [Jeffrey Schneider interview - click here]) is available soon through Amazon.
Challenge of 5 Gauntlets (from producer/director Len Kabasinski [Len Kabasinski interview - click here]), starring legendary Leo Fong, as well as Len himself, is available now on Amazon (streaming) and will be released in June on DVD - https://www.amazon.com/Challenge-5-Gauntlets-Various/dp/B084P57Z3T/. Very heartwarming story,that will take you all over the world. A lot of heart put into this movie. Also Hellcat's Revenge II : Deadman's Hand should be released soon. Loved reprising my role of Rosie, probably one of the funniest characters I have played.
The anthology Horror Movie (from producers Tony Newton [Tony Newton interview - click here] and Sam Mason-Bell [Sam Mason-Bell interview - click here] out of the UK), including my segment Thou Shalt Not Lie, should be available in the near future. Gore Theatre 2 should be available soon, and Faces of Fear too. Two other anthologies from the same producers, Home Videos 1 and 3 are available now - https://www.amazon.com/Home-Videos-Complete-Body-Count/dp/B07WMM87N6/ - and the first Gore Theatre is also available (starring in a segment called Nightmarish, along with my friend Deborah Dutch [Deborah Dutch interview - click here]) - https://www.amazon.com/Gore-Theatre-Blu-ray-Deborah-Dutch/dp/B07GQHW8J2/. And you can find the DVD for 2 Die For on Amazon as well. All these projects from Tony Newton and Sam Mason-Bell, and most segments are directed by Luc, except for Home Videos 1, my segment is directed by director Maude Michaud [Maude Michaud interview - click here]. Many thanks to Tony and Sam for having us involved in your projects!
Stronghold (from producer/director Aaron Bratcher) should be out sometimes soon, too!
Alien Wars is being edited right now, as well as Loose Luck, and More than a Conversation, all projects done by producer and director Jeff Schneider.
And Axemas 2 is available now (done by director and producer John Ward).
Leaving in two weeks to Tennessee to start filming my character Hannah, the vampire slayer (with producer/director Sal Lizard). This is going to be a lot of fun, and there will be 6 sequels and time lapse where I get to come back time and time again to slay! Woohoo... bloody fun!
Many amazing projects are going to be filmed in the future, and many films with great directors and great scripts and roles. Keep up to date by looking at my website.

Feeling lucky ?
Want to
search
any of my partnershops yourself
for more, better results ?

The links below
will take you
just there!!!


Your website, Facebook, whatever else?
My website is www.donnahamblin.weebly.com which is always updated with news, projects, photos etc. You can always find me on Facebook as well.
... and the film's available on DVD from http://www.skullfaceastronaut.com/uncommonbond.html
Anything else you're dying to mention and I have merely forgotten to ask?
Yes! I'm so glad this was a new written interview, I suck at live interviews, my mind goes blank and I tend to get tongue twisted!!! Stay cool, people!
Thank you from the bottom of my heart to all the talent that I have been fortunate to even have a chance to work with! And to all the support! I hold you very close to my heart. Last, thank you so much Michael.... YOU ROCK!!!
Thanks for the interview!