Your upcoming film, the highly anticipated Ten Violent Women: Part 2 - in a few words, what's it about, and what can you tell us about your character in it?
Ten Violent Women: Part 2 is (in Ted's words) a movie about female empowerment. I play the lead, Gloria Jefferies, who is a lounge singer and owns a gym, mostly for women. Her husband (played by Jeffery Kobes) is a detective who is bringing down the drug syndicate. After her lounge show one evening, he picks her up and going to their car, there is a explosion. He is killed, she is mamed and seeks vengence on the people who killed her husband by including the women at her gym to do so.
What did you draw upon to bring your character to life, and how much Donna Hamblin can we actually find in Gloria?
Well, trying my hardest to do character work, I hope no one sees Donna. However, I recieved the script last minute, so I didn't have much time to prepare. Plus, I had to learn two songs to perfom during a lounge scene (something I had yet to do as a actor). So I had a lot of stuff running through my mind. I knew my character was a tough, strong woman, so as far as those two charasterics go, you can find Donna somewhere in there. I drew upon her dignity, strength, and power to go on after the tragedy she encountered. not only that, I was replacing the beautiful, award winning, sadly departed Francine York, (a legend in her own) as the lead. So I had that pressure as well.
With Ten Violent Women: Part 2 being a rather action-centered movie, was this at all an issue for you, and how did you prepare for that aspect of the movie?
It is a action-centered movie, however, most of my shooting (as you can see from the promo pics) I was sitting on my butt in a wheelchair. So, no, I can not honestly say that it was action-centered for me. Though I would have had no problem with kicking some butt in the movie - "what actor doesn't love that"? I had to bring all that energy while sitting down, unable to move my legs. The violent women were the ones doing the action. As far as my character goes? Wearing heels, singing on stage was the most action for me... I was on set laughing to myself and cheering on the women as I watched them kick ass though... hahaha!
How did you get involved with the project even, and were you at all aware of the original Ten Violent Women prior to this movie?
Of course! I love the original Ten Violent Women (as a lot of people do). It's a amazing movie! I was in PA filming Angel Of Reckoning with Len Kabasinski [Len Kabasinski interview - click here] and called Ted while I was there. He told me he was going to start filming Ten Violent Women Part Two and asked me if I would play the reporter. A couple weeks later, we had a meeting and the deal was done.
Ten Violent Women: Part 2 has been directed by the legendary (and sadly deceased) Ted V. Mikels - so what was your collaboration with him like?
Well, I was to originally play the part of the reporter, so I had that part down and memorized (I was so excited to play opposite of Francine York). He (Ted) then called me a week later and said that Francine may not be able to do the part due to being ill and told me I was the only one he wanted to replace her with. After catching my breath, I said, "ok, let me know asap." A week later (two weeks before the shoot) he called me and said I will be playing the new lead (Gloria Jefferies), I picked up the script and went to work, getting aproval on wardrobe, picking up original songs (from a local musician here in Vegas) to learn for the lip sync scene, meetings, going over character points, etc. Francine had called on set a few times to see how I was doing in the part. She did go out of her way to call Ted on a prior movie of his I was in, and paid me a beautiful compliment (something I will hold close to my heart), so this being, I was very humbled by the calls. Sadly, Ted passed away, with the movie not being finished.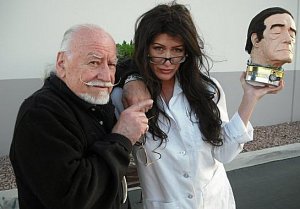 with Ted V. Mikels and John Carradine's head
Ten Violent Women: Part 2 wasn't the first movie you made with Ted V. Mikels - so do talk about your previous collaborations, how did the two of you first meet even, and what kind of a person was he?
To answer the first part of the question: Ted and I met on the set of Mark Of The Astro Zombies. From there, he asked me to be in, Cauldron: Baptism Of Blood, then Demon Haunt etc. A few years later, he contacted me and asked me to play in the lead of Astro Zombies M3 Cloned. I was thrilled due to playing a character that was connected to the late star John Carradine [John Carradine bio - click here], and now, the late legendary Tura Satana who was in the original movie Astro Zombies. I played Stefanie DeMarco, the grandaughter of Dr. DeMarco, played by John Carradine in the first movie. Ted saw something in me and trusted me to endeavor in many of his films. something I will be forever gratetful for.
Ted and I were always close, he was like a father to me, and a grandfather to my daughter, everybody loved him, he was so nice and so kind hearted, Have I seen him mad? Yes! But that would turn into dissapointment soon after. He had only kindness towards others in his heart, he cared deeply about people he knew in the professional and in his personal life and was always concerned about them. He always put people before his personal self. He was always willing to share his expertise (let us not forget, this was a Hollywood producer who went from silent film, all the way to the now used CGI), so he had a lot of knowledge and was willing to share that with any aspiring person who wanted to learn, he would lend out his equipment, guide them on shots etc... If I had to sum him up in words, I would say that he had a very kind soul with a lot of passion. But he always had that professional, Old Hollywood producer in him at ALL times...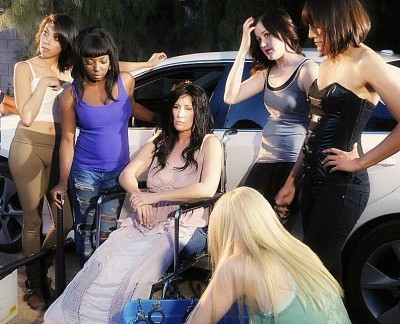 surrounded by some of the violent women
Do talk about Ten Violent Women: Part 2's shoot as such, and the on-set atmosphere?
Well, ha ha ha... the first night we were filming on the Vegas strip here with ice cold winds, tourists that were highly intoxicated interupting the shoot, and they had just finished doing a marathon on the strip. It went pretty good. The second night, I had to do the lounge act lipsyncing, we were in this beautiful club, and I was very nervous to lip sync, Tura Satana's two daughters were there helping fill in the audience. Sharla,Tura's grandaughter was playing one of the Violent Women. I was talking to them about how concerned I was for this scene and that I wanted to remember not to sloutch during the scene, Jade (Tura's daughter) said, " My Mom always said, suck in your tummy and push your chest out." I was very gratetful for the advice and it made me more aware, it gave me the boost of confidence I needed at that time to get through what I thought was going to be a grueling shoot. Now, fast forward to the following evening, THE BEDROOM SCENE!!!!!!!!!! In this scene, I am in bed with my husband (played by Jeffery Kobes), we are sitting up in bed in our nightwear while Ted and the crew are at the foot of the bed sitting down ready to film, I am rubbing his forearm asking him if he's going to see my lounge show the next evening, Ted yells, "CUT!!! Donna, what are you doing with your arm?" I said, "I'm rubbing his arm while I'm talking to him, I'm madly in love with my husband, and this is what I would do." Ted then looks very puzzled and very sincere he says, "we can't see your arm, that's not what it looks like you are doing." Well, nedless to say, we all roared with laughter. And as always, there were times arriving on set in wardrobe getting ready to film a scene, and Ted would say, "Now Donna, in this scene, I want you to say (then go on to a full page monolog that isn't even in the script)," and then he would say, "You don't have to say it word for word, but get as much of it in there as you can and get to the point. Andddddd ROLL"! While I'm sitting there like a deer in headlights saying, "ok, what was that?" Hahaha this was typical of Ted, I don't know how to this day I don't look confused in so many scenes in his movies, as this was a usual occurence filming his movies, moments I will now miss...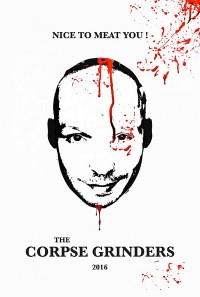 At least according to the IMDb, you're also cast in Timo Rose's Ted V. Mikels remake The Corpse Grinders - anything you can tell us about that project yet?
Oh yes! Timo Rose (award winning producer in Germany) along with Nils Heftling (who played in Ten Violent Women Part 2 alongside Ted) did a remake of Ted's original Corpse Grinders. Ted and I did a cameo in the film together (filmed in Ted's back yard) we play the parents of Landau, the new owner of Lotus Cat Food. God, we had a lot of fun filming this, I was completly thrilled to be part of an amazing cast with an amazing production. It's going to be a hard core, bloody, punch to the face movie... I know that Timo, Nils, and all the cast in the movie, do it justice in it's own right. Again, very grateful, you can see the trailer for it on my Facebook page as well as Timo's Facebook and YouTube.
You've recently also been in Len Kabasinski's [Len Kabasinski interview - click here] Hellcat's Revenge - so what can you tell us about that one and your character?
Hellcat's Revenge is a hard core, territorial, biker movie. I play Rosie a tatoo artist who is also "an informant that plays both sides of the fence." It was a lot of fun playing all the dynamics and putting this "cocky badass" personality into play. I had a lot of fun with this role (as with all others Len writes).
So how did you prepare for that role then?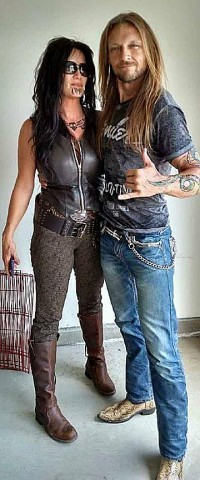 with Len Kabasinski
The character came through just on the first read through, so I just built on that and took it further. Of course, I always look back and say, "Damn! I should have done that or, that would have really added to the scene", but that's how we learn, and I never stop nor will I ever stop trying to learn when it comes to acting. I will say that in preperation for this character, I imagined a more "whitty" person. Things can always change your mind when you arrive on the set though. Len usually will let his actors know what he wants to see in the character, give you a build up of it, etc.
The most preparation was in the wardrobe! I'm sure I bugged the hell out of Len and Chris with that messaging back and forth.
Me: What about latex?
Len: Hell no! bikers would never wear latex!
Me (sending many shots of clothing): This work? (I had no clue)
Len: Yes, maybe, no, no, def not! Hahaha.
Len then told me, "think of something like Tura Satana in Faster Pussycat, Kill, Kill!" Then BING, a lightbulb went off. I thought, what a great way to pay homage to Tura (a very sweet person I have had the fortune to be around a few times). I had a old leather like jacket, scissors, duck tape and came up with a similar, highly uncomfortable, shirt such as Tura's in the movie, sent a pic to Len, he said, "Yes! thats it!" Tura's daughter sent me some of her late mothers jewlery to wear for luck (I wore that in the scene I do with Snake aka Len). I also wore Ted V Mikels' famous bone necklace in the movie, you will see them in the scenes. Felt very fortunate to pay my respect to the both of them by doing this.
Again, do talk about your collaboration with Len Kabasinski [Len Kabasinski interview - click here] - again no stranger to you - and the shoot as such?
I met Len (who is like family to me) through my best friend, actor Luc Bernier [Luc Bernier interview - click here]. The first movie I did with him was Blood Mercury, I then went onto play Beverly in Angel of Reckoning, and after that, Hellcat's Revenge. And hope to do many more films with him, I mean, who doesn't love this guy? Len is really a inspiration to people like myself in this industry. He is a no-nonsence, proffesional guy on AND off set. He has the upmost respect and gratitude and treats every single person on set no matter what part of involvement they have in the movie with that same gratitude. That says a lot about him and makes people like myself respect him even more, I feel completley honored that producers such as himself have faith in me when you sometimes doubt yourself and try to strive harder in this industry. I have made good friends with most people I have got to know on his sets, always an added bonus. We filmed in some amazing locations and everybody was right on and knocked it out of the park with their characters... We filmed in a strip club, with some beautiful dancers, a real tatoo shop etc... So it felt very real all the time arriving on set. Yunh Pham (a tatoo artist) drew all the tatoo's on us and did a marvelous job. There were bikes, bikers, you name it, had a great feeling showing up on set and seeing this, walking away feeling completley grateful, not wanting the experience to end. He also has Chris Young (editor) [Chris Young interview - click here] on set at all times. Definitely a added bonus. AND another "who doesn't love this guy", Chris is amazing, and a great, great person as well.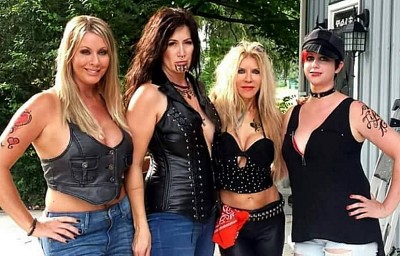 Hellcat's Revenge
Any other current or future projects you'd like to talk about?
Absolutely! I am filming Stained Encounter, a psychological thriller next week with Luc Bernier, Mark Gordon and Demona Bast. Cant wait! It's a great script with great character dynamics. I will film the other part of this movie in Montreal in March.
This summer I will be filming a movie with Jim Haggerty (producer and owner operator of the Yellow Ape Film Festival) [Jim Haggerty interview - click here] in New York. I'm very excited about that. He says he has been eager to work with me - we shall see... hahaha... naaa, I'm actually pretty easy to get along with I think. And very well at taking direction. No Diva Here!!!! I should have more information on that movie shortly. Currently I am in talks with a few other producers, hopefully it works out. I had a extremly busy year last year with filming and am hoping for the same in 2017.
Your website, Facebook, whatever else?
www.donnahamblin.weebly.com (you can get up to the date news on here ect..)
www.facebook.com/donna.hamblin.54
... and of course, imdb.com/donnahamblin
Anything else you're dying to mention and I have merely forgotten to ask?

Feeling lucky ?
Want to
search
any of my partnershops yourself
for more, better results ?

The links below
will take you
just there!!!


Yes! I want to give a shout out to Kevin Scott Collier for involving me in the book he wrote, Unmasking the Astro Zombies, a biography he did of the making and involvment of Ted's Astro Zombies franchise, and dedicating the book in my name. Nothing has touched my heart as dearly as this. And of course to people like you Michael, for keeping this industry alive and thriving. And every producer, crew, actor I have worked with in this idustry that have not only been so kind to me, but had faith in me and gave me a chance. Again, thank you for all the email, mail etc from everyone all over the world, it truly overwhelms me with such pride, and I am in awe everytime I recieve such... You are the ones that ROCK MY WORLD!!! Touche...
Thanks for the interview!