Your upcoming film Origin: A Call to Minds - in a few words, what is it about?
Origin: A Call to Minds is a followup to my 2009 film Archon Defender which follows the character Lorem, a Shard Adept intent on transferring her consciousness into a Resonator called the Automa Construct. The film deals with the repercussions of this decision, and how it's generally a bad idea.
How would you describe Origin: A Call to Minds' animation, and what animation techniques do you use?
The animation style is a non-photorealistic 3D rendering technique which I've developed over the last couple of film projects starting with Archon Defender, and then further refined in my 2010 short film Tales from the Afternow: Little Rocks. I've combined the 'cartoon shading' technique that I used in Archon Defender with a technique described by Issac Botkin in his 2009 Siggraph paper Painting with Polygons (http://www.outside-hollywood.com/siggraph/), which imparts a more stylized painted or artistic look to the usual 3D rendering technique.
The intention was to create a look that was more like a concept art painting rather than the crisp digital plastic look of a Pixar film, something approaching the hand painted style you see in Anime. In Origin, I applied all this to a 3D stereoscopic process, which is trivial to implement in 3D software.
Origin: A Call to Minds is of course a prequel to your earlier Archon Defender. To what extent are the two films intertwined, and will somebody who has never seen Archon Defender be able to understand Origin: A Call to Minds? And why did you think Archon Defender needed a prequel?
Origin is set in the world of Archon Defender; in terms of being a prequel, in the actual storyline of this world it's set in the distant past from the events in Archon Defender. The events in Origin are more of a mythological basis for the world in Archon Defender, much in the same respect that the ancient Greek and Roman era influence and underlie our modern culture. You won't need to watch Archon Defender to follow what's going on in Origin, but there are interconnections between the films that should become more apparent once you watch both films.
What were your sources of inspiration when writing Origin: A Call to Minds?
Well, Origin and Archon Defender are both part of a much larger concept, the inspiration for the entire world comes from a wide range of places: Cosmological theory, quantum mechanics, theories of alternate worlds and dimensions, all the weird stuff I hear on Coast to Coast AM which I always have on in the background at night when I do most of my work. Western and Eastern religions and philosophies, all the sci-fi and fantasy books and cinema that I've ever read or watched... I've always said that if you're going to plagiarize, then if you rip off as many sources as you possibly can then it will seem that you've come up with something original.
With Origin: A Call to Minds being a science fiction movie - is this a genre at all dear to you, and your approach to science fiction?
I've always been a big fan of sci-fi, starting with the original Star Wars and Battlestar Galactica as a kid; growing up in the days of Space Shuttle launches and the Voyager probe missions, Blade Runner, Alien, 2001. Now in 2012, we're living in a world where a lot of the things described in sci-fi is real, so in that respect sci-fi isn't as much "fiction" but more of a "list of stuff to build".
A few words on your producer (and voicecast-member) Morgan Muscat [Morgan Muscat interview - click here], and how did he come on board?
I initially cast Morgan as a voice actor during pre-production for Origin, he approached me offering his services as producer in the summer of 2010. One of the things I've learnt (the hard way) as a filmmaker over the years is to recognize and include the expertise of other creative people for things I might not be the biggest expert at. Voice acting is one of these areas, as is the expertise which Morgan brings to this project as Producer.
The 64-question of course, when and where will Origin: A Call to Minds be released?
I'm looking to get Origin on the festival circuit by the end of the year (2012), after that I'm looking at some form of internet distribution, but at the moment I still need to get a film with a finished soundtrack to actually put out ;)
Let's go back to Archon Defender for a minute: What is it about, and what were your inspirations for that one?

available from
Archon Defender follows the path of a young woman, Colette, as she seeks her way through adversity to redemption, as the world she once knew is torn apart by war and tyranny. In terms of inspirations: all the stuff I mentioned up above ...
Any other films of yours you'd like to talk about, any future projects?
I never work on more than one major project at a time ;) Obviously I have a few ideas what I want to do for the next production, but I won't start working on that until Origin is good and finished.
What got you into filmmaking in the first place and animation in particular, and how does one learn to be an animator?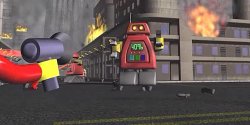 Rocketmen vs Robots
I started back around 2001 making short music videos to a bunch of techno tracks I was making at the time, that led into the Rocketmen vs Robots series of shorts, all the while I was kicking around the ideas which became Archon Defender and Origin. The way I learned animation was just by doing it. In terms of specific techniques, that just flows from the requirements of whatever shots you have envisioned. Before Archon Defender, I had never done 3D characters with 'mesh skins' using 'bones' objects to drive the animation. All the characters in Rocketmen were simple geometric shapes and animated simply. For Archon Defender, I was forced to learn how to model, rig and animate full characters in order to achieve the result that I wanted. So the only way to actually learn how to animate is to make animations. You're always going to be improving your skills no matter how long you've been at it. I'm sure in a couple years Origin will look as bad as some parts of Archon Defender do to me now, but then again I've got some pretty crazy ideas for the next film which are going to kick things up a few more notches.
How would you describe your approach to animation?
It's actually a lot easier than most people realize, especially now that computers are cheap and powerful enough to do all the heavy lifting, and all the software tools you need are available as freeware open source.
Pre-production:
The hardest part is writing your script, if you have a weak idea to begin with then your whole project will fail or you may only have an idea capable of carrying a short film, not a feature. If you want to make a feature, you start with your script. One page of double spaced courier 12 pt equals 1 minute of film (unless you've got a lot of "put action scene here" in your script.) Now you need to storyboard your script, this is also a good time to start sketching out concepts for the set, character and art design, you don't need to be the best artist in the world, some of my storyboards are just crude stick figures, especially if I have to draw the same thing twice. Now record your voice actors. I learned this the hard way with Archon Defender. You can easily find great talent who want to work on your project and will happily work for free or beer if you ask nicely enough. Or do the voices yourself if you want to spend the next two years or so listening to your own voice a lot. Then build all the sets, characters, and props that you need by going through your script and storyboards to see what actually needs to be built. Sync up the storyboards to the voice actor recordings to create an "animatic" which is basically the finished film in terms of pacing and shot composition except you still need to model, animate, render and compose all the shots.
Production:
Model, animate, render and compose all the shots.
Post-production:
Add music and any sound effects that don't "drive" the animation. presto! you have a finished film! :D In terms of production, I've been working on Origin since May 1 2010. Production took just over a year, Jan 1 2011 to Feb 2012. Now I'm working on sound effects, and David O'Hearn is working on the music score, which means the film should be completely finished in another month or so. The target is to have it finished by May 1 2012 which will be 2 years of pre - main and -post production. This is working alone aside from the voice actors. This is a similar timeline that the big studios take, and they have hundreds of people working on the big budget films. So by this logic, studios like Pixar and Dreamworks should be releasing hundreds of films per year ;P
Animators and filmmakers who inspire you?
I'm a big fan of Ralph Bakshi (Fritz the Cat) - there's a good video of him on YouTube at ComicCon where he encourages individual animators to use technology to realize their film ideas. That's one video I have on 'regular rotation'. Darren Aronofski is another favourite director of mine, as well as J.J. Abrahms who crafts the craziest action shots I've seen in modern films. Hayao Miyazaki is the shizz when it comes to Anime.
Your favourite movies?

Feeling lucky ?
Want to
search
any of my partnershops yourself
for more, better results ?

The links below
will take you
just there!!!

Find David T. Krupicz
at the amazons ...

amazon.com

amazon.co.uk

amazon.de
Looking for imports ?
Find David T. Krupicz here ...
Something naughty ?
(Must be over 18 to go there !)

It's probably easier for me to give my top 10 for this one... (these might seem like an odd assortment...) In no particular order:
Boiler Room
Children of Men
Chronicles of Riddick
Dark City
Primer
The Fountain
Equilibrium
Fight Club
... and of course, films you really deplore?
I recently didn't watch Human Centipede 2, Thor, or Melancholia, (although I did come up with a screenplay for a sequel called Watermeloncholia where a giant watermelon destroys the earth.)
Your/your movie's website, Facebook, whatever else?
I've been too busy with production to do a proper site for Origin yet; The main website for Archon Defender is www.archondefender.com.
I also have a production blog with more info about Origin at archondefender.blogspot.com.
Anything else you are dying to mention and I have merely forgotten to ask?
I should mention the books of Stephen Pressfield, The War of Art and Do The Work. These two books are invaluable to any artist who wants to bring their creative visions to reality.
Thanks for the interview!
No problem, thank you!