Your movie Wound - in a few words, what is it about?
Wound is a woman's pictorial descent into madness seen as a series of events or mental shards from Susan's tragic life as she fights a loosing battle for her sanity.
Wound is your return to feature filmmaking after making documentaries for almost a decade, right? Why, and how did the project come into being?
After directing a feature film thriller starring Ron Silver, called Exposure, in 2000, I became disenchanted with the traditional 35 mm large crew, large budget scenario and wanted to explore the new "Digital Revolution" in filmmaking that was sweeping the world in terms of cameras, editing, and sound design. I soon realized that costs could be kept to a minimum and thus more personal control of the "vision" was possible. I started off making a documentary on my own Grandfather who was a Veteran of WW1 called Our Oldest Soldier, with a 2 man crew and I found this liberating. This led me to make documentaries on topics such as Dominatrix and their clients in Bound for Pleasure, and males who wear masks and costumes to display themselves on the Internet, in Transfigured Nights.
The depiction of Susan's sexlife in Wound seems somehow reminiscent of two of your documentaries, Bound for Pleasure and Transfigured Nights. Was that at all a conscious influence?
Both Transfigured Nights and Bound for Pleasure were selected for a number of International Horror Festivals including Fantasia, Montreal Canada, Fantaspoa, Porto Alegre, Brazil, and Lausanne Underground Film Festival, Lausanne, Switzerland. I attended these festivals and watching the films there made me realize it was time to return to dramatic feature film making utilizing the lessons learnt from my digital documentary experiences.
The sexual side of Wound was indeed influenced by the two documentaries in their exploration of taboo, and the unconscious mind, manifesting in a mythological way.
Other sources of inspiration for Wound?
I have always been interested in the "Cinema of the Unconscious", so directors such as David Lynch, Ken Russell, Alejandro Jodorowski, Frederico Fellini , and Jean Cocteau have all enthralled and intrigued me.
In structure, Wound seems to defy narrative conventions as it very deliberately blurs the line between reality and fantasy. Would you like to elaborate on your approach to Wound's storytelling?
Wound has a pictorial symbolic narrative rather than a traditional "Hollywood Narrative", would be my answer. Others would describe it as "experimental"! Wound is very carefully constructed and intertwined with a dualistic logic on a mythological scale. Wound has been constructed to be a visual assault on your consciousness that pushes you to confront your own taboos and fears.
Wound doesn't exactly shy away from excessive violence and the bizarre - what can you tell us about these aspects of your film, and was there ever a line you refused to cross?
There are certain sequences that are designed to break through an audience's protective armor in a psychological way. This was not just random violence for its own sake but rather a conscious attempt to go beyond entertainment to enter the heart of madness.
A few words about your leading ladies Kate O'Rourke and Te Kaea Beri, how did you get them, and how did they react upon first reading your script?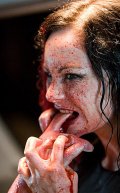 Te Kaea Beri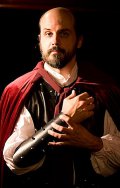 Campbell Cooley
Kate O'Rourke and Te Kaea Beri do a fantastic job in Wound, they both contributed so much to the film. I meet Te Kaea while working at an Auckland Film school and was impressed by her natural focus. Te Kaea introduced me to Kate O'Rourke as they both studied an acting method, Meisner. Right from meeting Kate I knew she was perfect for the role of Susan. Kate has a quiet intensity that is focused and conscious - Wound had come alive. Kate's fearless performance is the physical-emotional presence that holds the film together.
What can you tell us about the rest of your cast and crew, and about the on-set atmosphere?
Master John played by Campbell Cooley was another incredible performance, getting the sinister subtlety and mythological overlap into the character.
Mistress Ruth was played by Sandy Lowe, a real life Dominatrix from the documentary Bound for Pleasure.
The house used in the film was owned by a Bi Polar character who was in the middle of an episode and he would pop up at inopportune times and do a juggling act with two small hatchets, just to remind us of the realities of real madness, and that the house also reeked of madness and obsession.
As far as I know, reactions to Wound ranged from utter praise to controversy. What can you tell us about critical and audience reception of your film?
Throughout my film career I have always received "mixed reviews" and have gotten used to the wild divergence from genius/masterpiece to worst film ever. Mind you, giving Ed Wood a run for his money (Plan 9 from Outer Space) does amuse me [Ed Wood bio - click here].
Here is what the late great film maker Ken Russell says about Wound:
"A two-headed doll! Iron-phallused Pig-man stealth! Birthing your own twin! The nightclub of dream-wandering! If your family of origin doesn't kill you, you may just make it. You will love Kate O'Rourke as she encounters her delirious, incestuous monsters of the id in this romantically charged Gothic psycho-sexual horror tale by my fellow enfant terrible David Blyth. Gorgeous images and repulsive dream-surgery into the recesses of female consciousness. Enter at your own peril! A masterpiece! "
Let's go back to the very beginnings of your career for a bit: What got you into filmmaking in the first place, and did you receive any formal training on the subject?
I was at Auckland University doing an Arts Degree and was able to do a Film Appreciation course that completely opened my eyes to the potential of cinema not so much for commerce but the ability to tell stories in powerful and emotional ways exploring human consciousness.
Spanish director Luis Bunuel was inspirational to me in terms of style and approach and his films were the cradle of my film making sensibility .
I made my first feature film, Angel Mine in 1978. It was a surreal experimental style film and in some ways Wound can be considered a bookend to this film 32 years later.
Your directorial debut was the surreal Circadian Rhythms - what can you tell us about that one, and do you see any parallels to Wound?
This film is shot on Black and White 16mm film stock and is 14 minutes long. The film is influenced by the German expressionist film The Cabinet of Dr Caligari, and Bunuel's/Dali's Un Chien Andalou. Circadian Rhythms introduces the actor Derek Ward, who went on to play the lead in my first feature film, Angel Mine. Derek also appears in the final railway carriage scene in Wound, when Susan searches for Tanya. Circadian Rhythms is one of the extras on the USA-DVD release of Wound.
Your film Death Warmed Up is billed as "New Zealand's first horror film" - you just have to talk about that one for a bit, and is horror a genre especially dear to you, and why (not)?
Death Warmed Up has been described as not being released but escaping onto the screen. It's a mixture of gore, horror and social satire of Institutions such as the medical profession. The film did not go down that well with local critics, who questioned why tax payers money through the NZ Film Commission could fund such a film.
The film was far more successful internationally in the 80s even being considered one of the "video nasties" of English censorship fame. The irony of this film is that the original negative for the film has been lost and a worldwide search is underway to try and find an intact print. The copies available on Amazon are actually bootleg and heavily cut.
Two questions for the fanboys among my readers, if you don't mind:
Fanboy-question number one: You directed Al Lewis in My Grandpa is a Vampire. What was it like working with him, and what can you tell us about the resulting movie?
Working with Al Lewis was a great experience for me and of course I was such a fan of TV's The Munsters as a kid. Al's performance career stretched right back to Ma and Pa Kettle and of course in his later years he had the New York restaurant Grandpa's. Al's performance bought a magic to the film that would hard to duplicate.
The film started out life as Moonrise, then it became for New Zealand Grampire and for USA My Grandpa is a Vampire. Currently unavailable in most places worldwide on DVD, the film is a delightfully sweet children's vampire movie with an emotional ending and I look forward in hope to its eventual resurrection.
Fanboy-question number two: What can you tell us about your work on Mighty Morphin' Power Rangers?
I was living in Los Angeles at the time and I was asked to direct a block of 4 episodes of the newly created show Mighty Morphin Power Rangers, which had evolved from Japanese television series called Galaxy Rangers. I believe from memory I did episodes 7, 9 , 11 and 14, including the introduction of the Green Ranger.
A few words about your short Damn Laser Vampires with the Brazilian band of the same name?
In 2009 I attended the Fantaspoa Film Festival in Porto Alegre, Brazil, with 4 of my films, Angel Mine, Death Warmed Up, Bound for Pleasure and Transfigured Nights. While in Porto Alegre I did some workshops and agreed to shoot a music video with local band Damn Laser Vampires. Upon hearing their music I was an immediate fan and we set out with two cameras and two lights and a bunch of festival staff to shoot the clip over several nights. It was a huge amount of fun and I think this comes over in the film, which is one of the extras on the Wound DVD, USA release.

Feeling lucky ?
Want to
search
any of my partnershops yourself
for more, better results ?

The links below
will take you
just there!!!

Find David Blyth
at the amazons ...

amazon.com

amazon.co.uk

amazon.de
Looking for imports ?
Find David Blyth here ...
Something naughty ?
(Must be over 18 to go there !)

A final extra on the Wound DVD is the music video of the end titles song from Wound called "Knott Nine" written by Mary Takacs and sung by the talented Rosie Riggir, shot by myself.
Any other films of yours you'd like to talk about, any future projects?
Currently I am working on a number of dark horror scripts, so stay tuned for the next installment from me.
Your/your movie's website, Facebook, whatever else?
https://twitter.com/#!/BlythCult
https://www.facebook.com/WoundNZFilm
Anything else you are dying to mention and I have merely forgotten to ask?
Wound DVD release, USA, March 13 2012, Vicious Circle Films/Breaking Glass Pictures.
For VOD and Itunes release aka Beware the Beast: Wound.
And don't forget all the cool extras.
Thanks for the interview!