Your upcoming movie Toxic Alien Zombie Babes from Outer Space - in a few words, what is it about?
Hi Mike, thanks for interviewing me on (re)Search Your Trash again. Toxic Alien Zombie Babes from Outer Space is a comedic sci-fi/ horror film that pays homage to the great B grade cult movies of the 50ís Ė 70ís, while covering a number of the strange issues that have come up during this pandemic year.
Now the title "Toxic Alien Zombie Babes from Outer Space" alone already suggests an hommage to schlocky B movies - am I at all correct in this assumption, and if yes, what do you find so fascinating about them?
Spot on. I should have added in schlock to my answer because the humour is very much in that vein. My fascination with both the B grade classics and schlock movies goes back to when I was a kid. The old sci-fiís would often play on TV on a Sunday and I couldnít get enough of films like War of the Worlds, The Day the Earth Stood Still and Attack of the 50 Foot Woman. I always felt that stories should be imaginative and take you to another realm, and those films certainly did. When it comes to schlock movies, I saw a few at the cinema when I was a teen but it was really the VHS era where I got addicted. Films like Toxic Avenger and Street Trash just suited my sense of humour. Toxic Alien Zombie Babes from Outer Space certainly has that absurdity going on.
(Other) sources of inspiration when writing Toxic Alien Zombie Babes from Outer Space?
I would have to cite The Groove Tube and the films it spawned as another influence. Those covered the issues of their day in lots of skits that went from a minute through to ten minutes. We have a lot of strange stuff going on right now so I want to record it all within the movie, in an entertaining way.
Toxic Alien Zombie Babes from Outer Space suggests a sci-fi horror flick - so (apart from the hommage-aspect) what can you tell us about your approach to the genre?
Iíve gone for an approach that Iíve seen in movies before, but canít cite them because I couldnít remember the names of any. I recall a number of zombie/virus movies that had countdowns from the day of first infection and showed maps to depict the spread. They would intersperse this information throughout the film as you watched the events unfold. I donít want to give away why I took this approach because that also gives away a bit of the ending.
I am guessing that Toxic Alien Zombie Babes from Outer Space will also not be the most serious of movies - so do talk about your movie's brand of humour for a bit?
The humour is similar to what Iíve shown in previous films. Yes, it can be black and schlocky, but it has to have a deeper meaning and purpose too. I donít think that someone getting a pie in the face is funny anymore after seeing so many pie fights in the past, so if I was to include one, then it would have to say something more. E.g. a profound inner statement on world starvation and corporate waste. I always try to have another level within the gags because I grew up with Bugs Bunny, and when I watched those cartoons back as an adult, I found there was stuff there that I just did not see as a kid. That approach became the standard for me when I first started writing stories as a young adult.
You also have to talk about the effects work in Toxic Alien Zombie Babes from Outer Space for a bit!
The effects are being created by Gerardo Chierchia. He is being assisted by Andrew Bianco and Fabio Segatori. Iíve been kept up to date with each stage of the test runs of the effects but all the tech talk is just way over my head. Not all of the effects are CGI though. Gerardo has created models and combined physical effects with CGI.
What can you tell us about Toxic Alien Zombie Babes from Outer Space's director Gerardo Chierchia, and what is your collaboration like?
Now that is the million Dollar question! Iíve now worked on more films with Gerardo than anyone else. My approach is to share with him the vision and the script. I then organise the actors, props, costumes, non tech crew such as muaís and anything else. I really donít interfere that much, aside from giving the odd suggestion.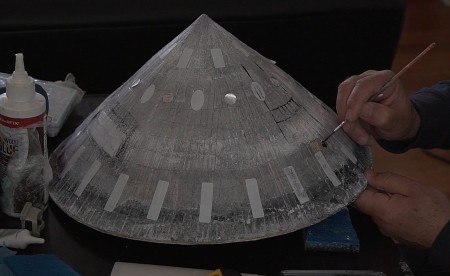 Gerardo Chierchia putting his final touches on the UFO
Every set has been different, but when itsí been all of Gerardoís crew on board, most instructions are in Italian, so I just go with the flow and do what Iím told. I just love seeing Gerardo and Fabio discussing shots, angles, lighting and everything else. Thereís a whole flow going on there and a synergy that you wouldnít believe, so I donít interrupt that at all.
Gerardo is very softly spoken though, so Iíve sometimes jumped in to do the 1st AD bits of repeating loudly after him ďquiet on setĒ and any other shouting that needs to be done. Gerardo is similar to me in that he is open to a collaborative approach, so the floor is often opened to opinions from everyone from the actors, extras to the make-up artists.
I am a big fan of Italian cinema, from the spaghetti westerns, to the horror films to the post-apocalyptic action films. I sometimes like to imagine that I am on an Italian set and that maybe Dario Argento or Sergio Leone are quietly standing somewhere in the background.
Especially now that your country's still under COVID-19 lockdown, what are the main challenges to bring Toxic Alien Zombie Babes from Outer Space to the screen from a producer's and also a logistic point of view?
One of the biggest challenges is that a lot of footage is going to be self-taped, which means I wonít be there to coach the performances. I know that makes it sound like I am directing but as the writer, I often let people know their motivations and talk about the emotions the characters are experiencing. Gerardo tells them where to stand, how to move and also will speak up if the performance is wooden. Another difficulty is that there isnít going to be a crew there to make sure lighting, make up, costume etc are all fine. We can tinker in post a bit but there could be times that we will just have to work with what we get and be grateful. Fortunately, a lot of the actors are fantastic and are able to self-judge their own performances.
Are you also appearing in front of the camera in Toxic Alien Zombie Babes from Outer Space, and if so, what can you tell us about your character?
Iíll be in front of the camera throughout the film as a vlogger that is presenting information found online that runs counter to what the authorities are claiming. Iíll be giving opinions and updates throughout the story. Iím somewhere in between the commercial news services and the outright crazy conspiracy theorists.
Do talk about the rest of Toxic Alien Zombie Babes from Outer Space's cast, and why exactly these people?
I started with my regular actors of Anastasia C Kouloukas, Vixey Teh and Glen Cook, and added in my semi regular actors, make-up artists and anyone else that Iíve worked with who wanted to be in it. Having those that Iíve got a previous working relationship with makes this a lot easier. Not all of this is iphone footage and talking heads. In fact, a lot is being shot on pro cameras with a smart phone too. This way, we get multiple angles and can cut between the footage that we want to look like uploaded internet footage and the person recording. It makes it easier to co-ordinate that and give shot instructions if you already done that before with someone in person.
Many of my main actors, such as Anastasia, Glen and Vixey, have their diplomas in cinematography and have been able to help out in various positions on set. By returning to them, they are able to do all the tasks needed in self shooting and have access to the level of equipment needed for an international feature.
As far as I know, you're in the middle of shooting Toxic Alien Zombie Babes from Outer Space - so what can you tell us about the shoot so far?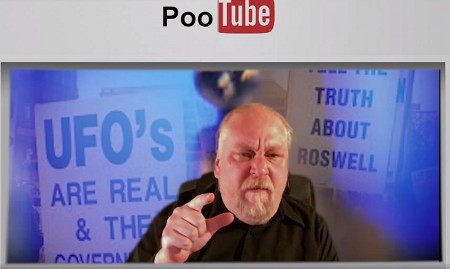 Shane Vozar as conspiracy theorist Falex Bones
Weíre actually closer to the start in that weíve only been at this for a couple of weeks. It would be easy to think that we were well into it because Gerardo and a few others on the shoot had footage that they shot before lockdown that was for other projects. Aside from the test footage, which was shot in quarantine, there is other footage that took months to film and work through the SFX. Those bits and pieces are now being reworked to fit the script. The new stuff we are getting back so far is good. There will be a lot of clean-up work due to it all differing with lighting, sound and cameras, but Iíve also scripted the film in a way that this is to be expected. We just have to make sure that it isnít jarring to the eye.
What's the further schedule for TToxic Alien Zombie Babes from Outer Space, and any idea when and where it might be out yet?
The film is going to take 4-5 months to finish, so November is a good estimation for release. I expect all footage to be done over the next 4 weeks, then return to get pick-ups or add in anything needed if we find that the story isnít flowing as well as it looks on paper.
Any future projects beyond Toxic Alien Zombie Babes from Outer Space you'd like to share?
The very week we went into lockdown was the Easter long weekend where we were going to finish off our other feature Badass Bunyip. The film was almost complete but there were sound problems with the main characters due to me accidentally destroying a lapel mike in a beer swilling scene. Rather than just re-do the sound and drop it in, I thought it would be best to return to the set and re-film. I also wanted to tweak the dialogue and recast.
As soon as the lockdowns are over, weíll get those 2-3 days of filming out the way, and after that, the amount of editing left isnít that much, so we could be following up Toxic Alien Zombie Babes from Outer Space with Badass Bunyip within a few months.
Your/your movie's website, social media, whatever else?

Feeling lucky ?
Want to
search
any of my partnershops yourself
for more, better results ?

The links below
will take you
just there!!!


Here is my YouTube channel where people can see my work - https://www.youtube.com/channel/UChNUuG84Sakk7AVSpJ4yTOg
My IMDb - https://www.imdb.com/name/nm8084129/
And the Facebook page for Toxic Alien Zombie Babes from Outer Space - https://www.facebook.com/ToxicAlienZombieBabes
Anything else you're dying to mention and I have merely forgotten to ask?
Usually I am very chatty and you canít shut me up Ö but Gerardo and I have been working flat out on this feature so Iím just brain dead. Thanks again for interviewing me on your blog Mike.
Thanks for the interview!