Your new webseries Sex Pose Man - in a few words, what is it about?
Sex Pose Man is an adult comedy series about the adventures and mis-adventures of Winston aka Sex Pose Man. He's a gigolo, who is very tantric and is inspired by mundane things that he performs on his nightly clients unbeknownst to them. In a very hysterical way.
What inspired you to write Sex Pose Man - and is any of this actually based on actual experiences you've had?
No. Sex Pose Man is truly an original idea and concept... it's a character that came out of some early comedy work I had done and the idea evolved over time. Don't get me wrong I love sex just as much as the next man but I don't wanna freak anybody out while I do it!
What can you tell us about your character Winston, and what do you draw upon to bring him to life?
Well I think about a lot of the great sketch 'sexy' characters of past. Deuce Bigalow, Male Gigolo, Superfly, Steve Martin on Saturday Night Live with "Wild and Crazy Guys" and of course all the douche-baggery that I see and pick up on in real life... and definitely some Matthew McConaughey. LOL
What can you tell us about your director Daniel J. Pico, and what is your collaboration like - especially considering you're creator/producer/star of the show?
Well, me and Dan have been working together as actor/director/producer team since 2006 and we work very well together... Dan brings a strong visual flair and great ideas that are either in the script stage or just impromptu on set... He's such a great director that he shot both episodes without a shot list. He just knows what to do. Mind you we shot 2 episodes, 10 pages, 5 locations, 3 company moves in one 13 hour day.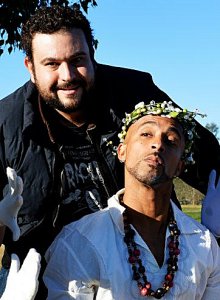 David with Daniel J. Pico
Do talk about Sex Pose Man's other regular Rhyan Schwartz for a bit, and why exactly him? And is his character based on anyone in particular, actually?
Well when I was writing it, Sex Pose Man was funny in his own right, but to really set off the comedy you need a straight man, a deadpan comedy guy, the everyday guy to set against Sex Pose Man to illustrate Sex Pose Man's zaniness... Me and Rhyan shot a Lay's commercial together and as soon as I saw him in costume fitting I knew he was the guy so I asked to come in and read for us and he nailed it... in fact I only brought in one other guy for that role cause I just knew Rhyan was the dude.
Anything you can tell us about the rest of your cast?
We got really lucky. We got some incredible talent in the room and all these people wanted to work with us because of our body of work and what we have done... We put out a breakdown and held casting as usual... even had a gal drive in from Vegas (the awesome Farrah Hines EP 2) and we cast her just cause she was great! Heather Lindell is best known for her work on Broadway as well as a 4 year stint on Days of Our Lives... so our cast is very seasoned and pro. We also had the super cool Stefanie Barboza (who is a great improv actress).
In Sex Pose Man, your character gets into many sexual situations by mere concept already. So how do you go about these, and where do you draw the line when it comes to the depiction of sex?
Well the most important thing is comedy, the second is keeping it PG13. So no nudity, very little to no profanity, just good funny situations. And the concept is truly original there is nothing out there quite like it. and the possibilities are endless... we are shooting EP 3/4 in a month and Sept 2nd EP 2 will roll out.
Do talk about the actual shoot(s) for a bit, and the on-set atmosphere!
Really dude?! It's a fucking blast. Sex, bongs, weed, dildos, boobies, heels, cucumbers, mimes, olive oil, caribou, paddles... what else could you want?!? Most importantly is we have FUN... you have to keep everything professional but really light... this time around we'll shoot some good behind the scenes stuff... we didn't do that on 1/2.
What can you tell us about critical and audience reception of your series so far?
It's not for everybody that is for sure. But the people that do like it LOVE IT!! It appeals to the Apatow world, to anyone who saw This is the End - we're killing them with solid adult comedy... you really can't go wrong if you have a potty brain. Film Threat Magazine gave us 3 out of 4 stars on EP 1, so it's a good start. Gerry Bednob (40 Year Old Virgin) will join the cast as a regular starting EP 3.
Any future projects beyond Sex Pose Man you'd like to talk about?
Yes we are producing out next feature film Dysfunktion in spring of 2014...as an actor I'm on the cast of 1982 that is world premiering next week at the Toronto Intl Film Fest with Hill Harper, Ruby Dee, Wayne Brady, Bokeem Woodbine. I also have a new guest star coming up on ONE Network on a show called Verses and Flow where I appear as myself doing spoken word poetry.
What got you into acting and into writing in the first place, and did you receive any formal training on either subject?
Been acting since I was 5 or 6, went pro in 2005... have a BFA in Theatre and Film from Arizona State University... I also have been to several prestigious producer academies and am an active member of the National Association of Latino Independent Producers. BUT I write and produce for things I act in... because if I wait for anyone to give me anything I'd die of starvation.
What can you tell us about your filmwork prior to Sex Pose Man, and your career highlights?
Well I have over 40 IMDb creds as an actor and 12 IMDb creds as a producer and maybe 10 as a writer... but I've been at this a while. I have won several awards at the indie fest level and continue to get recognized for my work. I was also nominated for the prestigious Imagen award (considered the Latin Golden Globe) for a film I wrote, produced and starred in. And there is much more to come.
Rather early in your career, you also branched out into producing. Why is that, and what can you tell us about your company Exertion Films, and the philosophy behind it?
As I said earlier as an actor in this biz you HAVE to create opportunities for yourself while Hollywood sorta plays along, that's why I started producing and then Exertion Films. My mantra is for the company is 'inspire you... offend you... or both.' But most importantly INSPIRE!! Show anyone who is looking that it can be done... Drake says it all the time "started from the bottom now we're here."
How would you describe yourself as an actor and as a writer?
I write about what I know, I act about what I see, and I perform through my own lens.
Actors, writers, filmmakers who inspire you?
Matt Damon, Will Smith, Peter Jackson, Neill Blomkamp, Tony Scott, Quentin Tarantino (by the way the list is FAR too long) and all my friends around me that get it done.
Your favourite movies?

Feeling lucky ?
Want to
search
any of my partnershops yourself
for more, better results ?

The links below
will take you
just there!!!

Find David Bianchi
at the amazons ...

amazon.com

amazon.co.uk

amazon.de
Looking for imports ?
Find David Bianchi here ...
Something naughty ?
(Must be over 18 to go there !)

True Romance, anything Quentin, Gladiator, Boogie Nights, Requiem for a Dream, Shining, Color Purple, Shawshank, The Celebration... on and on and on.
... and of course, films you really deplore?
We already know who they are... don't need to talk about shitty glossy melodramatic vampire movies.
Your/your series' website, Facebook, whatever else?
SEX POSE MAN - EPISODE ONE - THE CARIBOU - https://www.youtube.com/watch?v=laD5Ge730do
https://www.youtube.com/user/DBsExertionFilms
https://www.facebook.com/davidbianchi.sag
Thanks for the interview!