Your upcoming movie WHY? - in a few words, what is it about?
WHY? is a student slasher that stands for Welsh Horror Yarn, and it's the first of its kind as it's the only horror feature film to be made on £10. It's basically about a bunch of students who go camping to a Welsh beauty hotspot - but one of the students hides a very dark secret. Hell-bent on revenge for his brother's death, he takes them to where he wants them and where his deranged family of maniacs await them to punish them for messing with the wrong family.
How did WHY? come together in the first place, what got the project off the ground?
WHY? was written more by accident really, and it's based on a true real life event where students were going missing ... so I just built it up and made it into a very believable story which is not full of nonsense like most films these days but with a thought-provoking original story that needs to be seen to be believed. It was initially called Horrorville, but that sounded boring so we changed it at the last minute.
From what I know, WHY? is a tad reminiscent of classic slasher movies - a genre at all dear to you, and your favourite slashers?
No, believe it or not, horrors or slashers are not really my favourite type of film or genre, they don't do it for me - or at least they didn't until I made this student slasher film on 99% passion and 1% money.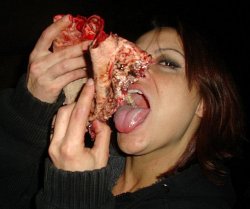 Angela Robinson
No slasher movie without violence - so what can you tell us about the gore in your film, how far do you go, and what was the effects work like?
We have lots of violence in this film, not too much to put people off but enough to tell the story and use it where it's needed. in terms of gore, oh boy! Without revealing too much there are a few juicy gory scenes that will shock and chill people to the bone, like one of the students being forced to watch a victim being butchered and then force-fed human guts. If you love gore, this one is for you. The SFX team we had helping us out on this film were Anonymity FX, who were amazing and we will be using again on many projects, masterminded by Shane Robins, he was literally amazing, plus we used Stef and Josh, who were also amazing and their work will stand out big time when you see it, sooo realistic and sooo clever. I love my SFX teams, they done me very proud.
How would you describe your directorial effort to your subject at hand?
In terms of how I done, I thought given all the problems we encountered along the way on a daily basis, I done pretty well when some people thought about giving up, due to bad weather, bad timing, etc - but it was then down to me to bring them back from the blink of saying, "stuff this!" It was big learning curve, and this film has taught me loads and yet it's made me realise the fact of how tough filmmaking really is when you make a film on a budget - but I proved to others and myself it can be done, so it's job well done.
A job well done by everyone involved.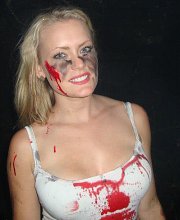 Amy Staples
What can you tell us about your key cast?
My key cast, like Amy Staples, Emily Waters, Ian Davies, and Alexander Edwards were all great, and done me proud. Their performances were not only great in terms of being credible and believable, but they surprised me even more when they delivered on time and when faced with problems they shone like stars that they really are.
They were all very talented and they literally made WHY? greater by being in it. It couldn't have been done without them so I owe them a lot.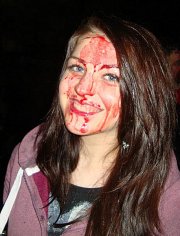 Charlotte Hitchman
A few words about the shoot, and the on-set atmosphere?
Well this one is a funny one, as we had a great laugh for most of the shoot despite setbacks and problems, but our huge passion which was felt by everyone, made us more driven to get the job done.
We did have a problem with the local bulls chasing us through a field and I didn't know I could run so fast but I was gone like Roadrunner and so were the rest of us.
We got kicked off one beach so we had to move to another, but for every problem, we just used it as an excuse to be even more determined to make WHY? in one piece.
Overall, it was a success thanks to my great cast and crew despite the barrel of hiccups which just made us more keen.
When and where will the film be released onto the general public?
The film is currently in post-production stage so we will be hitting the editing table very soon and then knock up a rough copy of the film ready for our premiere, which is gonna be screened at the university here in Swansea on the 11th of November. But as for general release, we are in talks with four possible distribitors, three in the UK and 1 in the States. If none of them bite, then we intend to release it via the self-distribution route with Distrify and Amazon, as we intend to become a distribution company next year.
Let's go back to the beginnings of your career: What got you into filmmaking to begin with, and did you receive any formal training on the subject?
I have always been an avid film watcher, then I got interested after reading tons of books, then I started making short films for my local school called Bullyboy and Scoria, and my passion for film grew from there really. I have never been trained as I am very self-taught and believe that you should tackle the world by trial and error rather than emulate others' way of thinking, as this makes you a better filmmaker, and so far it has worked as I have produced and directed 2 shorts and 2 feature films and I have plans for more.
What can you tell us about your filmwork prior to WHY??
Well I have done 2 shorts, Bullyboy (2000) and Scoria (2001) and they shaped the way I perceive how films should be made, out of passion more so than profit. I then had a break from filming then got back into it when I knew there was something missing from my life, hence why I penned Blagger (2012), which is crime/comedy film made here in South Wales in Swansea and will be distributed via myself as it's aimed at the local public whereas with WHY? (2012) we aim to find the right distributor who can sell it globally.
Any future projects you'd like to share?
Yes, we have another film to do this year, but i'ts more half documentary and half fictional than fully fictional like the rest. It's called Project: Ouija, and it's about a bunch of students who get given an assignment by the tutor to investigate paranormal activity in some haunted castle, but done over one night using a real ouija board and using it for real. So this one is the one to watch out for.
Then next year after we all take a break, I have plans to film Penpal (2013), which is a mates film, and Swansea House Mafia (2013), a criminally insane film written and directed by Angela Robinson, Inshallah (2013), a controversial Pro-Muslim film, and then Blagger 2 (2013), the Cardiff versus Swansea gangster film that will be epic. Then I think I will retire after all that, because I am sure I will be knackered by the end of the year. Yes happy but smiling all the way to the film festivals.
How would you describe yourself as a director?
I would describe myself as a very pasionate film maker with everything to gain and everything to lose.
Filmmakers who inspire you?
Quentin Tarantino, Kevin Smith, Michael Moore, Wes Craven, Michael Mann, Stanley Kubrick, Ron Howard, Michael Bay, the Scott-brothers and Spielberg.
Your favourite movies?

Feeling lucky ?
Want to
search
any of my partnershops yourself
for more, better results ?

The links below
will take you
just there!!!

Find Darren Protheroe
at the amazons ...

amazon.com

amazon.co.uk

amazon.de
Looking for imports ?
Find Darren Protheroe here ...
Something naughty ?
(Must be over 18 to go there !)

In terms of horror I don't have a favourite as there are so many good ones out there, but as for all other genres, it has to be Gladiator or Braveheart.
... and of course, films you really deplore?
Films I hate? Mmm I think all the Wrong Turn-collection of films were rubbish and very wrong to make and produce, and I thought Halloween was crap as well.
There are loads that I deplore, how long is this interview? They are just a few of the films I won't watch again, well not in this lifetime or the next.
Your/your movie's website, Facebook, whatever else?
Find out more of our work and whatnot at www.underworldfilms.org and our Facebook page.
Anything else you are dying to mention and I have merely forgotten to ask?
Perhaps: Are we going to submit these films to film festivals?
Oh most certainly, whether we have a distribution deal or not, I love the whole film festival day out experience so yes, where's my suitcase, because I think Cannes film fest will love WHY? when we take it there next year
Thanks for the interview!