Well, to be honest, I hope I don't have too much is common with Sylvia. I'm actually not much of a partier and I hope I am a little more perceptive and sympathetic to my friends' problems. But Sylvia is human, she is flawed. I can't say that I've never gotten wound up in my own problems and been oblivious to things around me. That's what I focused on. It is our flaws that make us human. Sylvia is by far not perfect, but she is like so many people today. She's not bad, but she doesn't want anything to disrupt her fun and partying ways. She doesn't want to deal with something that might be dark or bring her down so she brushes it off and chooses not to see it.
How did you get hooked up with Bloom in the first place?
Well, Travis Legge [Travis Legge interview - click here], the director and writer, and I have many mutual friends in the Chicago film world. We had actually been Facebook friends for a long while before we actually met in person. I was working promotions for a corporate event that he was filming at. The last day of the event we started talking and exchanged information when we realized we were in the same industry. His name seemed really familiar and then we realized we had seen each others work through mutual friends in the business.
Do talk about your director Travis Legge [Travis Legge interview - click here] for a bit, and what was your collaboration like?
It was great working with Travis. It was my first time working with him on a project. I really liked the story and how he took a different perspective of a classic horror theme. The whole arc of the story follows Lilly's literal and psychological transformation. He put a different spin on it. I also liked that his characters, especially Sylvia, were very real. They are not perfect. They don't always make the right choices or do the right thing.
To what extent can you identify with Bloom's horror theme?
I've always been a horror film fan. I grew up with two older brothers, so I probably started watching horror films before I should have. My girlfriends and I actually used to have horror movie nights and we would try and find the cheesiest, horribly wonderful films we could find. It also seems that directors love to cast me in films where I am killed or covered in blood over that last few years, so the horror theme is nothing new to me.
What can you tell us about the shoot as such, and the on-set atmosphere?
Well for my part I was actually only on set for one day. Travis and Deann Baker [Deann Baker interview - click here] made me feel very comfortable on set. It was a very relaxed atmosphere, which actually really helped me later in the day when I had to get into the more emotional scenes. I was able to tap into and go to a vulnerable emotional space without feeling uncomfortable. Travis and I had talked beforehand about Sylvia's character and what he was looking for, so on the day of filming he actually really just let me go and gave me room to play.
Any future projects you'd like to share?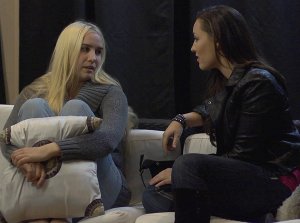 Danielle with Deann Baker
I just shot a commercial with Imagos Films for Adult Swim TV on the Cartoon Network that was a lot of fun. I'm not sure if it is running yet, but be on the look-out for it on the Cartoon Network. I'm also in talks with Imagos Films on being a part of their next feature film which I cannot discuss the details quite yet. Lastly, I am in the developing stages of a web series called Birds of a Feather. You can keep up to date with my latest project details on my brand new website, danielledoetsch.com.
What got you into acting in the first place, and did you receive any formal training on the subject?
Growing up I always turned any school project into some kind of performance or play, but it wasn't until I saw my older brother perform in his high school production of Guys and Dolls that it clicked for me that this could be a career. I was twelve and I have been pursuing the arts ever since. I attended the The New York Conservatory for Dramatic Arts. It was an amazing experience. I not only learned a lot about the art of acting and the technicalities of film acting, but I learned so much about life and myself.
Can you still remember your first time in front of a movie or TV camera, and what was that experience like?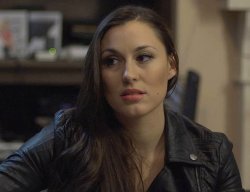 I think one of the first films I worked on was Black Days. My older brothers were actually friends with the director and also in the film. I was asked to play a cocktail waitress in one of the club scenes. I was just excited to be a part of a film even though I didn't have any lines. What the director failed to mention was that the 'club' scene was actually a strip club and there would be actual strippers performing, which is fine, but a little awkward when both of your older brothers are also on location. After we were blocking out the scene, the director realized he needed a reason that the protagonist didn't see one of the other characters, Pope, as he comes in. He called me over and wanted me to be flirting with Pope and sit in his lap so that I would be blocking him. I was a teenager and this was one of my first times on a film set. Add to that, my big brothers are watching me as I flirted and the fact that Pope was played by Otis Fine, a great improv actor and you had one nervous girl. His character was this red neck bigot and he portrayed him well, so as we improved the scene, lets just say his dialogue would make a young girl blush. It was pretty intimidating trying to flirt, sitting in this guys lap with my older brothers watching. The edit that made it into the film was really tame compared to a lot of the takes. It's funny to think about it now because it really wasn't a big deal but I was so nervous.
What can you tell us about your filmwork prior to Bloom?
I've been fortunate to do a lot of fun projects in Chicago. Some of the shorts include Here Goes Nothing, Weapon, Under the Table, In Charlotte's Web and The Catastrophe at Catalina. I did a horror film called Bikini Girls on Ice, which is a throw back 80's style slasher flick. We filmed for a few weeks just outside of Montreal so that was a lot of fun to travel and film in a place I had never been. Probably one of my favorite projects I've been lucky enough to be a part of is a film called Motivational Growth. This past year it made its festival rounds and I am so proud of all of the awards that it received. It should be available sometime later this year.
How would you describe yourself as an actor, and some of your techniques to bring your characters to life?
I mostly studied Meisner technique at school. As an actress, I really try to find what is at the character's core. Even if you are playing a character that is very different from yourself, you have to find something you can relate and connect to. One of my favorite parts of the process is dissecting the character and exploring their history, what makes them who they are. Because there is always a reason people make the choices they do. I find if I am playing a character whose actions are far from what I would choose it is much easier to look at their past and what makes them the way they are. If I understand what has led them to who they are now it is so much easier to relate. I also try to recall situations in my life, even if the circumstances are different, that evoke the same feelings to help tap into emotional states.
Actresses (or indeed actors) who inspire you?
I have always loved Natalie Portman. Of course Meryl Streep is an inspiration to any actress. She can do anything. I've always liked Michelle Pfeiffer. I like Rachel McAdams, Nicole Kidman, Mila Kunis, Kate Winslet, and Anna Kendrick. Some actors I love include Robert Downey Jr, Dustin Hoffman, Kevin Spacey, Johnny Depp, Joseph Gordon Levitt, and Ryan Gosling.
Your favourite movies?
There are so many movies I love. Psycho has always been one of my all time favorites. Hitchcock movies in general are great. Some movies I have loved The Shawshank Redemption, Black Swan, Super 8, The Usual Suspects, Waitress, and Juno. Aliens scared the crap out of me when I was younger. I also love my girlie movies like The Notebook, Music and Lyrics, Mean Girls, and Wild Hearts Can't be Broken. There are so many more. I just love movies in general.
... and of course, films you really deplore?

Feeling lucky ?
Want to
search
any of my partnershops yourself
for more, better results ?

The links below
will take you
just there!!!

Find Danielle Doetsch
at the amazons ...

amazon.com

amazon.co.uk

amazon.de
Looking for imports ?
Find Danielle Doetsch here ...
Something naughty ?
(Must be over 18 to go there !)

I actually can't think of a movie that I absolutely hate off of the top of my head, although I know there are a few. But sometimes I love watching those bad movies that actually end up being really entertaining. My girlfriends and I used to have movie nights in high school and we would try to find the cheesiest horror films we could find. Some of our favorites were the Sleepaway Camp-series.
Your website, Facebook, whatever else?
I am just finishing up my website which is www.danielledoetsch.com
My Facebook is https://www.facebook.com/danielle.doetsch?ref=tn_tnmn
You can also check out my IMDb page as well - Danielle Doetsch
Anything else you are dying to mention and I have merely forgotten to ask?
Thanks for featuring me for an interview.
Thanks for the interview!