Your vampire character Jezebeth - what can you tell us about her, what were the inspirations behind her creation, and was she intended as a series character from square one?
Okay well to begin with, I (Damien Dante) am the CEO and partner at SGL Entertainment. Jeffrey A Swanson is the president at SGL Entertainment. SGL Entertainment is a global indie film distribution company.
Well first, back in the summer of 2008, I had decided to create a vampire feature film that would become a movie franchise. At that same time, my feature film The Blind and the Dead screened in Chicago at the Portage Theatre. So I did a lot of research on demons and vampires. In demonology the demon "Jezebeth" was a female vampire known for her "falsehoods and lies" and I quickly became fixated with the name Jezebeth, and so my business partner at SGL Entertainment, Jeffrey A Swanson and myself decided that Jezebeth would be the name of the vampire film and thus, the Jezebeth movie franchise was born. We started filming the first Jezebeth feature film on March 1, 2009. And FYI, no baby ever born in the United States or for that matter, anywhere in the world, has the name Jezebeth. In the Jezebeth movie franchise, I wanted to create Jezebeth in a way where she is like an action figure, who is evil, yet at times, she shows that even in the darkness of evil, there can be light.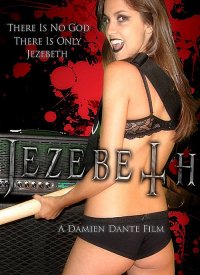 So what can you tell us about the first film, Jezebeth - what's it about, how did it fall together, and what can you tell us about the shoot as well as critical and audience reception?
Well the first Jezebeth feature film, a musical with horror, was billed as a pure horror film and it was released worldwide in 2011 (SGL Entertainment, Indie Rights Movies, R Squared Films), on Blu-ray, and on almost all movie streaming platforms in the world and now, also released through MVD Visual, a division of MVD Entertainment Group. Also the first Jezebeth movie is available on cable TV through Comcast On Demand, Xfinity, on its Streampix Channel. In the first Jezebeth movie, there is a young girl about 20 and her name is Jezebeth Blandy and she is very much into the occult and she is possessed by the demon vampire Jezebeth Wyck from centuries before. They also look like they could be identical twins but they are not by blood. It took us 6 months to film it and we have had positive and negative reviews just like all other movies out there. Bree Michaels stars as Jezebeth in the first movie.
Is the vampire genre as such a favourite genre of yours, and some of your favourite vampire movies?
Actually, my favorite genre is the Western, and then comes horror. I have no favorite vampire films but I have seen at least 50 of them. I prefer westerns.
According to my information, you will release Jezebeth 2: Hour of the Gun in 2015 - so what is that one about, and how does it relate to the first Jezebeth?
Jezebeth 2 Hour of the Gun stars Ana Santos as Jezebeth. Jezebeth 2 is a complete departure from Jezebeth 1. Jezebeth 2 Hour of the Gun's story or logline: "It's the year 1881 and the outlaw vampires Jezebeth Wyck and Billie Gunn, now bitter enemies, have parted ways after a human child is gunned down in cold blood. Now after 130 years that same child who has become a vampire is used by the outlaw Billie Gunn as bait to lure Jezebeth back to the land where it all began for a bloody final showdown."
Also in the first Jezebeth movie, Jezebeth was born a demon vampire in 1873, but in Jezebeth 2 Hour of the Gun, I changed the timeline so in fact, Jezebeth was born in the mid 15th Century. That is where the Jezebeth novel begins.
What were your inspirations for dreaming up Jezebeth 2: Hour of the Gun specifically, and why a western setting?
Well I wanted Jezebeth 3 The Guns of El Diablo to be a full blown Western, so I decided to make Jezebeth 2 with a hint of things to come in Jezebeth 3. So Jezebeth 2 Hour of the Gun does have some elements that you would find in a Western. And when I wrote the screenplay I created a new character, "Abigail", who is a child vampire with telekinetic powers which grow in the 3rd installment in the Jezebeth movie franchise. I wanted the vampire Jezebeth to revisit her days in the Old West as a outlaw gunfighter, which we would really see in a major way in Jezebeth 3.
What can you tell us about Jezebeth 2: Hour of the Gun's approach to horror (as in suspense vs. sudden shocks, atmosphere vs all-out gore and the like)?
No gore in Jezebeth 2 Hour of the Gun. There is surprise, action and suspense, with blood, vampire bites and guns.
What can you tell us about your movie's overall look and feel?
Jezebeth 2 Hour of the Gun will qualify as a theatrical release, just as the first Jezebeth movie. The look and feel of Jezebeth 2 Hour of the Gun is stunning. The master movie file is in 1080p (Apple ProRes 422 HQ) and that is the industry standard if you want your feature film to be available on all platforms worldwide, and also the first 2 Jezebeth feature films are closed captioned.
In Jezebeth 2: Hour of the Gun, Jezebeth is played by Ana Santos - so what made her perfect for the role, and why didn't you bring back Bree Michaels?
Bree Michaels was slated at first to reprise her role as Jezebeth, but she decided to try acting in Los Angeles and so I came upon Ana Santos, and she gives the character Jezebeth a sense of raw emotion and anger. She's amazing.
What can you tell us about the rest fo Jezebeth 2: Hour of the Gun's cast, and why exactly these people?
I was very happy with my casting of the actors and that is all I can say. Ana Santos, Ruby Gonzalez and Frank Warpeha are truly very good professional actors. Ana Santos and Ruby Gonzalez will be back in Jezebeth 3 The Guns of El Diablo.
Do talk about the shoot as such for a bit, and the on-set atmosphere?
At times it was crazy, and scene locations had to be changed at the last minute.
So when and where will Jezebeth 2: Hour of the Gun be released onto the general public, exactly?
We here at SGL Entertainment give no exact dates. We have several film distribution partners, domestic and foreign now, and at the present time, we are working on cable TV deals first. The movie will be available in 2015.
As far as I know, Jezebeth 3: The Guns of El Diablo and Jezebeth 4: The Devil's Triangle are already in the planning stages - so do talk about those for a bit: What have you planned next for Jezebeth, and when might these movies see the light of day/darkness of a projection room?
Jezebeth 3 The Guns of El Diablo is slated to begin filming in Texas late in 2015. Jezebeth 4 is simply titled Jezebeth 4. We plan on a theatrical release of some kind for Jezebeth 3 maybe in Los Angeles in 2016. Jezebeth 4 won't film until maybe early in 2017.
Jezebeth 3 is a full blown Western and Jezebeth 4 will be the first Jezebeth movie in the franchise that will be all about horror and evil inside a Victorian mansion in which a Jezebeth Demon Doll comes to life.
Any other future projects you'd like to share?
We are very busy with SGL Entertainment. We acquire the digital and DVD rights to other feature films for worldwide distribution and that takes up 90% of our time. So we only have time to film the Jezebeth movies. I am the director and screenwriter. I am theproducer as well, along with Jeffrey A Swanson.
Over the years, Jezebeth has developed into quite a merchandise-spawning character, with novels, comicbooks, dolls and whatnot to her name - so do talk about that aspect of the series for a bit?
Yes well there now is the Jezebeth Demon Doll, the Jezebeth comicbook, the Jezebeth novel and tons of Jezebeth merchandise. Jezebeth on Blu-ray and the first Jezebeth feature film is on 3 other DVD releases.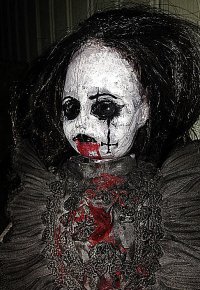 Jezebeth Demon Doll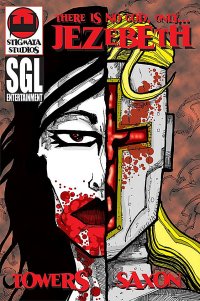 Feeling lucky ?
Want to
search
any of my partnershops yourself
for more, better results ?

The links below
will take you
just there!!!

Find Damien Dante
at the amazons ...

amazon.com

amazon.co.uk

amazon.de
Looking for imports ?
Find Damien Dante here ...
Something naughty ?
(Must be over 18 to go there !)

What got you into filmmaking to begin with, and did you receive any formal training on the subject?
I did attend film school in 2004 at ACTION/CUT based in Studio City, California.
What can you tell us about your filmwork prior to Jezebeth?
I did film a few shorts and my first feature film The Blind and the Dead.
What can you tell us about your company SGL Entertainment, and the philosophy behind it?
I am business partners with Jeffrey A Swanson at SGL Entertainment. We are a global media and film distribution company and we are the creators of the vampire feature film franchise Jezebeth.
We are successful because we think outside the box and we look for young up-and-coming filmmakers and producers, and also we continue to land movie deals with more major studios, producers and filmmakers, who can deliver to us high quality feature films.
How would you describe yourself as a director?
Intense.
Filmmakers who inspire you?
There are none.
Your favourite movies?
There are too many to list.
... and of course, films you really deplore?
I don't judge the work of other filmmakers.
Your/Jezebeth's website, Facebook, whatever else?
Anything else you are dying to mention and I have merely forgotten to ask?
Nothing else, and thank you!
Thanks for the interview!