Your new movie Dry Blood - in a few words, what is it about?
Dry Blood is about a man who is attempting to clean up his life and get sober, only to be faced with the torments of some pretty grisly ghosts, and a malevolent local sheriff. At itís core, Dry Blood is a ghost story, but beyond that, it deals with our mindís fragile hold on reality.
What were your sources of inspiration when writing Dry Blood?
I had this seed of an idea, more of a question really: what would happen if someone who was prone to hallucinating actually experienced a supernatural event? How would they know the difference? With that idea in mind, I starting writing the script. I also wanted to pay tribute to many of the ghost films that I loved from the late seventies and early eighties. I grew up watching films like The Changeling, Ghost Story, The Shining etc. I couldnít have made this film without a few nods in their direction.
Dry Blood features several levels of reality and remains a bit vague about what's real and what's illusion - bearing that in mind, how hard was it to not just (literally) lose the plot when writing?
When youíre writing a story that plays with your audienceís perception of reality, itís very important that you as the writer understand what is actually happening. Then you can judiciously chose the elements that you want to feed to the audience, and also control the timing of those reveals. I had to understand the story inside and out, and the full sequence of events before I could even write the first word of the script. I meticulously outline everything first, so that I always have that as a reference, should I lose my way.
Do talk about Dry Blood's approach to horror for a bit?
The most effective and memorable horror films are the ones that give you the chills, rather than just going for a cheap jump-scare. A jump-scare only works the first time you see a film. Something that is really fucking creepy will work every time you see it. So we really wanted to make a film that was just creepy as hell.
You also play the lead in Dry Blood - so what can you tell us about your character, and did you write him with yourself in mind from the get-go?
I donít want to give away too much about the character before people have a chance to see the film, but I will say that no, I definitely did not have myself in mind to play this role when I wrote it. In fact, I never do any kind of mental casting for characters as Iím writing a script. I prefer to let them take on a life of their own, rather than thinking of them as a character played by any specific actor.
Brian in Dry Blood suffers from severe withdrawal symptoms and the like - so how does one prepare for such a role even?
I lost a lot of weight and sleep preparing for the film. The weight loss was on purpose, but the lack of sleep was just circumstantial. Still, those two things, combined with building a very thorough understanding of the character in the writing process helped me lose myself in the role.
Besides that, what did you draw upon to bring your character to life, and how much Clint Carney can we find in Brian?
The only thing that I have in common with the character is that we both drink a lot of coffee. Beyond that, it was those things that I had already mentioned, combined with countless conversations and rehearsals with Kelton Jones [Kelton Jones interview - click here], our director, that shaped the performance. It was a very emotionally taxing role, providing a lot of opportunity to show some range as an actor. Iím very grateful that Kelton believed I was up for the task.
What can you tell us about Dry Blood's director Kelton Jones [Kelton Jones interview - click here], and what was your collaboration like?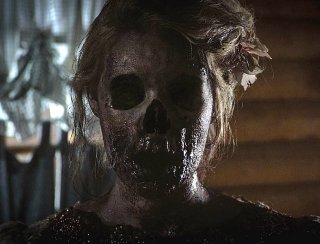 Iíve worked with Kelton on a number of projects. Heís an incredibly talented guy, both behind the the camera and in front of it. We met in a screenwriting group and have been good friends ever since. Kelton has an amazing eye for detail, and it was incredible to see his vision for Dry Blood come to life from our earliest conversions about my script, all the way to the finished film. First and foremost, he really understood the script. He got everything that I was trying to say with it, and even unearthed the subtext that most would have missed. Itís not an easy story to tell. It assumes a certain level of intelligence from the viewer, and I loved that Kelton did not want to dumb that down at all. He really went for it, and the result is this brutal, scary, mind-fuck of a film. And as an actor, he also excelled, playing the antagonist in the film. His performance was subtle, funny, and quite disturbing. I fucking love it.
Being Dry Blood's writer and producer and also being on set all the time as the lead, how much creative control did you have or demand over the movie?
Itís important to have a director on your film whose vision you trust, and I very much trusted Keltonís vision. We were very in sync on what we wanted from the film. It never felt like a power struggle, because we both just wanted to make the best film that we could, and so we remained completely open to listening to each others ideas and reaching a consensus on what would serve the story best. When in doubt, I knew that I could default to trusting his judgement, and it always worked out.
What can you tell us about the shoot as such, and the on-set atmosphere?
It was a relatively small cast and crew, and Iím happy to say that everyone got along great. To me it felt like they all legitimately wanted to make this a great film, and that is something that I appreciated so much. We shot the film in just under a month, which required a real commitment from everyone to stay on task and keep the quality top notch. The most I slept in any one night that month was four hours but more often it was closer to three. But still, when Iíd wake up every morning I was excited to be working with the team. I have nothing but love in my heart for all of them, and am excited at the prospect that our filmmaking paths will cross again in the future.
The $64-question of course, when and where will the film be released onto the general public?
Weíre taking Dry Blood on the festival circuit now and are hopeful that weíll have some release info to share in the near future. Weíll be announcing festival screenings and release news on DryBlood.com as soon as things are locked down.
Anything you can tell us about audience and critical reception of Dry Blood yet?
So far itís been incredible. We did a test screening at the Monsterpalooza convention in Pasadena, CA a little while back, and the audience response, as well as the press reviews, were overwhelmingly positive. Everyone laughed, squirmed, and shuddered in all the right places. Many of the people in attendance also made a point to tell me that they liked it so much that they were eager to watch it again. I was very flattered by all of the positive attention it has received thus far, and Iím hopeful that the trend continues in our future screenings and beyond.
Any future projects you'd like to share?
Kelton and I are collaborating again on a teenage punk rock crime drama called The Violent, with him at the helm as director, and me as the writer / executive producer. I also have several other projects in the works as a writer/director, including a feature film, a documentary, and several music videos. Iím currently in preproduction for a music video for the artist Elias Black. This video is going to be absolutely insane so keep an eye out for it.
So what got you into the filmworld in the first place, and did you receive any formal education on the subject?
Iíve been a huge horror fan all of my life. I started making my own short horror films when I was in high school. I never had any formal training but I read a lot about the process, and still actively study the craft as much as humanly possible. Iíve also been fortunate enough to work on some movies by other filmmakers whose work I truly admire.
What can you tell us about your filmwork prior to Dry Blood?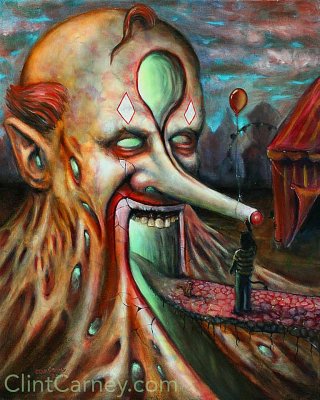 Step Right Up, oil on canvas
Iíve worn a number of hats as a filmmaker over the years. I got into the business from the art department side of things. In my career Iíve created artwork and props for films by such directors as JJ Abrams (Star Trek Into Darkness), David Fincher (Gone Girl), Oliver Stone (Savages), Wes Craven (Scream 4), Cameron Crowe (We Bought a Zoo), and many many more. These days though, I find that my passion falls more in line with writing, acting, and directing.
As far as I know, besides making movies in various positions, you are also a painter and musician - so what can you tell us about those aspects of your career, and how do they and your filmwork influence one another?
Iíve worked as a recording artist and touring musician for many years (and still actively write music). To date Iíve released seven album with my band SYSTEM SYN, and have also been a live performer with the bands Imperative Reaction and God Module throughout the years. As an oil painter, Iíve been able to show my work in galleries and collections all over the world. Rather than saying that one influences the other, I think that itís more accurate to say that my music, art, and film work are all the product of the same creative vision; so in that regard, I think they all evoke similar emotions, and are definitely on the darker end of the thematic spectrum.
Filmmakers, actors, writers, musicians, artists, whoever else who inspire you?
I could write a book on all of the people that inspire me, but for the sake a brevity, Iíll stick with my top favorite filmmakers for now: Joel and Ethan Cohen. Their films are brave, funny, fucked up, and extremely intelligent. Theyíve perfected their story telling craft and even their worst film is better than most peopleís best. Of course, many of the usual suspects are also favorites of mine: Spielberg, Stone, Kubrick, Craven, Carpenter, Tarantino, ScorseseÖ the list goes on and on. One relative newcomer that I think should be on everyoneís radar is Jeremy Saulnier. If you have not seen his films yet, go check out Blue Ruin and Green Room as soon as possible. Even his very first film, Murder Party is super fun, but the subsequent two are some of the best, most intense thrillers Iíve seen in a long time.
Your favourite movies?
Here are a few that come to mind off the top of my head, but there are many many more (and in every case where there is a remake, my list is referring to the original): Dawn of the Dead, Millerís Crossing, Poltergeist, The Texas Chainsaw Massacre, The Exorcist, The Shining, Taxi Driver, A Clockwork Orange, Platoon, Jaws, Menace II Society, The Godfather 1 and 2, The Big Chill, Narc, Boyz N the Hood, Robocop, Star Wars, Creepshow, Fargo, An American Werewolf in LondonÖ As Iím typing this Iím realizing that this list will never stop if I donít stop typing, so Iíll just cut it short their.
... and of course, films you really deplore?

Feeling lucky ?
Want to
search
any of my partnershops yourself
for more, better results ?

The links below
will take you
just there!!!

Find Clint Carney
at the amazons ...

amazon.com

amazon.co.uk

amazon.de
Looking for imports ?
Find Clint Carney here ...
Something naughty ?
(Must be over 18 to go there !)

If I hate a film I generally donít like to spend too much time thinking about it. Also, since you never know who youíll end up working with in the future, Iíll keep my mouth shut on this one.
Your/your movie's website, Facebook, whatever else?
www.facebook.com/DryBlood.movie
Thanks for the interview!