Your new film Terror Vortex - even if we have talked about it at length before [click here], do bring us up to speed: What is it about?
Terror Vortex is a surreal neo-noir horror science fiction thriller mystery. New York Detective Kevin Black tracks down the where-abouts of a serial killer. The killer has been abducting local people from the city streets and disposing of the dead bodies in the dark alleys of the Big Apple. A suspect by the name of Coldwaters is being investigated after evidence tying him to a previous murder of a woman matching the string of homicides in the city. The case becomes more personal when Black's wife is kidnapped by the killer. He races against time to find the serial murderer before it is too late. As the detective gets closer to finding his wife, he unveils something more horrifying to this dark mystery. Black finds connections to a Doctor Kaufman who also may be a suspect to the ongoing killings in New York City. This riveting dark mystery of unending long hallways and closed doors creates a Terror Vortex of horror.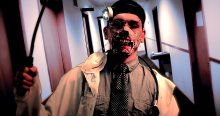 At least to me, Terror Vortex seems to be heavily influenced by vintage science fiction pulps, comics and movies from circa the 1930's to 1950's, but seen through, how shall I put it, LSD-glasses - an assessment you can at all agree to, and would you like to elaborate on that?
Ha ha you got it down to the capital "T" in Terror Vortex. Yes, that is what tone and look I was going for. I've been watching old pulp detective and science fiction movies when I was writing the film and during production of this movie. I love those movies and the tones. I wanted to make a film like The Stranger with Orson Welles and Edward G. Robinson and like, the old horror films with Vincent Price [Vincent Price bio - click here] - The Tingler. I love movies like Sixth Sense and Inception - that influenced what I wanted to do in this film. Just like you described ". . .circa the 1930's to 1950's, but seen through, how shall I put it, LSD-glasses . . ." -- perfect description, ha ha.
You just have to talk about your directorial style on Terror Vortex for a bit, and why you made certain aesthetic choices (like using colour-graded and black and white sequences as well as certain kinds of special effects)?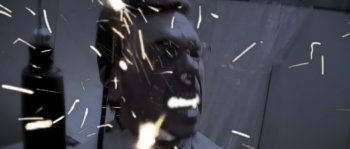 I feel as if I have a style, but I'm still discovering it. I know I make my movies a certain way, but maybe that is it? Maybe my style is just rolling the camera and letting the actors reveal the emotions through the characters. Ha ha, I don't know. I like to be fearless with directing my movies. I treat it like painting on canvas. I know I want to paint a picture of a neo-noir film, but how it will turn out (look-feel) in the end is always a surprise. Well, I did play with the color palette a lot with this film. I wanted to use color, less color, or no color on a technical level and on setting the mood for scenes. Technically it was used as a clue - for example: In the flashbacks there was little color or no color to let the audience know what was showing was a memory or happened at a different time. Or, I used blue tints when conveying the nightmare sequences. And for the mood, I used desaturated imagery and color tones to give it that classic noir feel. Ha ha, and as for the special effects mainly the truth technically using tons of green screen to save time while having a one year old (now about 2 years old) running around on set - ha ha. In the flashback with Black (me) and his wife Melony (Danielle Ackerman) having a conversation in the kitchen - that was a crazy special effect even if it didn't look like it. We had no babysitter for my one year old at the time and I had to shoot the scene with Danielle (my wife) so I held my son while shooting the scene and acting in it. Then I reshot the scene while Danielle held our son and acted through it again. Then, I spliced the scenes together digitally to make it look like my son wasn't there ha ha. The things you do to get a movie done at this level. And I used a lot of green screen for the surrealism of the movie. Plus, I love cheesy effects - like the puppet when Matthews (Jesse Head) tears off his face. I have an obsession with old school live action effects. I love knowing it is a puppet doing the actions in the movie. I just love that stuff, ha ha. Plus, the digital special effects were used again for that surrealism art effect in the film.
One key element of your movie is of course your location - so what can you tell us about it and how did you find it in the first place?
Well if you are referring to the old rundown school/hospital? I used that location because old abandoned schools and hospitals are creepy. And in the first story drafts we see that Dr. Kaufman (Josh Meny) and his wife (Johanna Ciampa) purchase an old school to renovate it into a new hospital for the community. Then she has an accident and he begins his experiments in this building once intended for good. The location is actually the combination of two locations, and both the places I work at. One is located in a old middle school and the other in an old downtown office building. I use what I have at my fingertips you can say. Plus, I wanted a maze-like location for the metaphor of the Terror Vortex in the film. Unending hallways and many closed doors. During the film I wanted the viewer to feel just as lost as the main character did in the movie. The hallway used in the movie is the same hall used in my last film Wisconsin Project X. I did that on purpose, too. If you watch the scenes shot in the hallway from both my movies, they parallel each other for sure. Plus, the building is the main character, too.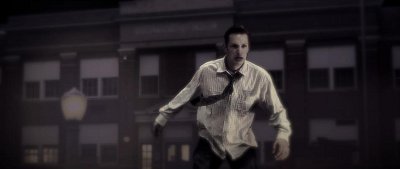 You have set your film in downtown New York City, but not exactly filmed it there - so how did you achieve to create the illusion?
Well, one way was with a lot of green screen ha ha. And, a lot of digital matte shots on local city locations shot here in Montana. There are a few streets here in Missoula and Hamilton, Montana that feel like New York. So, I used those as my settings and then just digitally extended the city skyline digitally. I did a lot of digital matte painting on this movie. I love that stuff.
You just have to talk about your key cast for a bit, and why exactly these people?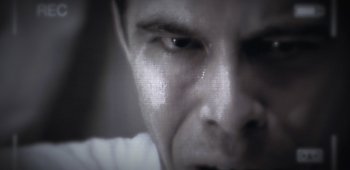 First, I use myself (as character Kevin Black) because I want to act and love doing it. And, I felt I could do it well enough. I found Josh Meny through a small audition I did over the web. He sent me two videos of himself acting out the character of Dr. Kaufman and he sold me on it. It was what I was looking for in this part. He gave it that old school villain feel that I wanted for this type of movie. I used my wife Danielle because it is perfect; we are a married couple that makes movies together and so why not have her play my wife in the film too. The Coldwaters character played by Scott Ranf was perfect because he came to me wanting play a dark role compared to what he previously played in the Wisconsin Project X movie. So, I let him do it and he rocked it. All the other cast players were just willing to come join the fun like Jesse Head (as Matthews) and Tyler Wittenberg (as Barns), Joel Baird played a smaller role, and a lot of the other players just came to have fun making a movie. I thank them all for doing it because no one got paid at all. Plus, I was stoked to get my brother Chad Ackerman, friend Trevor Graciano and his friend Jack Runyon, and Shawn C. Phillips [Shawn C. Phillips interview - click here], all from San Diego, California to be in my movie. I sent out storyboards and lines to them. Then, they shot the scenes themselves and sent it to me over the web. I just love that we can do stuff like that.
What can you tell us about the shoot as such and your on-screen atmosphere?
Terror Vortex was made with just friends and family. Made entirely with no budget and the only funding from the my empty pockets. This film was shot on primarily on three different cameras. The first, a Kodak Zi8 handy cam HD camcorder, then a Canon G10 HD camcorder, and on a Canon T3i DSLR. I planned to shoot the entire movie on the Kodak Zi8 as a test short, but the movie grew into something much more. Thus, came the full feature neo-noir psychological thriller horror movie, Terror Vortex. On set I love to keep things fun and moving. And, I always take ideas that the cast and crew share for the movie. I love that teamwork environment on my movie sets. Fun is the theme on the set because we are there because we love making movies. That's why I believe I'm able to pull off making movies on this scale with no budget.
The on-screen atmosphere? I'll say this, I think the lack of budget that forced awesome creativity to make the impossible possible. The low end equipment, that made the look of the picture. The lack of real locations, that forced the groovy surrealism look to the film, which dictated the overall on-screen atmosphere.
What can you tell us about critical and audience reception of your film so far?
Still really early in the game on that. But, so far I have had positive feedback from the private screenings. I'm really surprised that people seem to get this movie. I mean, they, like you, understood the noir old school feel I was going for. So, I'm very pleased so far with the overall reception of the film.
Any future projects you'd like to share?

Feeling lucky ?
Want to
search
any of my partnershops yourself
for more, better results ?

The links below
will take you
just there!!!

Find Christian Ackerman
at the amazons ...

amazon.com

amazon.co.uk

amazon.de
Looking for imports ?
Find Christian Ackerman here ...
Something naughty ?
(Must be over 18 to go there !)

I'm currently developing my latest movies Zombies of the Living Dead, Metal Rebound and Valgard. So, be sure to keep checking back on my Facebook and website for updates on those projects. I'm always looking for help, too. Actors, effects, editors, and so on? Anyone out there, even you? Just let me know; ha ha.
Your/your movie's website, Facebook, whatever else?
All my films information can be found at my website http://www.fastcoastproductions.com and the Terror Vortex FaceBook is http://www.facebook.com/pages/Terror-Vortex/131209196997099 and its YouTube is http://www.youtube.com/terrorvortexfilm and my FastCoast Productions videos are here: http://www.youtube.com/fastcoastproductions.
Anything else you are dying to mention and I have merely forgotten to ask?
Again if anyone is interested in making films, contact me, or looking for an actor give me a heads up on my website or email at fastcoastproductions@gmail.com!
Thanks for the interview!
Thank you too!