Your upcoming movie The Night Monica Came Back - in a few words, what is it about, and what can you tell us about your character in it?
It's about a group of friends who attend a reunion 20 years after a rather miserable camping trip. However, the reunion is soon darkened as events unfold. My character Herbert is a bit of a nerd and doesn't generally socialise in large groups.
What did you draw upon to bring Herbert to life, and how much of Chris Dudley can we find in him, actually?
I've tried to build the character from the ground up, so there is very little of me in Herbert, aside from the fact I can't think of anything worse than attending a reunion.
With The Night Monica Came Back being a horror comedy, are these genres that actually appeal to you, both as an actress and as a viewer?
I do really enjoy comedies, horror not so much. I don't enjoy being scared out of my wits, I much prefer to watch something I can laugh at. In acting terms, I would love to do a horror, because you have so many avenues in which to explore a character, in comedy, you only really have one. You need to be funny. Horror acting, you could be killed, or be the killer, a raging psychopath or a calm and unnerving character. There's so many options with horror. I just don't enjoy watching them, hah.
Shooting The Night Monica Came Back was actually part of an "actors' bootcamp" - so do talk about the bootcamp for a bit, and how did you get involved with it even?
The boot camp was brilliant. Intense, but brilliant. It really brought home how vulnerable you are to your own feelings and emotions and past experiences. If you bottle those up, eventually you will succumb to them and they will prevent you becoming the best possible character you are trying to portray. As well as preventing you progressing both as an actor and as a human being. It also highlighted how important a good diet and regular exercise is for an actor, because you never know how long you will be shooting a scene for. If you can't run for very long or are not as athletic as the character you're trying to become, you may lose the role, or worse, keep the role but portray it very badly, which is no good for you and no good for the film.
The Night Monica Came Back also stars horror veteran Laurence R. Harvey from Human Centipede 2 - so what was working with him like?
Laurence is amazing. I learnt so much from him, just by watching him on set, how he prepared himself, and then speaking to him throughout, I gained a lot from that, personally and as an actor. Would definitely want to work with him again.
Any future projects you'd like to share?
I have a few projects of my own that are in pre production. No set dates for when filming will commence, but they should be done and ready for summer 2017.
What got you into acting in the first place, and what can you tell us about your education on the subject?
I did a few stage productions in high school, etc. I'm not going to give the whole cliché of this is what I've always wanted, etc. I loved drama, I loved performing, but then you grow up and you've got people in your ear, you need to do this, you need to do that. Well I've done that and gotten nowhere for 10 years. So, 6 months ago I saw an ad for an acting academy and I thought, you know what, I'm going to audition. If I get in, happy days, if I don't, at least I gave it a go. 6 months later I've got 5 IMDb credits, worked with Laurence R Harvey, got my own projects I'm working on and for the first time in an absolute age, I'm genuinely happy. Northern Star Acting, the training academy are incredible. Not just because the coaches are amazing people and actors, but because they teach you the other sections that you never really thought about. The marketing side, your own mindset, creating and developing a character. And literally tons of other stuff. If any aspiring actors out there are looking for a training company, Northern Star Acting is the only name you need.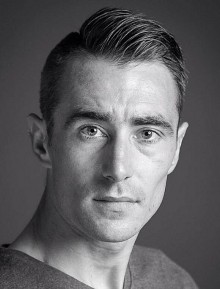 How would you describe yourself as an actor?
Ooh, tough one. Willing. I will try anything. I have no fear. I have the philosophy that you only get out what you put in. So I put everything in. No holding back. There are no roles I'm afraid to do, lead role, supporting, crazy killer, guy next door, weirdo on the train, nerd, gangster. I could play anything and everything and I'm willing to do anything and everything associated with that role.
Actors (and indeed actresses) who inspire you?
Tom Cruise has been a massive inspiration for me. To stay on top of his game for so long, you have to have that extra, something. He has that. Other major influences would include Tom Hanks, Adam Sandler, Gerard Butler, Kate Beckinsale, Vin Diesel, Paul Walker, Will Smith and a ton of others.
Your favourite movies?
How long have you got hah, Top Gun, A Few Good Men, Forrest Gump, The Green Mile, Bruce Almighty, Harry Potter (series), The Lord of the Rings (series), Transformers, Happy Gilmore, Hotel Transylvania, Cars, Toy Story, Fast and Furious (series). There's a lot, hah.
... and of course, films you really deplore?
I don't have any really that I don't like, I've not seen every film ever made, so there may be some in the to-watch list, but, I don't see a film title and think oh no, not that one.
Your website, Facebook, whatever else?

Feeling lucky ?
Want to
search
any of my partnershops yourself
for more, better results ?

The links below
will take you
just there!!!


My web address is www.chrisdudleyofficial.com and you can find me on Facebook, Chris Titch Dudley.
Anything else you're dying to mention and I have merely forgotten to ask?
Erm, just a huge thank you to everyone at Northern Star Acting and Laurence R Harvey. Until next time.
Thanks for the interview!