Your new movie Nite Nite - in a few words, what is it about?
Set in 1985. A seven year old believes a monster is living in his bedroom, but nobody seems to believe him. Especially his babysitter.
What were your inspirations when writing Nite Nite?
Nite Nite is the first installment of my retro horror trilogy - which this story is set in the 80ís. I always wanted to do a monster under the bed or closet story. Something very universal about that kind of story. I love the 80ís horror maestros like John Carpenter, Joe Dante, Wes Craven and Tom Holland to name a few.
To what extent can you actually identify with the little boy in your movie ... or the babysitter for that matter?
I really relate to the little boy a lot. I have a lot of weird phobias as a person, being afraid of the dark, what goes bump in the night, and Iím very claustrophobic.
With Nite Nite being a horror movie, is that a genre at all dear to you, and what can you tell us about your movie's approach to horror?
I love and respect genre films, especially horror. I started my career doing horror films back in 2004 then took a detour in 2010 and focused on comedy the last seven years.
Do talk about your overall directorial approach to your story at hand!
I wanted to be authentic to the 80ís, I wanted it to feel nostalgic but also to be an homage to filmmakers like Carpenter, Craven, Dante, Gordon and Holland. One critic actually noticed and compared me to Tom Holland, which was a really be honor for me.
One of the stars of your movie, Brady Bond, was a mere 7 or 8 years old when you shot this - so what was it like working with him, and a few words about filming with children in general?
I was anxious about working with children actors at first. Iíve worked on sets as an actor with children in the past, and let's say those sets werenít fun. Brady, is a cool little dude. Heís like 8 going on 35. He was super professional and super talented. I was blown away by both.
You of course also have to talk about Nite Nite's other star Tommie Vegas [Tommie Vegas interview - click here] for a bit, and what made her perfect for the role?
Besides Tommie being one of my best friends and a brilliant actor, I wanted to work with her hella bad. I knew I was going to do this retro horror trilogy but I felt like this one would be perfect for her. She wanted to do Coeds (the final installment) thatís a 1970ís Dario Argento inspired slasher flick but talked her into doing Nite Nite instead.
A few words about the shoot as such, and the on-set atmosphere?
A few days before the shoot was chaos (we planned, paid and set up everything). The bedroom set design was wallpaper and we had to special order wallpaper from Home Depot. Wednesday before the shoot - we get an email saying the wallpaper wonít be there until SundayÖ We shoot Saturday! So spent going everywhere just to get the wallpaper. As for the on-set atmosphere, everyone was on the same page and it went pretty smoothly with the bumps and bruises.
The $64-question of course, where can Nite Nite be seen?
Right now itís currently on the film festival circuit, so we canít really show the public besides critics and festivals. I would love to get it on a streaming service like Crypt TV or Shudder as part of the retro trilogy.
Anything you can tell us about audience and critical reception of your movie?
Critics, bloggers and entertainment journalists really have given this film a lot of praise. Iím very grateful and humbled by their reviews.
Any future projects you'd like to share?
Right now - Iím currently directing a short segment for a found footage horror anthology feature produced by Jack Saint of Paranoia Tapes. Then trying to complete the last two installments of my retro horror trilogy, Little Girl in White set in the early 1990ís and Coeds set in the 1970ís.
Little Girl in White is being produced by up-and-coming producers Shirley Liang and Yuehan Zhang. Shirley has a film/media degree from UCSB and has worked on films, commercials and recently worked for Christopher Titusí production company (Combustion World Industries). Yuehan, a graduate of NYFA LA, is also a talent to watch too. She completed her short Cafe Highland earlier this year. Also keep a lookout for the IndieGoGo page for this film too.
I would love to find the rights to the slasher feature The Prowler (1981) so that I can remake it. That movie should be a much bigger cult classic. This is definitely on my bucket list.
What got you into filmmaking in the first place, and did you receive any formal training on the subject?
I knew I wanted to be a filmmaker since I was six years old after seeing Psycho while my grandfather accidentally fell asleep in front of the television. My grandmother walked in right during the shower scene and started flipping out on my grandfather. From that day on, I knew I wanted to make films and get reactions out of people.
I do have formal training, I received my Associates of Arts degree in Film/Television Production from Solano Community College in the San Francisco Bay Area. A lot of people also forget even though Iím a horror/comedy guy Iím also a classically trained actor too. Studied acting at a two year acting conservatory called the ďActors Training ProgramĒ and have been acting for twenty years. Now, I feel old. Hahaha.
What can you tell us about your filmwork prior to Nite Nite?
Iíve been acting since I was twelve, making films since I was fifteen and professionally since I was nineteen (2004). The early part of my career 2004-2010 I was mainly working as a genre filmmaker either as a writer - director or producer.
Life happened and I had a quarter life crisis so to speak. So from 2010 to recently I was mainly focused on comedy. Mainly as an actor, or as a stand up comedy and comedy writer. My sketch comedy work and comedy web series can be seen on funnyordie.com/chadmeisenheimer. Fired my agents in the summer and went back to my roots. Itís funny how I transitioned back into horror after a seven year detour.
How would you describe yourself as a director?
Iím an actors' director for sure, I love actors and performances. Filmmaking is very collaborative and you need to be very flexible. I surround myself with very talented and knowledgeable people in every department, especially my cinematographer Niklas Berggren [Niklas Berggren interview - click here]. Heís an award winning filmmaker himself and I recommend people to check out his short film Faithful. Freakiní brilliant.
Filmmakers who inspire you?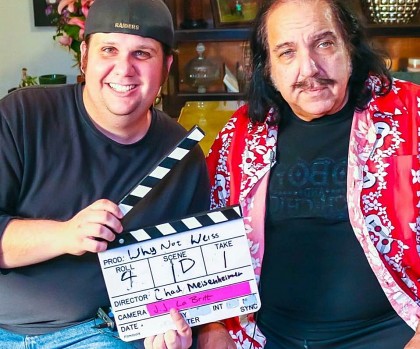 with Ron Jeremy on the set of Why Not Weiss
I have soooo many, but the biggest ones that influence meÖ Charlie Chaplin, Fritz Lang, Alfred Hitchcock, Martin Scorsese, Roger Corman [Roger Corman bio - click here], Kevin Smith, Russ Meyer, Mel Brooks, Lloyd Kaufman, Sam Peckinpah, Orson Welles, John Ford, Wes Craven, John Carpenter, Joe Dante, Stuart Gordon, Tom Holland etc etc.
Your favourite movies?
I love movies, even the bad ones. Iím such a cinephile. But if I have to list several it would have to be Psycho (Alfred Hitchcock version), Bring me the Head of Alfredo Garcia (Sam Peckinpah), Halloween (John Carpenter), A Nightmare on Elm Street (Wes Craven), Fright Night (Tom Holland), Toxic Avenger (Lloyd Kaufman) and Clerks (Kevin Smith).
... and of course, films you really deplore?
I donít really deplore moviesÖ okay maybe Michael Bay filmsÖ hahaha, but then again if Michael Bay comes up to me and asks me to direct Pearl Harbor 2 I wouldnít say no. Hahaha!
Your/your movie's website, Facebook, whatever else?
www.instagram.com/thechadmeise
www.funnyordie.com/chadmeisenheimer

Feeling lucky ?
Want to
search
any of my partnershops yourself
for more, better results ?

The links below
will take you
just there!!!


Anything else you're dying to mention and I have merely forgotten to ask?
I definitely want to give a shoutout to all the contributors from Kickstarter that made Nite Nite happen. I appreciate you all. I want to thank my production team - Akira Hayakawa, Steven Ng, Chuck Rockford, Matt Adams and the awesome poster design from Andre Becker. My awesome post production team that made this happen too. My editor Alyse Kollerbohm who has a super bright future ahead of her. My sound editor Zijun Ren for her awesome sound design. Plus the awesome music from Evan Oxhorn who is also releasing an 80ís album.
Thanks for the interview!