Your new movie War Path - in a few words, what's it about?
War Path, in a few words, would be this: A contract killer goes on the run after failing to do a crucial task: killing a corrupt cop. His wife is kidnapped as retaliation and he finds himself hunted by the police, his friends, and a litany of bounty hunters looking for his head. Over the course of a very long weekend, he must come to grips with his past, save his wife, and take revenge!
As far as I know, War Path had its origin as an entry into a Linkin Park music video contest - care to elaborate, and what prompted you to turn the video into a feature film?
Sure thing. Its origin as a Linkin Park video, to me, really shows the domino effect of where life can take you. This is circa 2012, I was down in the dumps, working a 9-5 and unsure what to do. I was a weekend warrior when it came to filmmaking, making shorts and music videos occasionally but often too tired to get much done when I did have that free time. I happened to come across a contest from Genero, which was hosting a contest for Linkin Park where you would make a music video for their song Burn It Down, and would get cool prizes if it was chosen. Wanting to have fun and influenced by my love of crime films and action movies, I came up with the spine of the video that largely mirrors the plot of War Path. Hitman refuses to kill a civillian, hunted down by his friends, wife kidnapped, etc. I had pitched this to Gary, an actor friend of mine who I thought could nail it, and we all got really excited by it. We managed to get it shot fast as the deadline was approaching and with the sizable help of friends.
My movie didn't get chosen but it got an amazing response from the film community, and the seeds were planted. I left my job a few months later, chancing it as a freelancer and haven't turned my back once. I was really motivated to do a feature film and there was something very interesting I saw in the premise and where to go with it, especially on an indie level. If you read the script, it reads like a 5 million Dollar but being young and dumb, you just plow through with it. It's impossible so let's get on with it.
What were your sources of inspiration when writing War Path?
When writing War Path, it came from a lifetime love for crime films, action movies, and the fact that Steven Spielberg movies were the Netflix of my childhood. Movies like Goodfellas and The Departed are pretty obvious inspirations alongside a host of documentaries, which subtly informed the camerawork in the movie. As I was writing it, Spring Breakers hit the theaters and that was a similar mindblow, especially when it came to approaching montages and the ways I could play with time and the pace at which we learn more information. I've never been in organized crime, as you could imagine but to make the story relatable, I kind of approached the main group as akin to my freelance life. A lot of disparate friends trying to find work, occasionally getting gigs from a shady manager and always stressed when a dry patch hits. How a downturned economy can compel you to do things you'd normally turn down just to keep the roof over your head and the consequences that follow, but injected with a fair amount of Adderal and adrenaline.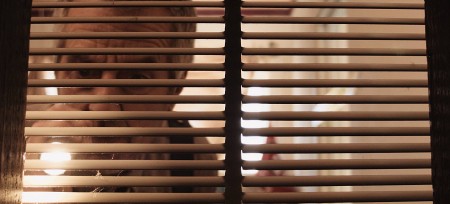 What can you tell us about War Path's approach to the thriller genre
Thriller-wise, I was trying to do a few things to increase the tension and make it standout from others in the genre. It hits the general beats of a revenge movie, but I wanted to make the storytelling feel immediate and a bit messy. We shot the movie mostly handheld and very rarely above eye level so it would feel more immersive, you are there. Because so much of the movie stems from the fallout over the failed murder, everyone is working with only fragments of information, no one has the full puzzle, and accomplishing one's own goal can mean death or worse to people close to you, which is something I was very tickled to find you point out in your review! It was also a trick to exploit every opportunity for tension, whether it was with sound design and music to build the tension to a boil or a shot of a water heater to alert the characters that someone is lying.
War Path does feature its fair share of action and violence - so could you at all talk about that aspect of your movie?
Regarding the action and violence, it's always something a filmmaker should approach with care, especially given the world we live in. I don't think action and violent movies make people MORE violent but I think rampant glorification can make the worst among us see themselves as action heroes, justifying abominable acts and risk dehumanizing other people. As such, I approached violence to be as honest, relatively, as can be. It's brutal but can also be flat as opposed to movies with giant geysers with fake blood shooting everywhere. There are guns in the movie and people do die in vicious ways, but no one really comes out a better person in the end, there's no freeze-frame celebrations at the end. Violence does have a consequence, and as artists in a genre that features violence, we have to show those consequences.
A few words about your overall directorial approach to your story at hand?
Directorially, I think the best thing you can do is to know what the vision is but especially what it ISN'T. There were some times in the shooting of it that I didn't know quite how I wanted to shoot a scene but I knew what I didn't want, and if you start from there, you can zero in on it pretty quickly if you have collaborators who know your mindset. On other days, it was fully storyboarded and we matched them, so you need a broad set of organizational skills to excel. My day-to-day work life is as an editor so when writing the script, I was writing it much in the same way as I intended to edit it, especially with cutaways. It might've been a labyrinth to read for others, but it was all there and the trick was to keep that house of cards steady. Deviating too much risks that the wind would blow it over.
Do talk about War Path's key cast, and why exactly these people?
With casting, in my experience, if the casting works out, everyone gels, and you get a solid relationship with a diverse set of people, about 85% of the work of directing is done. From the outset, I knew that Gary Nohealii [Gary Nohealii interview - click here] was about the only person who could pull off Joel (though I still had him audition because I'm an emotional terrorist). He had the chops, the look, the gravitas, and the vulnerability that would make him sympathetic even if he's not the most pleasant of characters. A few people from the original music video cameo'd in the movie, but to build out the cast, that was the craziest undertaking in all of pre-production. We were casting in the Bay Area, and the cast was a mix of people I knew or had seen in other productions, a few that Gary knew, and others we discovered through casting websites. Gary was invaluable throughout all of production, but one of his biggest contributions was filling out a number of supporting roles via his acting class at the time and others he knew in life. Erik Sundquist, one of the chief villains, was his biggest find as they worked together all the time. The role of Eric was also the hardest to cast as they'd need to have a good rapport with Gary, believable chemistry, the range to convey the transformation that Eric goes through, and also be a believable physical threat to Gary. No easy feat!
Many other roles were cast via websites and auditions, like Liz Clare as Sabrina, Johnny Gilligan as Abbot, and Lissa Keigwinn as Elena. There was also a lot of shuffling around as well, where many who had auditioned for Eric ended up in smaller roles and last second ideas paid off. Liz actually came in to audition for Elena originally but my producer recommended her doing a cold read for Sabrina as well, just on a hunch. It ended up being one of my best decisions as that was not an easy role to cast either.
What can you tell us about the shoot as such, and the on-set atmosphere?
Shooting War Path was a trip, simultaneously a marathon and a sprint. The shoot was 21 days in mid January 2014 spanning into February, and as with any indie film has its own share of crazy logistics. The script called for a large number of locations, and the time it takes to go from place to place can put a dent in any schedule so we had very little margin for error. Our first week was a tough one as we all had to find a workflow and laying track for the incoming train, as it barreled towards us. I had an amazing cast and crew who rolled with it, a mix of people I had worked with consistently and newcomers into our traveling circus.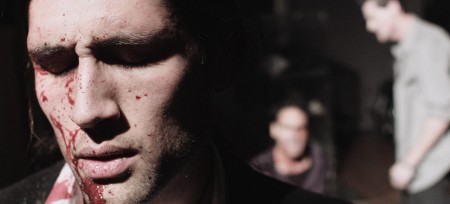 As much as possible, I tried to foster a fun environment where everyone can get creative and connections can be made. It was a trip to say the least, but I still hear from cast and crew reminiscing on it to this day on the injokes, spontaneous dance parties, and memories of that time. Funnily enough, I was always in the other room when a lot of those fun times were had since there was so much to take care of day to day, so it felt hard to enjoy it in the moment. But Iím always thankful to everyone for coming out, kicking ass, and getting the best they did on the screen. Without them, Iím just a guy shouting dialogue into the sky.
Honestly I could go on and on about the shoot, but your article will likely have a word limit. More details can be heard on the audio commentary on the forthcoming DVD!
The $64-question of course, where can War Path be seen?
Availability-wise, War Path will be available April 6, 2021 to rent or purchase on iTunes, Amazon Prime, and I believe YouTube. As of the moment Iím answering this, itís available to preorder on iTunes, and Amazon will be forthcoming.
There will also be a DVD release on most online retailers though I donít have the exact release date currently. Itíll feature an audio commentary and the original music video that birthed the moviem though itís with a commentary instead of the music. Audio commentaries were a big inspiration to my film career so I wanted to make my contribution. I always joke that thatís why you make a movie in the first place, to hear yourself talk for two hours :D
Anything you can tell us about audience and critical reception of War Path?
The overall reception to War Path has been pretty stellar and humbling through this whole experience. Between the first official screening and its dozen or so festival showings, while Iíve always been nervous, the reaction was pretty consistently positive and effusive in some cases. Moments I feared wouldnít work in the long years of editing worked just fine, and moments I was always confident in went over like gangbusters. My favorite memory of its festival run was a screening at the Golden State Film Festival at the TCL Chinese Theater, where it was a packed house on a Wednesday night. The reception was amazing and the decompression with friends after was pure euphoria.
Any future projects you'd like to share?
Project-wise, Iím all over the place with what to do next. Since wrapping War Path, I have written a few feature scripts in the thriller/action genre, entitled Getaway and Transfusion. Iíve directed a number of short films in the interim so I donít rusty, one of which is a BDSM romantic comedy, Avocado. It was completed recently and my goal is to wait for in-theater festivals to open up to start submitting.
Like so many others, Covid-19 put a lot of career progress on hold, so development slowed down. Paradoxically, Iím busier than ever with editing, but getting War Path out into the world was priority one when things slowed down.
What got you into filmmaking in the first place, and did you recieve any formal training on the subject?
I can pretty much pinpoint the exact moment I knew I needed to be in film: opening weekend of Jurassic Park in 1993. I was with family and when the brontosaurus was revealed to Alan Grant, that was it for me. Being an accountant or lawyer just felt way less sexy to me after that, and one of my bucket list items is to someday meet Spielberg so I can thank him, in between me sobbing.
Being able to visualize and tell a story of whatís in your imagination, your viewpoint on the world, and to unveil it for a mass audience, thatís a helluva drug. I grew up on blockbuster movies but getting exposed to indie films, foreign films, old classics, all of it plays a factor in it.
Training wise, a lot of it was reading a TON of screenwriting books growing up, fiddling with mini-DV cameras, learning to edit on iMovie, whatever I could get my hands on but I didnít actually attend film school. I was able to get a lot of hands-on experience on set over the years, but War Path became my own film school. Additionally, working in retail for ~9 years was also a huge source of training. Thatís where my best training at working with people, organization, and leading people toward a shared goal originated from since thatís what the majority of directing and producing really is.
What can you tell us about your filmwork prior to War Path?
Prior to War Path and after, my film work is all over the map. Iíve never been content to just work in just one genre, so I started with comedy, did a lot of drama, action, and whatever else came to be. I directed a lot of music videos starting out, so I got to experiment with different moods and with my background in editing, I got to play with storytelling in other genres and styles. About the only genre I havenít directed is horror, but thatís near the top of my list of what I want to tackle.
A few of my own personal favorite movies Iíve directed are all on my YouTube and Vimeo channels, ones that opened a lot of doors for me. Black Hearts about a bank robbing posse that have their own social media channel, The Epilogue, which is a pseudo-sequel to War Path, and Fallen Angels, a noir mystery revolving around a mass shooting. Iíve often been attracted to telling stories about outsiders, the people on the fringes, and with a propulsive momentum.
How would you describe yourself as a director?
I wouldnít know how to describe myself as a director, but I know what interests me and what I fixate on when a project is presented. Iím always looking for creative ways to shoot as much as we can on a given shoot day, sometimes to the point where I might be the only one who knows how itíll all fit together. That happened on War Path quite a bit as it reads like a hugely expensive movie but knowing how I want to cover it and my internal counter for how long itíll take, we were able to make our days 95% of the time. I do try to be collaborative and open to my cast and crew, approachable, and honest. Imaginative but also very pragmatic, so Iím not the type to try and shoot 50 takes of a closeup or into double overtime. I have a lot of regular cast/crew members who come back for more and itís definitely not for the lucrative paychecks.
Filmmakers who inspire you?
There's a large list of filmmakers who inspire, some of which won't surprise the viewer upon watching War Path. I grew up watching Steven Spielberg and James Cameron movies, with Terminator 2 as my childhood bible and Jurassic Park as the movie that got me into filmmaking. Directors who were able to blend action with a winning story would always get high up on my list in addition to several less profile filmmakers like the Coens, William Friedkin, Kathryn Bigelow, Alex Proyas, and a host of others.
Your favourite movies?
1) Goodfellas
2) The Godfather
3) American Beauty
4) Lord of the Rings trilogy
5) Dark City
6) The Third Man and
7) Jurassic Park

Feeling lucky ?
Want to
search
any of my partnershops yourself
for more, better results ?

The links below
will take you
just there!!!


Your/your movie's website, social media, whatever else?
For me:
Instagram: @capitalff
Twitter: @capitalf
For the movie:
Instagram: @warpathfeaturefilm
Facebook: https://www.facebook.com/WarPathFilm
Anything else you're dying to mention and I have merely forgotten to ask?
Everything was pretty much covered! More than anything, I hope people give it a watch, enjoy it, and let themselves get enveloped in it. In my ideal world with a thousand seat theatrical release, people would come in, watch it, and go to the bar afterwards for a stiff drink with friends and talk all about it. It's an action film with all ages and genders in mind, so check out the trailer, give it a shot, and rock on!
Thanks for the interview!