Your new movie Tailypo - in a few words, what is it about?
Tailypo is a story about a reclusive man named Levon who lives alone in a cabin in the woods with his hunting dog Jasper. Hungry and desperate, he fires a shotgun into some movement in the woods and clips the tail off an unseen target. Starving the way he is, he takes it back home and cooks it up. That evening he begins to hear faint whispers in the dark, as the creature wants what is his.
Tailypo is based on an old folk tale, right? So what drew you to the story in the first place, and how true did you remain to your source?
Yeah its Appalachian in origin, but Tailypo doesnít have one specific author or version. It was a campfire tale passed from generation to generation. Lots of different authors have put their spin on it, and I've heard versions called Tallypo, Tailybones, and even a variation called Bloody Toe which substitutes the tail for his toe. Some version use a gun, others use an axe to cut the tail. It really has been interesting seeing the same story through so many different storytellers mouths. Mine is just one of many versions.
My earliest recollections are honestly a bit hazy. I heard it as a small child growing up in my small home town of Edgewood Texas. My kindergarten teacher Caroline Hooks told us a version around Halloween, as did another teacher of mine named Darlene McEnturff. I had always remembered my grandmother telling it to me, as well as a babysitter I had as a small child named Lisa Munro (who had probably heard if from those same teachers years before). My mother also says she told me a much more watered down version of it, as she never really went in for scares. It is all really foggy though, as in that I couldnít tell you who told me first, or who told it best, or even what version any of them told me.
I just remember it being one of the first stories that really frightened me. It stuck with me, and Iíve carried around for a long time in my mind. So I went in to tell it trying to use the basic structure, but give the character of Levon a voice that was my own in a lot of ways.
Other sources of inspiration when writing Tailypo?
Well I looked at a lot of creature movies, and the old Tales from the Crypt television show. I wanted it to have that kind of look to it. A bit off kilter, kind of other worldly in smoke and shadows.
We definitely used Sam Raimis Evil Dead films as reference for are woods. I admire those films a great deal.
Story wise, only a few things come to mind. I named the dog Jasper because Jamie, my girlfriend at the time (who is now my wife), had recently lost her dog. Seeing that bond broken, and the grief she was going though helped me create the bond between Levon and Jasper. Film is cool in that it can make you live forever.
What can you tell us about your directorial approach to your story at hand?
Well it was interesting because for the majority of the film only one actor was on screen. I talked with my director of photography Josh Ickes a lot about mood, and how I wanted the darkness to kind of stream into the cabin. We had Ranger in the role of Jasper the dog, and that was interesting because I did most of my directing for him with a pocket full of pepperoni sticks. And David Chattam [David Chattam interview - click here] who played Levon spent a lot of time just hanging out with the dog before we shot, just getting to know him. David had also lost a really close pet in a very sad way. We talked about that experience, and he drew on that a lot I know during certain scenes.
Do talk about Tailypo's lead (and sole on-screen actor) David Chattam, and what was your collaboration like?
David was simply just wonderful. He had come into audition for my film The Lashman, and honestly I wasnít even going to invite him as he was way younger than what I had originally envisioned for the role of Carl Degas in that movie. But another filmmaker (and Iíve kicked myself because I canít remember who) told me to let him audition, and he was a revelation. He came in and just blew me away in the audition for Lashman. Totally changed my mind about how that character should look, which is always great for a writer. But when we shot that movie, Dave was only on set for a single day, and we were a bit rushed at the location. He had come prepared, and a lot of great ideas about who the guy was, and was able to get the southern cadence I wanted down perfectly. I didnít forget it.
So when I finished Lashman, I had already been carrying this idea for Tailypo around for what seemed like forever. It's hard to do a lot with shorts, but I had the luxury of having the Doc Gangrene character and I knew we could build a TV show or movie around shorts. I started writing it with Dave in mind to play Levon. But I didnít tell him about it until I had the script finished. I called him up one day and asked him to read it, and explained it was really just 15 minutes of him monologuing to a dog. He had never heard of the Tailypo monster, but loved the idea. We had to work out some scheduling where we both could shoot it, as he was working on other projects and I was producing another film at the time. I honestly donít know what I would have done had he turned it down.
We had a few lunches together, and I went to his place in Nashville and we just read the script over and over and over. He told me his ideas about the character, and I explained a bit about who the guy was to me. Once we got to set to shoot it we had already done most of the heavy lifting on direction and it was really just a matter of blocking it out and shooting it.
You of course also have to talk about Tailypo's creature for a bit!
Yeah, for sure. Thatís actually really interesting as so many people came together to bring it to life. I had a lot of ideas about how I wanted the monster to look. I knew i wanted to keep him in the shadows, but at the same time it had to have claws and teeth and those glowing yellow eyes. Thomas Berdinski who scored the film, as well as The Lashman for me, put me in touch with Dustin Mills out of Ohio [Dustin Mills interview - click here]. At that point I had never heard of Dustin and I had talked with a few other people about creating the monster but no one had really clicked with me. Dustin was very familiar with the folk tale, and was excited to hear I was turning it into a live action movie. He is a film maker in his own right and had made all these great underground movies. Really subversive stuff, but with large ideas. He had made one called Puppet Monster Massacre that i think may have been his first film. He apparently didnít have anyone else he could depend on to show up and make a movie. So Dustin just shot it with puppets, playing the parts himself. I loved that DIY approach, and his designs on some of his other stuff were cool.
I had these great pieces of concept art that Dennis Vincent had done for me, as well as maquette that he had used to design the poster. Dennis had done all the great Lashman posters in different color ways for me, and initially wasnít going to be able to do it as he was in production on his film The Cosmic Creature, but we had so much fun doing those Lashman posters he carved out some time for me. Anyhow, I sent that stuff to Dustin along with some pictures of old monster masks, as well as real life bobcats and lynx. We used a picture or Pei-Mei from Quentin Tarantinoís Kill Bill films as a reference for the eyebrows on the Tailypo. He sketched out some stuff and we did it all over the web. He would send me videos of his progress, and I remember in one of them he was watching Evil Dead 2 in the background I think, and I knew we were going to get along splendidly.
The rest of the creature f/x fell to Brad Edwards. He had worked for me as artist on the Florida Georgie Line lyric video for the song Dirt that I had produced and he did a whole lot with very little. He made the tail you see in the beginning of the film and sculpted the claws to give them a glow. The actual body suit was really just some old pajamas spray painted black with tufts of fur strategically placed. It was good in that it forced us to keep the monster in the shadows so you didnít see the basketball and soccer ball design bleeding through the paint.
Joseph Drake was in the body suit and did all the actions totally blind as the mask didnít have eye slits, and we shot all his scenes at night. I puppeted the mask by hand myself for a few shots, but Joey was a real trooper living in the suit for the duration of the shoot.
And the voice acting is also really interesting on this one. Danielle Gelehrter is a friend of mine. We collaborated a few years back on The Dreadful Hallowgreen Special which was a Halloween themed television special which paired her character of Penny Dreadful with Larry Underwood [Larry Underwood - click here] as Dr. Gangrene (whose TV show I directed). We had done that all from opposite ends of the country, and she had also done all these great recordings as the phone operator at the end of Lashman. Just wild voices and characters. But that's beside the point.
I emailed her after we had the movie shot, and a rough cut together. She had never heard the legend of Tailypo so she read the script, and watched the first cut. She did a marathon on reading up on the legend and then we got on the phone to talk about it. She did a few voices for me, and was right in the same mindset as me on how the creature should sound. I gave her a few specific instructions on things, and asked her if she would just record some demos on her phone and email them to me so I could temp them in. She did a ton of them, and then left town to visit family and we were going to do the recording in a studio up in her neck of the woods when she got home to New England. But the performances and recordings all were so good, that we ended up just using them. So by the time she got back from vacation we actually had the whole movie finished up.
So I guess to recap, We had Dennis putting together art, Dustin designing the head, Brad doing the body suit, tail, and claws. Joe Drake in the suit, and Dani doing the voice. All of those people came together to help realize the monster and bring it to life in their own unique way. A monster with several teeth you could say.
Tailypo is mostly restricted to one location - so what can you tell us about your location, and what kind of a strain was it to keep things interesting being that limited, location-wise?
Well, I never really felt that limited with it. I wanted it to seem desolate and out of the way. I called my dear friends Tim & Carole Emery at the Copper Canyon Ranch up in Hopkinsville Kentucky. I had already made a few things up there, and I keep going back because they are just so pleasant to work with. Just down home people who really treat you like family. It's a working movie set, and western Guntown year round. I was familiar enough with it to know we could use it to seem like an out of the way place.
The exteriors of the cabin is usually used as their general store. We redressed it along with help form Tim and his son Chad Fuller who was our production manager for the film. The interiors were the inside of the Bella Union Palace Saloon which we converted into a lone bedroom cabin. We cut the room in half to give us room with the cameras. We built a new fireplace, and put together some makeshift stuff with antiques they had laying around.
We were up there on two different occasions to shoot with our actors, and then do pick-ups. Me and Josh Ickes actually came back a third time just to shoot the cabin, as I just felt it needed a creepier vibe. We fogged it up and lit it in a way that made the woods more eerie. That Evil Dead touch I was talking about. Each time we came to Copper Canyon, Tim & Carole welcomed us with smiling faces and beans & cornbread. A really wonderful experience.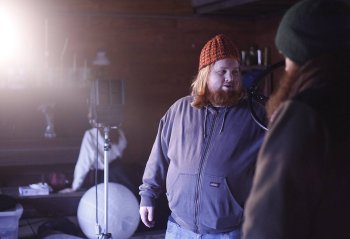 Cameron on set
Do talk about the shoot as such, and the on-set atmosphere?
It was a pretty small crew, myself, Josh Ickes my DP, Kyle Kelly my first AD & editor, Chad Fuller, Joe Drake, Tim Emery, and Dave Chattam [David Chattam interview - click here] for the biggest part of the shoot. It was a lot like a camp out really most of the time. We were shooting well into the night. First time in the summer of 2014, and then back again in December for pick-ups. We actually reshot some stuff as it was just too lush and green for the atmosphere I wanted. When we came back in the cold of December and Dave had to strip down to his undershirt to match footage, the whole crew did the same in solidarity. I think he appreciated the gesture. Joe Drake was the only one who stayed warm in the body suit.
The $64-question of course, where can your film be seen?
If you want to see it on the big screen, youíll have a quiet a few opportunities as we plan to tour it as a stand alone short film until we get the anthology completed. Weíve been invited to three festivals thus far that Iím not at liberty to announce just yet. And weíve submitted to quiet a few more and are waiting to hear back.
However, you can see it at my website www.cameronmccasland.com under the short films tab or direct from YouTube here. https://www.youtube.com/watch?v=P_OuZtp6dQU
I'm leaving it open for people to watch FOR FREE and embed on their own websites. I encourage viewers to post it to their blogs, Facebook, Tumblrs, and Twitter pages. Shoot me a message and let me know what you think of it.
And if you really want to give me 64 bucks, we could use that for the next oneÖ
Anything you can tell us about audience and critical reception of your movie so far?
Yeah, that part has been really cool. I feel like itís two audiences. The first are familiar with it, in the sense that they have recollections of this story from their own childhoods. I've had a lot of people reach out to me and tell me the variation that they were familiar with, and how this helped conjure up certain feelings and memories they had forgotten. The other portion of the audience are people who had never heard of the story. So I get to be their introduction into the folklore of it, which his kind of cool.
I really did this, considering kids like me. I have two young daughters who I wouldnít let watch a movie like The Lashman because its a movie tinged towards adults. Not a lot of horror movies are made for the younger generation these days. I wanted children to be able to be scared the same way I was as that kid back in Edgewood, Texas years ago. It's cool hearing from parents who have shown it to their children.
Any future projects you'd like to share?
Yeah, I'm actually working on a lot of stuff at the moment. My hope is to collect a lot of short films into an anthology hosted by Dr. Gangrene. The Tailypo will be a part of that. And I actually just produced another short tentatively titled The Haunted Song with my D.P. Josh Ickes in the director's chair and starring the fantastic David Dittmore. It's an original story that Josh wrote and that takes place in Nashville, and it was cool to see Josh steer the boat on this one.
I'm doing post production now on another short based on the H.P. Lovecraft story The Beast In The Cave which has Wynn Reichart in the lead role. Larry Underwood [Larry Underwood - click here] did the adaptation. We just did that a few weekends back. And Iím not sure exactly how its going to land yet, but should surface soon.
I'm excited to be producing a new feature film for director Matt Riddlehoover to follow up Paternity Leave which we released earlier this year. Matt just finished the screenplay along with Dustin Tittle. Itís an original story, and I'm not at liberty to divulge much just yet. But you should see some familiar faces back for this one. We start rolling on that one soon. And Paternity Leave is still on its film festival tour circuit and will be hitting DVD in November. I'll be out in San Fransisco in a few weeks to screen it at the Castro Theater during the California Independent Film Festival. Look forward to meeting everyone at the screening. You can check out the trailer and other screening info at www.paternityleavefilm.com

Feeling lucky ?
Want to
search
any of my partnershops yourself
for more, better results ?

The links below
will take you
just there!!!

Find Cameron McCasland
at the amazons ...

amazon.com

amazon.co.uk

amazon.de
Looking for imports ?
Find Cameron McCasland here ...
Something naughty ?
(Must be over 18 to go there !)

And I'm doing a lot of music videos and documentary stuff with Lloyd Aur Norman for the Villain Place label. I directed a series titled The VP Underground I'm excited about, which lets musicians share a bit about songwriting. We have a real DIY philosophy over there, and it's a great place to work with. www.villainplace.com
Your/your movie's website, Facebook, whatever else?
If you go to either www.redheadedrevolution.com or www.cameronmccasland.com you can find links to my Facebook, Twitter, Instagram, YouTube, etc. It has a lot of my older work on it too. I'm all over social media, and love chatting with people about the movies, so feel free to say hey or ask any questions you might have.
Tailypo can be found direct on Facebook https://www.facebook.com/Tailypoterror
Anything else you are dying to mention and I have merely forgotten to ask?
For all that we talked about, Iíd be remiss if I didnít say a bit about Kyle Kelly who worked on set, as editor, and in designing the poster for the movie. Him like many people on movie crews do the thankless job of putting these things together, and following up by sharing the movie. I couldnít have made this one without him.
Same goes for Thom Berdinski who turned out a great score for the film. Really eerie vibe that helped set the atmosphere. A real joy to collaborate with. I'm glad to have him as a colleague.
Thanks for the interview!
Really enjoyed this one. Thank you for all the support.