You just finished work on an amazing schedule for 3 films. What are the titles and plots for these?
Yes, I am so lucky to have had these recent film opportunities and am excited to share these films with your readers.
The first one is indie thriller: The Mourning (Directed by Marc Clebanoff who directed me in Break and Gerald):
Synopsis: Aaron returns to his small Middle America hometown, inexplicably not having aged a day since his mysterious disappearance in Desert Storm 20 years prior. Unable to speak initially, Aaron must come to terms with the losses and evolution of his loved ones in his absence. Concurrently, Aaron's loved ones must come to terms with the reappearance of the boy who they grieved over and let go years prior. As Aaron begins to assimilate himself into the lives of his family, his best friend and his long lost lover, it's slowly revealed that Aaron's homecoming is not permanent. A conspiracy theorist and a mysterious angelic figure both stalking Aaron build toward a finale in which Aaron must tie up loose ends before disappearing again forever.
Lisa Ass Face: Lisa was the "unattractive" girl in high school who used to like Aaron and the lead guys. They never gave her the time of day, but when Aaron returns from his mysterious disappearance and reunites with his high school friends, he sees a "sexy" girl at the local hangout bar and his friends tell him she is Lisa "Ass Face" from high school. Aaron can't believe it and realizes how much things REALLY have changed, since his mysterious disappearance. Lisa gets drawn into the Scifi drama that ensues with Aaron and his friends and finds herself with more than a hookup!
Starring: Dominique Swain (Lolita), Louis Mandylor (My Big Fat Greek Wedding), Peter Dobson (Frighteners), Larry Hankin (Home Alone), Michael Walton (Gerald) and Brooke Lewis (iMurders).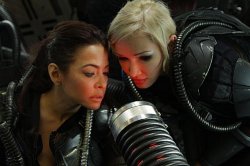 Starship: Rising
The next two are parts one and two of a SciFi franchise:
Starship: Rising (Directed by Neil Johnson who directed me in Alien Dawn) and part II is Starship: The Coming Darkness:
Synopsis: A corrupt planetary federation. The ultimate weapon of destruction. One starship captain stands between them... and intergalactic armageddon.
The film is about what happens when a Starship armed to the teeth with missiles gets taken over by a revolutionary.
Neil Johnson describes it as "Game Of Thrones in space."
Staris: Staris is the pilot of the greatest space vessel in the Federation... Starship One. When the vessel is mutineered, Staris is torn between her love for a man, and her duty towards the Federation. Staris wants nothing more than to be Captain of her own Starship, and will do anything to achieve this.
Starring: Claudia Wells (Back to the Future), Brooke Lewis (iMurders), E.J. De La Pena (Jingle All The Way), Marilyn Ghigliotti (Clerks), Darren Jacobs (Hollyoaks TV series), Rajia Baroudi (Mighty Morphin' Power Rangers) and Musical Star Emii (Zombie Boyfriend).
How did you manage to balance out working on these?
Ya know, film scheduling is always 'luck of the draw' and this time they just happened to work out! It always seems to be 'feast or famine' in this crazy business! I am blessed to have people in my corner, like Marc and Neil, who choose to cast and hire me again and again, so I have the opportunity to work with filmmakers I have previously worked with and am lucky to call "family" at this point. Marc was ready to kill me, because I drove him nuts to change the schedule to get me home from Michigan the day before my annual Dread Central Horror Starlets Bowling For Boobies event for the Busted Foundation and Breast Cancer!
Are there webpages up yet that deal with them?
IMDb: http://www.imdb.com/title/tt2503768/
IMDb: http://www.imdb.com/title/tt2547942/
The Official Brooke Lewis Fan Page Facebook: https://www.facebook.com/pages/THE-OFFICIAL-BROOKE-LEWIS-FAN-PAGE/337389067701?ref=stream
You have acted, written and produced film. Do you have a liking for any single activity over the others?
Without question, everything I have done in this crazy business has been to create opportunities for me to do the thing I love most in this lifetime and that is ACTING! Producing is such a challenging and tough gig! It really is like having a child that you have to nurture for years… through good and bad. If I am going to put in my blood, sweat, tears and years, I better be insanely PASSIONATE about the story and script and I have to be playing a lead role that INSPIRES my heart and soul! As an actress, I love roles/characters that challenge me. I really am attracted to meaty "character" roles. Powerful, strong, smart, deep, sassy and sexy!
When did you form Philly Chick Pictures?
In 2002, I created Philly Chick Pictures to "produce entertainment with an attitude". My movie career started as an actress in low budget independent films in NYC. I was always the actress with a ton of energy and a business brain, who would call in a favor to attach talent, crew, locations or think fast enough to do damage control on a set. After doing this work for other people's companies or projects and not being credited or compensated properly, I finally realized that I had been "producing" all along! I learned that I have a creative soul and a business mind, so I started Philly Chick Pictures to further my acting and producing career, make films with an edge and find and develop strong roles for women.
You are from Philadelphia as the title for the company implies, but have also spent time in New York. Do you have a favorite between the two cities?
I am such a Philly Chick at heart and will always be loyal to my roots and my Eagles, but after living, and making a living acting, in NYC for a few years, I am forever grateful to that town for teaching me the ropes and offering me incredible career opportunities at a young age! As much as I love calling Hollywood my home, I still feel that there is no city in the world quite like NYC and I miss Broadway shows and Little Italy all the time! And, of course, my Philly Cheesesteaks!!!
You were in some Off-Broadway plays in New York?
Yup! I got my start as a total theatre and musical theatre actress! I toured with a few shows right out of college. My first lil/big break was playing Donna Marsala, the prima donna bridesmaid, in the New York Off-Broadway Comedy Tony N' Tina's Wedding. I performed in this comedic Italian wedding under an Equity contract for almost three years doing seven shows a week!
There are obvious distinctions between stage and film? Do you prefer film?
I think there will always be a part of me that loves performing live and seeing the audience smile, but I also feel like doing so much theatre at a young age burned me out a bit! I just love the subtleties and internal emotion of film. To tell ya the truth, my favorite medium in the world is sitcom TV and being able to tape in front of a live audience. Perfect combo!
There are quite a few web pages that cover your past works?
https://twitter.com/BrookeLewisLA https://www.facebook.com/pages/THE-OFFICIAL-BROOKE-LEWIS-FAN-PAGE/337389067701?ref=ts
And, I also write for the Huffington Post: http://www.huffingtonpost.com/brooke-lewis/
and She Knows' Loving You http://www.lovingyou.com/articles/968705/happy-halloween-learn-to-face-your-fears
Do you have any one project that would be a "stand-out" role for you thus far?
Ms. Vampy! Ms. Vampy is my alter ego and represents the sass and courage that is deep inside Brooke!
"Ms. Vampy is America's funniest, sassiest and most high maintenance vampire! Her personality is as big as her hair and is often described as Betty Boop meets Marisa Tomei in My Cousin Vinny. She loves pleather and fur and wouldn't be caught "dead" without high heels! But, there's much more to this loveable vampiress from Brooklyn. Following the hit web series Ms. Vampy in 2009 and as a prelude to the Halloween Family feature Vamp It Out, Ms. Vampy is back with Ms. Vampy's Tween Tawk, Teen Tawk & In Between Tawk to inspire tween and teen girls in a "tawk" show format, which covers issues that these girls are faced with today. Discussion topics include: Stereotypes; Body image; Self-esteem; Peer pressure; Caring about what others think of you; Being popular; Facing your fears; Following your dreams; And, of course, boys and Twilight!"

Feeling lucky ?
Want to
search
any of my partnershops yourself
for more, better results ?

The links below
will take you
just there!!!

Find Brooke Lewis
at the amazons ...

amazon.com

amazon.co.uk

amazon.de
Looking for imports ?
Find Brooke Lewis here ...
Something naughty ?
(Must be over 18 to go there !)

This is the most special project I've created! I want to inspire girls of all ages. I'm still a teenage girl at heart who deals with her own issues and insecurities and if I can make a difference in the lives of tweens and teens today, then I have done my job. VAMP IT OUT!
http://www.youtube.com/watch?v=O6lYoV6_j4A
http://www.msvampy.net/tawk_episodes.htm
After this marathon you just finished concerning films, what are future plans?
Are you kidding? I need a serious vacation!!! J
Again, I am blessed to have people in my corner who choose to cast and hire me again and again, so I will be acting in both Room and Board and Bristled: The Howl Chronicles with the lovely Producers BJ and Julia Davis and Asif Akbar and my dear friend and fellow New Yorker, Thomas Churchill, will be directing me in both Hallow Pointe and Lazarus.
Closing comments?
Much love and thanks to Dale, Search My Trash and the rockin' readers!
Blessings to all in 2013! XO Brooke Lewis