Your upcoming movie The Events Surrounding a Peeping Tom & the Horror that Followed - in a few words, what is it about?
A lost soul... this young man, Martin Malone, has a horrible compulsion to peep on women rather than have a real relationship. He can't! And if the trap of his own unconscious design - his compulsion - isn't bad enough... he finds himself getting close to a dangerous secret society while peeping on a beautiful woman one night. And that is a trap that could be the end of him.
How did the project fall together in the first place?
Damian Maffei [Damian Maffei interview - click here] had always been talking to me over the years about a peeping Tom character. Maybe started 10 years ago? It's a terribly interesting concept, I was always intrigued about exploring that - even as an audience, right? Just watching him and fully getting into that queasy head space or the environments, lurking around at night. Then I had an impulsive idea about stealing a neighbor's letter that was hanging just a little out of a mail box slot in my apartment complex one day. The corner of an envelope was barely peeking out, and I stood there thinking 'who would do that and why?'. And somehow the peeping Tom came back to me suddenly and I called Damian. We talked for months while I immediately got busy writing like I was possessed...
With The Events Surrounding a Peeping Tom & the Horror that Followed being based on an idea of your star Damian Maffei [Damian Maffei interview - click here] - how fleshed-out was the idea from the get-go, what can you tell us about the process of turning it into a screenplay, and what were some other inspirations when writing the script?
The behavior was always pretty fleshed out by Damian, a good actor is always thinking about behavior! Certain details like the guy taking notes; noting what the neighbors are up to, what time they do this or that, finding the patterns to make his peeping run smooth. Also details of how he covers for his actions should he get caught... There was also a pretty solid idea he had about a dog but I can't share that now! Damian and I used to sit at a diner when we were teens, thinking of movie ideas and I'd constantly bring up 'but where does the horror come from?' It needs to be an extension of your characters' minds, bodies, fears, hopes, their needs, their existence. Our hero is a loner - so groups or relationships are antagonistic. You start to go deeper and deeper into that and see where horror comes crawling out! My process was to follow this guy... watch Martin wake up, take a shower, go to work, live his life, then as night comes - go out there... and find out why. I wrote it pretty quickly and I'm always working on it. Metaphysical terror and existential concerns seem very appropriate when you really think about a guy who is mostly alone, a guy who exists and doesn't exist at the same time. Inspiration came from other films I've loved dearly that deal with this masterfully like Roman Polanski's The Tenant, Willard (both Daniel Mann and Glen Morgan's films), and of course Don't Look Now.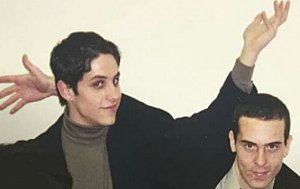 Damian Maffei and Brian in high school
What's your collaboration with Damian Maffei on the project like so far ... and since you two go back quite a bit, how did you two first meet, and what can you tell us about your past shenanigans?
We met in high school during a production of Little Shop of Horrors. We both grew up in Levittown, NY and I remember seeing him around town every once in a while... he had a brooding disposition. Seemed like a tough, dangerous guy. I loved the Frank Oz version of Little Shop of Horrors as a kid in addition to being fascinated with puppets. My first beloved childhood toy was a puppet (which I still have to this day) and when they made an announcement at school saying that it was going to be the annual play - I thought 'YES! I'm gonna be that huge puppet!' Just popped into my head. It was so strange, I never thought seriously about acting... then came the dilemma: theater might not be so cool! I was a punk rock kinda kid who always did whatever I wanted no matter if it was 'cool' or not but this was... Then I saw Damian signing up for auditions (I didn't know him - only saw him around) and I thought 'if this menacing tough guy is auditioning, I'm sure it's fine.' I was cast to play the puppet (all sizes!) and Damian was the voice of Audrey II. We started talking about horror movies, became best buds. We also made a lot of BAD video horror movies back then, just running around town, doing it on the quick, dragging our friends into them. One night we were at a gas station, getting coffees and snacks. Damian was playing our slasher and because we didn't have props... we were using a real kitchen knife - a biggie. Well, some cops showed up and thought we looked... suspicious. Then one of them saw something hidden under Damian's shirt, sheathed in his belt and demanded to see it. The knife came out. Cops got tense, hands hovered over their guns, there was yelling. I thought it was the last of our shenanigans together... but we used the truth: 'its only for a movie'. Interesting that the police play a huge part in The Events Surrounding a Peeping Tom & the Horror that Followed.
How would you describe your movie's approach to horror (as in suspense vs sudden shocks, atmosphere vs all-out gore and the like)?
As I mentioned - it's gotta come from the characters. Martin - the peeper - his life is sort of fading away all around him. His mother is gone (through tragic means that messed him up badly), his grandma (a stand in for his mother) is disappearing into dementia, and the peeping gives him a sort of last attempt at a connection to life, a way of simultaneously coming into being and not being. He wants to be saved by a mother figure in a sense. Here's a guy who hides within himself... and is suddenly brought out by getting caught by the police. The atmosphere is so important... like a fever dream. Nightmare logic. Love that stuff! His mind begins bend as he tries to keep the mask from slipping. The audience is a helpless voyeur just like Martin - they know he can't help himself and they start to see signs he's in danger from this strange beautiful, woman he becomes obsessed with. There is a breaking point - mentally and physically that had to be found, so when it pops - Martin finds himself viscerally compromised and, yes, there is some intense, unexpected gore. But it all grows organically out of what's happening to our poor hero. It should be pretty crazy and fun.
I've read you're working with a practical effects team on The Events Surrounding a Peeping Tom & the Horror that Followed - so what have you planned for us in that department, and why practical effects?
Practical FX seem so bloody real when done the right way - and Jeremy Selenfriend sure does it the right way! Jeremy and his company Monster in my Closet will handle all our gore when it happens but also... more surreal stuff too. There is an otherworldly element in the movie that brings out some strange things. Jeremy worked on a short I did in 2009 (creating a character with a macrocephalic head) and I love his passion on set and his talent for creating this stuff... check his stuff out. The opening of this movie Pink Eye really disturbed me - his FX got me good.
What can you tell us about the intended overall look and feel of The Events Surrounding a Peeping Tom & the Horror that Followed?
It's a postmodern noir in a lot of ways. Noir movies are so wonderfully atmospheric - the environments surround the characters with menace, faces obscured by shadows, the loner striving to find the truth at all costs in the face of impending doom, corruption, and femme fatales... This movie has a subjective/objective thing going on which will be fun to play with. Martin is very much stuck inside himself but also has an anxious detached quality grounded in the real condition of depersonalization or de-realization disorder. People suffering from this feel as if they are watching their lives as if in a dream or movie. The feel is pure nightmare - start to finish.
Anything you can tell us about your projected cast yet, and why exactly these people?
We have some really cool talent interested but we have to keep that quiet for now... sorry! There's logistics to work out, schedules... the dark side of film making...
As far as I know, you're currently in the process of raising funds for The Events Surrounding a Peeping Tom & the Horror that Followed - so what can you tell us about your fundraising efforts?
I'd like to tell everyone please visit the Kickstarter! There's some cool stuff there and ways to be involved in the project... like getting featured roles in the movie. I'm using every last penny I own and all of my mental and physical energy to get this puppy barking! I think I still have partial ownership of my soul too, so I'll need to look into that... all the money will be going right up there on the screen! It's 'do or die time' - and 'die' only sounds fun in horror movies.
https://www.kickstarter.com/projects/465718734/events-surrounding-a-peeping-tom-and-the-horror-th
Once your funds are raised, what's the schedule ... and any idea when and where the film will be released onto the general public yet (and I know it's probably waaayyy too early to ask)?
We plan to start shooting at the end of May on Long Island, NY. I have some good relationships with distributors so we'll see where that goes but I love the idea of taking it around to festivals! The whole vibe is exciting - I love festivals... Fantastic Fest, SXSW, there are some wild times to be had for real.
Any future projects beyond The Events Surrounding a Peeping Tom & the Horror that Followed you'd like to share?
I have a dark drama with a thriller underbelly called Redemption Value at Muse Productions (they are producing in association with on The Events Surrounding a Peeping Tom & the Horror that Followed). It's at the script stage. That one deals with a nihilistic war veteran in Arizona who is diagnosed with a fatal brain tumor. He seeks redemption for his haunting past by offering to marry his drug dealing neighbor's girlfriend, a struggling single mom, in order to leave behind his social security benefits. Things don't go so good...
What got you into filmmaking in the first place, and did you receive any formal training on the subject?
I guess in a way I blame those damn puppets! I used to put on shows for my sisters growing up... my first audience. I would scare the crap out of them by doing my own version of Tales from the Crypt, using a glow in the dark, anatomically correct model of a skull I had. I'd turn down the lights, play a tape of 'spooky sounds' I got from the library, hold the skull in front of my face and manipulate the jaw as I talked with a blanket draped over me as a cloak! Then freshman year I did Little Shop of Horrors which had more lights, sound design, sets, and a bigger audience. Then college theater - acting in every production I could. Professional acting studio after - William Esper Studio. All the while I would watch every kind of movie there is... a real cinephile. So theater and professional acting made me take a crack at doing my own smaller projects, some short films. So yeah - I'm self-trained but it grew out of the craft of acting, a true love of storytelling.
What can you tell us about your filmwork prior to The Events Surrounding a Peeping Tom & the Horror that Followed?
I did three shorts which I wrote, produced, directed. I learned a lot that way... my own private film school. I'm hyper critical about my work (I'm learning to ease up, be focused enough to demand excellence but not destroy myself). This is my first feature. I've worked on many movies over the years, doing everything there is to do in order to learn all I can. I have been everything from a PA to a producer. I've ghost-written on a number of high profile scripts - one has been made, others in development. I've worked on no budget projects and some in the mid million range.
How would you describe yourself as a director?
An actors' director! I love performance - finding all the subtle emotional levels, the behavioral actions. From there you find how you're gonna tell the story, how it looks and feels. Themes emerge from the characters - which the actors bring to life - and then those themes start to find their way into all aspects of production.
Filmmakers who inspire you?
Too many to mention! But it might be fun to throw some names out there... Bob Clark. Lynne Ramsay. David Lynch. Ben Wheatley. Todd Solondz. Kim Chapiron. Michael Haneke.
Your favourite movies?

Feeling lucky ?
Want to
search
any of my partnershops yourself
for more, better results ?

The links below
will take you
just there!!!

Find Brian James Fitzpatrick
at the amazons ...

amazon.com

amazon.co.uk

amazon.de
Looking for imports ?
Find Brian James Fitzpatrick here ...
Something naughty ?
(Must be over 18 to go there !)

Whoa! that's a toughie... but I might as well try. Johnny Mad Dog, Mulholland Drive, The Tenant, Sheitan, there's an amazing documentary called In the Realms of the Unreal (so strange and excellent).
... and of course, films you really deplore?
Deplore is harsh! Everyone worked so hard to get those movies made... they just didn't work out so hot. You know, like Elysium.
Your/your movie's website, Facebook, Kickstarter, whatever else?
Kickstarter: https://www.kickstarter.com/projects/465718734/events-surrounding-a-peeping-tom-and-the-horror-th, and we are on Facebook under our very succinct title...
Anything else you are dying to mention and I have merely forgotten to ask?
As this is my first interview about this project... and I want to mention my sincerest thanks for taking the time to find out more. It was a pleasure. You are a good man!
Thanks for the interview!