Your new movie Alienated - in a few words, what is it about?
In a few words Ė we practice this challenge all the time. Alienated is basically about a conspiracy theorist that witnesses a UFO but he doesnít know how to tell his wife. He doesnít know if sheíll believe him because of all the other crazy theories heís had.
With Alienated being at its core about a couple past their prime arguing - is any of this based on personal experience?
The film isnít based on any actual experience, but there are elements of my wife and I in both characters. The dynamic and issues between the characters are based on a few really tempered relationships that Iíve witnessed.
Other sources of inspiration when writing Alienated?
Oh yeah, I had a great time diving into the dynamic of this relationship, and part of the journey was rediscovering films that had disturbing relationships reminiscent of what I was creating. In a sense, I got to do my own version of these films. Two that come to mind are Whoís Afraid of Virginia Woolf and Hurlyburly. It may not be an accident that they were both based on plays. The character work in them is so incredibly strong. In both cases, the main characters all suffer from having love/hate relationships. Terrible, terrible things are said, but strangely thereís still love somewhere in there. Well, itís arguable. But the emotions are deep and complicated and the relationships are really pulled to the test. Another film with some raw emotion is Carnal Knowledge. It may not have been a direct influence, but it couldíve been a subconscious one.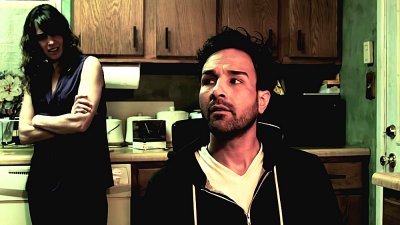 With Alienated being confined to very few sets, how challenging was this from a directorial point of view, and what can you tell us about your locations as such?
Shooting in one location was only moderately challenging. The whole thing worked like a puzzle that I had to figure out, as far as blocking goes. Which action do I put in which room, and how can I make certain sequences flow based on the layout of the house? It was a fun challenge. I wrote the play with a particular layout in mind, and I knew that it would have to be changed depending on the location that we got. Once we confirmed our location, my producing partner, Princeton Holt, sent me pictures. The real work came when I was able to be alone in the house for several hours the day before shooting. Thatís when I roughly blocked the action and modified the script to fit the location.
The physical filming was relatively comfortableómaybe too comfortable. We lived and slept in the same house we shot in. It was great for the actors because they were immersed in all these details that encompassed their charactersí lifestyle. It was great for production because everyone would arrive on set on time. Living on location gave us the freedom to film whenever we wantedóday or nightóand for however long, with respect to the cast and crew. Living on location was the best choice we could have made, and it just so happened to save us a ton of money, too.
What can you tell us about your directorial approach to your story at hand?
I see the story as a relationship unraveling. A vicious unraveling. I approached the material as a play, with one bit of action leading to another bit, and one choice leading to a power play leading to another choice and another power play, as much as possible playing out in real time. Again, I wanted the feel of Whoís Afraid of Virginia Woolf, where the scenes just go on and on with greater and greater intensity, and theyíre all linked by the same human motives that drive each character. This kind of storytelling worked for our micro-budget production because it allowed for long takes, which then allowed the actors to sink their teeth into these exchanges and arguments.
Visually, I wanted to represent the main characterís psychology and search for truth. Nate is someone who needs to know whatís going on. In the past, that has involved many conspiracies that heís studied, but as circumstances pin his needs against his wifeís needs, his marriage becomes the new target for investigation. As a part of that he becomes his own target, as he looks at his own motives and questions his beliefs. The deeper he goes into himself, the darker and lonelier and more lost he gets. And so thatís what happens visually, as we get lost with himówe lose him in shadows, we lose him in the frame, our focus is thrown from him. We play with all kinds of stuff!
Do talk about your cast, and why exactly these people?
We love our cast. I donít have to tell you why we chose these people because itís on the screen. They were perfect. We got super lucky with Jen Burry [Jen Burry interview - click here], who plays Paige, George Katt, who plays Nate, and comic actor Taylor Negron, who plays their neighbor, Griffin. It was mostly luck. We loved how expressive Jen could be, and we loved how subtle George can beówhat he can do with just his face. Taylor worked out by chance, and it wasnít until we rehearsed with him (the day before we shot his scenes) that we knew what gold he would bring to the part.
What can you tell us about the shoot as such, and the on-set atmosphere?
Our atmosphere on-set was mostly intimate and focused. Sometimes it was dizzying and other times it was incredibly laid back. The entire week flew by, though. My personal experience was very intense. I had to constantly be working on the puzzle that was figuring out how this film would work with so many logistical issues interfering. Location adjustments, script changes, and a tight, shifting schedule all moved in different directions, and I had to find a way to work with and/or around it all while holding onto the story and communicating with each departmentósound, picture, performance. I had to be my own assistant director, which was hugely challenging. Itís crazy, but I may have relaxed more during our takes than between setups or before and after our shooting day because of all the prep and script adjusting I had to do.
That being said, occasionally I would look in on the group during down time and be amazed at how incredibly comfortable everyone was. With the exception of George and myself, for the most part, because of our processes, the cast and crew gathered and socialized so well that the core became a family. It was beautiful. It was like hanging in a dorm room. So chill. Iíd pop in sometimes. George would pop in sometimes. But the rest would always be there, in the living room, chilling like Altmanís gang used to after a hard dayís work.
So I guess the atmosphere was eclectic depending on the time of day and personality type.
A few words about audience and critical reception of your movie so far?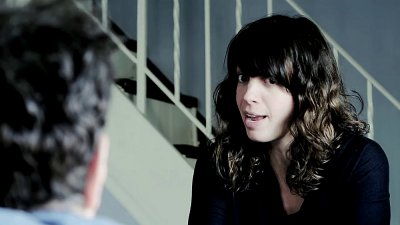 The reception has been a surprise. A great surprise. Weíve gotten a lot of support and recognition. We loved watching the film with an audience at the Chain NYC Film Festival back in August because they found so much unexpected humor in it. I think a lot of the film is funnyódarkly funnyóbut I didnít think others would be entertained in the same way. Well, theyíre not really entertained in the same way. I still laugh at parts that no one else seems to care about. And we witnessed people laughing multiple times at parts we were surprised by. Itís been a crazy reaction altogether. People seem to really get involved in our characters. Weíve had some great discussions with viewers about who they side with and why. Itís almost split 50/50, which says something to the strength of our conflict. Our greatest reception may have come from our Boston Sci-Fi Film Festival screening in February. So many people had great things to say and questions about how it all came together. We were so welcomed into the sci-fi community. We loved the experience.
Critically, weíve done extremely well, too. Weíve gotten the most praise for the performances in the film, Taylor Negron included. Of his huge list of credits (over 130 film and television appearances), Alienated has brought his only nomination and his only win. Sadly, this was Taylorís last film. He passed away last year of cancer. The other actors have been awarded, too. My direction was awarded; we got a few ďBest FeatureĒ awards and several technical accolades. Itís all been a surprise.
Any future projects you'd like to share?
Our company will go into production on a thriller I wrote called Spotless. Princeton Holt will direct and weíll bring Jen back as the lead. Itís about an expecting wife who is forced to confront her familyís criminal past. Itís a slow-boiler of a thriller. Weíre very excited, but we wonít get to this until after Alienated is released in March.
What got you into making movies in the first place, and did you receive any formal training on the subject?
It was the one-two combo of Back to the Future and Indiana Jones. These were my ultimate favorite films as a kid, especially the Back to the Future trilogy. I first wanted to be an actor because I thought the actors did all the cool stuffóthe stunts. I loved action/adventures, and of course you have to throw in some comedy. By the time I got into high school I became more aware of what the camera was doing, and I thought I might prefer creating an entire world, in addition to playing the hero. Quentin Tarantino definitely inspired me to become a filmmaker.
Right out of high school, I bought a cheap consumer camera from Boscovís and started making my first feature. (For some strange reason I hadnít even considered making a short.) It may have been the first feature script I had completed (after many, many uncompleted). I enlisted the talents of my friends, most of which happened to be involved in theater, and we shot bits and pieces randomly over a few weeks. I think the poor quality of the video discouraged me. There was no consideration for lighting and little for framing. There was no art direction. Blocking was forced. It was awful. It looked nothing like a movie I would see on VHS or TV. And it was damn hard to coordinate (produce).
A year or two later, Iíd pack up and move to NYC to study film at Brooklyn College. This is where I became a filmmaker, in part through classes instructed by really great teachers; but in larger part through experiences on set, by inviting myself onto any and every set in the area for two years and helping out any way I could.
What can you tell us about your filmwork prior to Alienated?
I made random shorts in and out of Brooklyn College. A short I did called Hostage Person might best reflect one direction I still hope to take my career. Itís a crime/dark comedy merging the styles of the Coen Brothers and early Tarantino. I also made a short documentary about The Vagina Monologue, the play by Eve Ensler. Seeing the play performed at Brooklyn College had a profound influence on me, as did the research that came with making the film. I basically became a feminist, which may account for why Iím interested in writing strong female roles.
Eventually I hooked up with Princeton Holt through the introduction of a mutual friend. He was slowly but surely moving his company, One Way or Another Productions forward. I jumped onto his team and helped make his first feature, Cookies & Cream, and then our collaboration continued with my first feature, Uptown. And then we made a third with our close colleague and producing partner at the time, Ryan Balas. That was called Carter. We had a great run that year. Two of the three films got picked up for distribution.
I think it was 2010 or 2011 when I officially moved into One Way or Another Productions as a partner. Iím now the head of our development department.
How would you describe yourself as a director?
Iím a collaborative director. I like to trust my team and see what they come up with based on simple guidelines for my vision. I like to leave room for other peopleís creativity. I come prepared with a clear sense of what needs to be done, but while weíre doing it I remain open to adjustments. So my process is a combination of structured creativity. Iím told Iím pretty laid back on set, but my mind is always whirling with ideas on how to solve whatever problem weíre facing or could possibly face.
Filmmakers who inspire you?
Filmmakers that donít do the same thing each time out; filmmakers that challenge themselves. Filmmakers that keep going no matter what. Filmmakers that do what they want regardless of what society tells them, or what the market tells them, or even what their better sense tells them. Filmmakers who finish and release their films.
Your favourite movies?
Besides the ones I mentioned, I really like many M. Night Shyamalan films. I like movies that make me cry because I donít cry easily. In America, When A Man Loves A Woman, Regarding Henry, Million Dollar Baby are some. John Hughes movies, like Uncle Buck and Plains, Trains and Automobiles; Christmas classics like Home Alone and Christmas Vacation; iconic action flicks of the 80ís like Die Hard and Lethal Weapon; gritty character pieces from the 70ís like Straw Dogs and Dog Day Afternoon. Then miscellaneous films that have incredible writing or editing or performances like Good Will Hunting, The Wolf of Wall Street, Scent of a Woman, and Magic in the Moonlight. Thereís a ton.
... and of course, films you really deplore?
I donít like lazy films that skip over logical issues. A filmmakerís job is to tell a story that makes sense within the world of the film. You canít ignore logic problems just to keep your story moving. You canít be a lazy screenwriter. Of course, films are made with a lot of compromise so story elements can easily get lost. You canít just blame a filmmaker for a bad movie. You have to look at the team, the executives or financial sources, too, and consider the whole process of sharing and manifesting ideas and working together.
I canít think of any specific films that I absolutely hate, and even if I did I wouldnít want to name them because the implication would be that the director didnít do his/her job, and thatís not fair to assume. But I can think of two films that I used to hate, only because my older sister used to make me watch them over and over again. Again, itís not the directorsí fault, but I used to hate Dirty Dancing and Grease. My sister would pop these VHSís in again and again and sing along and dance until it drove me crazy. I couldnít blame her, though. I got back at her by watching Home Alone a thousand times.
Your/your movie's website, Facebook, whatever else?

Feeling lucky ?
Want to
search
any of my partnershops yourself
for more, better results ?

The links below
will take you
just there!!!

Find Brian Ackley
at the amazons ...

amazon.com

amazon.co.uk

amazon.de
Looking for imports ?
Find Brian Ackley here ...
Something naughty ?
(Must be over 18 to go there !)

You can find information about our movie, a list of awards and reviews at www.alienatedmovie.net. Weíre on Facebook, as well, if you search ďAlienated movieĒ.
Anything else you're dying to mention and I have merely forgotten to ask?
I want to really thank you, Michael, for taking the time to help us promote and spread the word. Weíve been really fortunate to find people like you who love and respect independent filmmaking. Thanks for all your time and support.
Thanks for the interview!