Your new movie Blood Tulips - in a few words, what is it about, and what can you tell us about your character in it?
Blood Tulips is about a priceless painting created by a Dutch Master in 1600, which was stolen by the Nazis during World War Two from a Jewish family. The painting ends up with a relative who needs money and has an offer from a museum in Holland to purchase it. They want it personally delivered so he sends his niece Tess to Holland. She and the painting disappear and the family gets worried. They report her as a missing person and get Interpol involved. Her sister Starla is angry and thinks it's too slow and leaves for Holland to find her sister against their uncle's wishes. Many things happen and with the help of a friend she meets in a café it's found out that the painting was stolen from Tess when she was kidnapped, drugged, and sold into the sex trade in Amsterdam's red light district. Starla and her friends devise a plan to rescue Tess, which comes very close to all of them losing their lives. My character Starla is very close to her sister and they communicate telepathically. In searching for Tess she goes through many changes of character, including wearing a disguise, to adapt to the dangers of dealing with murderers, an art theft ring who will stop at nothing, and an sadistic brothel madam who enjoys afflicting pain on her victims. She goes from being a beautiful artist and writer to disguising herself as a prostitute to gain entrance to the brothel.
What did you draw upon to bring your character to life, and how much Bouvier can we actually find in Starla?
To bring my character to life I drew upon my own experiences of being concerned and worried about people in my life that I thought something had happened to or I felt were in danger. The Bouvier that can actually be found in Starla's character is empathy, flirting, love for those close to her, her wardrobe, and her methods of finding solutions to difficult situations.
How did the project fall together in the first place?
The project fell together in the first place because I always wanted to make a film in Holland with a good story and show some of the beautiful scenery the canals, windmills, countryside, tulip fields, bicycles, medieval streets and buildings, etc.
You also co-wrote the story for Blood Tulips - so what were your inspirations for writing it, and have you written Starla with yourself in mind from the get-go?
My inspirations for writing it was because my husband's family are Dutch and lived in Holland through World War Two, so the events in the film actually happened based on true events. There are rare paintings and priceless art stolen all the time. It's in the news very often and also is white slavery. We wanted to do a film in Holland to put these three elements together and wrote the story.
I had the part of Starla in mind from the beginning.
Do talk about Blood Tulips' approach to horror for a bit!
Blood Tulips approach to horror was that the characters in the theft ring are evil and frightening, their looks and actions are scary. Also the suspense builds and the music is eerie and creepy. The film builds to where you think something is going to happen and then what actually happens is not what you'd expect.
As you've also had your hands in the production of Blood Tulips - what were the challenges of bringing the movie to the screen from a producer's point of view?
The challenges of bringing the movie to the screen from a producers point of view was coordinating everything including getting the right actors, scheduling shoots with time frames that work for everyone, making travel and hotel arrangements to go to Holland, finding locations and wardrobe in Holland, and making travel arrangements within Holland to go from one location to another and filming right in the red light district and tulip fields. It took a lot of advance planning and preparation including getting some local crew, which was close to not working out.
With Blood Tulips having been filmed in Amsterdam, the Netherlands - how does shooting there compare to making a movie in the USA?
Working mostly in the Los Angeles area is that the weather is almost always predictable as far as temperature and rain. We did our best to choose a time in May that seemed most unlikely to rain and we lucked out because in Europe it can change quickly. We only had one day of light rain during filming near the windmills in the countryside and luckily it added to the mood of the scenes. The Dutch people were very friendly and cooperative. Everybody was kind and helpful. One man selling antiques in a flea market beside a canal in Delft was excited when asked to be in a scene where Starla is showing a picture of her sister making inquiries if anyone had seen her.
What can you tell us about Blood Tulips' directors Randy Kent and John Luksetich, and what was your collaboration like?
Randy Kent and John Luksetich are both experienced filmmakers and have done many films and commercials and many times worked together on the same projects. They are both knowledgeable in all phases of filmmaking everything from casting to postproduction. My collaboration with them worked very well. We would always discuss everything together including casting, locations, music, mood of the scenes, the suspense of the film, postproduction, etc. and come up with an answer or solution.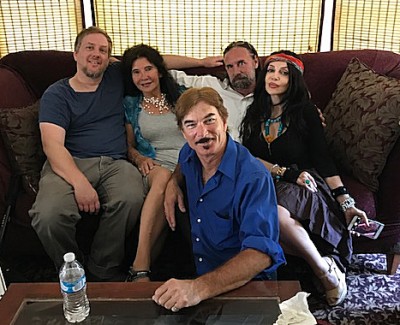 Randy Kent, Bouvier, Darrel Maury, John Luksetich, Anita Khalatbari
What can you tell us about the shoot as such, and the on-set atmosphere?
Sometimes it was difficult to find the right location to shoot in for instance the right time of day like in the Delft town square, which is usually very crowded with people, shops and outdoor cafes. For some scenes that is what we wanted to show and others we would go early when it was quieter. Sometimes it would just be setting up very quickly like a stand for a vendor selling marijuana plants. And shooting in the red light district had to be done rather undercover. Luckily it was very crowded with tourists so nobody noticed. In the beginning of the film during the World War Two, a Dutch friend let us use his house for the scene between the Dutch husband and wife. During the entire shoot everyone was cooperative and went out of their way to help. Dutch people who we didn't even know let us use their restaurant for the cafe scene and an exclusive fashion boutique let us use her shop for interior shots We actually arrived a few days before the shoot to location scout and look for wardrobe that would be worn in the 40's during wartime.
The $64-question of course, when and where can your movie be seen?
It was chosen as Official Entry for Horror-on-Sea Film Festival in Essex, England, and will be screened on January 19th. Tickets are available from the festival. Myself and Randy Kent and John Luksetich will be there in person to introduce the film and for questions and answers.
Any future projects you'd like to talk about?

Feeling lucky ?
Want to
search
any of my partnershops yourself
for more, better results ?

The links below
will take you
just there!!!


Future projects include a horror/comedy and a horror film about a swamp witch.
Your/your movie's website, Facebook, whatever else?
The movie's website is bloodtulips.com. It is also on Facebook under Bouvier and on my website www.bouvier1.com
Anything else you're dying to mention and I have merely forgotten to ask?
The most exciting experience during filming was being chased by Tulip, the murderer, through Delft along a canal, then past a huge ancient church and ducking into an archway to hide. I was also chased along a busy crowded sidewalk and ran around a corner. A woman I nearly ran into screamed thinking it was real.
Thanks for the interview!