Your new movie Spaghettiman - in a few words, what is it about, and what can you tell us about your character in it?
Spaghettiman is a superhero movie about a run of the mill slacker (Clark) who is suddenly endowed with powers that he doesn't really deserve. We get to follow Clark as he struggles with the consequences of inheriting exceptional ability, when he's a relatively unexceptional person.
Since you're also one of the writers of Spaghettiman, did you write your character with yourself in mind from the get-go?
Absolutely. Who doesn't want to star in their own superhero movie!? It wasn't a difficult choice to make, really - we wanted to make a feature film as a group (Heckbender), and believe it or not, THIS was the movie we determined would be the most realistic to actually produce on the extremely slim budget available to us.
So what were your inspirations when dreaming up Spaghettiman, and to what extent can you identify with the superhero genre the movie parodies?
I guess we never considered it a parody, really. We wanted to make a fun comedic film, for sure - but we were determined to take the subject as seriously as other movies, do while stretching our limited resources. There aren't any winks to the audience. You wouldn't believe some of the arguments that erupted over tiny details and jokes we wrote that just didn't fit the tone we were trying to set. We're all fans of the superhero genre - which is probably what made it so natural for us to write to, and replicate.
What can you tell us about your co-writers, and what was your collaboration like?
The writing core of Heckbender is Mark Potts (director, guy who chokes on sandwich), Winston Carter (Dale), Brand Rackley (Anthony Banner), and myself. We all certainly have our strengths and incredible weaknesses that compliment each other very well. Mark is like the den mom of Heckbender. Without Mark, absolutely nothing would ever get done. Winston, Brand and I will throw ideas around the table, and Mark will usually make the most sense of them. Those guys know so much about film, and all have such strong opinions - most of the themes were frankensteined from films we already know and love/hate. There are about a dozen terrible movies worth of jokes sitting on the writing room floor.
Do talk about Spaghettiman's brand of humour for a bit, and to what extent can you identify with it, personally?
Most of the characters we wrote into the film were written specifically for the people who played them. We had a laundry list of amazing, talented people we wanted to work with - so we wrote parts for each one, hoping they'd actually agree to participate. They each brought so much more to the characters than we could ever have expected - and a lot of that is a testament to their own comedic and theatrical background. There are quite a few jokes in Spaghettiman that are slow burners - a lot of set ups that aren't paid off until much later on in the movie. One joke is set up minutes into the movie, and it's nearly an hour until the payoff lands - and it's always incredibly satisfying to have people notice the effort put into those. There are certainly some [brilliant] jokes that fall about as flat as you can imagine, but that's consistent with our humor as well. Sometimes, we just aren't that funny. That's life!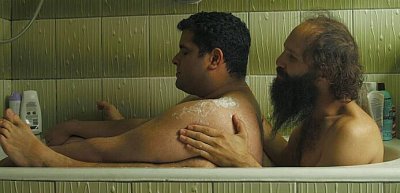 Back to your on-screen work on Spaghettiman - what did you actually draw upon to bring Spaghettiman to life, and how much Ben Crutcher can we find in your character?
An embarrassingly high percentage. Clark is certainly a CARICATURE, and could never exist in reality. But I'd be a liar if I told you a 'Clarkism' has never rolled off my lips. My personality has certainly influenced my work. We definitely took the worst parts of us and funneled that into a single character - and, of course, peppered in a tremendous amount of charm.
What can you tell us about your director Mark Potts, and what was your collaboration on set like?
Mark and I push each other pretty hard as collaborative partners - sometimes much much too far. I think the only person who expects more from Mark than I do is himself. We should really apologize to each other more. Mark is a great director - knows exactly what he wants in nearly every scene, and really does his best to prepare a set so we can move through things as quickly as possible. With such a tiny crew and limited time frame - everyone appreciates the work he puts into knowing the scenes front to back, setting up his shot lists, understanding what is required of a particular setup, etc. He encourages performers to do what they feel is best for their character - and if he gets what he needs - he'll move on immediately. Mark Potts is incredibly supportive and will most certainly help make your dreams come true.
You wear a paperbag over your head roughtly half of the movie - now how annoying was that, actually?
It was actually kind of fun. During dialogue, I had to sort of 'puppet' the mask about to help bring a little life to the character, or else you'd be staring at a paper sack for 85 minutes. There were so many times where I could see absolutely nothing out of it, so there was so much of the film I missed while on set, that I didn't see until it was completed. We shot an incredibly dangerous roof scene early on where the mask just wouldn't cooperate, and kept blowing off in the wind. All of the action scenes presented their own particular issues, as one could imagine. I know it changed the way I look at actors in prosthetics - it took me ten seconds to get set ready, I highly recommend it.
A few words about the shoot as such, and the on-set atmosphere?
Everyone stayed busy. We tried our best to make sure our supporting cast was well fed, hydrated, and their time was being respected. Such a small crew - we had to troubleshoot quite a bit, and we were all responsible for continuity. Producer Reilly Smith was often seen wielding a boom pole. Overall - we all get along very well, and we have a great balance to help diffuse any tense moments.
The $64-question of course, when and where will Spaghettiman be released onto the general public?
Our theatrical release is September 24 for a one night only screening her in Los Angeles at the Los Feliz 3 - and will be available on digital platforms on that date as well. It will not cost $64, but you are welcome to pay that if you feel so inclined!
Anything you can tell us about audience and critical reception of Spaghettiman yet?
Kids and college students LOVE IT, but it seems to strike a note in a variety of different people. It has gotten some incredibly positive reviews, and we have had a great time screening it. To hear what strangers, who are not obligated to laugh at our movie, find funny about it is really an amazing experience. We are very happy with the reaction it is getting from the people we are getting feedback from.
Any future projects you'd like to share?
We're always looking forward to future projects. There are a ton of ideas we have that we're interested in developing for all different platforms, and once Spaghettiman is released and has moved past it's adolescence, we'll be better positioned to concentrate on new ideas. We have some shorts we're planning on putting out on heckbender.com in the future that have been collecting dust while we've been concentrating on this release.
What got you into acting in the first place, and did you receive any formal training on the subject?
I love making believe. I've been a real ham my entire life - mostly as a defense mechanism for being shy. If you can PRETEND to have confidence, then you have confidence. I've studied at various improv theaters around LA the past few years, but before this film, I wouldn't have even considered myself an actor. This role changed my mind. I'm a great actor!
What can you tell us about your filmwork prior to Spaghettiman?
This is number one. And I couldn't be more proud. Mark and Brand have made a few feature films prior to this one (Cinema Six came out in 2012), so their experience was crucial in this entire process, and was key in having so much success so far with Spaghettiman.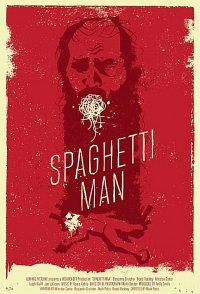 Feeling lucky ?
Want to
search
any of my partnershops yourself
for more, better results ?

The links below
will take you
just there!!!

Find Ben Crutcher
at the amazons ...

amazon.com

amazon.co.uk

amazon.de
Looking for imports ?
Find Ben Crutcher here ...
Something naughty ?
(Must be over 18 to go there !)

How would you describe yourself as a actor, and some of your techniques to bring your characters to life?
I ask myself, WWSMD - what would Spaghettiman do? And then I do that! I often overthink 'how' a character would do something - and I try and just do things like I would do things. Once I put too much thought into itm, it feels unnatural, and I have to deconstruct it. There is a real craft to acting, and I have incredible respect for it - I just hope I keep getting cast as guys like me, because it's much easier that way.
Actors (and indeed actresses) who inspire you?
I like Sam Rockwell - that guy is great.
Your favourite movies?
I like Spaceballs - which IS a parody, but I like it anyway.
... and of course, films you really deplore?
I usually hate movies I haven't seen yet. I'm one of those guys.
Your/your movie's website, Facebook, whatever else?
spaghettimanfilm.com - and you can find Heckbender on Facebook at facebook.com/heckbender.
Anything else you're dying to mention and I have merely forgotten to ask?
I'm a cat person.
Thanks for the interview!