Your new movie Exposure - in a few words, what is it about?
A couple moves to the mountains into an isolated cabin to repair their relationship. Their arrival awakens an ancient evil in the woods that turns people into monsters.
With Exposure being a creature feature of sorts, is this a genre at all dear to you, and some of your genre favourites?
Absolutely, I love creature features and practical effects. During my younger years I was all about Godzilla. When I got into my teens, I fell in love with 70's and 80's horror for the same reasons I like kaiju movies: the implementation of low budget practical effects. I love tangible, tactile creations. I really like The Thing. Don Dohler's Nightbeast is really cool, on the lower budget end of the spectrum.
(Other) sources of inspiration when writing Exposure - and what can you tell us about your co-writer Jake Jackson?
Jake has a background in special effects. So once our production team decided on doing a horror film for our debut project, we knew we wanted to get him involved. And we wanted him involved at the ground level. We didn't want to write an effect we couldn't pull off or something like that. So he was brought into the fold to keep tabs on our imaginations, and his involvement grew from there. He co-produced the film as well.
Do talk about your movie's approach to horror for a bit!
The real horror in this story comes from the implied history of abuse. The monster stuff is more of a romp once it kicks in. There are bright colors, slime, and cheeky special effects. The stuff that's actually chilling comes out of seeing someone transform and embrace their inner monster. You're also dealing with two characters who have a very intimate relationship in a very isolated area. It's a claustrophobic little movie.
You of course also have to talk about Exposure's creature as such, and to what extent were you involved in its creation?
That is Jake's baby. We had discussions in the early developmental stages where I might have had some minimal input, but we really left that up to him. All that was explicitly stated was that he'd be transforming into a Cronenbergian mixture of flesh and wood. It's very beautifully sculpted if you see it up close. We hid it in shadows a lot which is effective in the movie, but it's also kind of a shame because it's so impressive to see in bright light. It holds up. You don't need to hide much. A good amount of the cast and crew put in some late night hours at Jake's shop to help build the suit, too. So there's a little love from everyone in there.
I think your remote locations are very central to the overall feel of Exposure - so what was it like filming there, and how did you even find them?
The cabin was a vacation home in a private community for rent on AirBnB, of all places. We got an insurance policy to cover the home and were very upfront with the owners about our intentions. Thankfully they were receptive to the idea, so that was awesome. The roads getting there were sometimes a little dicey, and we were in pretty high elevation. So everyone was getting winded just walking up the short flight of stairs in the cabin. At night it would get extremely cold. I've never been as cold as I was filming the climax of the film. And I was wearing a large coat. Poor Carmen Anello soldiered through that scene in a tank top with blood and slime on her hands.
What can you tell us about your overall directorial approach to your story at hand?
I knew I wanted to shoot the front half of the film like a romantic drama and then transition the color palette to cold, hyper saturated colors by the end. Since the film takes place entirely in one location, I tried to employ as many creative uses of angles and color to enhance the dramatic arc as possible. It was always on my mind that I didn't want the audience to get sick of looking at the same 3 angles in this tiny cabin. Also I like to just let actors do their thing. I trust them to do their job, and I tend to lean into the photography more. Lights and camera are where I feel most at home.
Do talk about your cast, and why exactly these people?
I met Carmen Anello through mutual friends in the community theater back in my home town. She's very talented and a fan of these kind of movies, so it was a perfect fit. She always made giving a quality performance seem so effortless. Owen Lawless was introduced to me through Jake, since they worked together on a slasher movie called Hell Town. He is also really talented and a very hard working guy. He went through hell in that creature suit for us and never once complained. He's a tough guy. And Lynn Lowry is a living angel, that's just a well known fact. We thought there was something poetic about having Lynn in this film which clearly draws so much inspiration from movies like Shivers. It was a sincere pleasure to work with her and subsequently hang out together at horror conventions showing the movie.
A few words about the shoot as such, and the on-set atmosphere?
It was two weeks in the mountains. Jake, Owen, and Carmen lived in the cabin. I lived in a motel 25 minutes from the cabin in Leadville, Colorado with producer/editor Clayton Ashley and our sound recordist Stephen Ferrell. We'd film all day, offload footage at the hotel in the night, go to bed late, wake up early, repeat. What I remember most is everyone working with feverish passion and commitment. Nobody was half-assing it. We had a tiny crew and very little money, so everyone was putting their all into it. We did nothing but eat, sleep, drink, and breathe the movie.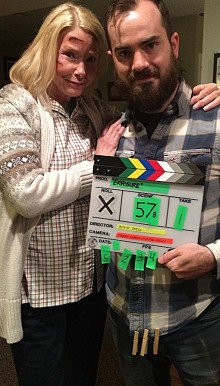 Austin with Lynn Lowry
Anything you can tell us about audience and critical reception of Exposure?
When you make a niche movie like this, something that is rooted in nostalgia for a certain type of movie from a certain era, you're not going to connect with everyone. I knew that going in. But for the people who get what we were trying to do, the reception has been awesome. Like if you grew up on renting VHS tapes from the "cult" section at the video store, this movie is for you. We wanted to make a movie that felt legitimately from the 80's. So there are effects in the movie that might look dated. But that was the visual language of those movies at the time. Yes, there are probably a couple shots that could have been done digitally and maybe look more "convincing" by modern standards. But that would go against the spirit of the film. The movie is definitely finding its audience, though. It's a very cool thing to experience.
Any future projects you'd like to share?
I'm writing my second feature and I'm continuing the trend of making retro, 80s inspired horror. I want my filmography to feel like it comes from the same cohesive place while exploring different eddies of the genre. I've done a cabin in the woods movie with a rubber monster in it. Next I want to do a slasher movie.
What got you into filmmaking in the first place, and did you receive any formal training on the subject?
I was making movies as far back as I can remember. I started by filming action figures, and eventually began enlisting my friends as actors. I never went to film school, but I did work as a production assistant on lots of commercial video shoots. That was where I got my formal education, if you will.
What can you tell us about your filmwork prior to Exposure?
Music videos, commercial shoots, my own micro-budget films... I've never not been making something.
How would you describe yourself as a director?
Thats a hard one. I'm probably not the person to ask. I like to think I'm concise. I love a good static shot.
Filmmakers who inspire you?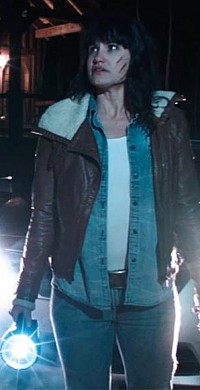 Feeling lucky ?
Want to
search
any of my partnershops yourself
for more, better results ?

The links below
will take you
just there!!!


The filmmakers who really inspire me are the ones who do a lot with very little money. Obviously someone like Paul Thomas Anderson or Lynne Ramsay is a genius and you can count on them to routinely put out genius material. But the raw, scrappy talent of Sam Raimi in his youth while making Evil Dead with a skeleton crew in the middle of the woods is something really special. I'm also very inspired by JR Bookwalter's story of making The Dead Next Door. Mark Borchardt inspires me. As does Troma and Lloyd Kaufman. Takashi Miike comes to mind too. His output is mind blowing.
Your favourite movies?
My tastes are all over the place. Some of my all-time random favorites are Sorcerer, Ms 45, Ratcatcher, Dead Ringers, Dawn of the Dead, The Thing, The Beyond, Race with the Devil, Down By Law, Rolling Thunder, Henry: Portrait of a Serial Killer... there's a really cool James Woods movie called Cop that I love. It's total trash but the absolute best kind. I believe it's based on a James Ellroy book called Blood on the Moon. I love this Troma movie called Luther the Geek too. It's about a circus geek with metal teeth who goes on a killing spree. How's that for an eclectic list?
... and of course, films you really deplore?
Last movie I saw that I really didn't like was Justice League. But my mom always said if you can't say anything nice...
Your/your movie's website, Facebook, whatever else?
sunrunnerfilms.com and facebook.com/exposurethefilm
Anything else you're dying to mention and I have merely forgotten to ask?
Exposure is now available on VHS from Trash Nite Home Video! You can buy a copy through the store on sunrunnerfilms.com
Thanks for the interview!