Your new movie The Search for Weng Weng - in a few words, what is it about?
In a few words: about a tiny Filipino superstar who never grew up, and a video shop clerk who spent much of his life trying to track him down - and that obsession became a documentary feature that seemed like it would never see the light of day.
What do you find so fascinating about Weng Weng that you decided to make a documentary about him?
I still haven't quite worked that out. Initially it was the sheer bizarro experience of watching him on screen, performing his own stunts and quacking through his absurdist dialogue, but there was something about Weng Weng... a real innocence, goofiness... that made me connect with him on a deeper level and by the time he had invaded my dreams, I was hooked.
Also, the mystery managed to snare me, the questions that couldn't be answered without actually going to the Philippines to ask them in person, what was his real name? Was he still alive? I mean, BASIC questions which even the internet couldn't answer
So: Weng himself, and uncovering his enigmatic story was what kept me going for as long as I did
Bearing that in mind, how did the project get off the ground, actually?
It came out of a session I programmed at the Brisbane International Film Festival in 2006, a cut-up of Filipino B films including For Y'ur Height Only. The head of a Manila Film Festival went nuts over it, and invited me to screen the cut-up in the Philippines, so in November 2006 I turned up in Manila with a camera in hand and figured it was the perfect time to start recording my quest for Weng Weng.
The furthest I got was Weng's editor, and that encounter is in the film, in which you can hear me losing my shit as he reveals his identity! It would take another visit early the following year before I could track down Weng's director Eddie Nicart, and his only surviving brother Celing - THAT was the start of the real adventure, piecing together the heartbreaking portrait of the real Ernesto dela Cruz.
For those uninitiated, could you talk about the officially known facts about Weng Weng and his career for a bit? And how big a name was he really in Filipino action cinema?
To be honest he's more of a footnote, though at the height of his fame - around '81-82 - he was a bona fide action star. He was "adopted" by his producers Peter and Cora Caballes in the mid 70s, and they slowly introduced him via a series of Tagalog language action comedies as first a sidelick to more popular stars, and then as a leading man in his James Bond spoofs.
After making a huge splash internationally with his iconic role in For Y'ur Height Only, his subsequent films failed to make as much of a return on the Caballes' investment, and Weng Weng was sent home to his neighbourhood in Baclaran, where his health steadily declined, and he eventually passed away forgotten and penniless. Those are the broad details, but the film also delves into his relationship with Ferdinand and Imelda Marcos, and answers the questions - was he really a secret agent? Was he regarded as a living saint?
It actually took the entire seven years of shooting to piece his extraordinary life story together as much of the information needed has vanished forever through death, typhoons, a revolution in 1986, and the faltering memories of all concerned.
Any unknown facts about Weng Weng you'd like to reveal here?
I can tell you this, as it's fresh from my Manila trip last week, so was too late to put into the finished film: I found one of his neighbours in Baclaran who claimed Weng Weng HEALED HIM! The guy told me he broke his arm when he was around 7 years old. Weng Weng prayed over a pot of oil, rubbed it on his arm, and within days his arm had completely healed. This is proof that people in Baclaran actually believed he was a living Santo Nino, a kind of Christ Child figure which features prominently in Filipino Catholic iconography.
SO there you go...there IS something about Weng Weng!
So what can you tell us about your actual research, about the people you interviewed for the film, the places you visited and the like? And any good anecdotes you brought back?
I think all up I interviewed over a hundred voices for the project, not all were Weng Weng-related... I was in fact researching a much broader history of genre filmmaking in the Philippines. Eddie Nicart, I managed to interview twice on camera, and spent much more time watching his old films and scanning his photo albums and scrap books. He's one of the most celebrated stuntment ever in the Philippines, and his filmography stretches all the way back to the early Sixties, so in addition to directing most of Weng Weng's films, he's a walking brainstrust of Filipino action cinema.
I keep telling Eddie he's my hero, and it's true!
Weng's brother Celing, on the other hand, is a modest jeepney driver whose only connection to cinema is via his famous sibling. I also interviewed him and his wife twice for the film, and they've since kind of adopted me (I'm also Godfather to Weng's great-nephew Lance dela Cruz!) and they constantly tell me how happy they are that Weng Weng's tale can finally be told to the world. So I help them out whenever I can. But then there are scores of other voices in the film like Bobby A. Suarez, director of the Cleopatra Wong series, whose family also adopted me, and Celso Ad. Castillo, celebrated erotic director - both those guys have sadly passed away.
The strangest presence in the film, thouh, would have to be former First Lady Imelda Marcos. The footage of us driving around Ilocos Norte in her bulletproof limousine bus must SURELY be the strangest of the entire film!
Again for the uninitiated, you have to talk about the Filipino film industry as such for a bit, and what are Filipino action movies usually like?
For most of the Sixties to Eighties it was the second or third largest film producing nations in the world peaking at over 320 films in 1971. During that time many of those films were from the pulpier of genres - action, horror, fantasy, superheroes, war, westerns, and even adult, or "bomba" films. Ideas would be liberally borrowed from the States, Europe, even Hong Kong and Japan, and you could also hear stolen music and character names, barely-reworked titles. Karate films, then kung fu flicks, appeared in the Philippines before they made any substantial impact on the West, due to the Philippines' position near Japan and Hong Kong, and before you knew it, the Philippines' Bruce Lees popped up alongside the Filipino James Bonds, like Tony Ferrer as Agent X-44.

Weng Weng's films spring from both of these copycat genres and yet manage to retain something uniquely Filipino about them. I think that's what I find the most fascinating about the Philippines' pulp films - they emerge from a mincing machine, mashing up foreign and local ideas into a completely unique pink paste.
Really, no other country could have produced Weng Weng and the more I watch of those Pinoy B films, the more I'm convinced that they really are out there by themselves!
Must-see Weng Weng movies?
Definitely the three English language ones, For Y'ur Height Only being the greatest single film in the history of cinema (...), followed byy its worthy sequel The Impossible Kid, and the weirder spy-western D'Wild Wild Weng. I also dig his Dolphy films like Da Best In Da West... but the film he made with Hagibis, the Filipino Village People, called Legs Katawan Babae (Legs Body Birl) has to be seen to be believed!!!
Your movie has already had quite a few screenings. So what can you tell us about the film's run so far, and critical and audience reception? And any idea when and where it might be released onto the general public yet?
Audiences mostly find themselves connecting with Weng Weng's story on a very deep, profound level, which is exactly what I originally hoped for.I wanted the film to be seen as smart, funny and ultimately heartbreaking. And that's exactly the feedback we've been getting... not from everyone, and that's understandable. I mean, not everyone's going to see Weng Weng the same way I do. I suspect you need a special kind of eyes for that. In the Philippines, however, they connect with the bigger-picture material as well - Weng Weng's connections with history, culture, even religion. I don't need to tell you, they lose their MINDS over the Imelda Marcos footage! For them it's like peeking behind the curtain at the Palace - Imelda is still the closest to royalty the Philippines has ever experienced
We still have another six months of festival appearances, meanwhile I'm preparing the volumes of DVD extras for Monster's Aussie DVD release around Christmas. As for releases in other countries, that's still in the lap of the Kung Fu Gods right now.
You are also associate producer on Machete Maidens Unleashed!, another documentary about Filipino genre-filmmaking. So please do talk about that movie and your involvement for a bit?
I sold the Weng Weng project to another Brisbane producer, Veronica Fury of Fury Productions, in 2008. When we offered the film to ABC TV here in Australia, they insisted on a broader history of Filipino B films, and requested that Mark Hartley come on board. He agreed, but only if I took a back seat, and he set about making Machete Maidens Unleashed! as a love letter to Roger Corman [Roger Corman bio - click here]. It then took me several years to extract the Weng Weng part from the project. Early 2013, I was ready to launch a Kickstarter campaign to finish The Search for Weng Weng; by June I'd shot the final footage, and we premiered the film in Manila (with our wizard editor Jim Scott and his partner in attendance!) November 29. So it's been a long road for the film since its inception to completion, and Machete Maidens Unleashed! certainly complicated the process.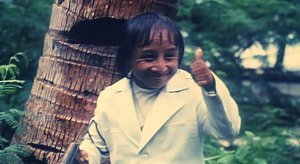 Will you ever return to Filipino genre cinema for another documentary? And any (other) future projects you'd like to share?
I suspect that, for me, all roads are leading me back to Manila. Daniel and I have a TV series percolating right now called Film Safari, about weird films in strange places... plus a second documentary feature about sex cinema in the Philippines during the Marcos years. Now THAT is a strange tale, even weirder than The Search for Weng Weng, if that's possible.
What got you into filmmaking to begin with, and did you receive any formal training on the subject?
Just film theory in university. Any film training came from hands-on experience working under very underground conditions.The No-Budget Guerrilla School Of Filmmaking - something the Philippines can be related to very well! Plus fifteen years behind the counter of Trash Video - if it worked for Tarantino...?
Your debut feature was, I believe, Lesbo-A-Go-Go, a tribute to Doris Wishman. Now you just have to talk about that movie for a bit!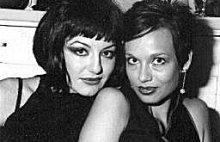 Lesbo-A-Go-Go
There's not much to tell. It took a year, $700, cost me several friendships and a nervous breakdown, just to make a faux-Sixties roughie. But Doris would have dug it...it's got all her hallmarks, pointless cutaways, chintzy music, suggestions of sex and violence without actual tits and blood... plus the innocent main character "Sugar Hill" ends up on a downward spiral of drugs, delirium and damnation!
Any other films of yours you'd like to talk about?
Not really, I get bored talking about the old stuff.
Having made both narrative movies and documentaries, how do the two compare, and which do you actually prefer?
Documentary is much more freely expressive and chaotic, more like jazz to narrative's more predictable rock. But it's anxiety-inducing, and you never really know until the final editing stage if you have a story there, and narrative is fun, in a sadistic kind of way! Ultimately I'd love to flip between the two. Dani and I have some action and horror scripts to tweak and pitch in the next few months - all to be shot in the Philippines of course. Australia's kinda dead to me right now. And like I said, all roads are leading to Manila... they're paved with opportunities and willing participants, and we know where all the good bars are.
In your filmwork, you never seem to stray far from vintage style trash movies - want to elaborate on that?
It's an aesthetic I'm comfortable with: vintage pulp. Mumblecore, live anime, dogma, CGI - I have no interest in any of these things. I really have become a grumpy old curmudgeon! On closer introspection, I seem to be stuck in a Seventies loop while yearning for the Sixties, a decade I was conceived in but never experienced. The Eighties, I never connected with. For me, culture peaked between '66 and '79. Everything since is somewhat second-rate. For Y'ur Height Only (1981) still qualifies, as Manila has always been trapped in a kind of Disco Twilight...
How would you describe yourself as a director?
A humour-loving sadist with quite specific prelidictions! And somewhat self-absorbed. Not that it's a bad thing. But yes, very into my own schtick.
Filmmakers who inspire you for whatever reason?
Weng's director Eddie Nicart, for starters. Like Doris Wishman, he was a real naive director who made up the rules as he went along. I can really connect with that! Paul Thomas Anderson. If I ever aspired to make big-budget overground films, he would be my idol. Oh man, there are dozens... Robert Downey sr, Coffin Joe, Giulio Questi, director of Death Laid An Egg, Ron Ormond, definitely Luis Bunuel, and early John Waters,Jodorowsky, we could be here forever!!! Errol Morris is an obvious choice too for documentary makers, oh, and Melville. Sorry, like I said, I could do this all night ... Sergio Leone and Mel Brooks - ok, I'll stop.
Your favourite movies?

Feeling lucky ?
Want to
search
any of my partnershops yourself
for more, better results ?

The links below
will take you
just there!!!

Find Andrew Leavold
at the amazons ...

amazon.com

amazon.co.uk

amazon.de
Looking for imports ?
Find Andrew Leavold here ...
Something naughty ?
(Must be over 18 to go there !)

Blazing Saddles, For Y'ur Height Only, and The Good The Bad And The Ugly. I could happpily watch only those 3 films for the rest of my life.
... and of course, films you really deplore?
That's easy: The Sweetest Thing with Cameron Diaz - it represents everything that's foul with the 21st century - closely followed by Duets, with Huey Lewis and Gwynneth Paltrow.
Your/your movies website, Facebook, whatever else?
https://www.facebook.com/TheSearchForWengWeng?fref=ts
Anything else you're dying to mention and I have merely forgotten to ask?
Not really, I think we've covered everything. Unless you think of anything... just drop me a line!
Thanks for the interview!