Your new movie Deany Bean is Dead - in a few words, what is it about?
Deany Bean is Dead is about a woman who tries to win back her ex-boyfriend at his engagement party without revealing that her freshly-strangled boss is in the trunk of her car outside. Comedy, of course!
As outrageous as Deany Bean is Dead might be as a whole, is any of it based on personal experience?
Yes! Though I should clarify that I have never stalked or physically harmed anyone (never thought I'd have to say that, but there ya go). The experience Deany is based on is more in terms of the emotional content: Deany feels hurt, abandoned, rejected and vulnerable, and all her actions come from those feelings, which I have definitely felt! I think most people have at some point. And, like Deany, I have certainly felt rejected by a love interest. Isn't that just part of being human?
(Other) sources of inspiration when writing Deany Bean is Dead?
Before I wrote the script I went through a pretty rigorous Hitchcock phase. Movies like Rope, Dial M for Murder and Rear Window were fresh in my mind when I was working on Deany Bean is Dead. I think it's pretty clear to see how those influences shine through!
Do talk about Deany Bean is Dead's brand of humour for a bit!
Mistaken identities, missed messages, happy accidents - those are some of my favorite kinds of humor, and they run rampant in this movie. I guess I'd say that it's classic humor (just look at any Shakespeare comedy and you'll see many of the same tricks), but in this movie, it can also feel subtle. One of my favorite lines is when Christopher Glenn Cannon, as Tom, tells Deany, "I don't want you to waste your life with him." Deany responds, completely seriously, "Who should I waste my life with?" That kind of dry humor is my favorite.
What can you tell us about bringing Deany Bean is Dead to the screen from a producer's point of view?
We dealt with some major limitations on this production, as most indie projects do, and like most indie producers, we knew that when there's a will, there's a way! I would say that overall, the production was incredibly nimble as we found creative solutions to all our limiting factors. We found ways to tell the story using the resources we had: locations we knew we could use, actors who were flexible, and crew who were eager to jump in despite our small-scale production.
You also play the lead in Deany Bean is Dead - so what did you draw upon to bring her to life, and have you written Deany with yourself in mind from the get-go?
From the beginning I knew I was going to play Deany. Sometimes that actually makes writing the character a bit more challenging — when you see yourself playing the role in your mind's eye, you have to focus a little more on defining character quirks and traits. I think it's because we can never truly have an outside perspective of ourselves, but through rounds of feedback and edits Deany the character was able to take shape.
Once I stepped into the role as an actress, Deany really came to life. I drew upon my own experiences of heartache, longing, and rejection to find a character who is driven to extreme action from the intensity of those emotions.
What can you tell us about the rest of Deany Bean is Dead's cast, and why exactly these people?
I am so proud of this cast. Australian actress Wendy Wilkins plays Maxine, a role she booked off a really fabulous self-taped audition. Christopher Glenn Cannon (Tom) is someone I had worked with previously; he and I were in a stage production of August: Osage County together in Orange County, CA, and I wrote the part of Tom with him in mind. Chris is great because you always sense there's something more happening beneath the surface that you can't quite get a handle of; I think that's why his portrayal of Tom is so fantastic. It takes a little bit to realize that he's got some bad intentions beneath the polish of Tom!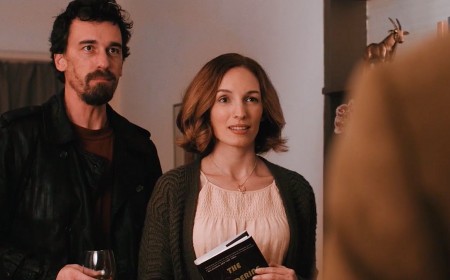 Allison with Colin Taylor Martin
Colin Taylor Martin is another actor I've worked with extensively. I really admire Colin's powers of observation and the sensitivity he brings to every performance; I wrote the role of Myron specifically for him. I should mention that the first time I ever met Colin he was playing Hamlet on stage with the California Shakespeare Company, and I fell in love with him instantly. We got married earlier this year.
Sarah Siadat as Angela, Paul Tigue as Dr. Harris, Melanie Leanne Miller as Tara, Paulina Lule (Bugembe) as Issy, Jay Wallace as the voice of Jermaine Liveswell and Kaitlin Huwe as Daisy (the meditation teacher) are all fantastic. I had a great time working with these people and I hope to do so again soon!
Do talk about Deany Bean is Dead's director Mikael Kreuzriegler, and what was your collaboration like?
Mikael is incredibly collaborative, which makes him wonderful to work with as a writer and an actress. He and I made a handful of short films together before we took the plunge and worked on Deany Bean is Dead. Though I wrote the script, he and I developed and refined the script together, and it went through many edits, revisions, table reads and even some last minute on-set changes suggested by actors.
Mikael is really tuned in to what actors need in order to succeed. Similarly, he knows how to shape a protagonist so that she's likable — even if she's doing things that most people wouldn't put in the "being a good person" category!
How much of a say did you receive or demand on the creative side of things during the actual shoot of the movie?
I had a lot of input through the project, but once we were on set, Mikael was in charge of the creative direction. He often would pause and ask me for clarification from the writer's perspective, and if there was confusion, we would talk through it together. Like I said, Mikael is incredibly collaborative, and there was never a need to "demand" creative input. He always invited me into the conversation.
So what can you tell us about the shoot as such, and the on-set atmosphere?
Oh, it was so much fun! Some film sets are fraught with tension: Directors feeling under the gun, actors feeling like they don't know what's happening, producers wondering if they're going to make their days. Fortunately, those things were rare on the set of Deany Bean is Dead. From my perspective, 95% of the shoot was pure fun and problem-solving. There were some moments where we realized we'd run out of time and needed to regroup, but in all, I was very impressed with the collaborative spirit each person brought to the project.
The $64-question of course, where can Deany Bean is Dead be seen?
Deany Bean is Dead will be available on VOD platforms starting July 10th.
Anything you can tell us about audience and critical reception of Deany Bean is Dead?
I'm pleased to say that, overall, the reception has been very good. Some reviewers point out that there is a "rough around the edges" feel to Deany Bean is Dead, but I think that's to be expected in the world of ultra-low budget film. However, the most important things to me and Mikael are story and character — and I would say that, for the most part, those two components have been celebrated, which is great!
Any future projects you'd like to share?
A short film I wrote and directed, What Katy Did, is about to premiere at The Valley Film Festival in North Hollywood this August (pending COVID restrictions, of course). That film stars Elyse Mirto in the lead role and Deany Bean is Dead's own Paul Tigue in a supporting role.
What got you into the filmworld to begin with, and did you receive any formal training on the subject?
I studied acting and playwriting at the National Theater Institute in Connecticut when I was in college, and moved to Los Angeles to pursue a career shortly thereafter. I'd say I knew from the age of 17 that I wanted to be an actress. It's just taken me a little while to figure out exactly what that would look like.
When it comes to filmmaking, you seem to fill positions in front of and behind the camera with equal ease - so what aspects of filmmaking do you enjoy the most, which could you do without?
Writing is my favorite. Before anything else, I'm a writer. Acting is second. I've recently begun to dabble in the realm of directing, which I find very exciting — being able to take charge of bringing your specific vision to life is really gratifying, and I look forward to more opportunities in that arena.
What can you tell us about your filmwork prior to Deany Bean is Dead, in whatever position?
I started writing and producing my own films pretty early on in my career, after I realized that auditioning for anything and everything wasn't going to get me where I wanted to go very quickly.
Writers, actors, filmmakers, whoever else who inspire you?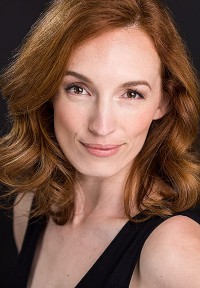 Feeling lucky ?
Want to
search
any of my partnershops yourself
for more, better results ?

The links below
will take you
just there!!!


I was really inspired this year by the new Amazon Original The Great starring Elle Fanning. And doubly impressed that she served as executive producer! Talk about a woman taking charge.
Your favourite movies?
I love romantic comedies. Lately I've really enjoyed Table 19 and Juliet, Naked.
... and of course, films you really deplore?
I have trouble sitting through action movies. Too many fight sequences where I can't really tell what's happening, or I haven't been given a chance to get emotionally invested in the characters and I lose interest.
Your/your movie's website, social media, whatever else?
Instagram: @DeanyBeanisDead
Anything else you're dying to mention and I have merely forgotten to ask?
Please support indie film and use our time in lockdown to watch new things you might not have considered watching before! (Oh - and enjoy it!)
Thanks for the interview!
Thank you very much!