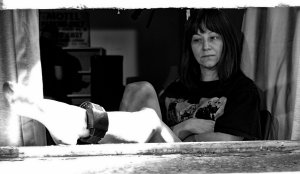 Jennifer Scott
Your upcoming film The Other Side of the Door - in a few words, what is it about?
Ira - Itís a film about a woman coming to grips with the mess her life has become, how she got there and how she tries to turn things around for herself and her daughter.
How did the project get off the ground? And considering this isn't just your run-of-the-mill drama, how easy/difficult was it to get funding and find the right cast and crew for the movie?
Alex - The film was not hard to get up and running. Ira and I had been talking for years about getting a package of films together so we can find distribution. The cast was not difficult at all. Jennifer Scott [Jennifer Scott interview - click here] and I had talked when we met at the screening of my first film The Mustard Stain. She liked it so much we kept in contact all these years, so that if the opportunity ever came up we can work in something together. When I read the script I immediately thought of Jennifer for the role. She has that I can play many characters-look. And this was one of them. Most of the crew has been with colleagues that I have worked with in previous projects and a collaboration of friends and family. We have all had a great time working together. I don't see myself working with another crew. They can understand our ideas and get the job done fast and professional. We're so lucky to have a crew that is very enthusiastic about working on films.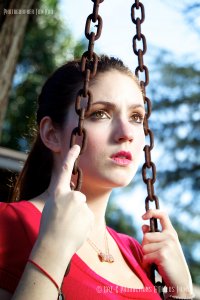 Lizzie Leeds
Ira, what were your inspirations when writing The Other Side of the Door, is any of it based on personal experience, and how much research went into it?
Ira - I worked as a mental health counselor for over twenty years and it is based on client and case studies from that time.
The Other Side of the Door features a few quite uneasy, violent scenes. So how do you approach these scenes, and is there a line for you refuse to cross?
Ira - I treat them like any other action/stunt scene and choreograph every movement, the line is the safety of my cast, I will never put my cast in a dangerous situation.
What can you tell us about your directorial approach, the look and feel of your film?
Ira - Collaborative - I let my actors play a scene the way it feels best to them as long as it keeps the feel of the scene.
What was the collaboration between the two of you like, actually, and how did you two hook up in the first place? And what can you tell us about your previous collaboration Awol?
Ira - Alex and I have worked together in postproduction for years, so the collaboration is like a family thing, we trust each other and there are no egos involved. There are three of us producing The Other Side of the Door and I donít want Sam to be left out of all this and what really makes this teamwork is the trust we have in each other. Awol was our first film project together as a producing team and it went off without a hitch.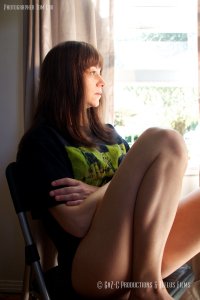 Jennifer Scott
For story reasons, most of The Other Side of the Door is restricted to one single set. What are the challenges and advantages of this, also from a producer's point of view?
Alex - From a producer's point of view it actually makes my life a lot easier than if we were shooting multiple locations. As an assistant director it makes my life hard. Playing with one set can be challenging. The writing on this film gives us enough material to change it up and keep the audience interested. Our cast and crew is very talented and has been doing a great job so far keeping us ahead of schedule. Once people see the film and witness these real life issues it will suck them right in. Our actors have been on top of it every time they set foot on set. They make our lives easier. Finding new ways to shoot in the same location is a challenge though. We're constantly changing scenes on set until we feel comfortable it will play well on the big screen.
You just have to talk about your leading lady Jennifer Scott for a bit, and why her and how did you find her?
Alex - Jen and I were at the same film festival about three years ago. My film The Mustard Stain was on its 5th film festival and had had a great response so far. Jennifer came up to my brother Sam Tello and myself and congratulated us on the film. Sam was my co-director on The Mustard Stain. We exchanged business cards and agreed to keep in contact in case a future project ever came across where we can work together. A couple of years passed by and Sam and I started to work on Furthest from the Wild, a documentary about wildlife sanctuaries. Ira and I just wrapped Awol and we were talking about shooting another film together. When Ira gave me the script to read I immediately thought of Jen for the part. We set out a casting call for 3 of the roles including the lead role. Out of the 100 actresses we saw no one seemed to fit the part. At this time I called Jen and asked her if she was free and if she would be interested in the role for this character. As soon as she walked in to audition we both looked at each other Ira and myself and said you're hired. We didn't even get a chance to run through the sides we had sent her the night before. We talked for a bit, she gave us her background on the work she had done before, but most importantly she talked about her past and how she would be able to do justice to our leading lady. Once we cast her it was a relief to know we had someone perfect for the role, and she is perfect for the role. She has been on top of it every time we call action. We don't know what we would do without our Jen.
A few words about the rest of your cast and crew, and why these people?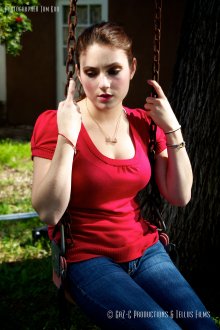 Lizzie Leeds
Alex - Our supporting actress Meredith Basinger was also an immediate decision. After two weekends of auditions. No one seemed to have the part down. Actress after actress it just didn't feel right. I worked with Meredith on another project years back and she was great. When I called her in to audition, the same thing happened. Both Ira and I looked at her and immediately cast her. She has been playing an even better Cindy then we ever thought.
Lizzie Leeds was also a tough find she plays Amy, daughter of our leading lady in the film. She was literally one of the last few actresses we auditioned. After a few callbacks from other actresses we still could not find our teenage girl. Lizzie walked in and BLEW our minds away. She just fit the part. She came in once to read and the next day she was cast.
Our crew consist of my brother Sam Tello 2nd Asst. Director among other things. Our DP is a long friend of mine from High School, Jonathan Cypress. He has been doing a great job in setting the mood for our cast. His lighting is amazing.
It might be way too early to ask, but any idea when your movie will be released onto the general public?
We want to release it in early 2014
Any future projects beyond The Other Side of the Door you'd like to share?
Alex - We have a short film coming out soon directed and produced by Alex Tello written by Sam and Alex Tello: What am I Going to Tell Maggie - it's a 15min short dark comedy that takes place in the snowy mountains. We shot this film in a day and a half for under $500. This will be releasing in July.
Tellus Films also has another film that has been in the works for almost 3 years now. This film is called Furthest from the Wild - www.Furthestfromthewild.org. This is a documentary about the people who have dedicated their lives to rescuing domestic and exotic animals due to overpopulation and people abandoning these poor creatures. This film has been a work in progress for the last 2 and a half years. Our goal is to have this film ready by September of this year. It has already been accepted to several film festivals due to the trailer that was released back in October of 2012. There have been articles written on the film and it has been getting a nice buzz. Alex Tello directs the documentary and my brother Sam is writing the film. Ira Farmer is an associate producer has been helping us edit an episode to convert the film into an educational TV series.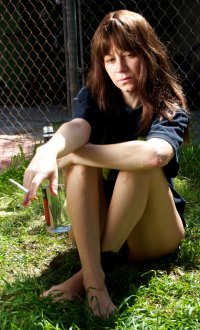 Jennifer Scott
Alex, especially since you have directed a few films yourself, how would you describe yourself as a producer (as in hands-on vs hands-off, supportive vs domineering, ...)?
Alex - Producing is always challenging. I find myself producing and directing almost any project that I've worked on. With The Other Side of the Door, since I am also an assistant director Ira and I collaborate on the shots that we need and what we don't need. There's times where our director needs to change hats and needs to be in front of the camera to play the role of the parole officer. Here I step in and help him direct. We seem to always be on the same page and agree on most things. That is very helpful when working on a full feature film. So we're both pretty hands-on when it comes to this film. We're constantly changing roles from directing to producing to acting and camera work. Definitely never a dull moment.
Ira, how would you describe yourself as a director?
Ira - I see myself as a part of a team, Iím the bus driver but I have to always remember I have passengers taking the trip with me and I have to respect their thought and feelings about the trip.
What can you tell us about your filmwork prior to The Other Side of the Door?
Ira - Iíve been directing since the early 80ís, I did three short films that ran on cable access, I also directed a number of cable access talk show, a news program and a weekly series for about a year. I also directed waver theater for about 4 years.
What got you into filmmaking in the first place, and how did you learn your trade?
Alex - Film has always been a dream job for me. Since I could remember I always wanted to act. Coming from theater there was always a thrill about being on stage. Once I graduated from sound engineering school I started to work in post production. This is where Ira and I met. I began to make contacts at every company that I went to work for. Before I knew it I knew enough people to get a crew together to shoot films. I never attended film school, post production was my film school. Little by little saving money, my brother Sam and I started to write films and saved enough money to purchase cameras and to fund our own projects. Both my brother Sam and I are self-taught when it comes to film work.
I believe this is what I did or do in another life. It just feels natural.
Ira - Me, I always wanted to be a film editor so I went to film school to learn how to edit and fell in love with the whole process, truth be told life is dull until youíre on a set and the lights come on.
Producers, filmmakers, whatever else who inspire you?
Alex - Great films and bad films. The great ones for their knowledge and for giving us the inspiration in the creation of our own films. The bad ones for making me think that if that piece of crap made it on the big screen my film is definitely gonna make it. Because it is a million times better than that. Life in its own has always been an inspiration for me. My friends and family. My wife Tanya continues to inspire me every moment. Great music like Radiohead, Muse, The Doors and Jim Morrison in itself. One of my favorite poets to ever live.
Ira - Life and the people I love.
Your favourite movies?

Feeling lucky ?
Want to
search
any of my partnershops yourself
for more, better results ?

The links below
will take you
just there!!!

Find The Other Side of the Door
at the amazons ...

amazon.com

amazon.co.uk

amazon.de
Looking for imports ?
Find The Other Side of the Door here ...
Something naughty ?
(Must be over 18 to go there !)

Alex - Planet of the Apes - the original -, Amores perros, Oldboy, Romeo and Juliet (1996), Sam Peckinpah films etc.... I can be here all day.
Ira - The Godfather 1 & 2, Apocalypse Now, The Wild Bunch, Casablanca, Sunset Boulevard, Tie Me Up Tie Me Down, Yankee Doodle Dandy, Damn Yankees, Cat on a Hot Tin Roof - just to name a few of the movies I love!
... and of course, films you really deplore?
Alex - Remakes, Reboots unless they are good but rarely thatís the case.
Ira - Remakes of classics.
Your/your movie's website, Facebook, whatever else?
Anything else you are dying to mention and I have merely forgotten to ask?
Dont forget to check out Furthestfromthewild.org!
Thanks for the interview!