Your new movie The Date - in a few words, what is it about?
It's a bit of a meditation on modern alienation and how the most intimate of acts brings two outsiders together. And for me it's also more of a microcosm of the beautiful tragedy of contemporary communication. Connection and transience; moments and connections are fleeting and you may remember something for the rest of your life - a single interaction but never see that person again, never get to find out how they turned out or if that interaction also really stood out to them. For these two characters, I really feel it does... but I get to the end of the short and wonder. I wonder about them a lot; if maybe in some parallel universe they really mean something to each other and that is salvation.
I think the film has a lot to say about when we as humans CHOOSE to be vulnerable, CHOOSE to connect with each other, at what times... and that idea or question is something... well... it's something to ponder.
How did the project fall together in the first place?
Well, I had done a prior project with Michael Gonza that went really well and he had this script that he really wanted to do and so I looked at it and saw a real gem, something that struck me as a sad and funny and an eerie character study about how we as modern humans generally connect and over what sort of things. Big thanks to Kris Salvi [Kris Salvi interview - click here] for penning it. I also had the perfect location for it, a bar that my friends owned in downtown Providence, RI, and I felt they may really dig us doing this; which they did and patrons hung out to watch how a movie gets made. Of course, James was in the loop as cinematographer and we collab very well together on the last project, both have a real love for color theory and photographic composition as emotional cinematic grammar, so he was in. I approached Chris Esper [Chris Esper interview - click here], who was pretty busy on other projects but we dig each other's work and have a lot of fun, on and off the set, so he was also down. Michael brought on Mary Beth who I've coached in the past and love her work, as well as Michael's, as actors. The rest of production was brought on by Chris and James. But the week before our scheduled shoot date that we already had permits and everything for, my mother died. And I'm like, ok... I got this, this happens on films all the time and nothing a director can do, gotta push ahead. Then the week of the shoot, the day of the shoot, my aunt dies. We still pushed forward. Had one night to shoot, had to schedule around the bar's schedule with patrons and such, and boom.
In post, I brought on a lot of people I had worked with in the past, Nahuel Attar my longtime friend, collaborator, came on as editor (though had a huge roster of commercial work) because we enjoy working with each other. Alan Gordon, someone I and Nahuel also have collabed with, probably one of the best colorists in NYC who has worked on projects for Beyonce and James Franco, also signed on. Raphael Ajuelos was a referral from a friend who runs a French film school in NYC (connected with Stone Street Studios); Raphael was amazing, having come off working frequently with Saturday Night Live and some HBO stuff, he was cool with me creating the most detailed post sound design list I could. We all worked remotely except for me and Alan, I traveled to NYC for our color session after discussions over email.
One of the most interesting stories is Patrick O'Donnell. So, I've known Patrick since high school, we've been very close friends, worked together in a director and editor relationship on a few high school projects and he's always been an incredibly talented musician; a drummer. Really into prog rock percussion etc. But a few years ago he snagged a little midi keyboard and started to really explore his love of synthesizers. Well... I had an idea of collaborating on a project years ago with him but it didn't come to be. He had done a demo of some synth stuff he was experimenting with and I was impressed. It was simple but none the less great. On this project, I had a gut feeling that he was the one that needed to be on this. Now let me say this; Patrick had never ever ever scored a film or project of any kind before this. Let me also say this; Patrick had never ever ever written long multi-layered pieces of music before this. I'm nuts, right? He's a genius, right? Intuitively, I just felt he has this, even though I had no real evidence and it was low risk if I was wrong... and he blew my mind. Me and post sound had talked of whether the score should be lower in volume or an audible focus... I voted for lower because as much as I am in love with it, it could distract if the volume is too high. The good thing is, if the project is listened to through headphones (or good external speakers), the score and sound design are more prevalent than say "on board speakers". When Patrick and I created the score we listened to over 2000 synth sounds, both analog and modern and narrowed it down to a slim 10 or 15. There were a few things we strove for, an ambiguous score up to the last two suites, an arc in the sounds and score, assigning sounds to represent Vernon and Alice when they were divided and then come together (two separate sounds coming together to make a song). The score had to be something that didn't just complement the film but was a character, spoke for it, and was listenable even if just on its own, apart from the film.
With Nahuel, the same focus was there; we spent real time carefully cutting this together to be and feel how it does. It was very thought out, it wasn't just lets splice it together and send it out. We tried to create a visual grammar - certain shots repeatedly only come up at certain times meaning certain things. Raphael, same focus; the sound design and effects were carefully thought out and revised about 5 times; the placement, the levels, the textures, etc. Color - same thing. Everyone was very focused on a cohesive cinematic and sonic language.
With The Date being about a very awkward blind date, is that something you can identify with?
Ha! Oh sure. I can say I've had a few that were nearly as exciting. I had some pretty strange ones about 5/6 years ago when dating apps first started to really hit. Those apps scared me away from using them again for life, haha.
What can you tell us about The Date's writer Kris Salvi [Kris Salvi interview - click here], and what was your collaboration like?
Kris is a great guy; very sincere, humble, collaborative and considerate. He allowed us to make pre-production and post-production changes to the script, and that takes a lot of trust.
Most of The Date was filmed in a single location - so do talk about that location, and what kind of a challenge was it to keep things interesting considering this kind of limitation?
This was actually pretty hard. When you are so limited with equipment, during a night shoot, it can be hard to move the camera in big ways - for various reasons - not enough lights to light a huge area; not any stabilization gear to move the camera in smooth ways. For us, we needed the compositions to feel a bit claustrophobic and also ambiguous. If looking at the tone of the shots without sound, they can go either way in emotional or psychological connotation, but they do hint subtly in one direction. This was purposeful. We also really needed to connect characters with environment, the environment in the bar and out the windows needed to feel like an extension of them. The yellow table with the red lines being a path for both of them to join hands. There is a sharp corner of a red table framed behind Alice pointing at her... there's a reason for these things. We wanted to do a lot with a little, do things subversively, hit the audience's subconscious - and also, we had no choice due to the emptiness of our pockets, haha. I find restrictions breed more opportunity and inevitably innovation than total freedom. Though I hate to admit that because it can be a royal pain in the ass, backfire, and also is monumentally stressful.
I'd say other challenges were the fact that we could only start filming as the bar was slowing to close... all night exteriors - the bar was still operational and even though we had a permit to shoot outside (generously given by RI Film Commission), the street is bustling with people, tourists, drunks, cars blasting music. We did not have the money to do a street lock up so, essentially we had permission to shoot in public, with ALL THE PUBLIC. That was tough because the exterior has dialogue and choreography... and so we only had say like a couple hours to get it all in the can. We got there 2 hours early to pre-light etc; by 1 am we had to be inside to start shooting the interior, while the bar is still somewhat operational and cleaning up. How we managed this was as we shot outside, we started to set up the inside. And our shot list was very strict; everything moved from set-up to set-up in the most efficient way possible. But it was tough, we had a crew of 5 including me. So, even the idea of shooting spatially "more of the bar" was almost inefficient because the bar was small, we'd have to move our holding area for equipment which would slow us down, we'd be in the way of the bartender; it was going to be a time suck so it wasn't worth the effort, especially in terms of the style we were going for. And we were fighting sunrise. But we did it. The shots feel restrictive, like as the audience you want to look around, that's a comfort, but we don't allow you to - that's a part of our psycho-visual language.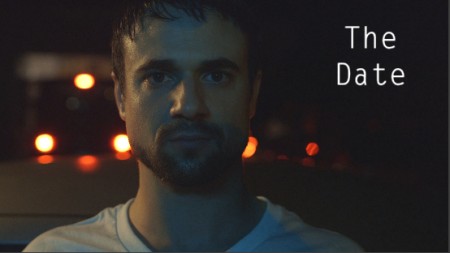 What can you tell us about your overall directorial approach to your story at hand?
I mention a lot about that above - I wanted the focus to be on the relationship of these two people and what their life is like outside of this sort of "let's play house" interaction... I wanted to give as much about these two in a limited time. I wanted people to care for them and know them in their 5 minute interaction. That was a challenge: how to get people to care with not enough time for real character development or back story... but it happens every day, on subways, in cafes, a couple glances and two or three words and one cares. I wanted that immediacy and "time is fleeting" here. There is something about "urban night" that is secretive and mysterious and surreal, it is when all vulnerabilities come out and the masks of daylight fall, so that came into play. Also in sound design using industrial sounds to mimic or stand in place for human sonic responses to things - this again to further that sort of human isolation. We don't see any other human around really, but we do hear a lot of factory and machines; there are the sounds of club music in the distance, but it's like a distant echo that we want to get too, but it's probably an empty club as well. Colors played a big part, yellow and oranges in the bar. You see this with the table, the lights. I needed it to feel a bit hot in there and also was working around costume colors as representations of the characters. The bright violet of Alice's shirt - violet is a very particular color, it's unrestrained and sensual in a royal sort of way. Outside there is some natural production design interplay of red and yellow but there's colder lighting, more stark, and then we have the turquoise, to feel like the bottom of the ocean and drowning. Photographic compositions: Alice's are always clean and the camera nearly center frames her keeping just enough distance to feel intimate but neutral. Towards the end of the interiors, we have the exit sign framed in the background of her shot, as if she is the way of the exit because there is a backdoor. Vernon's are almost, almost, always dirty, she is always in them, influencing and affecting. His also nearly always frame the window outside behind him, that represents many different things for him. We also try to keep Vernon more at a distance, purposely, and bring the viewer closer to Alice - it almost feels like Vernon is "pulling back" by doing that and also makes us really comfortable with Alice.
Do talk about The Date's cast, and why exactly these people?
Well, first let me say, they're all super talented people; I trained Mary Beth Paul and worked with her in a teacher/student, acting coach/actor capacity before. Michael Gonza had been acting long before I came on the scene and came out of NYC. And they both love the journey and putting in the time to find the characters and explore and change things. This includes rehearsals, which aren't a luxury but mandatory. All that being said, the film was essentially cast before I was brought on, Michael was exec-ing and decided to bring on Mary Beth which was an excellent choice. Also because they both work off each other well, they compliment each other in performance.
A few words about the shoot as such, and the on-set atmosphere?
Well, we were very limited. I mean we had essentially nothing, haha. And that's fine because we had a lot of prep, multiple visits to the set, overheads, lots of conversations, a shot list - so all that helped when coming into an environment we had little to no control over and a very limited amount of time, with a very limited crew, to shoot somewhat complicated nuanced performances etc.
The $64-question of course, where can The Date be seen?
Well, it's doing a festival run first but keep checking in on my instagram www.instagram.com/dodgecine and also checking on the website www.dodgecine.com (under the projects section and the "Past" subsection). Eventually, it'll find a home somewhere; my website, if nowhere else, haha.
Anything you can tell us about audience and critical reception of The Date?
It's been resoundingly positive so far... if I may say, acclaimed? I mean we've scored 8.5 outta 10 with OC reviews alongside Hollywood features and higher budget shorts etc and looking through the site, they don't throw high scores around. And with every reviewer, they've loved the project. So it is a good feeling, I mean one tries to prepare themselves for the reality that "You can't win em all. And sometimes you can only win very few" as has always been the case with creative work, in general. But it was a good feeling because the road to success has been a real struggle and I'm still on it. I started on this track at 18 or earlier, I'm 33 now - that's years of trying to turn heads and get people to notice not just the product but under what circumstances the product was made. The context of what circumstances a film was made under are as important in judging the value of a film itself, in my opinion.
Any future projects you'd like to share?
Wow, so many haha! Well... I have a pilot for a short run episodic about the birth of organized crime, racism against the black community, and the IRA in the 1920s; that one's a doozie. I have a dark dramatic feature which follows the lives of 4 teens whose lives are upended by a chain inescapable events regarding an Evangelical community in the Pacific Northwest, all against the backdrop of the 1991 Seattle grunge scene. I have pretty violent sci-fi thriller which takes place in the near future and deals with the economic and political collapse of the United States, and its need to unify its currency with Mexico and Canada. These are all finished projects. I am currently working on a feature that takes place at the edge of Alaska and follows the return of a convicted felon who has disassociative amnesia and is trying to piece together the memories of the crime he was told he committed which devastated this town. All projects are currently seeking various amounts of financing.
What got you into filmmaking in the first place, and did you receive any formal training on the subject?
Well, I'd say I went through a lot of tough things from an early age, and movies were a way to connect and not feel alone in what I was going through. And of course, was an escape. Also, both my mother and father were passionate about the arts - cinema, literature, music, etc. My father had a wealth of knowledge on cinema - Fellini and all the great international filmmakers. My mother had a wealth of knowledge on acting and techniques (a much longer story). I did receive training in high school and college. I went to American Academy of Dramatic Arts to study as an actor to be a better director and then did Brooklyn College's film program (didn't have money for NYU). I ended up dropping out my last year due to money and also disagreements with the faculty who didn't feel I could deliver the thesis film I wanted to do; so I decided to do it myself, without their help, and it did pretty well. But outside of that, I read a lot, on a lot of subjects that directly affect filmmaking and directing so that's also been the bulk of my education; I try to shoot pictures all the time, study photographic composition and its psychological implications, design, color theory, managerial stuff, etc.
What can you tell us about your filmwork prior to The Date?
Well I've been working a lot on scripts, I did a film (the thesis I told you I dropped out of school to do) called Broken Crayons - it was pretty intense. All children cast (untrained actors), shot on super 16mm and pro 8mm with a 2k DI. Period piece. Takes place all over the course of one in real time. War scene. Etc. It was nuts but it won the golden palm at Mexico International Film Festival. I don't even know if the festival is still operational, it was like 10 years ago. Since I've just been trying to break in the theater world. Did an off-off-broadway play, coaching actors, etc.
How would you describe yourself as a director?
Oh God, I don't know... an anti-director? I don't know, I don't feel like I fit the mold, whatever the stereotype is. I mean I study, I love creating but I hate calling myself an "artist". It just has a weird history, a weird ring to it. I'm just here, ya know? I'm just tryna reach people and talk about dreams and nightmares. On set I'd say I'm both an" actor's director" as well as a "shot director", I love the exploration on paper and in rehearsal - "the work". I do a lot of planning in prepro to free us up to fuck around and find these characters during the rehearsal stage of prepro and production. I both can have set blocking and then also rehearse and allow the actors to "free-block". But at the end of the day, I'm just the guy throwing back a Guinness, and dancing with myself to some shit I just put on the jukebox, watching people in the bar, imagining their stories. That's me I guess.
Filmmakers who inspire you?
All of them. Such a cop-out, right? I say that because ya know, every filmmaker has good qualities and moments in films (more on this below). I really like John Ford, Scorsese (his stuff in the 70s and 80s is bananas - I'm in this secret love affair with After Hours cause it's so not him yet it is, it's his most abstract and sorta primordial), Fellini, Bergman, Kubrick, Tarkovsky, Carpenter, Danny Boyle, Hitchcock, Penny Marshall, John Singleton, Billy Wilder, Coppola - a lot of the older folks.
Your favourite movies?
Ah. So many. Trainspotting, Lost Highway, Days of Wine and Roses, La Dolce Vita, Hour of the Wolf, Duck Soup, The Great Dictator, Key Largo, Back to the Future trilogy, Assault on Precinct 13, The Warriors, After Hours, Tombstone, The Thing (1980s version), Eve's Bayou, Crooklyn, Training Day, Stalker, The Mirror, Eyes Wide Shut, The Leopard, Goodbye Dragon Inn, Boyz N The Hood, Se7en, The Game, Donnie Darko, Zodiac, Grosse Point Blank, Mississippi Burning, To Sir With Love, Indiana Jones franchise, Munich, Too Big Too Fail... just so many.
... and of course, films you really deplore?
I can be a pretty harsh critic but God knows after I direct something, I barely ever watch it again. I let it go. Put my best in while it's in my care and when it's done, I send it back home; like some kind of foreign exchange student. You could name any director and even if you say "Oh this bloke is a fuck-clown!" and I'd be like "Well, what about that moment in such and such; that was pretty good, no?" I'm starting to be of the mindset, let's celebrate each other, lift each other up, instead of tearing each other down; what good is it to shit on things people worked hard on? It just makes us feel better about our own inadequacies. It doesn't serve anything. And we can also learn from each other's mistakes and shortcomings.

Feeling lucky ?
Want to
search
any of my partnershops yourself
for more, better results ?

The links below
will take you
just there!!!


Your/your movie's website, Facebook, whatever else?
Anything else you're dying to mention and I have merely forgotten to ask?
I am very grateful you interviewed me and taking the time to type out these questions. It made all this struggle a little easier and made me smile. Thank you so much for that.
Thanks for the interview!