Your new movie OMG... We're in a Horror Movie - in a few words, what is it about?
OMG... We're in a Horror Movie is about seven friends who must deal with the stereotypes of horror movies after finding out that theyíre in one.
Is horror a genre especially dear to you, and how much fun was it to dissect genre formulas as such?
I actually donít watch many horror films. I get scared to easily and scream in a manner unbefitting of the manly persona I give off. I also get tired of seeing the same tropes over and over without any changes. So making OMG... We're in a Horror Movie was fun because I got to comment on all the things I see being repeated in every horror movie out there. And one of my favorite things to do is to kill clichťs, which I was able to do a lot.
Other sources of inspiration when writing OMG... We're in a Horror Movie?
Well obviously Scream and Scary Movie gave me ideas. I would also say Cabin in the Woods was very inspiring to watch. And oddly enough The Truman Show. Each movie had an element that helped to tell the story of OMG... We're in a Horror Movie more effectively.
What can you tell us about your co-writer Tom Hatfield, and what was your collaboration like?
Tom and I went to school together at CALARTS. He was a musician and I an actor. After graduating I was getting fed up with auditioning for roles I had no chance of getting or for scripts that were super clichťed and under/over developed. So I started writing the concept of OMG... We're in a Horror Movie, not really knowing anything about what I was writing other than I wanted to act in it, and I wanted my friends to act in it. Tom came over and I talked to him about what I wanted to do and we began bouncing ideas off of each other. He added a lot of funny to the script. He also added unique voices to some of the characters that I couldnít do. Twas a blessing to have his help.
Do talk about your movie's approach to both horror and comedy for a bit!
The comedy is mainly situational which was easy enough to write given the concept. Two black guys trying not to be in a horror movie is just a funny idea so all we had to do was write and film it honestly. I didnít want the movie to feel like Scary Movie in the use of one and done jokes. I wanted the jokes to help inform characters and add to the story. So putting people in odd situations and having them come to semi logical conclusions makes for great comedy. As for the horror aspect, that was harder. The movie isnít all that scary, although my lead actress couldnít handle it which made me happy. The horror elements had to be figured out on the day of shooting. Writing something like ďJesse walks down the hallway, not seeing Kyle sneaking with a knife behind her,Ē is all well and good but it doesn't scare anyone. So I focused on how it was shot and how it was acted to give certain scenes an element of horror.
What can you tell us about your over-all directorial approach to your story at hand?
I think it is safe to say that Iím an actors' director. I focused on how people spoke, inflections, intention, energy, etc. I let my DP, Greg Loebell, go nuts with all the lighting and camera angles. When we first started shooting I relied heavily on him to find shots that looked interesting. I wanted to spend as much time with the actors as possible so that they at least sounded good. I was also doing a little bit of everything, so I was constantly running from room to room trying to figure out how to get something done. I had a hard time distributing jobs. It was a great learning process for me.
You also play one of the leads of OMG... We're in a Horror Movie - so have you written the character with yourself in mind, and what did you draw upon to bring him to life? Oh, and to ask something stupid, what did it feel like wearing this dress?
I totally wrote AJ with me in mind. It was basically the point in writing the whole thing. None of my friends were booking gigs, so I wanted to write one for all of them to be in. And to bring AJ to life I just had to play younger than I am, but just as naively exuberant. And nothing makes a man feel sexier than wearing a sea goddess dress from Target. It's strange to see footage of me being all directorial with that ridiculous makeup on and that dress. I donít know how people took me seriously.
What can you tell us about the rest of your cast, and why exactly these people?
They are hilarious! And great people to work with. Shanna, Sharon, and Chris had parts written specifically for them. The others Tom and I adapted the script to fit them better. Nils Jansson was a great bad guy. Brendan Mcgowan was the ideal male lead. Liz Fenning embodied my ex-girlfriend perfectly. Everyone had a lot of skill and great ideas about the script, plus they were all super committed to the project. Itís hard to not cast someone who was as devoted as these guys were. Best cast ever!
Do talk about the shoot as such, and the on-set atmosphere?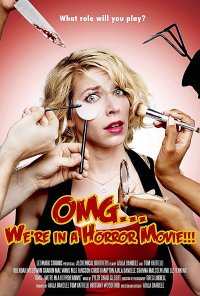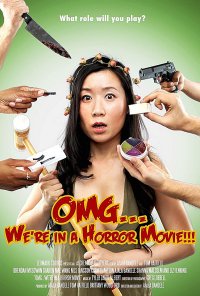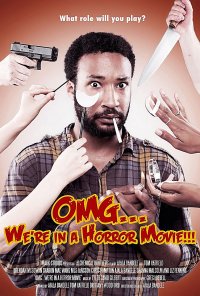 I found that when I direct I focus on the work entirely. For the most part it was easy going. Only when lines were lost was there any sort of tension. But I tried to keep everyone happy and positive. If something broke or went wrong, I didnít stew over it, I just fixed the problem. Itís so much easier to not take things personally and keep a happy set. I will say, the crew sometimes were laughing so hard that whole takes were unusable. But thatís all in good fun and it meant that the comedy held up.
Anything you can tell us about audience and critical reception of your movie?
So far both audience and critics alike have enjoyed the movie. I think the worst rating we got was a 7 out of 10 because it wasnít scary enough. But that made sense to me. The movie is a comedy-horror, not a horror-comedy.
Any future projects you'd like to share?
I currently just finished another screenplay called Thank You For Trying. Itís a rom com about an extremely awkward date with people who are too in their heads to realize they are perfect for each other. Iím also currently filming a short film I wrote called X Ex-Girlfriend, which is about three people trying to avenge the broken heart of their best friend by paying his ex girlfriend a lethal visit. AND the sequel to OMG... We're in a Horror Movie is being written as we speak.
What got you into filmmaking in the first place, and did you receive any formal training on the subject?
Iíve been a movie buff since 1995, watching Denzel Washington in Crimson Tide. Iíve always wanted to make movies and act in big budget films. It helped that my parents supported me the whole way (best people every). I went to CALARTS to study theatre acting and writing. I made OMG... We're in a Horror Movie to learn how to film a movie. That was a hell of a learning curve.
What can you tell us about your filmwork prior to OMG... We're in a Horror Movie?
Before OMG... We're in a Horror Movie I didnít really know much about filmmaking. I had shot some web series videos with Chris Hampton and Sharon Wang. I had edited a music video for Shanna Malcolm once. I had been in front of the camera way more than behind it. So I really didnít have much experience and I made all the rookie mistakes that you can possibly make. Now I only make professional mistakes. So Iím much improved.
How would you describe yourself as a director?
Confident and open Iíd say. I try to listen to the advice that everyone gives me and make the best possible answer with what Iím going for. I ask other people's opinions when I think we could be getting more. I have a stick I keep with me so that when my ego gets to big I can beat it down. I think most people like the fact that I know what I want. I hate working on projects when the director has no clue what is going on. Iím trying to become a quicker director, a constant struggle in this profession.
Filmmakers, actors, writers, whoever else who inspire you?
Mom and Dad! They inspire me. Best people ever for more reasons than you can imagine. I made a documentary with them when we went to Indonesia and it shows how awesome they are. Aside from them, anyone who has a dream and fights for it everyday inspires me. Anyone who can control themselves and keep in mind what they are going for inspire me. People who understand the motto ďBetter to do it, than live with the fear of it,Ē inspire me. And of the people around me, Sharon Mae Wang inspires me the most. The girl fights for what she wants with a smile on her face, she doesnít let her issues get the best of her, and she struggles so hard to make everyone around her better, even when they donít want to be. Sheís a great person.
Your favourite movies?
So many. Iíll just name like 2. Hott Fuzz, Love Actually, Galaxy Quest, Kiss Kiss Bang Bang, Singing in the Rain, Atonement, Man on Fire, Star Wars Episodes 4-7, Her, Shaun of the Dead, Silver Linings Playbook, Dark Knight, The Mask, Inception, Memento, the Lord of the Rings, and OMG... We're in a Horror Movie! Ok so thatís more than 2.
... and of course, films you really deplore?

Feeling lucky ?
Want to
search
any of my partnershops yourself
for more, better results ?

The links below
will take you
just there!!!

Find Ajala Bandele
at the amazons ...

amazon.com

amazon.co.uk

amazon.de
Looking for imports ?
Find Ajala Bandele here ...
Something naughty ?
(Must be over 18 to go there !)

Iím pretty good at blocking out the movies that I hate, but the top of the list has to be X-Men 3. I about killed people once the movie was done. I canít really dig the Harry Potter movies because I grew up with the books and they cut out my favorite parts. I tend to throw a fit when I have to watch those movies.
Your/your movie's website, Facebook, whatever else?
omghorrormovie.com is our website. "OMG Weíre in a Horror Movie" is our Facebook. @Omghorrormovie is Twitter.
https://itunes.apple.com/us/movie/omgwere-in-a-horror-movie!/id1063802415 thatís our iTunes link.
Anything else you're dying to mention and I have merely forgotten to ask?
Check out the movie on iTunes and leave a review! Also go to YouTtube and look up OMG Music video and watch the hilarity!
Thanks for the interview!