Your new movie Hypnophobia - in a few words, what is it about?
Hypnophobia is a short film on the fear of sleep. Sam (Erin Rovin) is having trouble sleeping and locked away in a small prison cell. When a young girl (Olivia Kuttrubis) begins to appear at night, she begins on her sessions with Dr. Peter's (Sam Rovin)! He tries to figure things out and help Sam as much as possible. Time goes by and Sam loses her mind each day. Will the doctor help her or will the young girl push her over the edge?
What were your inspirations when writing Hypnophobia?
When I went to do Hypnophobia I wanted to do something new. My first project was a zombie flick that I made with all family and friends to graduate from college. My second film which was Laughter, I had a whole new cast I did not know. So the main inspiration was looking at those films and saying why not take my good and strong points and throw that into a short film. Prior before writing the film I had a guy contact me about doing a few short segments on different phobias. Which I thought was a huge expansion to my belt to be offered to do something like that. So that also inspired me to get on the ball of things going. Well, I ended up saying no with the whole idea! That did not stop me from making the film, just not able to have it play with other films. Other inspirations that I think get all filmmakers going, is the talent and work you see from all others. Now we are not out to beat one another and brag and say we are better, but it makes you think like "what am I doing, I just watched this movie and it was awesome and now i want to make another film?" So in all aspects of everything really other work inspires us all to make films or even review films.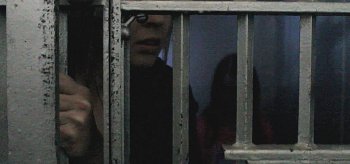 How would you describe your directorial approach to your subject at hand?
It was different for me, since I never filmed a short film! When I did Laughter I was running all over the place and trying to talk to 10 people compared to only having to answer maybe 2 or 3 people. So I had more control with this film! Also I was able to give my movements and explain what I was looking for out of the actors a lot more compared to the past films. Also able to talk with them and give them freedom with their lines and characters and just got with it or come up with something different. So this movie I was able to do a lot more and actually give an approach as a director this time around.
Hypnophobia was filmed on very limited and above all limiting sets - so what were the challenges but maybe also advantages regarding that? And how did you find your locations?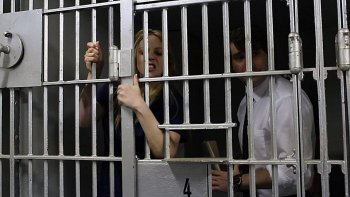 There were not many challenges when it came to filming, since we only had a few locations. I would have to say the hardest part was sometime lighting, but I do think we did a hell of job lighting that phobia up! The hardest part was deff. getting two actors into the cell, a boom pole and also a cameraman (which was me). Trust me when I say this, I am not a skinny little guy!!! Also sometimes had all actors, plus the boom pole and myself, which was more a pain in the ass. Although it all worked out and came together great. The great thing about the locations was the jail cells were on the bottom floor, and then the office scene between Sam and Dr. Peters was right upstairs from the cells. Then some minor stuff was shot in a room right outside the cells. We only had one location that we had to drive to from where the cells were and that was a five minute drive to my fiancés's Grandparents' house. All locations were found by a local visit to the police station in my hometown and then having awesome family members to allow us to film at their house.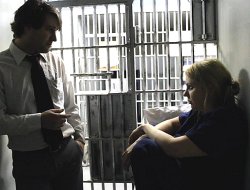 What can you tell us about your key cast and crew, and why exactly these people?
The key cast was Sam Rovin, Erin Rovin and Olivia Kuttrubis! These three actors are awesome and did a fantastic job in my eyes. They came together and did what they needed to do. I allowed them to take their roles I wrote and turn them into something they wanted and we shot it both ways. Sam and Erin Rovin were in my last film Laughter. They did a great job on that film and it was just a fun experience to work with them. Everyday they would come to set with a smile on their face and would joke around but once we got ready to film all smiles came off and they went to work. I have not worked on any huge sets before, but I would definitely recast Sam and Erin again in many of my projects down the road.

Now to Olivia Kuttrubis, well to start off she is my fiancée's little sister. When I first wrote the film the little kid was supposed to be a boy, but we ended up changing when we had a drop out. Well I went and talked with Olivia and she said "yeah" right away. So being on a level of friendship with her and basically being family, she is a funny and very talented little kid. She would wake up around 7a.m. for the two days we filmed and get all bloody and would wear the make-up for 10-12 hours of work. She is a little trooper and definitely a funny kid to work with.
We also had two other actors in the film, which were small roles but these roles play funny and a huge key element to the film. First off we will start with Ronald Muir who played one of the guards. When I wrote his part I knew I had to have him play it. So we talked about it being that it's my fiancée's grandfather. I know, another family member right? Well guess what family is always there for you and works with you! Anyways for a long time he used to be a prison guard, so he taught me what to do and how things really would be in a prison. So he helped out not only acting, but explaining more things to us all. Ron is always down to say and do whatever and always make us all laugh on set.
Last we have Nicki Ostrowski who plays Dr. Rivers and she had to come in for a day of filming which was our last day, and let me just say this she got the script a few days prior to filming. She knew her lines and she would film scenes over and over, even if we had a great take. She is very hard working and always gives her best, she is funny on set and definitely gives a different take on her roles, which the last role she did in a movie for me was in The Infected. That role she played a Liberian that turns into a zombie. All my cast I cannot say who was better than the other, because there wasn't. They all came to film and wanted to make a short film into something fresh and entertaining for everyone.
Do talk about the actual shoot and the on-set atmosphere for a bit if you can!
The shoot was a lot of fun, well it was a very short shooting schedule. We started on May 18th and ended on May19th 2013. We only filmed for two days and got a lot done and also had a lot of fun moments. My moment I remember the most was "I had to bend down and move backwards and I bent too much and ended up splitting my pants during the take." It was so funny that we had to stop for a few minutes until we all stopped laughing and caught our breathes. Another was Olivia walking towards Erin and as she got closer Erin just told Olivia to stop walking, because she was a creepy little kid, which was funny if you were there I guess. The atmosphere was great, when you were in the cell block it felt like you were in jail. When we filmed Erin stayed in her cell for a huge portion of the filming process. The script I had written to what we filmed was just amazing to see the written atmosphere come to life and see the real life setup.
What can you tell us about critical and audience reception of your film so far?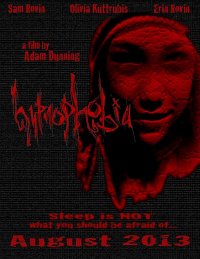 Feeling lucky ?
Want to
search
any of my partnershops yourself
for more, better results ?

The links below
will take you
just there!!!

Find Adam Dunning
at the amazons ...

amazon.com

amazon.co.uk

amazon.de
Looking for imports ?
Find Adam Dunning here ...
Something naughty ?
(Must be over 18 to go there !)

There is not much yet on the film! We never held a premiere yet nor got to show a huge audience. The first big audience we will have will be on August 29th when we will be showing it for the first time at the San Antonio Horrific Film Fest. Then following in October it will be playing once again at the Austin Indie Flix Showcase, which is put on my Twitchy Dolphin Flix and a good friend of mine James Christopher [James Christopher interview - click here]. For the ones who did see the film was shocked with how well it was put together, especially for the amount of days we filmed and how quick the script was written. So for a response so far it was good! I will update you more as I find out down the road.
Any future projects you'd like to share?
I have a few ideas in my head, but nothing coming up soon. I do plan on making a lot more shorts than I will features. The only reason being is one huge factor. They is a lot more to control and I can tell a better story in a 1/2 hour compared to drag on for 2 hours.
Your/your movie's website, Facebook, whatever else?
The Facebook site for the film is https://www.facebook.com/pages/Hypnophobia/192960080873077 and the website for all the films and upcoming projects is www.amdproductions.com.
Anything else you are dying to mention and I have merely forgotten to ask?
Thank you for all the support from everyone! If you like films and make films just keep doing it! If you review films and love all genres and not just horror, well keep reviewing! We do this because we love it and it's what we enjoy and allows us to show a true and unique form of art. Just a huge thank you to everyone and a huge thankful to my fiance Karlie Kuttrubis for being there for me and always putting up with my crap on set and at home. You are truly amazing and a huge inspiration to me to and you keep pushing me to do what I love doing. If anyone has any questions about anything you can catch me on Facebook, or message me through our website! Thank you!!!
Thanks for the interview!